Wholesale Suppliers of Refurbished Laptops: What to Watch for When Sourcing
---
In this guide, we will explore what refurbished laptops are, what the wholesale market is like for these products, and how to find wholesale suppliers of refurbished laptops. Furthermore, this guide will provide you with top tips on what to watch out for when you're sourcing.
Advantages of Selling Refurbished Laptops
This is a growing market. Forecasts predict that the value of the global refurbished computer market will reach $4.9 billion by 2027, with laptops worth $3.1 billion.
Customers trust the refurbished sector. 94% of online marketplace buyers bought a refurbished electronics item in the last three years.
Selling refurbished laptops allows you to reach a broader customer base. It's not just individual buyers who are looking for refurbished laptops; government departments, businesses and educational institutions looking to save money are too.
Refurbished laptops are much more affordable than new laptops, typically by 25% to 40%.
What Are Refurbished Laptops?
Refurbished laptops are non-new laptops that have been through a strict reconditioning process to ensure they conform to the original manufacturer's specifications. When a laptop is refurbished, it goes through the following process:
The laptop is visually inspected by an expert for cosmetic defects and graded
Technical tests are conducted. Anything that needs to be repaired is swapped with new, branded replacements
The laptop is carefully data wiped, sanitized, repackaged and all original accessories are either included or replaced like-for-like
The results of the refurbishment are verified by a comprehensive inspection before being warehoused and put up for sale
While refurbished laptops are more expensive than 'used' laptops, they're still more cost-effective than brand new laptops and - because they have been thoroughly inspected and brought back to manufacturer specifications - much more reliable than used.
Refurbished laptops are popular with customers looking to save money such as businesses, students, and bargain hunters. On average, a refurbished laptop will be about 30% more affordable than its brand new equivalent, making it highly attractive, especially as the cost of living increases and people are looking to save as much money as possible on elective purchases like electronics.
Note: Refurbished laptops are also referred to as 'reconditioned' or 'renewed' on websites. The terms are interchangeable.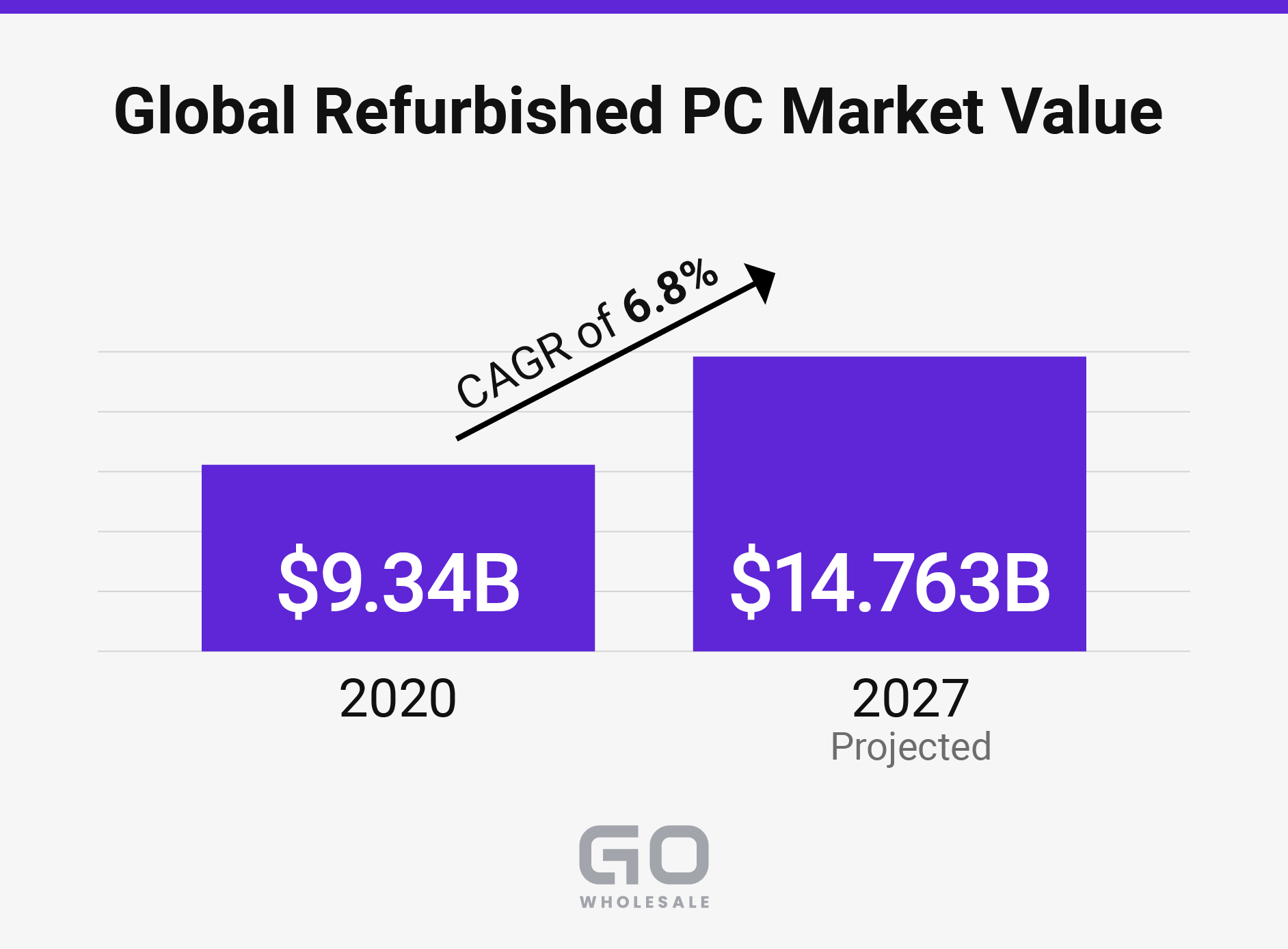 Source: MarketResearch.com, 2021.
The Growing Market for Refurbished Laptops
The market for refurbished laptops is consistently growing year over year. Globally, it is projected to expand by a Compound Annual Growth Rate (CAGR) of 13.6% between 2017 and 2027 from a starting value of $922 million in 2017 to an estimated market value of $3.1 billion by 2027. This rapid growth in the value of the market is being driven by a desire to crack down on e-waste, and an increase in the number of both large and small enterprises, government bodies, educational establishments and individuals increasingly requiring more affordable computers and laptops to make their budget dollars go further.
There is also an environmental case for choosing refurbished laptops over new machines - businesses keen to show off their green credentials are especially enthusiastic about refurbished tech. Producing brand new laptops is an incredibly resource-hungry and environmentally damaging process - one that has been made more difficult and expensive thanks to the global shortage of components during and after the pandemic, as well as the war in Ukraine.
Resellers of refurbished laptops need to emphasize their green credentials to attract customers who are trying to reduce their carbon footprint. There are a growing numbers of customers around the world who are very concerned about climate change. They factor environmental issues into their purchasing decisions, and would prefer to buy refurbished laptops over new. In a recent survey of buyers who have already switched to refurbished, 85% reported that they were 'overwhelmingly satisfied'.
And it's not just individuals who are looking to combat climate change. Increasingly, businesses are getting involved in this market to help boost their green cred. Many businesses are now actively seeking out refurbished laptops, with procurement departments researching online for the best and most affordable sources. As a reseller of refurbished laptops, you can and should market your products to eco-conscious businesses. It's a win win. They get a boost to their reputation and you get access to a customer base with deep pockets.
Top Tips for Sourcing Refurbished Laptops
Research What Brands & Models are Popular
Before you start searching for a reliable source of refurbished laptops, you'll need to do market research to determine which machines are popular and desirable. You can do this by regularly checking bestseller lists, such as those on eBay and Amazon (which include refurbished models).
Bestseller lists, tech websites and wholesaler blogs should act as your starting point to help you determine what to buy. Before making a purchase make sure to check what the market prices are for the models you're considering along with the depth of competition. Knowing the market will help you determine whether you can position yourself within that market as well as guide you on what you can afford to pay for your inventory. It goes without saying that having this homework done before you make a purchase could be the difference between profiting or making an expensive blunder.
Research & Contact Potential Wholesale Suppliers
Before picking a wholesale supplier, you'll want to find out as much as possible about them. There are plenty of online review sites such as No.1 Reviews, Reseller Ratings and sitejabber where you can search for wholesalers and see what other other business customers have to say about them.
You can also find info on wholesale suppliers on forum sites such as the Wholesale Forum and The Supplier Central.
Also, contact the supplier directly to see if you can work out a deal. Often, you can get a better price for refurbished laptops over the phone by talking to the supplier's sales team directly than you would otherwise. These teams often work on a commission basis, and so have an incentive to make a sale through themselves, rather than through a marketplace order.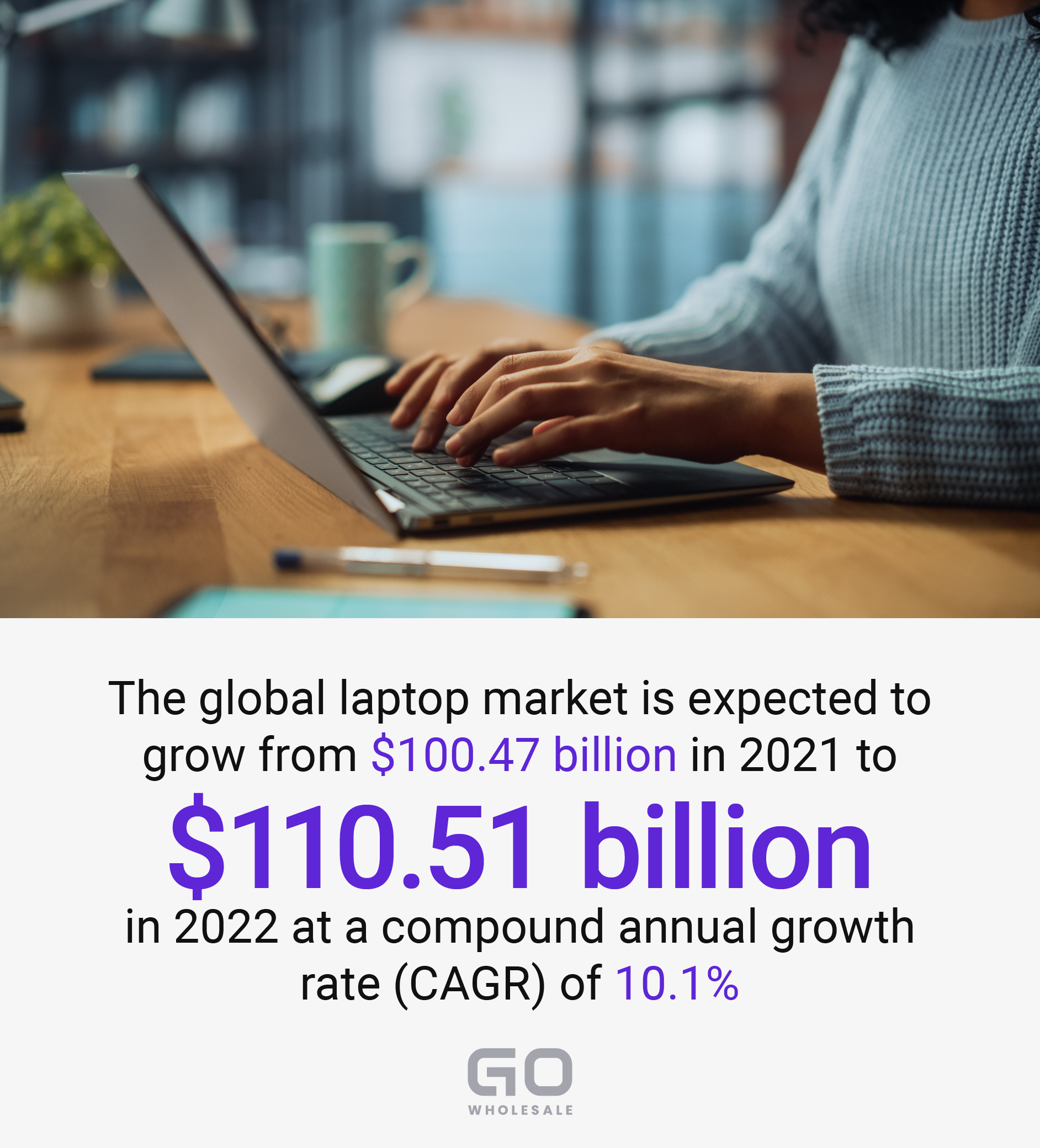 Source: The Business Research Company, 2021.
Check The Age
Before you commit to buying wholesale refurbished laptops from a supplier, be careful to check each model's true age. Some laptop ranges are sold under the same name regardless of the year they were manufactured. This means that laptops will be offered by a supplier at a very tempting low price, but on closer inspection, the reason for that is the machine is actually quite old.
Older machines may not receive updates (including security updates), making them unattractive to buyers. One easy way to tell the true age of a laptop is to check its specifications against those of the latest generation of that particular model. If a processor is from a previous generation, for example. Another way to tell the age of a laptop is to check the model / serial number and match that against the manufacturer's catalog.
Is New A Cheaper Option?
It seems counterproductive, but every now and again, a refurbished version of a laptop offered by a supplier will actually be on sale for a lower price brand-new. Suppliers of refurbished laptops use the MSRP price of a new laptop as a guide to how much to charge for a refurbished version. As a result, they often miss the fact that the price of the new model may have dropped significantly since release and therefore be priced lower than the supplier is offering for a refurbished model.
Compare and contrast the wholesaler's refurbished price with the current new price to make sure you're not buying laptops that can be bought new for less. It takes seconds to check out the price of a laptop online; customers won't buy refurbished when they can buy a new laptop for less money.
Does The Supplier Offer Competitive Shipping?
Another way to save money when purchasing refurbished laptops is to find a supplier who offers affordable shipping. Larger suppliers often have deals in place with some of the big name shipping companies, and are able to offer you cheaper shipping than if you were to go directly to the shipping companies yourself. Be sure to check out what a supplier charges for shipping, as you may just save even more money by letting them handle the logistics.
Check Out A Supplier's Returns Policy
Finally, you'll want to know what returns / refund policy a potential supplier has before committing to an order. Any reputable supplier will let buyers return goods if they're found to be faulty / not as described; any that don't offer this basic service should be avoided at all costs.
Be sure to pick a supplier who offers a generous returns window. In turn, when it comes to reselling, you too should offer your customers a warranty on all the goods you sell to give them all the reassurance they need.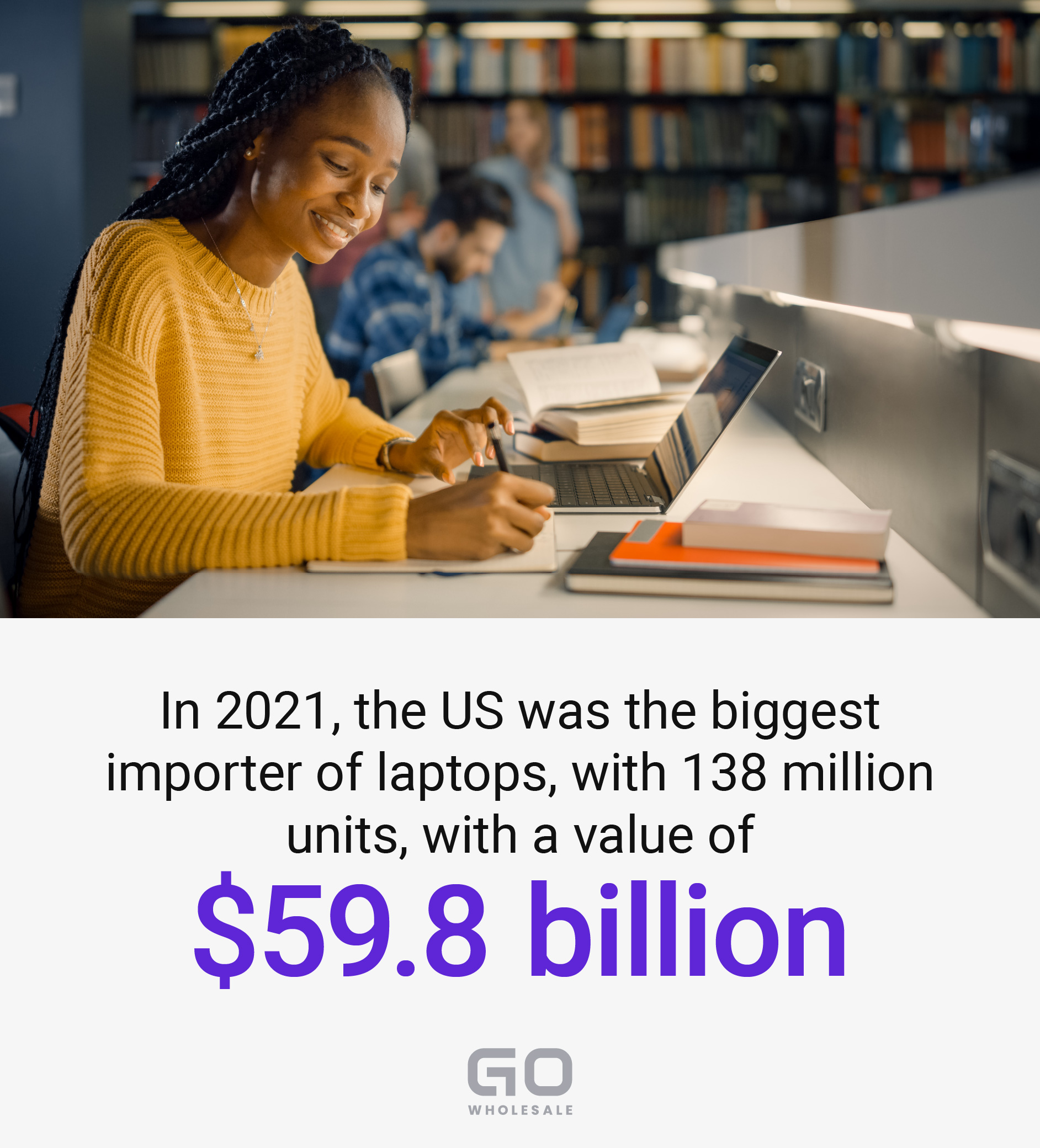 Source: Global Newswire, 2022.
Apple MacBooks: A Warning
One of the most desirable brands of laptops is, of course, Apple. While it may be tempting to fill your inventory with Apple MacBooks, a word of caution is necessary. While there are plenty of outlets through which you can sell refurbished Apple products, the company holds considerable sway over the biggest online retailer of all - Amazon. All refurbished products on Amazon are sold via Amazon Renewed.
You have to meet a sales threshold to sell refurbished Apple products on Amazon Renewed, and that threshold will exclude all but the most successful high volume resellers from selling on the site.
To qualify to sell Apple products, you'll need to provide invoices for the previous 90 days that total $2.5 million in previous refurbished Apple sales. That's an eye-watering sum, and it's why you should focus on other outlets such as your own website, eBay, or local sales channels to sell Apple products especially if you're just starting out.
The Laptop Market in Numbers
The global laptop market is expected to grow from $100.47 billion in 2021 to $110.51 billion in 2022 at a compound annual growth rate (CAGR) of 10.1%
Finding Wholesale Suppliers of Refurbished Laptops
There are a few ways to find wholesale suppliers of refurbished laptops online.
Searching online through search engines such as Google will give you links directly to wholesalers' websites, Google My Business listings, and Facebook pages, not only in your area but also further afield.
What to search for:
"refurbished laptop wholesaler near me"
"refurbished laptop wholesaler [city]"
"[manufacturer] refurbished laptops wholesaler"
"[manufacturer] refurbished laptops supplier"
"wholesale refurbished marketplace"
If you use Google Maps, you will be shown results for whatever you search for in your local area, if you're signed in (use the list above for example searches). Otherwise, move the map to cover any area, choose the scale, and then select "search this area". This will allow you to find businesses that match your keywords on the map.
There are also directories you can check out online that list wholesale refurbished laptop suppliers both in the United States and internationally.
Finally, there are online reseller forums and social media groups you can join where you'll be able to pick up more tips and recommendations, as well as asking other resellers where the best place to source refurbished laptops is in their opinion.
Check out our guide to finding wholesale suppliers online for more details on how to match up with suppliers through directories and social media.
Check out what wholesale refurbished laptops we have for sale right now.