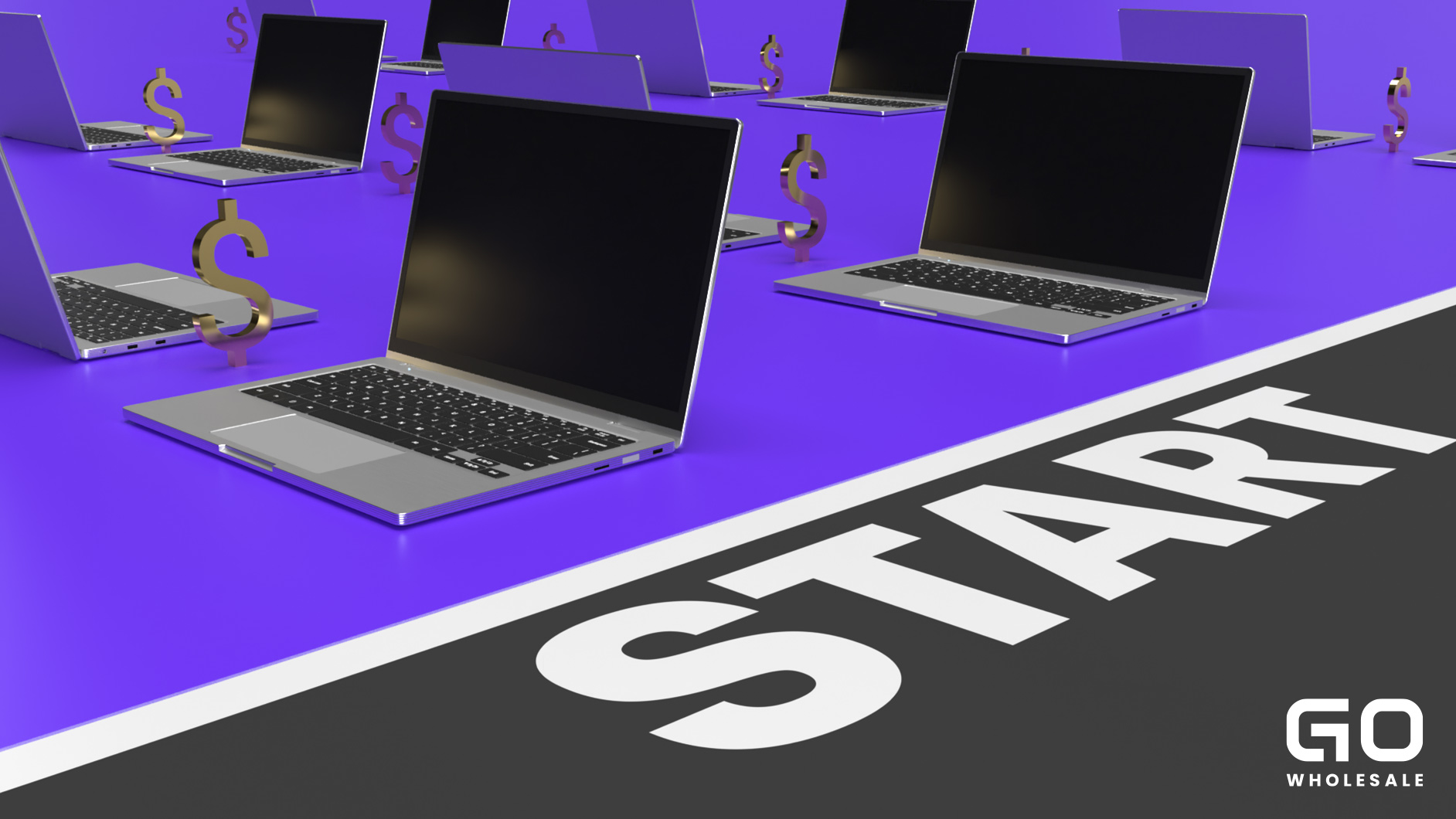 Laptops are in high demand by consumers all around the world, and that demand is growing year by year, exacerbated by the pandemic. In this article, we'll talk you through how to purchase wholesale laptops for resale, and how to turn this into a profitable business.
The Current Market for Laptops
The value of the global laptop market reached $103 billion dollars in 2020, strengthened by an upturn in demand caused by the pandemic. Driven mainly by sales in the USA and Europe, the market is expected to grow by at least 0.5% every year between 2021 and 2026.
The United States, the world's leading market for laptops, is expected to generate $37 billion worth of laptop sales by 2025. Globally, the laptop market is expected to hit $150 billion by the same year. In contrast, desktop PC sales are expected to drop by $54 billion in the same time period as customers make the switch from desk-based units to portable, lightweight machines.
Where to Buy Laptops Wholesale
When choosing a wholesale laptop supplier, there are several important factors you'll need to take into account:
Depth of Inventory
Find a supplier or marketplace that can provide your business with the best range of laptops, allowing you to supply your customers with business laptops, touchscreens, 2-in-1s, gaming machines and notebooks from all the big-name manufacturers - Lenovo, Apple, HP, Asus etc.
Price
Make sure you find a source that charges a fair price for their wholesale laptops. Look out for discounts on high-volume orders.
Shipping Costs
Always buy from the closest locations available to you - this will keep shipping costs down. Some suppliers help you to understand how much inventory you need to order to fill a box, a pallet, or a truckload - so you can maximize the space you have available.
Also, look out for a supplier who offers local pickup from one of their distribution centers.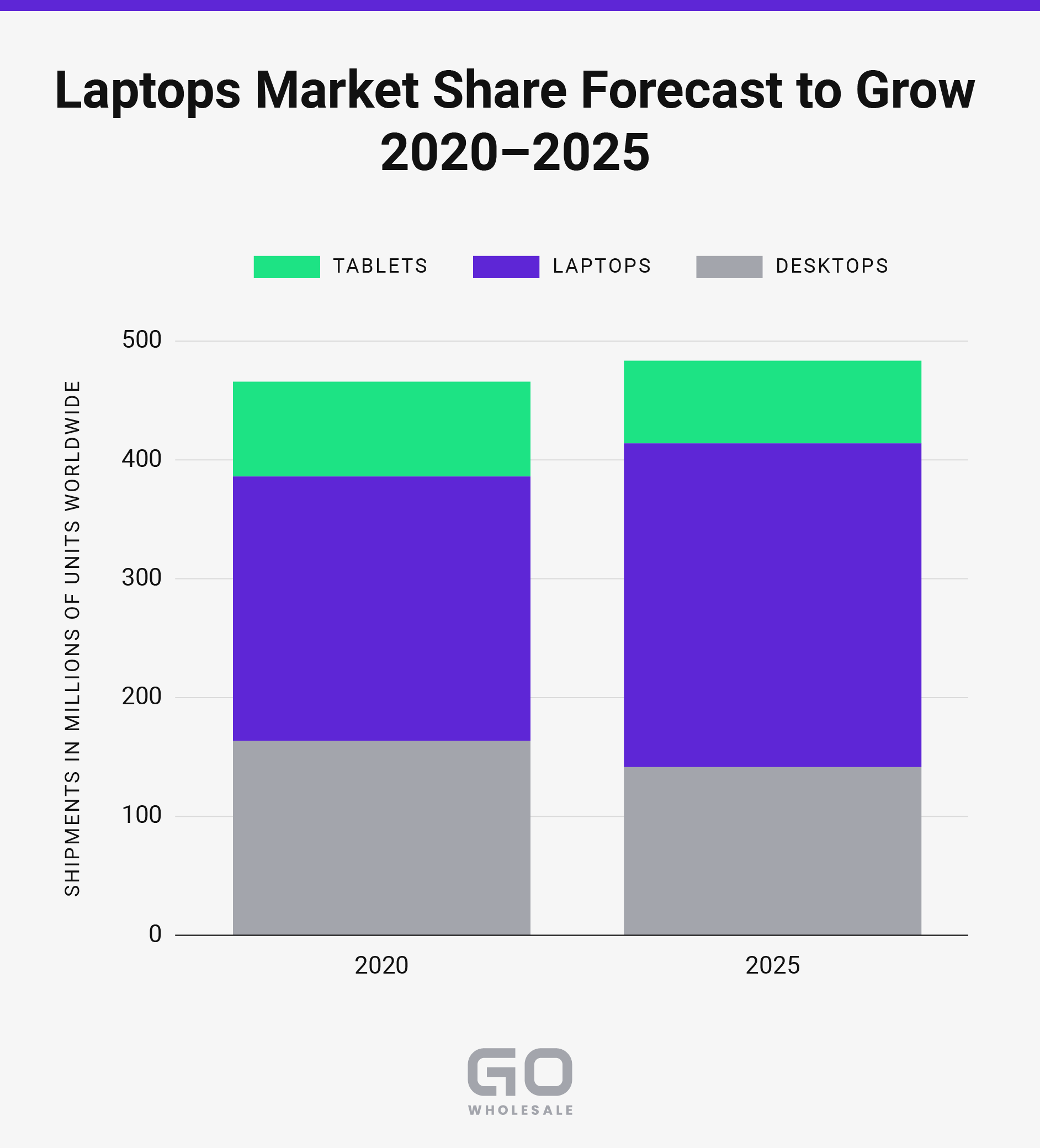 Source: Statista, 2020.
Ability to Buy on Terms
Does the wholesaler offer its customers the ability to defer payment for 30, 60 or 90 days? This can be especially useful for customers who are just starting out as suppliers don't usually charge interest on deferred payment terms.
Minimum Order Quantities
Some wholesale suppliers have a high minimum order requirement. Check if you can meet this requirement.
Order Delivery Speed
Look for a wholesaler who promises to deliver your wholesale orders in as fast a time as possible - if you're paying for overheads, delays in receiving shipments is costing you.
International Shipping Considerations
If you're an overseas buyer, you'll need to find a wholesaler/ marketplace that ships internationally as quickly and as cheaply as possible, while guiding you through customs and tax requirements. If you're planning on receiving your shipment within the US, and forwarding the merchandise to an international destination, ensure you're able to request a bill of lading from the wholesaler as you can not ship unmanifested loads internationally.
Top Laptop Brands to Buy Wholesale
The six top-selling laptop brands might surprise you. The market leader by some margin is Lenovo. The Chinese manufacturer produces highly-regarded business-oriented laptops such as the tried and trusted ThinkPad. In second and third place are HP and Dell. Apple occupies fourth place, possibly placing lower because its machines are some of the most expensive on the market. Finally, fifth and sixth place in global sales rankings are Asus and Acer, both of which make a wide range of laptops from business machines and high-end gaming laptops to budget laptops that appeal to an wide list of customers.
Buying New vs. Buying Refurbished - Which is Right for You?
A refurbished laptop is a used unit that goes through a series of tests to ensure it functions according to the manufacturer's original standards. When necessary, the unit is repaired, sanitized, data wiped, re-accessorized, and repackaged in retail-ready packaging.
New products, on the other hand, have never been used by a consumer- though will be more expensive than refurbished units. There are advantages and disadvantages to buying both new and refurbished merchandise to resell:
Advantages of buying new laptops:
Many customers prefer to buy new as they either do not trust refurbished or second-hand computers.
Buying new means you can sell directly on Amazon without going through the difficult process of listing on Amazon Renewed.
Buying new means you have the latest laptops to sell to customers, which can be more attractive than those from a reseller who only sells older models.
New laptops come with manufacturer warranties that are attractive to customers.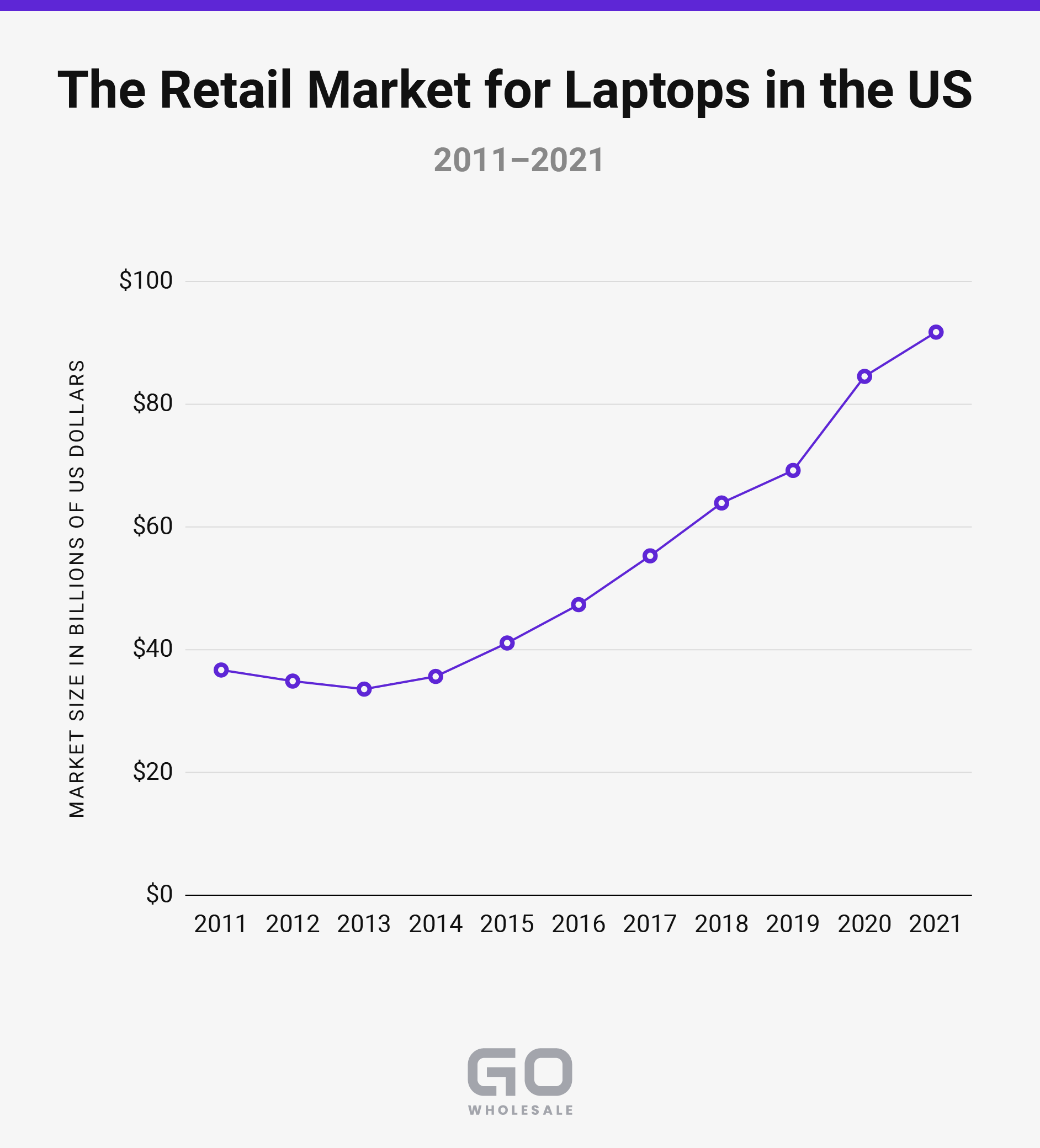 Source: Ibis World, 2021.
Advantages of buying refurbished laptops:
Refurbished laptops are much cheaper to buy than new laptops, meaning they can be sold on average 25% to 40% lower than new.
The value of the global refurbished computer market is expected to reach $4.9 billion by 2027. Of that, the laptop share is expected to be worth $3.1 billion. This means there has never been a bigger market for refurbished laptops.
75% of people say they are likely to buy refurbished electronics, with 94% of people having bought refurbished electronics in the last three years. This indicates growing consumer confidence in the refurbished sector.
Reach a broader base of customers than just those looking for new laptops.
Buying from a top-quality refurbished laptop supplier ensures you will buy products that have been rigorously tested and come with warranties and customer support should anything go wrong.
Refurbished laptops typically bypass the high first-year failure rate of new laptops, meaning customers should get 3-5 years of usage without the worry of failure.
Selling Laptops - Local vs Online
Selling Laptops Locally
There are several benefits to selling laptops locally. These include:
No outbound shipping costs - Typically, customers in your local area are happy to come and pick up their purchases from you.
A lower rate of returns - As a general rule, customers who buy from a local supplier are less inclined to return an item than they are when buying from an online source.
Consumers are reluctant to buy big-ticket items online - Laptops can be expensive, and many customers are still cautious about spending large amounts of money online unless there's a guarantee that they'll get their money back should something go wrong.
The ability to develop a reputation locally within your community and with customers - Word of mouth is vitally important in retail, and having a firm grounding in your local community means customers are more likely to spread the word about your business.
Physical sales create more impulse buys - A well-established principle of retail psychology is the fact that 40% of customers who buy from physical outlets are more susceptible to impulse buying compared to just 25% of online customers. This can add value to your business, especially when it comes to the extras you can sell alongside your main laptop range such as cases, accessories and peripherals.
Selling Laptops Locally with Online Tools
As well as selling from your own store and via your own website, there are also online options you should consider that help you connect with local customers. These include:
Facebook Marketplace - Facebook Marketplace has quickly established itself as a way to connect with customers locally. The service is both free and has one billion monthly users worldwide. If you plan to sell through Facebook Marketplace and prefer to receive payment via PayPal, you'll have to pay on-platform checkout fees of 5% per transaction.
Craigslist - Craigslist is a free classified service that is a great way to reach out to customers in your local area.
Offerup - OfferUp is a local marketplace that has been built around smartphones and tablets. OfferUp offers a series of seller tools such as instant messaging to keep in touch with customers and the ability for sellers to check user profiles for ratings, badges and their transaction histories. Advertising in OfferUp is free, but it does charge sales fees of either $1.99 or 12.5% of the sale price.
Selling Laptops Online
While selling locally is attractive for the reasons listed above, there are also plenty of benefits to selling online. These include:
No need to pay for retail space - While setting up shop in your local area can be a great way of both attracting and retaining customers, the expense of doing so can eat into profits, especially if you're just starting out. Selling online means you won't be paying rent, nor overheads such as wages and bills. While you'll still be paying fees to sell online, they are much lower than what you'll be paying to run your own store.
Sell in your spare time - Many people choose to do online sales on the side, retaining a regular job while fulfilling online orders in their evenings and weekends. Selling online as a side job is a great way to make extra money, and some sellers even find that over time their online retail business grows to the point that they can turn their hobby into their main source of income.
Reach a huge audience - there are over 220 million online customers in the USA alone, and that number grows every year. This means your online business has the potential to reach a huge customer base, and that can greatly increase your chances of making sales.
Third Party Online Marketplaces
For many sellers, the easiest places to sell your goods are via third party online marketplaces. The two dominant players in this sector are Amazon and eBay, both of which come with advantages and disadvantages for resellers.
Selling new laptops on Amazon is easy and simply requires you to set up a seller account, selling refurbished laptops is a different story. Amazon requires vendors who want to sell refurbished electronics to sign up to its 'Amazon Renewed' marketplace. To sell refurbished laptops via Amazon Renewed, you'll either have to be an established seller on Amazon with an ODR (Order Defect Rate) of 0.8%, or you'll have to provide proof of at least $50,000 of sales over the previous 90 days. The rules are even more difficult to follow for Apple products - a target that's beyond the reach of any but the most established high volume businesses. For full terms and conditions of Amazon Renewed, check out the company's terms and conditions here.
Unlike Amazon, eBay doesn't set out special requirements for selling refurbished electronics. While this means you can start listing refurbished laptops straightaway, take note that many customers are wary of buying big ticket items from the site from anyone other than established sellers with excellent customer ratings and 'Top Rated' seller status.
Also, eBay has recently introduced a new 'Certified Refurbished' program to its site, which you may wish to consider signing up for. More information on the program can be found here.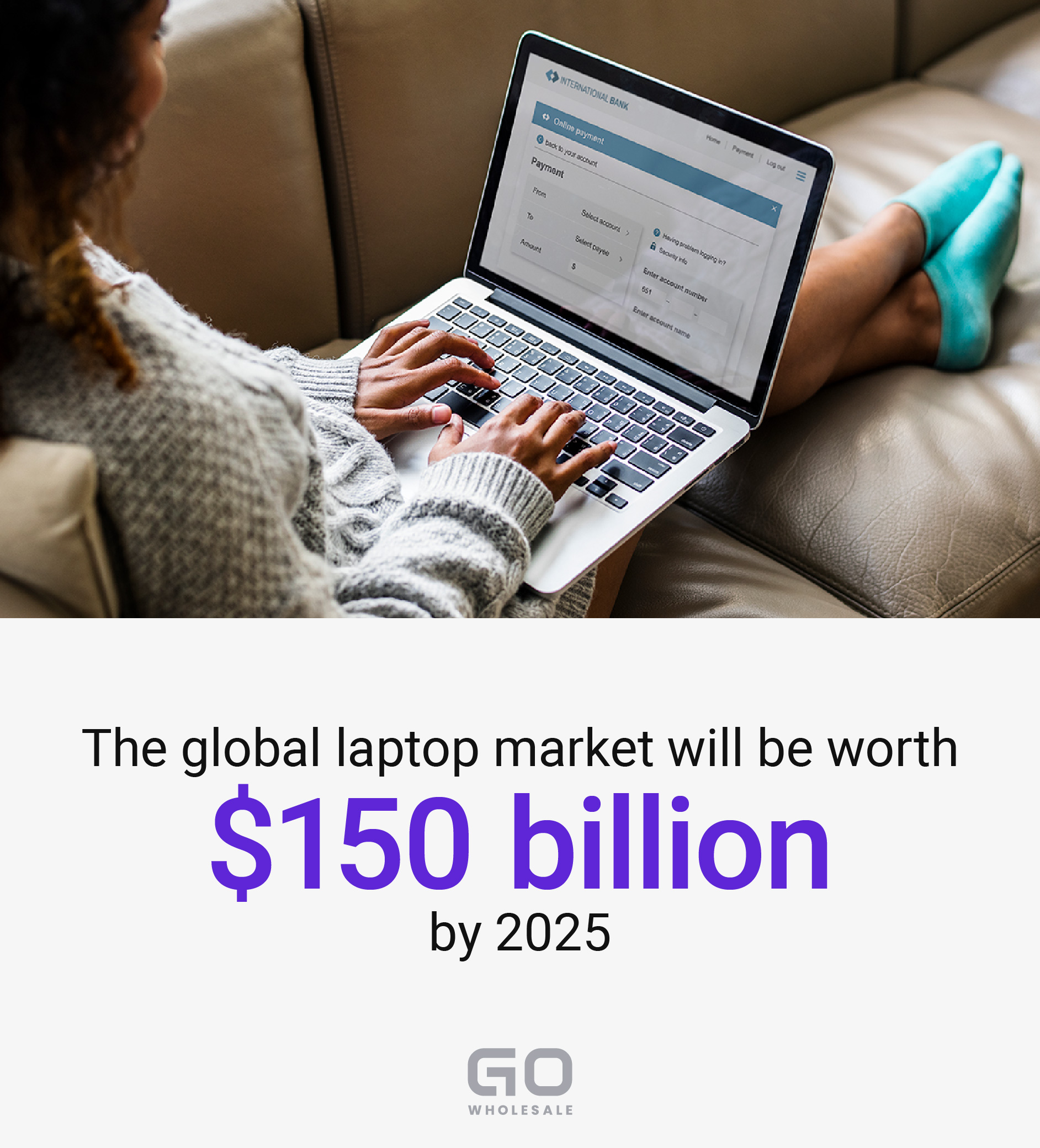 Source: Futurum Research, 2020.
Setting up Your Own Website
Setting up your own website is quick and easy through sites like GoDaddy, which will sell you a domain name and provide you with many online design and admin tools to help you get your own store up and running quickly. Having an online store means you control every aspect of the sales process, from marketing, budget and the look of your site, to how customers pay, third party website integration and customer service. You also control what you want to do to attract customers, such as when to trigger flash sales, discount deals, voucher promotions etc.
How to Price Your Laptop Inventory
When it comes to pricing and managing your laptop inventory, there are a number of handy online tools you can use to ease and speed up the process. For help with inventory management selling through Amazon, sellers should check out tools such as Jungle Scout and Helium 10. For eBay sellers, you should take a look at tools like 3Dsellers and CrazyLister. To optimize, manage and integrate your inventory across multiple channels, check out what tools such as ChannelAdvisor and Lengow can do for your business.
There are multiple ways to work out the best pricing strategy for your market. The methods to calculate differ by business model, scale, investment and time available. Here are some guides to read more about this:
Key Business Considerations
Finally, there are key business considerations you must take into account when buying and selling new and refurbished laptops. These are:
Retail space costs - When calculating likely profits, consider any overheads when selling locally such as rent, bills, wages etc.
Storage space costs - If you don't have suitable storage space, you'll need to find adequate warehousing to house your stock. Bear in mind that as your business grows, you'll need a larger storage facility to house more stock.
Shipping costs - Factor in not only the shipping costs you'll incur from your wholesale supplier, but also the costs you'll pay for shipping to customers.
Security and insurance costs - If you're warehousing in an unsecured location, you'll likely have to pay security costs. Also, you'll have to take insurance into account. Insurance is essential so if the worst happens, you're not left out of pocket if you need to replace lost, damaged or stolen stock.
Returns management - At least 30% of products ordered online are returned compared to 8.9% bought from bricks and mortar stores. Inevitably, your business is as likely to be caught up in this returns trend as any other, which means you'll have to factor in the loss of some revenue from returns when calculating likely profits. When dealing with returns, you'll sometimes have to repair items if they were damaged in transit, or sell off irreparable returns for parts.
Marketing expenses - Marketing increases sales. This is why you should invest in advertising. If you're selling through your own website, you won't attract any traffic without advertising. This includes taking advantage of all the free ways to market products available such as social media.
The global demand for laptops has risen dramatically over the last few years, and it's only expected to keep growing as more people switch from desktop PCs to lightweight, portable machines that fulfill their business and leisure needs. That's why you should consider selling new and refurbished laptops both online and offline as the market continues to expand. The key is finding the right wholesale supplier who can sell your business all the laptops you need, when you need them and for the best price. Choose the right supplier and the right products and you'll be able to take full advantage of this exciting and growing market.