Buying iPads Wholesale to Resell: What are the Most Popular Models
---
In this guide, we will explore the current market for Apple iPads, the future sales prospects, and the top-selling models, as well as how you can buy iPads wholesale to resell.
Apple iPads in Numbers:
Top Five Tablet Companies, Worldwide Shipments, Market Share, and Year-Over-Year Growth, Q4 2021
Top Tablet Companies Performance
Company
4Q21 Unit Shipments
4Q21 Market Share
4Q20 Unit Shipments
4Q20 Market Share
Year-Over-Year Growth
1. Apple
17.5
38.0%
19.1
36.6%
-8.6%
2. Samsung
7.3
15.9%
9.3
17.8%
-21.6%
3. Lenovo
4.6
10.0%
6.2
11.8%
-25.4%
4. Amazon
3.6
7.9%
3.6
6.8%
1.3%
5. Huawei
2.5
5.5%
2.9
5.6%
-13.9%
6. Others
10.5
22.8%
11.1
21.3%
-5.9%
Total
46.0
100.0%
52.2
100.0%
-11.9%
Source: IDC Worldwide Quarterly Personal Computing Device Tracker, January 28, 2022
As we can see, the year-on-year comparisons show the continued decline in tablet sales, almost across the board. As more powerful and more versatile laptop-tablet hybrids, such as the Microsoft Surface line, gain in popularity, the market for dedicated tablets has reduced.
Sales of iPads, worldwide, 2013-2021:
2011 - 32.3 million
2012 - 58.1 million
2013 - 97 million
2014 - 67.9 million
2015 - 53.8 million
2016 - 45.5 million
2017 - 43.7 million
2018 - 43.5 million
2019 - 45.2 million
2020 - 71.1 million
2021 - 57.8 million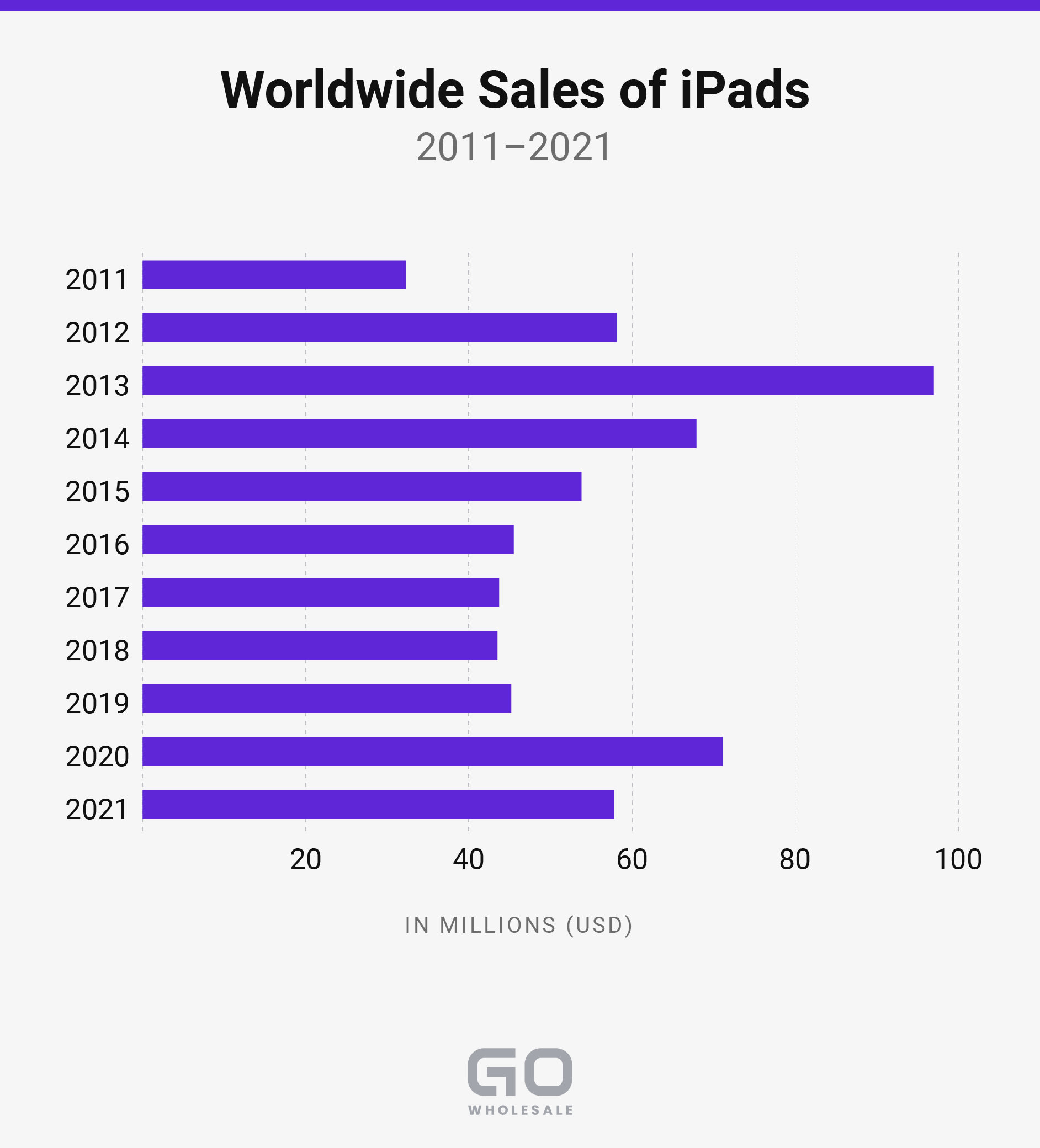 Source: IDC.com, 2022.
After launching the iPad, sales have decreased significantly from 2013 to 2019, rising during the pandemic in 2020 and falling again after. However, of all tablet manufacturers, Apple still rules the roost with the iPad.
The Top Selling Apple iPad Models
Apple introduced the first iPad in 2010, and it has been popular ever since. In 2020, 45.5 million iPads were sold, while iPad sales generated about 7.65 billion U.S. dollars in revenue in the second quarter of 2022 alone. Between January and March 2022, the iPad lineup accounted for 31.8% of global tablet shipments, making Apple the number one brand in that product category. Today's top-selling iPad models are iPad 2021, iPad Mini 2021, iPad Pro 2021, and iPad Air 2020.
According to MacPrices.net, an online price trend aggregator for Apple products, which checks prices each day to find the best prices online, the best listing prices for each of the models in new or like-new (open box) condition as of June 2022 are:
Apple iPads Pricing
Model
Release Date
Retail Price
Amazon Price
eBay Price
iPad 2021

September 24, 2021,

$329-$459

$299-$559.99

$342-$475

iPad Mini 2021

September 24, 2021,

$499-$649

$409-$699.99

$329-$650

iPad Pro 2021

May 21, 2021,

$799-$1099

$689-$1049.99

$849

iPad Air 2020

October 23, 2020,

$599-$749

$569.99-$849.99
Retail prices as of July 2022 - apple.com
iPad 2021
This is the ninth generation of iPad, released in September 2021. The iPad 2021 was the top-selling tablet worldwide in the first quarter of 2022.
iPad Mini 2021
The sixth generation of iPad Mini was also released in September 2021, and it became the second most sold iPad in the first quarter of 2022.
iPad Pro 2021
The fifth generation of iPad Pro was released in May 2021. It comes in two sizes, with prices starting at $799. This is, at the moment, the third highest selling iPad, still outselling every Android tablet in the market.
iPad Air 2020
Launched in October 2020, the iPad Air became the 5th best-selling tablet overall in the first three months of 2022. However, it is expected to leap up in Q2 of 2022. In 2021, the iPad Air accounted for 19% of the total iPad shipment in Q1 of 2021. That is approximately 2,413,000 units. The iPad (2021), iPad mini (2021), iPad Pro (2021), and iPad Air (2020) accounted for a combined 94% of Apple's total tablet sales in Q1 2022.
iPad 2020
The 8th generation of iPad 2020 was introduced in September 2020, became the top-selling tablet of the year and sold 12.7 million units in Q1 of 2021. Currently, iPad 2020 accounts for less than 6% of the total iPads sold in Q1 of 2022, less than 726,000 units, making it less popular than the other four models mentioned in this article.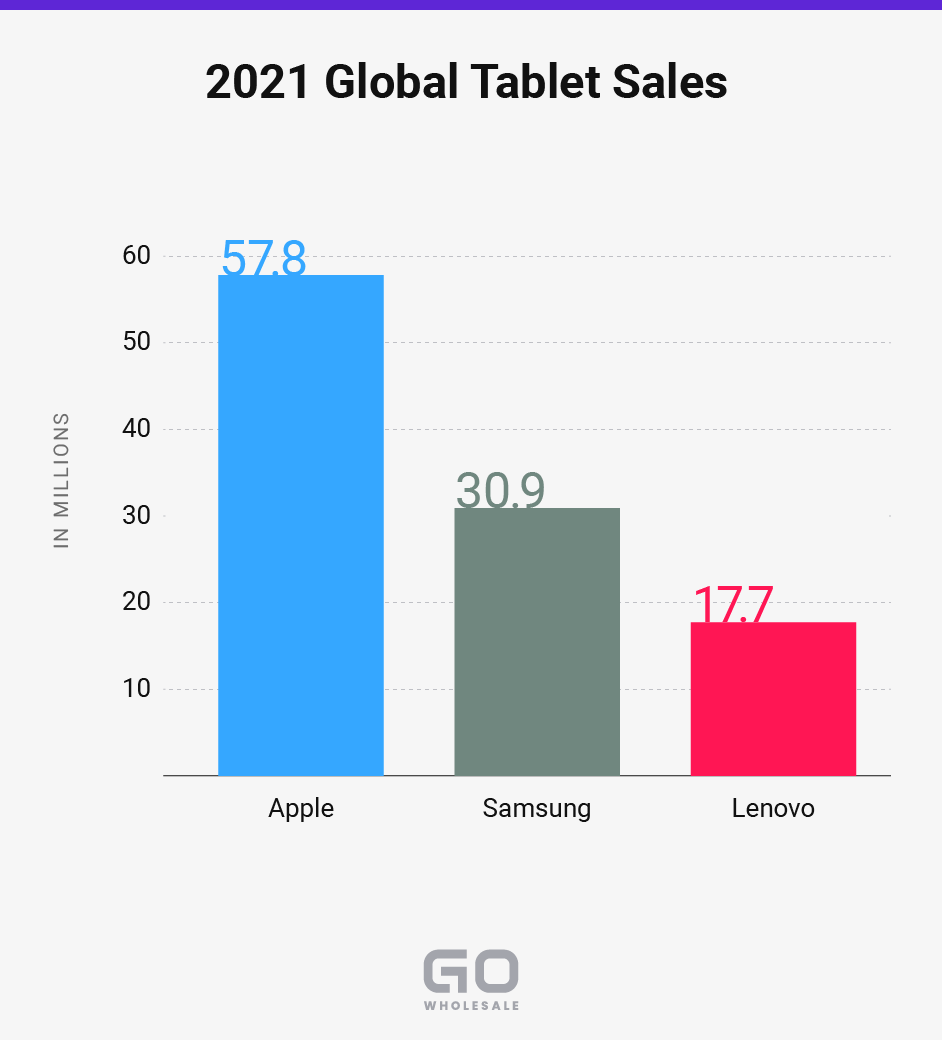 Source: NBC, 2021.
What is the Current iPad Market?
While facing a shortage of iPads in 2021 due to the global shortage in semiconductors, Apple is still the dominant player in the tablet market. Apple users are famously loyal to the brand, so demand for iPads will likely remain high.
However, brand loyalty hasn't been enough to stop Apple's steady decrease in market share over the years, from 60 percent in 2011 to slightly over 30 percent in 2021. Apple's strongest competitors are Samsung, Lenovo, and Huawei, with Amazon also holding a significant market share. This is reflected in the market presence of iOS, Apple's operating system, which lost its top position in late 2012. At present, Android has a 52 percent market share, with iOS holding only 37 percent.
Tablet sales surged in 2020, mostly driven by the COVID-19 pandemic. But as more workers returned to the office and students to in-person teaching, these figures began to fall. Data also suggests that global tablet revenues will continue to drop, falling $3.2bn by 2025.
Sourcing Wholesale Apple iPads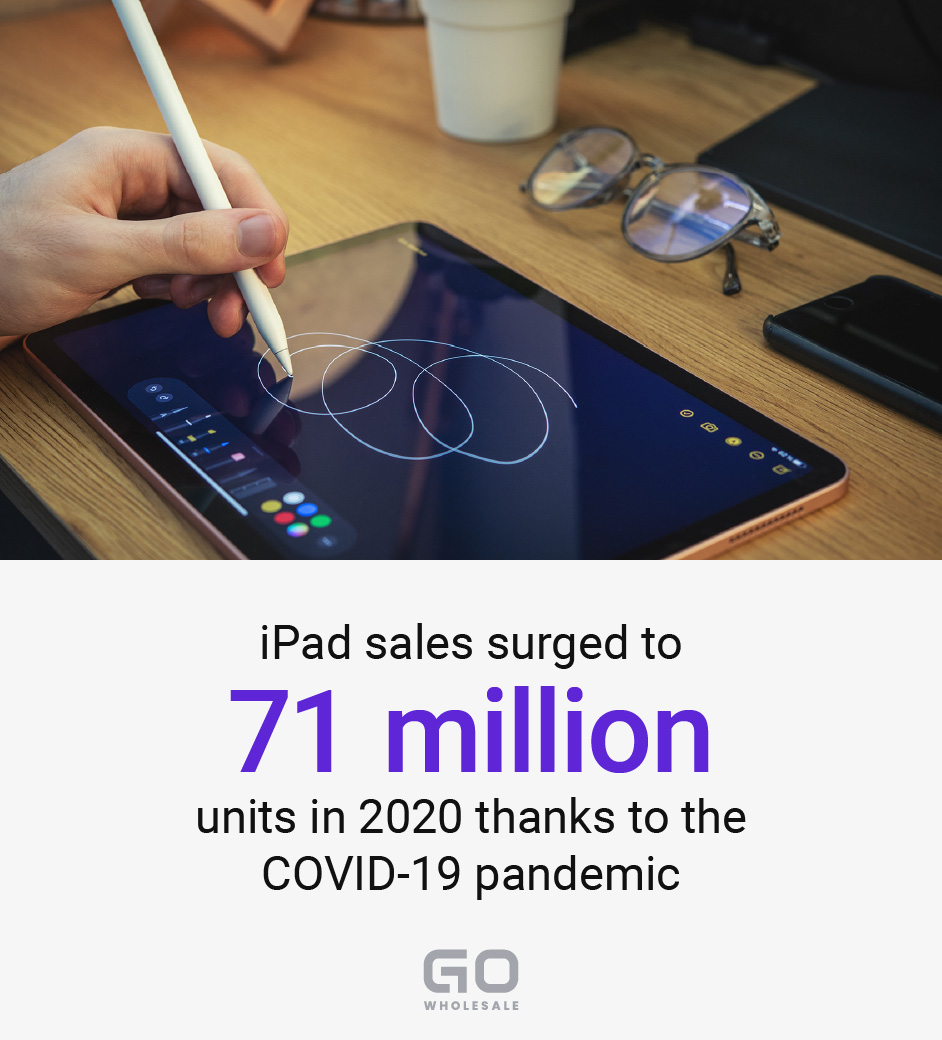 Source: Business of Apps, 2022.
Sourcing Wholesale Apple iPads from Apple Directly
The requirements to become an official Apple wholesaler are difficult to meet, especially for a small business. Most wholesalers and all businesses that have just started operations will not be able to meet these requirements. Check out Apple's requirements for vendor applications here.
But there are ways you can buy Apple inventory wholesale that does not require purchasing wholesale from Apple itself.
Sourcing Apple iPads from goWholesale
The alternative is to source your Apple inventory at wholesale marketplaces like goWholesale. goWholesale specialises in supplying new and refurbished products wholesale to business customers, including iPads.
goWholesale offers three main advantages: flexibility, transparency, and savings. goWholesale allows you to mix and match any combination of items from any product line. Every product sold on goWholesale's online platform comes with a warranty (typically 90 days from the date of delivery).
Every product comes with a complete sales history and price trend data so you don't have to leave our site to perform product research on what the current market prices are for a product. Check out what wholesale iPads we have available for sale right now.