Resale 101: Shipping Information and Costs
---
After buying your merchandise, you need to arrange shipping. You may choose to shop around for a provider that meets your needs at a competitive price. Alternatively, you may simply let goWholesale help you with your shipping arrangements.
To make informed decisions regarding shipping, however, you need to be familiar with some key aspects of the process, like the distinction between parcel and freight shipping.
Parcel Shipping
According to top carriers like the US Postal Service, UPS and FedEx, the difference between parcel and freight shipping is based on weight and size. A parcel has a length to girth ratio of between 130" and 165", and weighs up to 150lbs. Anything above these limits is classed as freight.
Packaging
You can buy packaging from several sources: online, the post office, or office supply stores. Bubble wrap or stuffing can be used to cushion and protect your products.
The cost of packaging needs to be added to your total shipping costs. These can vary due to factors like size and quality. It may be hard to balance the need for sturdy packaging with the need to reduce costs. Finding deals can help you with this. For example, USPS lets business users order boxes for free.
Tracking
All large carriers offer shipment tracking, in the form of regular shipment updates. They also offer insurance. This may be automatically included in the cost of shipping (especially international shipping). If not, you won't need to spend too much to add it yourself; in most cases, it's only a few dollars per $100 of the declared value.
Domestic Shipping
Although the US Postal Service is the most affordable parcel carrier, it offers fewer options than other carriers for package types and speeds of delivery. Express carriers, on the other hand, are more expensive, but can carry larger or heavier packages, offer a faster service, as well as more service options.
You can compare the rates of some major carriers with these shipping calculators:
International Shipping
International shipping is more complex than domestic shipping. You need to take into account two main factors: rules and costs. The rules for international shipping will vary from country to country. For example, some countries may forbid the importation of certain items from the US. It is also likely that you will be charged import duties and tariffs, which will vary widely, depending on the product, source and destination countries, etc.
UPS provides a tool for you to check country-specific rules and regulations. This will help you find out whether you can import your goods into a certain destination country. You can also use this duty calculator to check what duties and taxes are due in different destination countries.
Taxes are calculated based on fixed percentages. Duties, on the other hand, depend on several factors, including:
Value of the products.
Country of origin.
The type of the products, and specific characteristics like materials used to manufacture the products.
When shipping a parcel internationally, you will need to complete an international customs declaration. This will require two documents: an Export Packing List and a Commercial Invoice:
Export Packing List
Alongside details like the identification of the buyer and seller/shipper, invoice number, date of shipment, it includes more detailed information, such as:
Mode of transport
Information about the carrier
Package weight and dimensions of the packages (usually in metric)
Type and quantity of packages
Package marks
Commercial Invoice
This is a bill from the seller to the buyer for the shipped product. It proves that the buyer has paid for the goods and proves ownership. Because it contains the value of the package, it can be used to assess customs duties and taxes. It needs to contain the following details:
Names and addresses of merchant and customer
Quantity, description, and price of the products
Method of sale and terms of the payment
Shipping method
Customs information can be included in the shipping label. DHL Express reduces the need for printed documents by using Paperless Trade in most destinations.
Freight Shipping
Trucks are used to ship freight by road. According to the National Motor Freight Traffic Association, road freight is divided into 18 different classes, depending on the weight of the freight (more on this here). In the United States, road freight is shipped in standard-sized pallets of 40" x 48".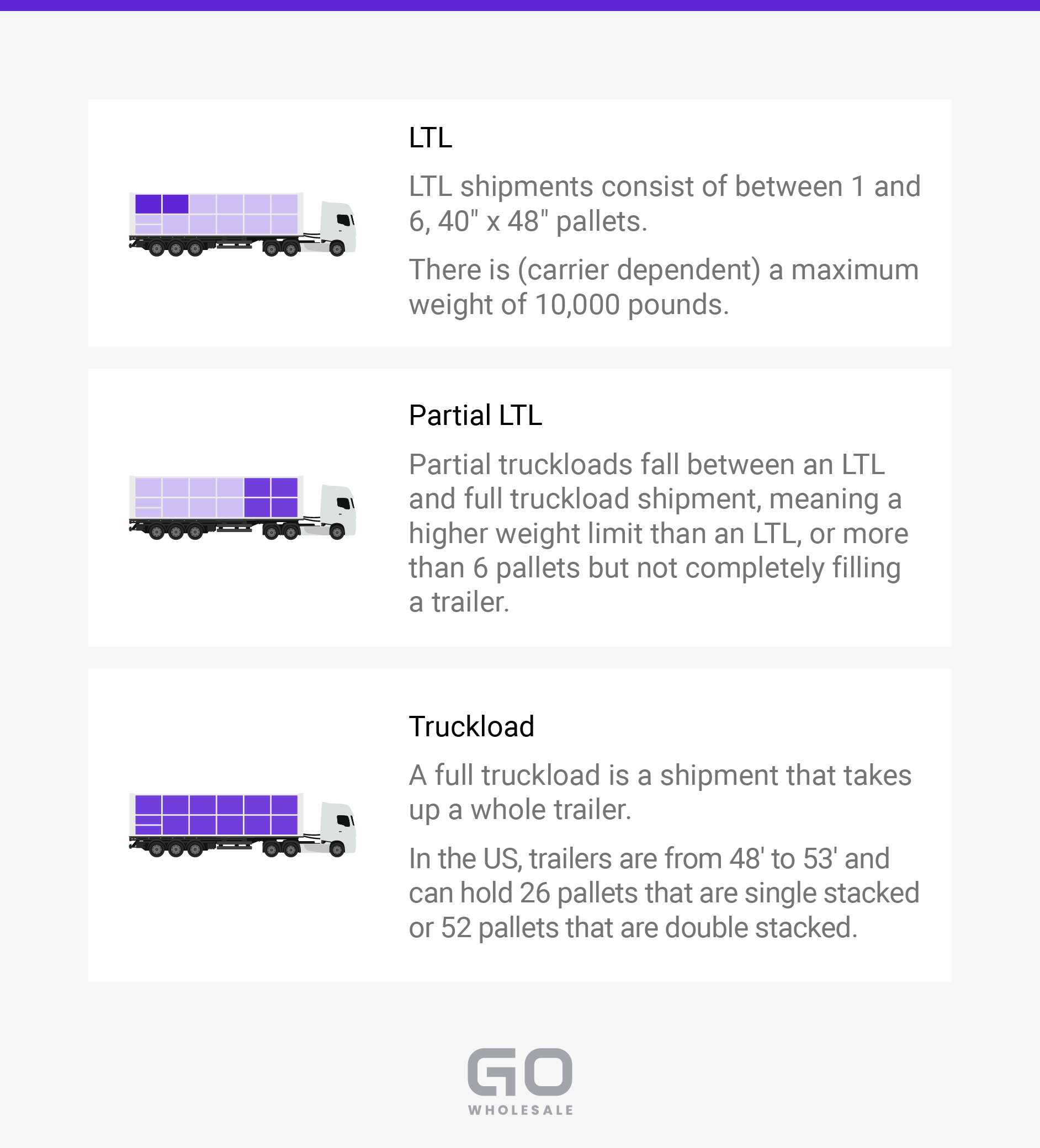 LTL (less than a truckload) freight shipping consists of up to 6 pallets that are bundled together in a trailer. These pallets are usually kept together, but as a smaller load they are often moved and unloaded/reloaded within a journey to drop off or load other pallets. The maximum weight is 10,000 pounds, though this might vary from carrier to carrier.
FTL (full truckload) is a shipment that occupies a whole trailer. In the United States, trailers measure between 48' and 53' and are able to hold 26 single-stacked pallets or 52 double-stacked pallets.
PTL (partial truckload) falls between an LTL and FTL. It can have a higher weight than an LTL shipment, or more pallets, while not filling an entire trailer.
On average, it costs $200-$600 to ship a full pallet domestically. When buying multiple lots from the same location, you will save money by consolidating your items into one shipment. There are tools available to help you estimate shipping costs.
Make sure you can receive the shipment when shipping by freight. You must request a truck with a lift gate if you're receiving the shipment at a residential address.
Your Freight Shipping Checklist
This checklist will help you plan for your next shipment:
Get a full inventory.
Make sure your shipment is packed safely and securely.
Note weights and measurements.
Find a carrier, or deal directly with the supplier.
Obtain a Bill of Lading.
Track the shipment's progress.
Confirm delivery and ask for a receipt.
You need to take some steps in preparation for shipping your merchandise. First, you need to confirm that the goods being shipped are the ones you want to ship. Mistakes do happen, and sometimes the wrong merchandise is shipped to the wrong customers, so don't forget to check.
You also need to obtain a Bill of Lading (see below). This must include a list of the goods shipped and the value of the shipment (cost of replacement, market value, or appraised value for insurance purposes).
Packing
Inevitably, your merchandise will be subjected to stress as it is shipped, especially LTL loads, which are often loaded and unloaded multiple times, and moved around by forklift. So you need to pack your loads in such a way that they can resist the strains and stresses, the shocks, impacts, vibrations and compression that are part of shipping.
You need to take the weight of your merchandise into account. Choose the pallet that is best suited to that weight. The International Organization for Standardization approves five pallet sizes; of these, the most common in the United States measures 40" x 48".
Stacking
It is crucial that your boxes be well packed, avoiding overhanging and staggering as much as possible. Overhanging and staggering affect the lower boxes, reducing their capacity to bear loads by as much as 40%. Staggering can reduce structural integrity by as much as a third. There are different requirements for different types of merchandise in terms of how much weight you can stack per cubic meter.
The risk classification also varies, and can have an impact on your overall shipping costs. You can reduce these by taking precautions like using stretch wrap, corrugated pads, anti-slip mats, straps, edge protectors and pallet bands. You should consult your shipping company's customer service team about their policy.
Bill Of Lading – A Quick Explanation
A Bill of Lading is a commercially available document issued to the shipper by the carrier that must be attached to every shipment. This document shows that the goods have been received by the freight carrier, and contains the contract of carriage, and an order to deliver the freight to its destination. In the case of international shipping, a Bill of Lading is overseen by the U.S. Customs and Border Protection.
Freight Insurance
It is a common misconception that carrier liability is the same as shipment insurance. In fact, your shipment may not be completely protected by carrier liability, so you are advised to take out freight insurance that covers the full value of your shipment to avoid losses.
Cargo Insurance vs. Carrier Liability
With Freight Insurance:
Covers the full value of the shipment.
Typically paid within 30 days.
No requirement to prove carrier negligence.
With Carrier Liability:
You may be compensated in full, but this depends on the reimbursement limits of the carrier, which are based on freight class and condition.
No specific deadlines for claim payments.
Carrier negligence needs to be proved. You also need to add a notice of damage to the delivery receipt. Damage found after delivery must be reported within 5 days, with the claim filed within 15.
You can take out insurance from a third party, but most carriers offer an insurance add-on.
International Freight Shipping
Ocean Shipping
Ocean freight is usually much slower than air, and holdups in ports, due to the sheer volume and range of cargo and all related documentation that has to be processed often leads to additional delays. However, ocean freight has a much better carbon footprint than air freight. Ocean freight is much more affordable than shipping by air - a $195 ocean shipment can cost $1,000 by air.
There are two categories of sea freighting: LCL (less than container load) and FCL (full container load), with shipping sizes similar to PTL and FTL. Bear in mind, though, that pricing and size definitions vary between shipping companies. Typically, there are three container sizes for ocean freight: 20' 40' and 53'. International freight shipping is better suited for shipments that can fill up an entire container.
Sea Freight Classifications and Factors: FCL vs. LCL
Full Container Load (FCL)
Less-than-Container Load (LCL)
Pricing

Pay for the whole container
Fill container for maximum efficiency

Pay by weight (whichever is greater: volumetric/ dimensional or actual)
Greater cost-efficiency for lower weight breaks

Schedule

More flexible
Fill container at your own schedule since no consolidation needed

Schedule for consolidation with other shipments means less flexibility
More time to load

Handling/Customs

Less handling
Faster Customs Clearance - one shipper and homogeneous goods processed quicker at customs
For single destination, direct delivery from port

More handling and more time for Customs Clearance as it requires deconsolidation
Sorted before last mile delivery
Air Freight
Shipping by air is faster, safer and more reliable than by ocean - but at a much higher cost. Air freight is commonly used when the cost is less than 15-20% of the value of the merchandise you are shipping. A full guide to air freight pricing can be found here - along with a calculator.
There are additional restrictions on the goods you can ship by air compared to by ocean, on top of the list in the section below:
Anything containing gases (e.g. light bulbs).
Anything flammable.
Corrosive items, such as batteries.
Magnetic electronics, such as speakers.
Labeling and Documentation
Each export shipment must be labeled correctly, in compliance with the internationally agreed shipping regulations. Your labeling must include:
Country of origin.
Port of entry.
A full manifest of goods.
Size in centimeters and inches.
Weight in kilograms and pounds.
Handlers' details.
Shipper's details.
Precautions to be taken, like 'This Side Up' and 'Fragile'.
In the case of edible goods, a list of ingredients (as required by the destination country).
The following documentation is also required:
Bill of Lading (as detailed above).
Commercial invoice.
Certificate of Origin, stating the origin of the goods.
Consular invoice – This is required by some countries. It certifies that the shipment has the name of a co-signer, the co-signee, and shows the value of the shipment. This invoice needs to be certified by a consular official of the destination country.
Inspection certificate.
SED (Shipper's Export Declaration) – This is required in the case of a single commodity shipment that is valued for customs over $2,500. It is also required for all cargo destined to Asia and Eastern Europe, and when the shipment requires an export license.
Packing list.
Insurance certificate.
Export license.
Freight needs land transportation from the seller to the port/airport. Deliveries will require a US address to send to. You will need a contract with a US-based freight forwarder as well as a customs broker who will oversee legal issues with importing/exporting goods. It is your responsibility to make these arrangements for the product to be shipped as soon as possible. Customs fees are always the responsibility of the buyer.
Cargo Insurance
You should take out cargo insurance cover for international shipping. There are three main types of insurance packages:
All Risks – against damage from all external causes.
Named Perils – This covers damage specifically listed, usually fire, sinking, crashing, etc. It is unusual for it to cover theft.
Standard Shipment Cover – This does not cover Acts of God, such as hurricanes, tornadoes, etc.
It is very important to carefully plan shipping when ordering merchandise, including packing, tracking, documentation, and insurance - making sure to incorporate these costs into your purchasing decisions.