Reselling Smartwatches for Profit: An Expert's Guide to Making Money Online
---
Smartwatches have become increasingly popular over the years, and as technology continues to advance, the demand for these wearable devices is only expected to increase. This guide will explore what types of smartwatches are available, which models are best-sellers, and how to buy in bulk for resale. We will also explain how you can save money with refurbished models, and how to best price your merchandise for online sales.
Related Reading
Smartwatches: The Numbers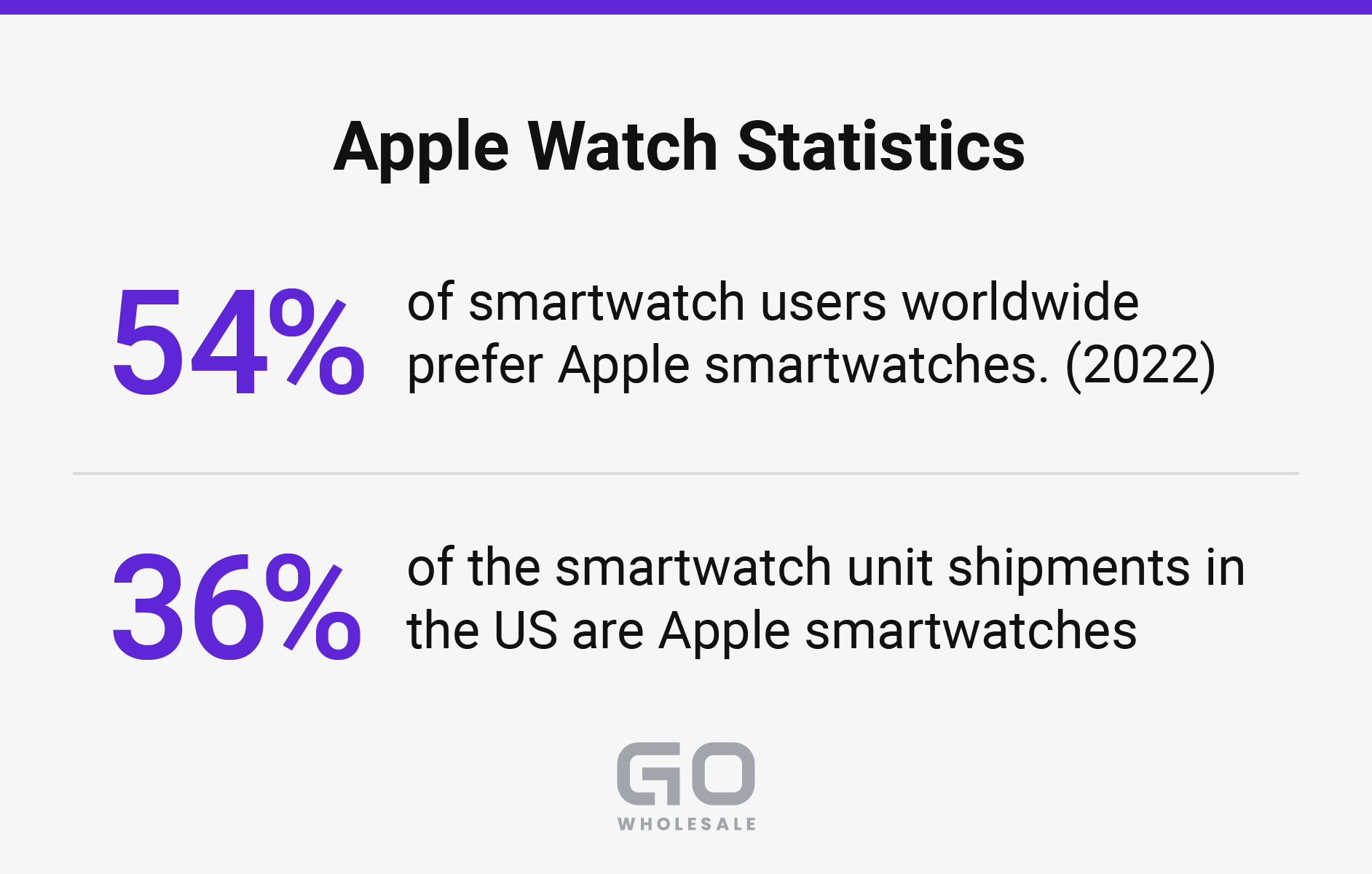 What are Smartwatches?
A smartwatch is a wrist-worn electronic device that combines timekeeping with computer functionality. These devices utilize Bluetooth technology to connect with your smartphone and offer a wide range of practical applications for daily activities.
With a smartwatch, you can conveniently initiate and receive phone calls from your smartphone, read emails and text messages, check the weather, monitor your heart rate, track your steps, select and play music, ask digital assistants for assistance, and perform many other tasks without the need to directly access your smartphone. Over time, the capabilities of smartwatches have continued to expand with each new generation.
There are 3 main types of smartwatch:
Fitness Trackers
Fitness trackers, as the name suggests, are smartwatches that are built and designed to monitor and help improve your health and wellbeing. They feature the ability to track how many steps you've taken, miles you've run, and even how many calories you might have burned. In addition to heart rate monitors and wellness apps, Fitness smartwatches have compatibility with medical apps associated with hospital databases that help monitor a large number of health issues and relay those details to your medical doctor in real-time.
Since the dawn of these apps in 2015, the wellness and health popularity has driven the smartwatch market to grow continually.
Hybrid Smartwatches
Hybrid or Companion smartwatches, exemplified by the widely recognized Apple Watch, are smartwatches intended to be paired directly with your phone. By syncing with your phone, these watches enable a range of convenient features for everyday communication such as reading and sending text and voice messages, and answering phone calls without the need to locate your phone.
In addition to these communication features, Hybrid or Companion smartwatches generally offer a more luxurious design than basic fitness trackers, with many models including advanced fitness-oriented functionalities as standard, along with premium apps, frames, and straps.
Standalone Smartwatches
Standalone smartwatches do not require a paired phone to work. They have their own apps and you can still send and receive texts and calls–you just typically need a SIM card and data/WiFi internet access. These smartwatches are typically built to function on the Android operating system.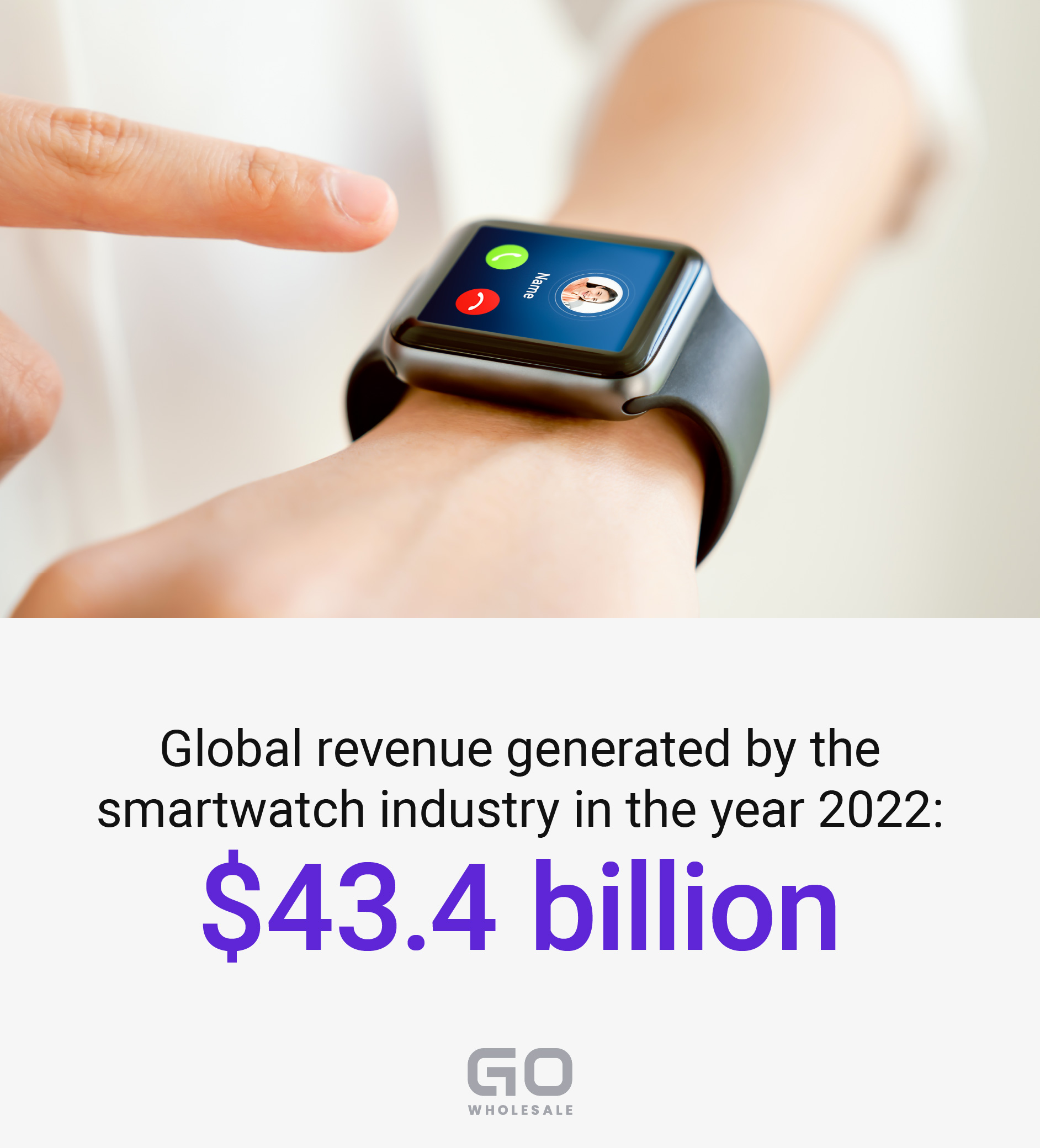 Why Start Selling Smartwatches Online
Rising Demand
The expected market value of the smartwatch industry is expected to grow to upwards of $50 billion by 2025.
One of the key reasons for increased demand for smartwatches is the health management capabilities that they provide. Most modern smartwatches, especially fitness-oriented smartwatches, have a fitness tracker which includes features for recording health parameters such as a pedometer, heart rate monitor, and a calorie consumption tracker. Some even have compatibility with digital health systems that relay daily information to medics and health centers that are monitoring health readings of their patients.
Another factor driving the smartwatch market is the expansion of the Internet of Things (IoT) platform to smartwatches in the American market.
When smartwatches first became mainstream, they had few functionally autonomous applications and were simple extensions to phones. However, with the launch of the Apple Watch, the market shifted with the implementation of smartwatches as miniature PCs using IoT technology. Smartwatches now are able to run applications such as digital assistants, and can be used to control other IoT enabled technology around your home, rather than only interacting with your phone. These changes have contributed to a measurable market increase as well for the tech.
High Sell Through Rates
Because of additional functionality, smartwatches have a higher sales rate than regular watches. On eBay, for example, a 50% sell rate of a product (number of listings that ended in a sale vs the number that didn't sell from the previous month on the platform) is considered a successful product, and smartwatches are showing a minimum of a 63% sell rate, as of analysis done in mid-2022.
Low Amount of Consumer Choice
At the moment the market is divided by 3 types of smartwatch operating systems: IOS, Android, and others. At the moment the market is largely dominated by Apple, with over 50% of sales going to Apple Watches.
The benefit here is that there is only a limited number of brands and models to compare, and if you're sourcing at the right price-points, you're going to make sales. Customers only have a few options to choose from, especially if they're looking for the latest features. This makes the segment a much simpler one to get into in terms of setting up a resale business compared to, for example, the laptop market - which is infinitely more complicated in terms of sourcing and market research.
On top of this there are numerous reasons to sell these smartwatches online, rather than locally, including;
Top Smartwatches to Sell Online
Apple Watch Series
Apple Watch is the most popular smartwatch on the market and has a high resale value due to its quality and durability. Additionally, new models are frequently released, creating demand for older models among consumers who want to save money but still own an Apple Watch. Our picks:
Apple Watch 7
The Apple Watch Series 7 is compatible with Android smartphones but offers a better experience with an iPhone. Notable improvements include a more durable case and glass, a larger display with smaller bezels, and a redesigned UI that better fits the new size. The ECG functionality and side crown are also present. The battery can last up to 24 hours on a single charge.
Apple Watch 6
The Apple Watch Series 6 has a premium design, big and bright screen with an always-on display, accurate GPS, and stellar heart rate monitoring. It's slightly thinner than the Series 5, but most people won't notice the size difference. The always-on display is 2.5x brighter than the Series 5's AOD outdoors when your wrist is down. The Series 6 also offers new watch faces, including Stripes, Chronograph Pro, GMT, Artist (a collab with Geoff McFetridge), Memoji/Animoji, Typograph, and Count Up.
The Apple Watch SE (2022)
The Apple Watch SE (2022) is a vintage lover's watch. It maintains the old style of the Apple Watch while upgrading the chipset to be the same as the Apple Watch Series 8. The Apple Watch SE stands out for its great fitness tracking and safety features, even though it doesn't have as many features as newer models.
The SE is watchOS 9 compatible and has all the most up-to-date Apple Watch software. This includes: low power mode, the new Medications app, new watch faces, an upgraded workout interface, and a redesigned compass tool.
Samsung Galaxy Watches
Generally, Samsung watches do not retain their value as well as Apple watches. as they do not have the same level of popularity and recognition as Apple watches. However, The Samsung Galaxy Watch is the next highest seller. It features a sleek design and advanced features such as fitness tracking, making it a desirable choice for many consumers. Our picks:
Samsung Galaxy Watch 4
The Galaxy Watch 4 represents a significant shift for Samsung, as it replaces its Tizen operating system with a version of Google's Wear OS that is "powered by Samsung." This allows users to access a wide range of Google and third-party apps. Additionally, the Watch 4 comes equipped with new health and fitness features, including a "BioActive" sensor that can measure BMI, basal metabolic rate, skeletal muscle mass, and more. However, the Watch 4 is not compatible with iPhones.
Samsung Galaxy Watch 3
The Galaxy Watch 3 has all the same features as previous generations including GPS, NFC and heart rate monitoring, but also adds some key new fitness-tracking abilities such as measuring your blood-oxygen levels and estimating your fitness, which is given via a VO2 max reading. Samsung's Galaxy Watch 3 is a great-value option for resale to customers who can't afford to buy the latest Samsung Galaxy Watch model. In addition, if you look past Apple Watches, the Galaxy Watch 3 is the best non-Apple Watch on the market with iPhone compatibility.
Fitbit Versa
The Fitbit Versa is a popular choice for fitness enthusiasts who want a smartwatch that can track their workouts and daily activity. It is also a more affordable option compared to other smartwatches, making it an attractive choice for consumers who want a quality product at a lower price point. Our pick:
Fitbit Versa 3
The Fitbit Versa 3 is a budget-friendly fitness tracker that competes with many premium options in the market. Despite being an older model with the Versa 4 released in 2022, it remains the best inexpensive smartwatch available due to its numerous fitness-focused features. The Versa 3 stands out as an exceptional fitness tracker with a straightforward interface that even beginners can navigate. Notably, the smartwatch can automatically track any activity that lasts 20 minutes or more, which is helpful for those who may forget to log their workouts manually.
Garmin Forerunner
The Garmin Forerunner is a high-end smartwatch designed for serious athletes and fitness enthusiasts. It offers advanced features such as GPS tracking and heart rate monitoring, making it a top choice for those who prioritize fitness and performance.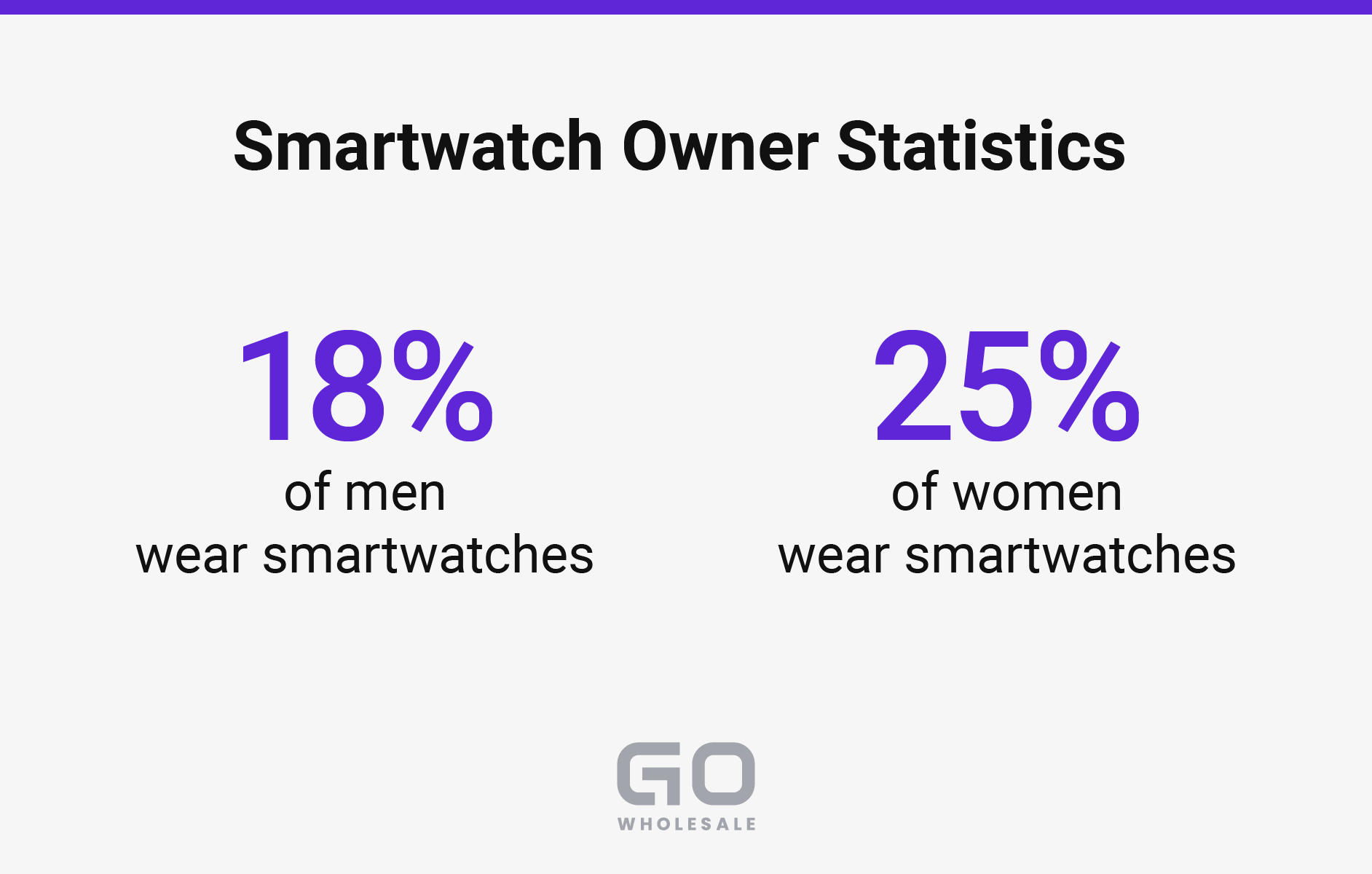 Where to Source Smartwatches For Resale
You can find smartwatches for sale in bulk on websites like eBay and Alibaba/Aliexpress, as well as wholesale electronics marketplaces like goWholesale.
When choosing your merchandise, be aware that you don't have to buy brand-new product to resell. There are many opportunities if you branch into used and refurbished models as well.
Read more about this here:
Selling Smartwatches Online
The type of business you want to create will determine whether you should build a website and establish a brand or use online marketplaces to sell smartwatches. Contrary to popular belief, it's possible to sell on online marketplaces and still build a brand around your products. For instance, Amazon, eBay, and Walmart.com are some of the marketplaces that allow you to do so.
Selling Through Online Marketplaces
For many sellers, the easiest places to sell your goods are via third party online marketplaces. The two dominant players in this sector are Amazon and eBay, both of which come with advantages and disadvantages for resellers.
Selling new smartwatches on Amazon is a simple process that involves setting up a seller account, but selling refurbished smartwatches requires following specific guidelines in the "Amazon Renewed" marketplace, including having an ODR of 0.8% or showing proof of at least $50,000 in sales over the past 90 days. Selling Apple products has even stricter requirements, which can make it challenging for small businesses. Amazon's terms and conditions for Amazon Renewed provide more information.
In contrast, eBay does not have special requirements for selling refurbished electronics. However, many buyers are cautious about purchasing high-value items from new or low-rated sellers. eBay has recently introduced its "Certified Refurbished" program, which may be worth considering. You can find more information on this program on eBay's website.
Another catch with using online marketplaces such as Amazon and eBay is that they often have many fees associated with their usage. Amazon, for example, has a seller program known as FBA, which allows businesses to ship their own products to an Amazon warehouse for facilitated shipping. The downside to using this service is the numerous fees associated with this and how quickly the costs can escalate.
For the majority of other marketplaces that usually don't have a warehouse service, each sale has an associated fee taken by the marketplace. If the marketplace has affiliate marketing programs, you also run the risk of having a substantial percentage taken from your sales.
Another kind of marketplace that seems to be on the rise are integrated marketplace platforms like cashonpick.com. These integrated marketplaces allow users to manage selling on many well-known marketplaces simultaneously, which facilitates sales management on a larger scale.
Build a Website
Creating your own website is a fast and simple process with services like GoDaddy, which offers domain name registration and a variety of design and administrative tools to help you launch your own online store quickly.
With an online store, you have complete control over every aspect of the sales process, including marketing, budget, website design, payment methods, third-party website integration, and customer service. Additionally, you have the freedom to choose how you wish to attract customers, such as through flash sales, discount offers, voucher promotions, and more.
However, when you run your own website you are responsible for marketing costs and driving traffic to your site. You won't have the advantage of the strong branding of Amazon or eBay behind you either.
Selling Smartwatches Online Through Local Marketplaces
Facebook Marketplace has become a popular platform for connecting with local customers, boasting a billion monthly users worldwide and no service fees. However, if you prefer to use PayPal for payment, you will incur a 5% transaction fee when using their on-platform checkout.
Craigslist is a free classified service that is a valuable resource for reaching out to customers in your local area.
OfferUp is a mobile-oriented local marketplace that provides sellers with various tools to facilitate communication with customers, such as instant messaging and the ability to check user profiles for ratings, badges, and transaction histories. While advertising on OfferUp is free, sales fees of either $1.99 per item or 12.5% of the sale price apply.
How to Price Your Smartwatch Inventory
To make pricing and inventory management for smartwatches more efficient and convenient, various online tools are available. For Amazon sellers seeking assistance with inventory management, useful tools include Jungle Scout and Helium 10, while 3Dsellers and CrazyLister are recommended for eBay sellers.
To effectively handle inventory across multiple channels Lengow offers multi channel funtionality.
The ideal pricing strategy can vary based on factors such as the business model, scale, investment, and available time, and there are multiple approaches available for calculating it.
Here are some guides you can use to learn more about this:
Conclusions
With sales of smartwatches expected to grow substantially in the coming years, reselling them online could be a lucrative and practical business model, if you plan properly, re-invest profits, and follow trends as new generations are released.
Whether you intend to build your own online retail brand or focus on reselling through established marketplaces, ensure that you're always sourcing your stock from a reliable source.
Sourcing Wholesale Smartwatches from goWholesale
goWholesale is an online wholesale marketplace catering to business clients with a range of new and refurbished smartwatches. The platform distinguishes itself by offering flexibility, transparency, and cost-effectiveness. Clients can freely select smartwatches and other electronics of their choice, mix and match brands, and view the price history of each model in the form of a graphical representation.
Customers also have the option to negotiate pricing anonymously, and all products are backed by a warranty. Check out the wholesale smartwatches available right now.