Is It A Good Idea To Sell Wholesale Refurbished Electronics?
---
If you're interested in the resales business, one of the ways to save money and increase profits is to buy and resell wholesale refurbished electronics. For the most affordable wholesale electronics around, you should check out what goWholesale has to offer your business.
The Advantages Of Buying Wholesale Electronics From goWholesale
Over 30,000 retail-ready units of refurbished electronics to choose from.
Refurbished electronics are sold in conditions to suit customers on a wide variety of budgets.
Wholesale electronics sold well below their suggested retail price.
Multiple markets through which you can resell electronics sourced from goWholesale.
Buy as many or as few units as your business requires.
90-day warranties on all the refurbished electronics, for extra peace of mind.
All of our refurbished electronics go through a rigorous process before we present them for sale to our customers. Firstly, each unit is inspected and a test of its basic features is carried out. Secondly, a series of technical tests determine if any parts need replacing. If they do, they are replaced with branded parts. Thirdly, each unit is carefully sanitized, packaged and accessorized if necessary. Finally,the results of the refurbishment are verified with a comprehensive inspection report.
Each item is sold in either its original packaging or top-quality white or brown replacement packaging. All original accessories are either present or are replaced, like for like, with accessories from the original manufacturer. You will get all the original documentation apart from the original manufacturer's warranty, which is replaced with a goWholesale 90-day warranty.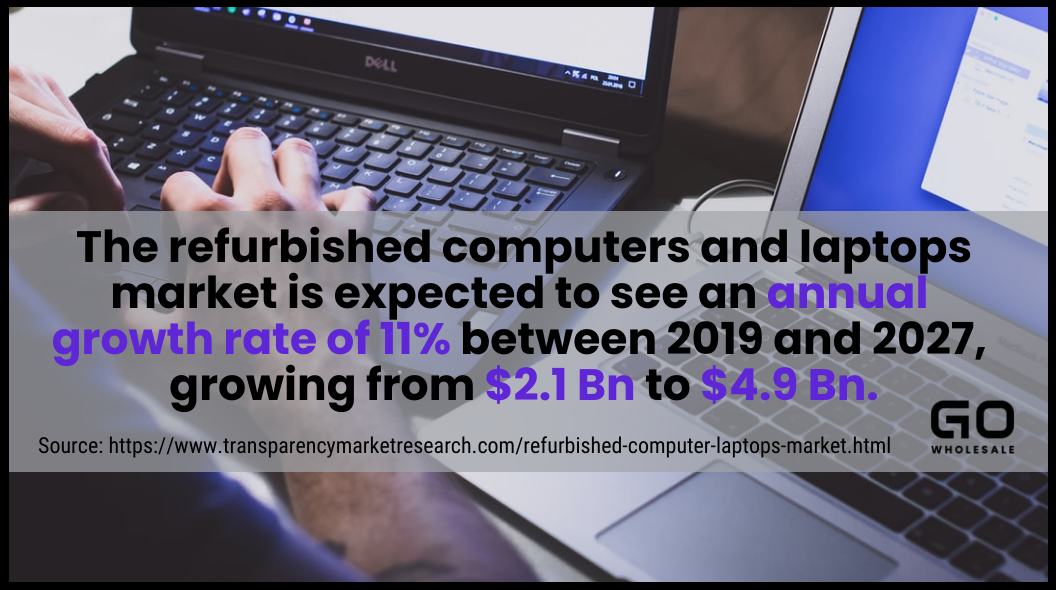 Categories of merchandise available at goWholesale:
Brand New - factory sealed - these products are brand-new and have never been opened and still have their original factory shrink-wrapping.
Brand New - open box - these products are brand-new and have never been opened, either in original packaging or a suitable replacement. No factory shrink wrapping.

Certified Refurbished - items that have been rigorously tested and certified like new according to the standards used by the original manufacturer. Fully functional without any signs of wear or cosmetic defects. These include their full range of accessories and retail-ready packaging (original box or new suitable replacement).

Refurbished - scratch and dent - items that have been rigorously tested and certified like new according to the standards used by the original manufacturer. Fully functional but with signs of wear or cosmetic defects. These include their full range of accessories and retail-ready packaging (original box or new suitable replacement).
A Huge Range Of Discount Refurbished Electronics
You'll find a huge range of refurbished electronics to buy in bulk wholesale from our website. We're a specialist in refurbished smartphones and laptops, meaning you'll find the latest models from the world's leading manufacturers, as well as older models to suit customers on tighter budgets.
We also stock a wide range of other electronics such as smart watches and other wearables, video games and consoles, computers, TVs and much more. If you're on the hunt for discount refurbished electronics, you'll most likely find what you're looking for in the 30,000 retail-ready units available at any given time from goWholesale.
You'll find refurbished electronics from all the major manufacturers on our website including Apple, HP, Sony, Samsung, Microsoft, LG, Lenovo, Nintendo and many more. And because the vast majority of our refurbished electronics are sourced from some of the biggest names in US retail, you can rest assured you won't find any counterfeit merchandise on our shelves. Added to our 90-day warranty, you'll have the peace of mind of knowing you're shopping securely when you buy from us.
Buying Refurbished Electronics From goWholesale
It's easy to buy refurbished electronics from goWholesale. If you're on the hunt for wholesale smartphones, for example, you can use either the search bar or the drop down category menu to search for the models you're looking for, or go straight to individual manufacturer pages to see the range of phones we currently have on offer.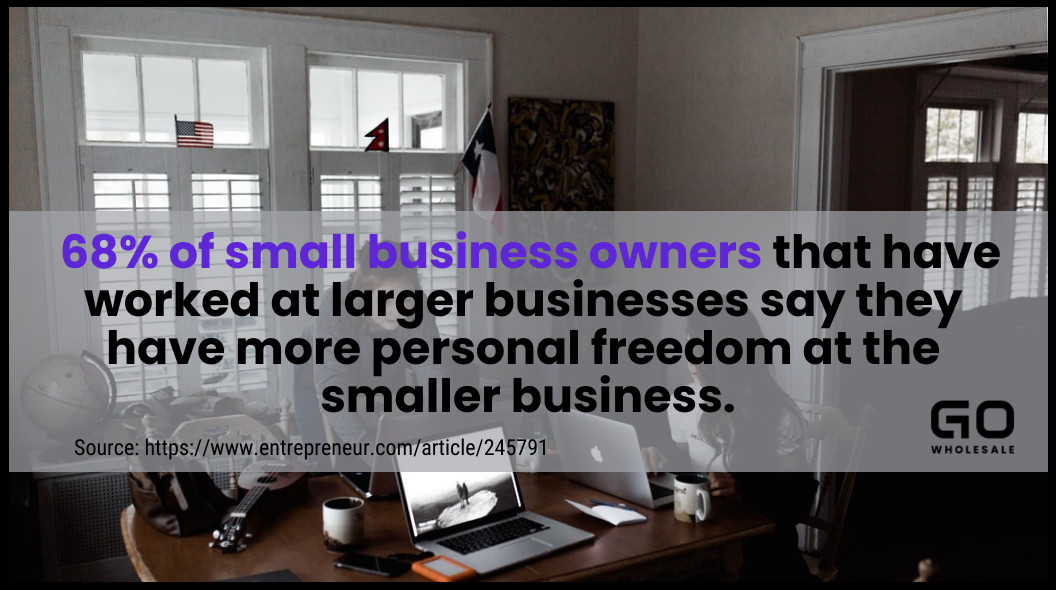 Once you've found what you need, you'll need to sign up for a free account. After you've signed up, use the drop down boxes attached to each product to enter the number of units you require, add them to your cart and repeat the process for the number of products you wish to buy. Once you've finished building a box load, pallet or truckload of phones, head to the checkout, pay for your order and arrange shipping (more on shipping in a moment).
Save Money On Shipping With goWholesale
And that's not all. You could even save money on shipping when you buy from goWholesale. If you live close to one of our distribution centers located throughout the United States and Canada, you're welcome to come and pick up your order in person, cutting out the cost of shipping altogether. If you're further afield and you're considering using the services of a third-party courier, you should check out what goWholesale charges for shipping before you do. Often we charge less for shipping than a third-party. So you should always compare and contrast before committing to a third-party courier as we might be able to save you even more money and thus increase your chances of making even more money.
Is It A Good Idea To Resell Wholesale Refurbished Electronics?
The short answer to this is yes. There are many outlets through which you can sell refurbished electronics that make investing in them very worthwhile. Let's take a look at a few suggestions both online, offline and in your local area.
Selling Wholesale Refurbished Electronics Online
By far the two biggest online sales platforms in the United States are eBay and Amazon. Having a presence on these platforms is seen as essential for many resellers. It's not hard to understand why when you consider that combined, the two marketplaces clock up 290 million unique visits every month in the United States alone. That's a lot of potential customers, so it's no wonder so many sellers operate on eBay and Amazon.
Amazon allows refurbished goods to be sold on its Amazon Renewed site. However, to qualify to sell on it you must provide proof of at least $500,000 worth of sales receipts in the last 90 days. If you're already an established seller, you must have an Order Defect Rate (ODR) of 0.8%. For those wishing to sell refurbished Apple products, the sums are even more eye-watering. Amazon requires proof of $2 million of receipts over the previous 90 days. So, unless you have a very low ODR or you're a high volume seller, Amazon is a non-starter for a lot of resellers unless they're selling new electronics, which you'll also find on goWholesale's website.
eBay is a better bet if you're interested in setting up on one of the bigger name online retailers. eBay doesn't have the same restrictions as Amazon when it comes to selling refurbished electronics on its platform, but this does come with a note of caution. It's no secret that the site has seen its fair share of rogue sellers over the years, passing off broken or even counterfeit goods as refurbished. As a result, many buyers are understandably wary of buying from new sellers. So unless you're an established seller with a good feedback score, expect to put some work in building up a good reputation on the site before you see sales in large volumes. It doesn't take long to establish yourself on eBay.
You will need to provide excellent customer service, timely deliveries, be accurate with your product descriptions and consider providing warranties on everything you sell to give customers extra peace of mind. Treat your customers well and you'll build up a great reputation over time and see your sales increase as a result. With enough time and effort, you could even earn the coveted eBay Top Rated Seller status and become one of the most trusted sellers on the site.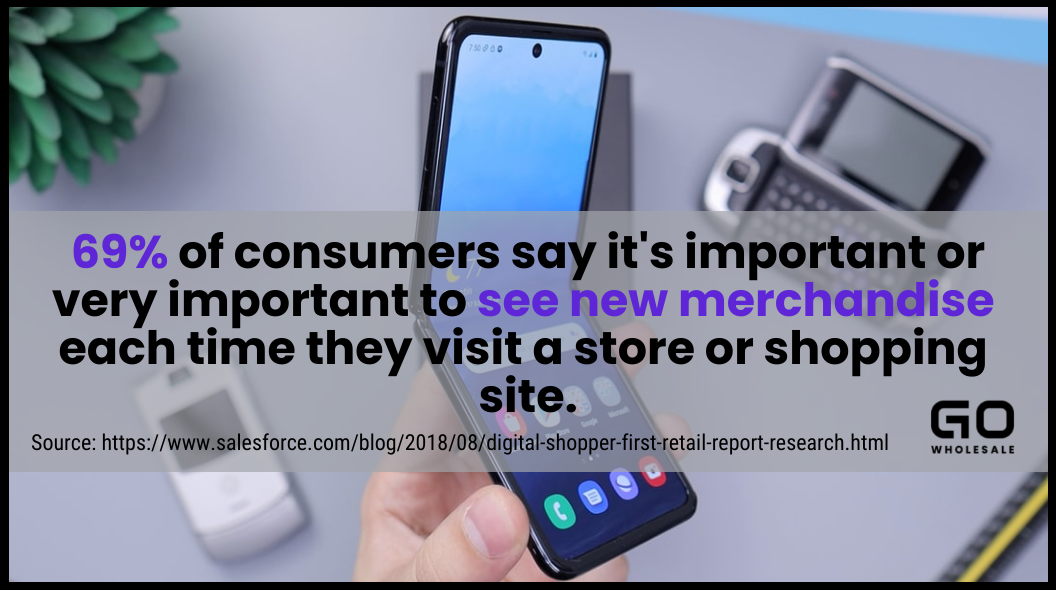 Of course, eBay and Amazon aren't the only names in town nowadays. There is a wealth of smaller eCommerce websites where you can open up a store and sell to a growing number of customers. Sites such as BigCommerce, Shopify and Wix are great places to sell your refurbished electronics and can be integrated with social media and your eBay and Amazon stores. Best of all, the smaller eCommerce sites usually offer time-limited free trials so you can take them for a spin and see if they're a good fit for your business before you spend any of your precious budget.
As well as the bigger marketplaces and the smaller store hosts, you should also consider opening your own website. This will give you control of every aspect of your business from advertising to customer service to methods of payment to when to trigger special offers such as flash sales, voucher deals, 2-4-1 deals and much more besides. Setting up a website and linking to social media and other online sales platforms such as eBay and Shopify is cheap and easy and can attract more customers and drive up sales. Plus, having your own site means nobody else is taking a cut of your profits when you make a sale.
Selling Wholesale Refurbished Electronics Offline And In Your Local Area
Of course, selling online isn't the only way to reach customers. While it's true that 220 million Americans now shop online regularly, there are still plenty of customers who prefer to buy in person or from local websites. If the finances make sense, you may want to open up your own store offering not only refurbished electronics and new electronics sourced from goWholesale, but also a repair service if you happen to have the expertise or can employ someone who has. A store can attract customers who prefer to buy face-to-face, and can be twinned with your online operations.
If a store is not for you, you should consider selling through local classifieds and sites like Craigslist, OfferUp and Facebook Marketplace. For a small financial outlay – or even for nothing – you can sell to customers in your local area and build up good word of mouth. Also, selling through sites like Craigslist tends to save on postage and packaging as most customers tend to pick up their goods in person.
As well as Craigslist and local classifieds, you should also consider renting a stall from your local flea market. Stalls are relatively inexpensive and having one means you can reach customers on tighter budgets, as well as bargain hunters who don't care about cosmetic conditions. Flea markets are ideal for selling refurbished electronics.
Refurbished Electronics – The Environmentally Friendly Way To Sell And Buy Electronics
Finally, when considering whether selling refurbished electronics is a good idea, there is the environmental aspect to consider. Nowadays, many customers are rightly concerned about the environmental impact of the goods they buy. Refurbished electronics are much more environmentally friendly than brand new electronics. Emphasising this fact to your customers across the multiple platforms you use can attract customers looking for a more eco-friendly way to source electronics.
Is it a good idea to resell wholesale refurbished electronics? With a huge range to choose from and so many ways to sell them to customers as well as their clear environmental advantages, the answer is an emphatic yes. And for the best and most affordable refurbished electronics around, you should look no further than goWholesale. We're very much looking forward to doing business with you.