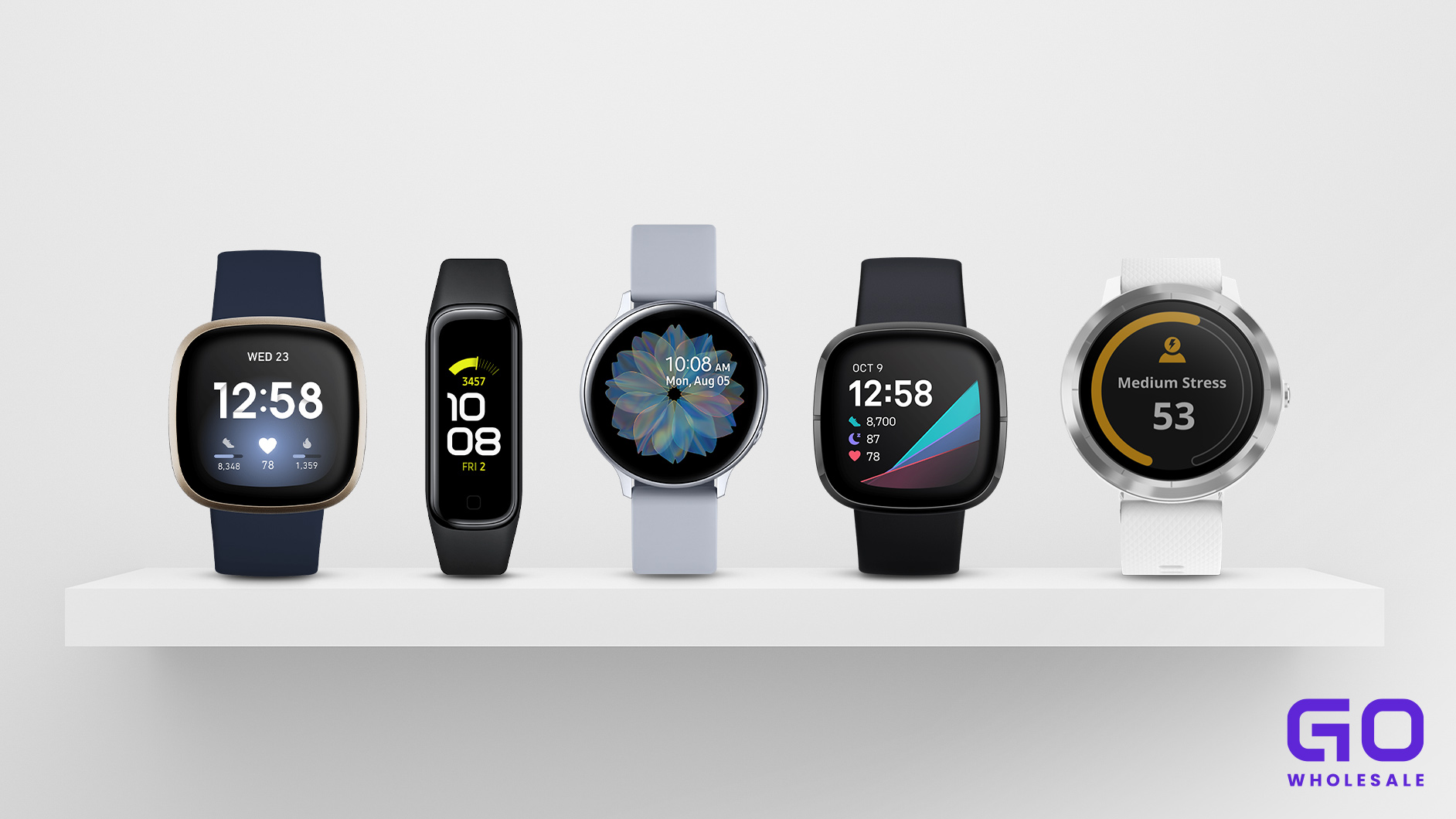 If you sell or are considering selling refurbished smartwatches on Amazon, what are the top-selling models you should be looking out for in 2021? Where should you be sourcing them from to ensure you pay the lowest possible prices, maximizing your chance of making a healthy return on your investment? Let's take a look.
The US Smartwatch Market In 2021
The modern smartwatch revolution began in 2014 with the launch of the Gear S. by the South Korean electronics giant Samsung. Apple would not launch its first smartwatch until the following year. Reviews for the Apple Watch Series 1 were mixed, with many critics citing poor battery life and hardware problems as serious issues.
Despite the criticism leveled at the first-generation Apple Watch, early signs that it was here to stay were good, with 2015 sales of 4.2 million and 11.5 million Apple Watches shipping globally in 2016. Global shipment numbers have risen steadily each year since then. As of 2020, Apple's share of the global smartwatch market is 55%, with Samsung a distant second with 13.9%. Garmin comes in third place with 8% of the global market - a surprise to anyone who expected to see Fitbit in the top three.
Domestically, sales of all smartwatches have risen sharply year on year. In 2016, 9 million smartwatches were sold in the United States. By 2020, that number had skyrocketed to 22.6 million sales. Globally, smartwatch sales are forecast to increase from 69.3 million units in 2019 to 109 million units by 2023.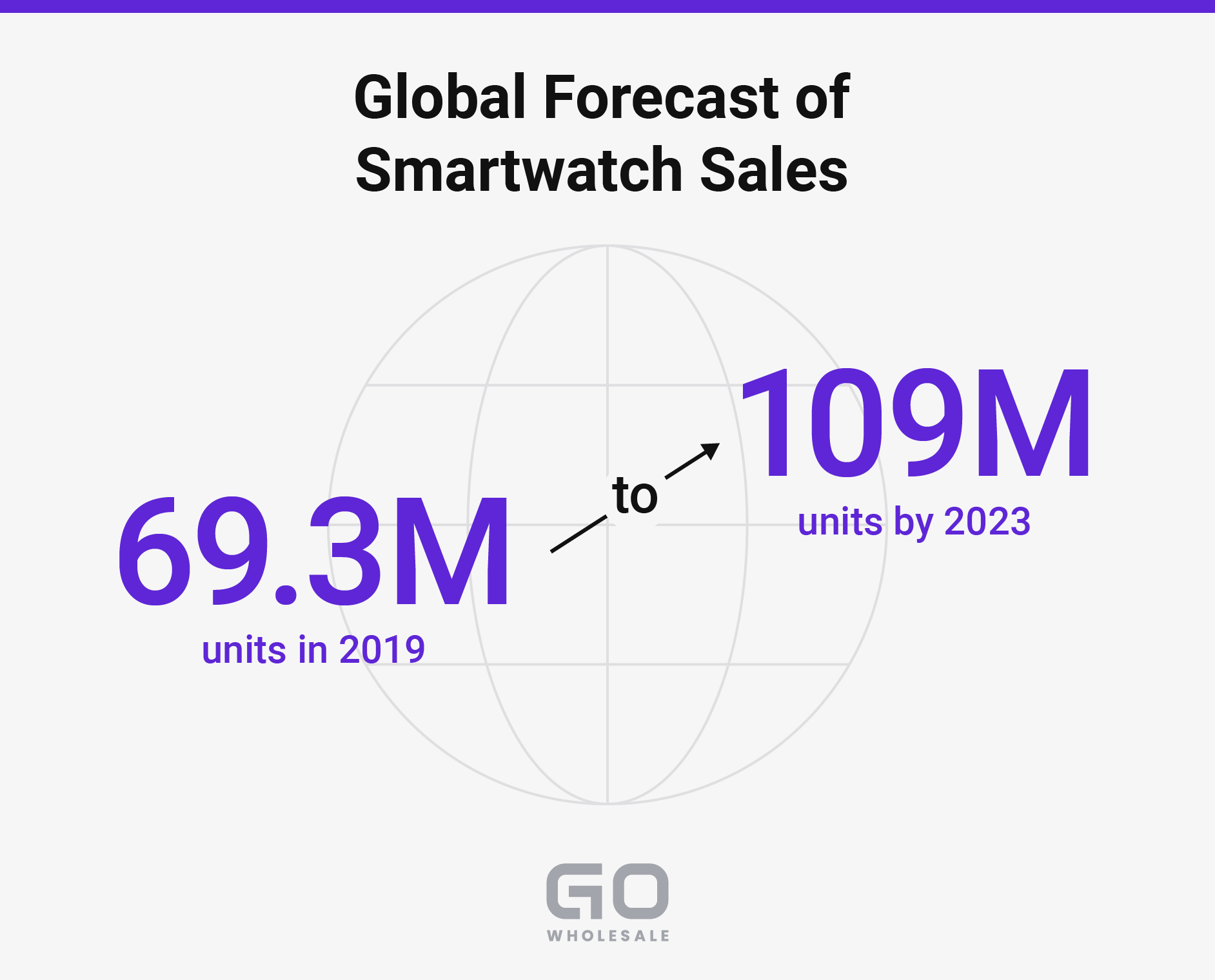 Source: Statista, 2020.
The Top Five Best Selling Smartwatches In The USA
For resellers looking to sell smartwatches on Amazon, it's important to know what the most popular models are. Having an idea of the most popular smartwatches at any given time should guide you towards what you should be looking out for. Bear in mind that as Apple watches are currently the top sellers in the US, we do not recommend sourcing Apple watches to sell on Amazon, due to additional restrictions to selling Apple products on Amazon explained below.
Currently, the top five best selling smartwatches in the United States are:
Apple Watch Series 3
Apple Watch Series 6
Apple Watch SE
Fitbit Versa 2
Fitbit Sense Advanced
Our Recommendations for Top Smartwatches to Sell on Amazon
Recommended Smartwatches to Sell on Amazon in 2021
Product
Fitbit Versa 3
Samsung Galaxy Fit 2
Samsung Galaxy Watch Active 2
Fitbit Sense Advanced
Garmin Vivoactive 3
Price Point
High
Low
Medium
High
Medium
Competition New/Renewed
Low/None
Low/None
High/Low
Low/None
High/Low
Our Recommendation
Sell New and Renewed
Sell New and Renewed
Sell Renewed
Sell New and Renewed
Sell Renewed
Brand Recognition
High
High
High
High
Medium
User Reviews
High
High
High
High
High
Selling Rank
6
8
9
13
23
If you plan to sell Apple products on Amazon Renewed, you'll need to provide $2.5 million of invoices going back 90 days before you can sell refurbished Apple products through Amazon Renewed. As this is the case - we don't recommend trying to sell any Apple products as a new seller.
1. Fitbit Versa 3
At the higher end of budgets, the best option for the moment is the latest Fitbit Versa - the version 3. With only a handful of sellers offering new units, there is surprisingly little competition for a watch that is currently being sold on Amazon for a higher price than many other retailers online are selling for. It is also in the top 10 smartwatch sellers on Amazon. This is a model we would recommend selling new and renewed.
The Fitbit Versa 3 is an affordable smartwatch that comes with an integrated GPS that allows you to track your exercise in real-time. It also has a great battery life, a good display and tracks a large number of fitness statistics. It is also very lightweight and comfortable to wear. It also includes Alexa support.
2. Samsung Galaxy Fit 2
At the lower end of pricing, you should offer the Samsung Galaxy Fit 2. This is a smaller version of the Samsung range, focused on fitness tracking, as the name suggests. With great reviews, pricing that attracts impulse buying, and great brand-name recognition, it's a great choice. With only 1 seller offering new units, and a handful of sellers offering used, there are currently no renewed options. On top of this, the price offered by Amazon currently is higher than several other outlets online, including new and refurbished units sold on eBay. At the right price, we recommend selling new and renewed.
The Samsung Galaxy Fit 2 is an affordable smartwatch that is comfortable to wear and easy to use. It helps you track steps, sleep and heart rate, and it also includes features like weather forecast and music controls as well as a notifications screen. It is compatible with both iPhones and Android smartphones.
3. Samsung Galaxy Watch Active 2
The Samsung Galaxy Watch Active 2 is currently in the top 10 sellers on Amazon. Available both new and renewed, we recommend competing for the renewed market. There is a significant number of sellers for new listings, and only a very low number (2) of renewed sellers. A good medium priced product with great brand-name recognition, we recommend sourcing refurbished units to sell on Amazon Renewed.

With a slim and modern look, the Samsung Galaxy Watch Active 2 not only tracks steps and calories, but also offers insights that will help you improve your fitness, including heartbeat and running style. It comes with digital haptic dial control, high-resolution screen and a very decent 2-day battery life.
4. Fitbit Sense Advanced
The Fitbit Sense Advanced, the 5th best-selling smartwatch in the US, is a great place to start. With less competition than other models, currently with only low numbers of sellers offering new units, and no current listings of renewed. As the new price on Amazon matches the MSRP, we recommend selling both new and refurbished units. Bear in mind that you'll need to calculate your fees and overheads for selling on Amazon, if you're able to sell for lower than the current MSRP, either new or renewed - you will be able to undercut the competition.
As well as built-in web features such as Google Assistant and Amazon Alexa, the Fitbit Sense Advanced is very much a fitness-focused smartwatch, with heart atrial fibrillation assessment, high and low heart rate notifications, EDA scanning, skin temperature trackers and a 6 month Fitbit Premium free trial for new Premium users.
5. Garmin Vivoactive 3
Another great option at a medium price point is the Garmin Vivoactive 3, also currently listed on Amazon both new and renewed. While there is again a large number of sellers of new units, there is much less competition for renewed. We recommend sourcing refurbished units to sell on Amazon Renewed, as the new units listed on Amazon are already below MSRP.
With 8-day maximum battery life and a circular and stylish design, the Garmin Vivoactive 3 comes with plenty of features you will need for an active life. Not only does it come with 15 preloaded sports apps and built-in GPS, it also allows you to make payments straight from your watch.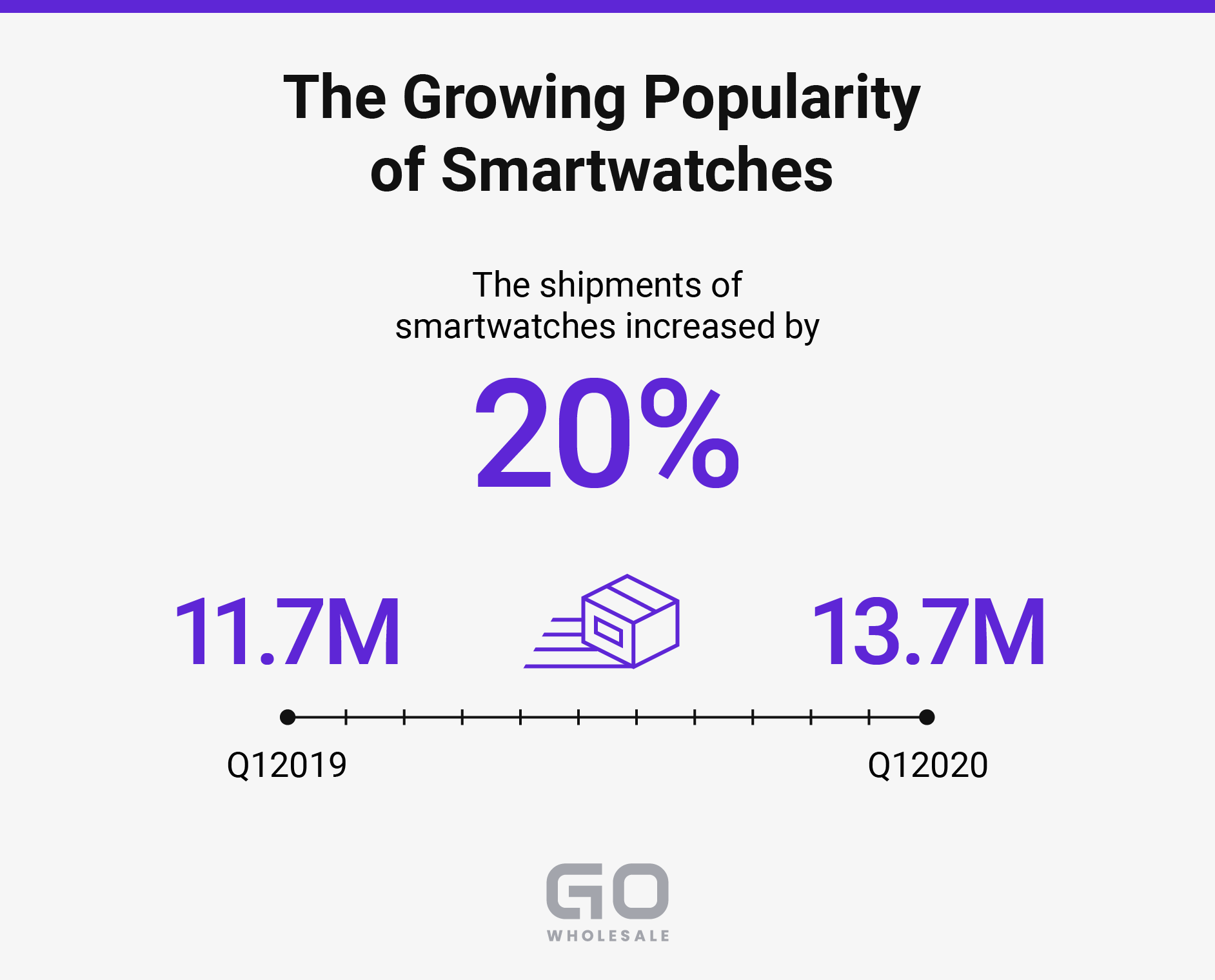 Source: Business Insider, 2020.
Researching Best-Selling Smartwatches on Amazon Yourself
As well as the smartwatches mentioned above, are there any other models you should be looking out for as a reseller? Another good source of information is Amazon itself. Amazon lists the best-selling smartwatches on its site, updating their info regularly. Use this to help stay up-to-date with the current trends and prices.
Another good way of getting a ballpark figure on pricing and sales rates is to check what 'seller refurbished' models are being sold for on eBay. eBay provides more accessible data on the numbers of units sold, prices and number of sellers.
A Note on Selling Smartwatches on Amazon
Selling refurbished wholesale merchandise on Amazon isn't as simple as selling new products. All the refurbished products Amazon sells go through a separate site called Amazon Renewed and there are certain caveats to selling on the site.
If you're already an established seller on Amazon, you'll need an Order Defect Rate (ODR) of 0.8% or less over the last 90 days to qualify to sell refurbished products on the site.
If you're new to Amazon Renewed, you'll need to provide invoices going back 90 days proving you've purchased at least $50,000 in qualifying refurbished products before you can start selling on the site. You'll also have to agree that your company backs all the products it sells through the site with the Amazon Renewed Guarantee and is responsible for all claims under that guarantee. If you are a newer seller, you should consider selling on eBay first to establish a track record before applying to sell on Amazon.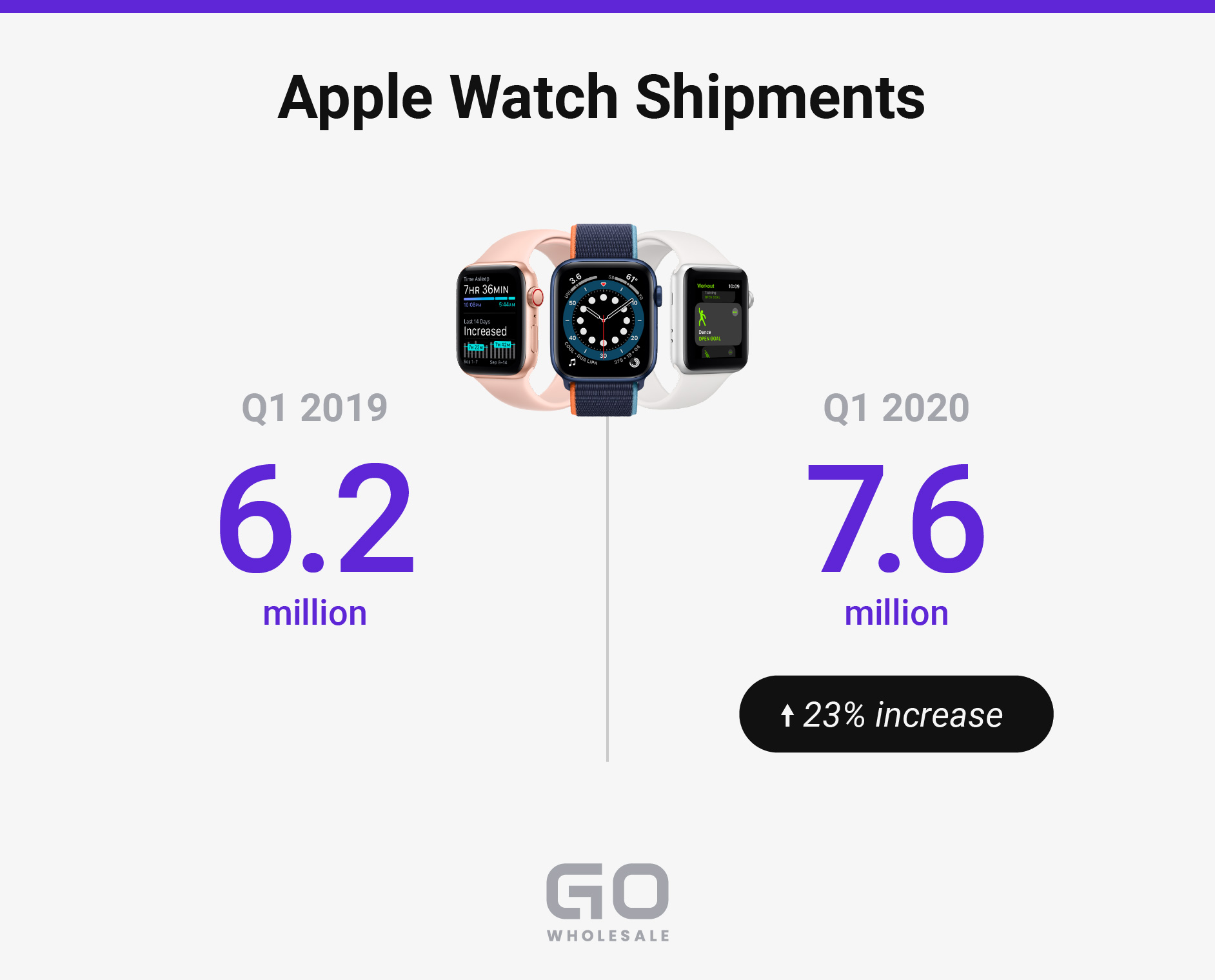 Source: Business Insider, 2020.
Why Sell Refurbished Smartwatches on Amazon at all?
So, now we've discussed which smartwatches you should be looking out for, let's take a look at why you should be focusing on refurbished models in particular. The demand for smartwatches is growing, with 22 million units sold in the last year alone compared to just 9 million in 2016. Not everyone who wants a smartwatch wants to spend top dollar, which means that the market for secondhand and refurbished units has also remained strong, as it has with other devices.
There is another reason why the market for refurbished products is growing: environmental concerns. As more people become increasingly more environmentally aware, many are looking to reduce their carbon footprint, and the use of Earth's rare mineral resources. The increasing movement to 'reduce, reuse, recycle' can also benefit those selling reconditioned and repaired computers and laptops.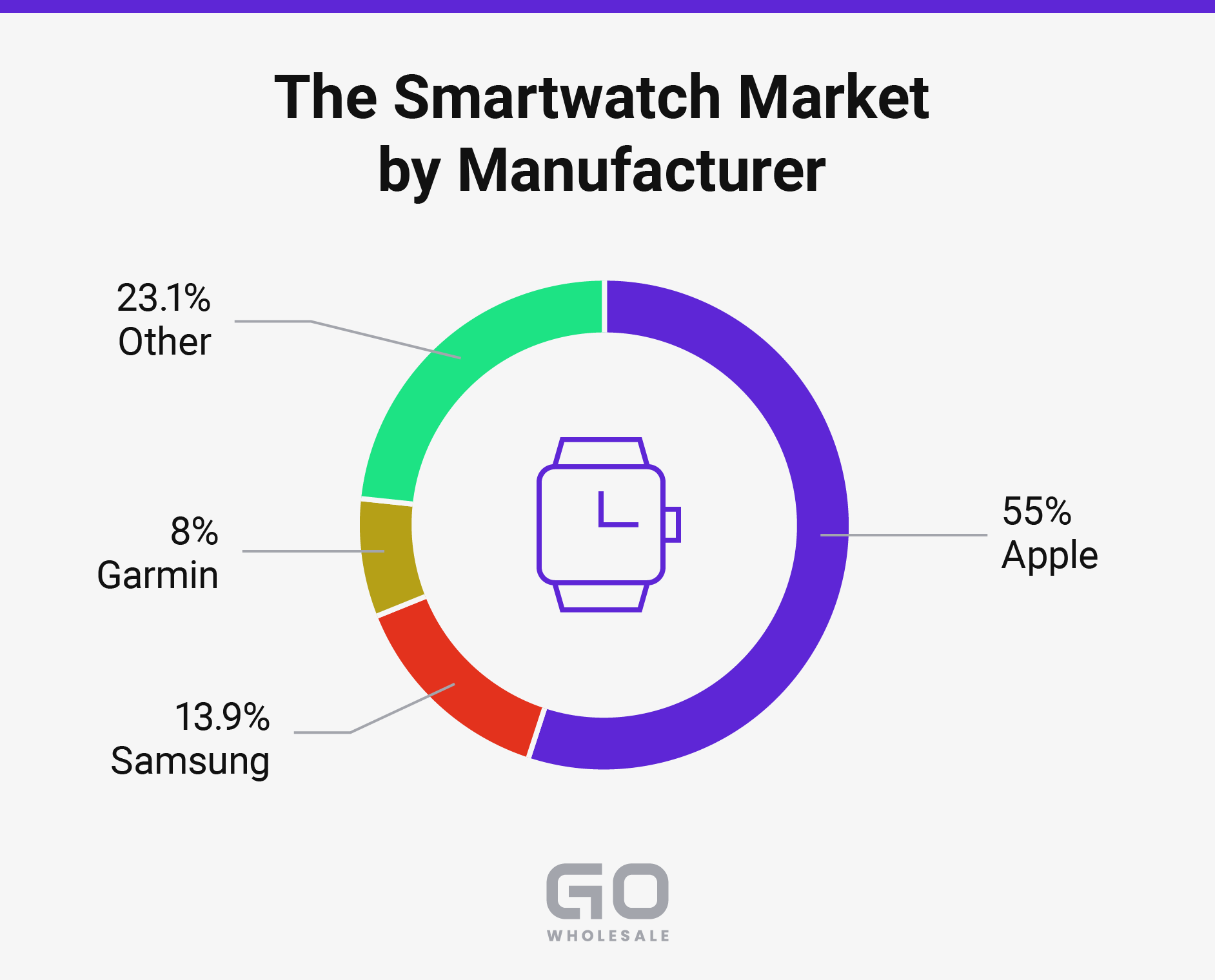 Source: Business Insider, 2020.
Companies selling such stock can also market themselves as being the 'green option', and can build authentic connections with younger consumers, who are generally more interested in the environmental impact of their purchases and consumer habits.
Selling refurbished smartwatches on Amazon can be a great way of making money, especially as customer demand is expected to grow over the coming years. To take full check out the wide range of refurbished smartwatches available from GO Wholesale.