How To Make Money Reselling Refurbished Smartphones
---
If you're interested in selling smartphones, one way of both saving money and making money is to source and resell refurbished smartphones from goWholesale. In this article we are going to take a look at how to source smartphones from goWholesale and at some of the ways you can make money from your wholesale purchase.
The Advantages Of Buying Refurbished Smartphones
All phones have been cleaned, tested and brought back to manufacturers' specifications if necessary.
All smartphones goWholesale sells come with a 90-day warranty for extra peace of mind.
Phones are graded based on condition and can be sold at attractive prices to customers on a wide range of budgets.
Great names at low prices from manufacturers such as Apple, Sony, Samsung, LG and Google.
What Are Refurbished Smartphones?
Refurbished smartphones are smartphones that have been returned to retailers for a variety of reasons. Retailers resell these customer returned smartphones to wholesalers who then test them, clean them and repair them when necessary. This is the refurbishment process. Wholesalers then sell these refurbished products in bulk to resellers, who buy them for a much lower price than if they had to buy them brand new, directly from the retailers.
All our refurbished smartphones are cleaned and tested to make sure they work as new. Sometimes, repairs are needed to restore the products back to factory spec. In those cases, we use genuine brand parts.
Each smartphone comes with original packaging, or with top-quality white or brown replacement packaging. It also comes with its original accessories. When that is not possible, the accessories are replaced, like for like, with accessories from the original manufacturer. The smartphones also come with the original documentation, except for the original manufacturer's warranty, which is replaced with a goWholesale 90-day warranty.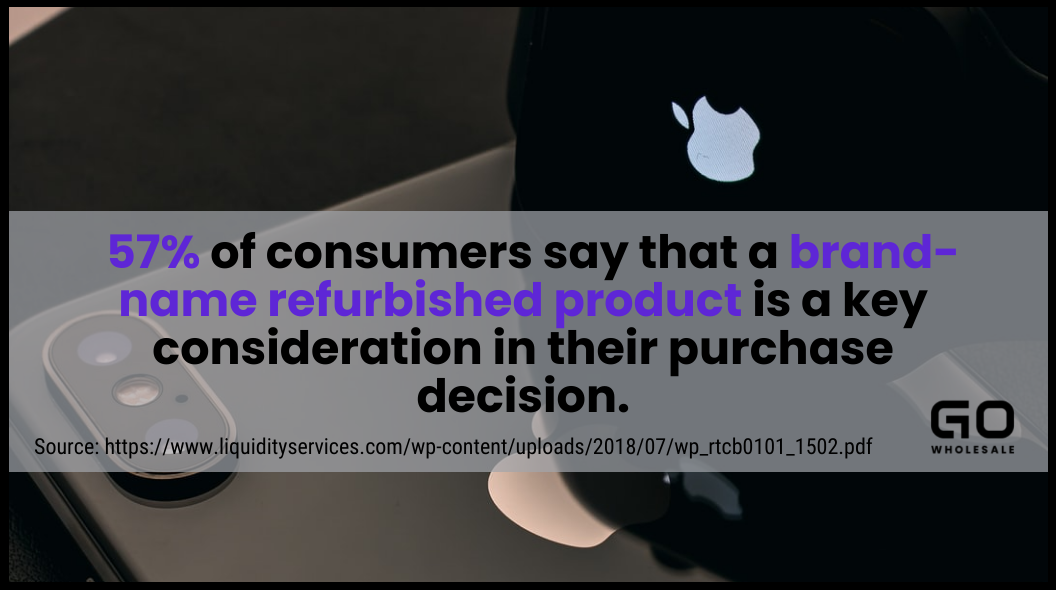 Buying Refurbished Smartphones From goWholesale
It's easy to buy refurbished smartphones from goWholesale. Once you've signed up for a free account, you can search for the phones you require either by model or manufacturer. Use the drop-down box under each model of phone you want to buy to change the quantity and then add your order to your shopping cart. Repeat the process for all the models you require and then hit the checkout to confirm your order, make a payment and arrange shipping. It's as simple as that.
The More You Buy The More You Save
At goWholesale, you'll often find that sellers offer bulk discounts, this means the more you buy the bigger the discount you'll receive. This is great news for resellers trying to squeeze as much profit as possible from refurbished smartphones who usually require large bulk orders to fulfill their customers' expectations.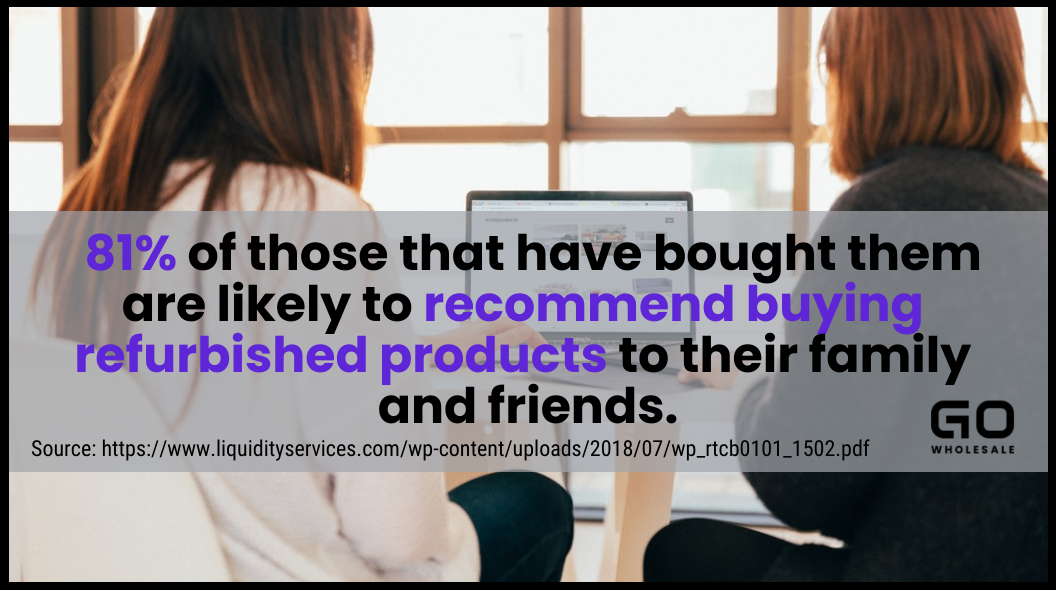 Making Money Reselling Refurbished Smartphones
Once you've purchased a bulk order of refurbished smartphones from goWholesale, you'll want to squeeze as much profit as you can from your order. Here we take a look at some of the ways you can make money selling refurbished smartphones.
Amazon and eBay
You're probably thinking the best places to sell refurbished smartphones are Amazon and eBay. After all, Amazon and eBay together have an estimated 290 million unique visitors a month, so tapping into these marketplace is surely a no-brainer.
Well, it's not quite as simple as you might think when it comes to Amazon in particular. Amazon requires resellers of refurbished smartphones to register for its Amazon Renewed program, and for that you're going to have to supply them with invoices showing you've purchased either $50,000 or a minimum of 500 qualifying refurbished phones within 90 days of your application. You'll also need to provide a 90-day warranty on all the phones you sell through Amazon Renewed. And if you want to sell Apple iPhones on the site, you'll have to provide invoices proving you've purchased an eye watering $2.5 million of Apple iPhones in the 90 days prior to application.
So, for all but a handful of resellers, that's Amazon pretty much ruled out until you're selling phones in large enough quantities to satisfy Amazon's rather demanding requirements.
A better bet is eBay. eBay doesn't impose the same restrictions as Amazon on selling refurbished products. However, its customers are rather more wary of purchasing because the site may include sellers listing refurbished and reconditioned phones that are simply used phones, often faulty into the bargain. This means you'll have to spend a fair bit of time building up customer trust on the site by shipping as described phones in as fast a turnaround time as possible, providing excellent customer service, offering warranties on your phones for extra peace of mind and even offering free shipping. Eventually your patience will be rewarded with a good account history and more customers are likely to trust and buy phones from you.
You can also open up your own store on eBay, which comes with added benefits such as free listings, lower final sales fees and optimization tools that help you to increase sales. Many resellers find opening a store on eBay is a better option for their businesses. But bear in mind that to get the best out of the eBay store experience, you'll have to pay a monthly subscription fee.
In the case of both individual business accounts and store accounts, you'll have to cover costs like upfront listings fees, listing renewal fees and final sales fees. All of this needs to be factored in when you're calculating your likely return of investment when selling on eBay. There's certainly money to be made on eBay, but you might find it takes a little time before you fully see the cash rolling in.
Other Online Store Hosts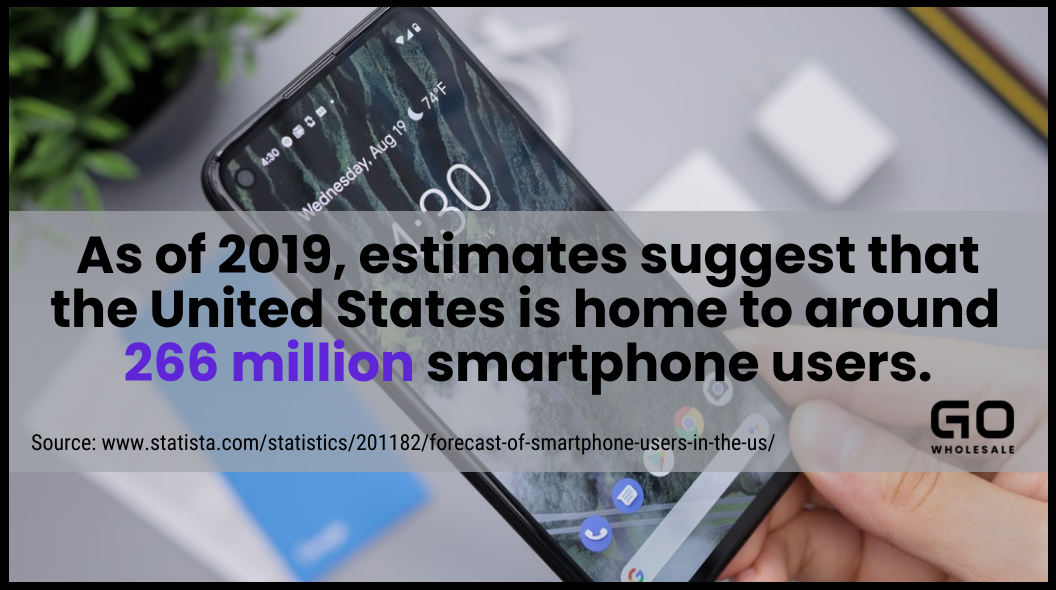 Another option is to use smaller online store-hosting sites such as Shopify, Big Commerce and Wix. These sites let you set up a store of your own, usually with store builder templates that help you create eye-catching stores full of highly-detailed image galleries that really show your products at their best. Most of the smaller store hosts offer free trial periods, so you can take what they have to offer for a spin first and see if they're a good fit before spending any of your own money. When you're just starting out, a free trial is great news.
Set Up Your Own Website
Another way is to set up your own website. In the last few years, more and more Americans are choosing to do most of their shopping online and with the Coronavirus outbreak still raging across the country, that number is only going to grow and grow as more people choose to stay safely at home rather than go to the stores. Of those who do shop online, the most commonly bought items are smartphones and books, so an online presence isn't just a suggestion anymore – it's an essential part of any reseller's selling strategy.
Having your own website means you control every aspect of your business from presentation to payment and shipping options. No third party takes a share of your profits, as is the case with sites like eBay and Amazon. Your own store means you can do targeted deals and flash sales, and you can create a great customer service experience which will make it more likely that customers won't just buy from you again, but will also recommend your site to their friends and family. Having your own store as part of a wider multisite approach means customers have another outlet through which to find your products, and hosting sites such as GoDaddy make setting up your own website a relatively inexpensive breeze.
It's also worth noting that the majority of online purchases are made on smartphones these days, so make sure your website is optimized for phones to give potential customers the best experience when shopping. Sites that are optimized for desktop displays put phone shoppers off and may harm potential sales, so make sure your site is accessible and approachable to increase the likelihood of making money.
Social Media
Another great place to sell your refurbished smartphones online is social media. No longer just a place to post pictures of food and cats, social media is now a powerful marketing and sales tool that, if used the right way, can boost sales dramatically. You can open up business accounts on Facebook and Instagram, create pinpointed advertising for a very small amount of money and engage in the practice of social selling on Twitter. Social media is a great way of reaching and engaging customers and directing them towards the products you have for sale, so don't ignore it.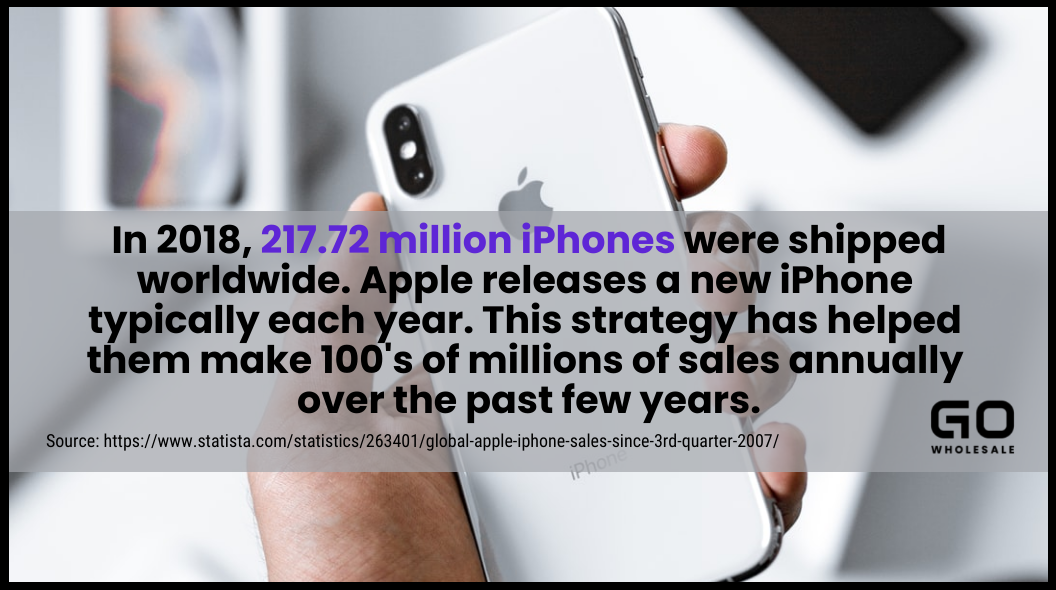 Open A Store
While it's true that many Americans now prefer to do their shopping online, especially for electrical items, there are still plenty of people who prefer a face-to-face encounter when buying technology. This is why, if the numbers add up, it could be a good idea to open a store selling refurbished smartphones, perhaps as a part of a wider range, or in conjunction with a repair outlet. Lots of customers don't have the same level of expertise when it comes to phones that some sellers do, so if you're a bit of an expert, providing advice on what models to buy will encourage customers to buy from you and spread the word locally about the great service you provide. In turn, this can attract more customers, increase sales and add to your profits.
Selling Locally
There are also money-making opportunities to be had in your local area. Placing ads in local classifieds is a cheap way of getting your products out there, as is Craigslist, which offers free listings. Classifieds and Craigslist aren't just cheap or free; they also have the added advantage that most customers will come and pick their purchases up from you, cutting out the need to ship merchandise to customers and thus saving you money.
Finally, there are flea markets to consider. For a relatively small financial outlay, you can rent a stall at your local flea market and access customers who are looking for a bargain either because they're on a tight budget or they just love saving money. Flea markets are a great place to sell used phones in particular, where many customers are not bothered about cosmetic condition - they just want good-quality, affordable products that work.
Plus, in a similar way to opening a store, if you have a certain level of technical expertise, your stall may well become a magnet for customers unsure about what to buy until they've heard what you have to say. Having a bit of know-how can be another way of increasing your likelihood of making a profit.
There are plenty of ways of making money reselling refurbished smartphones either online, offline or. However, if you are to squeeze the maximum amount of money out of these products, you must get your sourcing right. Luckily, goWholesale can provide your reselling business with all the refurbished smartphones it requires as and when you need them and for a price you'll struggle to find elsewhere. If you want to make money reselling refurbished smartphones, look no further than goWholesale.