Buying Refurbished Electronics Wholesale: What You Need to Know
---
Buying refurbished electronics wholesale to resell can be a great business opportunity. In this guide we explore what refurbished electronics are, what the market is like for these products and how to choose a wholesale supplier for your business.
What are Refurbished Electronics?
Refurbished items are items that were returned, tested and restored to the manufacturer's original specifications. There are several reasons why an item may get marked as refurbished including:
Items returned due to malfunction or defect then restored to manufacturer's specs
Items returned for reasons other than a malfunction or defect (wrong size, wrong color, unwanted gift)
Items that were never used with a broken factory seal
Items that were returned due to box damage during the shipping process
Items used as display models
Refurbished products go through a rigorous testing and restoration process, either by the manufacturer or an electronics refurbisher. At the end of the refurbishment process, the unit will be guaranteed to function as though it were brand new.
One thing to watch out for is refurbished items can come in multiple different grades depending on whether the item has cosmetic defects such as scratches which don't affect the functionality but still affect its market value.
It's important to understand that refurbishment consists of both technical functionality testing and cosmetic grading. An item may be "fully functional" but if it's full of scratches or has a cracked screen its value drops dramatically. All of a sudden that "awesome" deal means you're losing money. You need to educate yourself on what you are actually buying before pulling the trigger on a deal.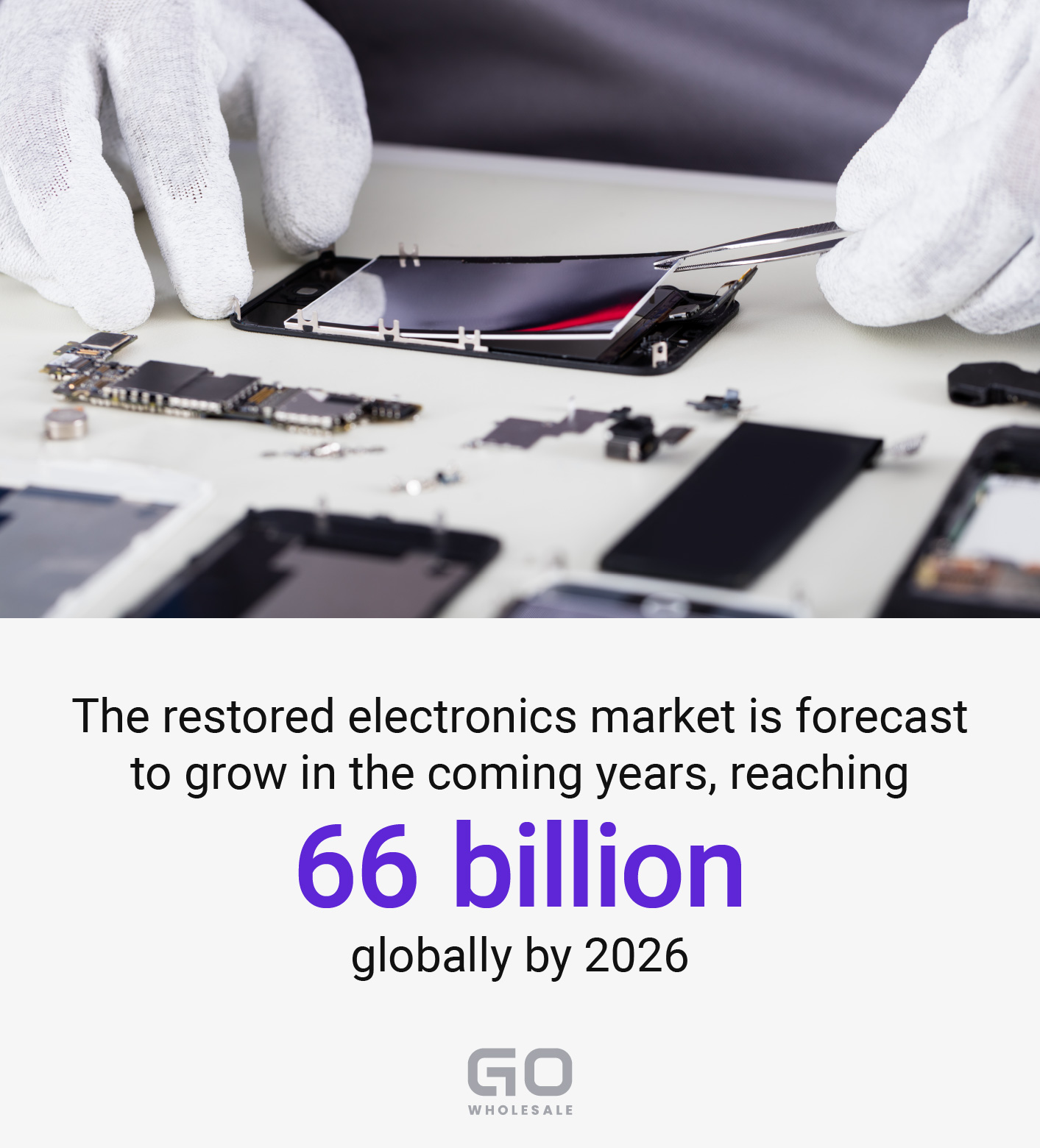 Source: Statista, 2022.
The Refurbished Electronics Market
There is a lot of data to show that the refurbished electronics market is healthy, and growing at a considerable rate:
The Benefits of Selling Refurbished Electronics
There are plenty of benefits in sourcing refurbished products. The most obvious is that these products are a lot more affordable to source than their brand new counterparts, which gives you the ability to sell them at much lower prices to your customers. Refurbished products are about 30% or more cheaper than brand new.
As refurbished electronics can be bought at lower price-points than their brand-new counterparts, they are lower-cost alternatives that allow you to buy more merchandise for the same capital investment.
Also, depending on your business model you may consider buying different grades of product if your customers don't mind seeing a little wear and tear on an item so long as it works perfectly.
It's also worth considering that consumers have been paying more and more attention to environmental factors in their buying decisions over the years. This is particularly relevant to the electronics market, as only 20% of the 44.7 metric tons of yearly global laptop and PC waste gets recycled.
Refurbished items are friendlier to the environment, a good selling point as customers become more aware of the environmental impact of their spending habits. This is a concern to around half of consumers in the US and UK, with 49% reporting that they do research on environmental sustainability before choosing what to buy. Refurbishing increases the usable lifespan of units and reduces the overall carbon footprint. Sourcing refurbished stock allows you to market your products as environmentally sustainable and as part of a global trend towards reducing waste.
Certified testing makes the units reliable, even more reliable than new models, in many circumstances. You also don't need to worry about the dangers of buying and selling used merchandise that come with no guarantees on either functionality or genuineness of the unit or its parts.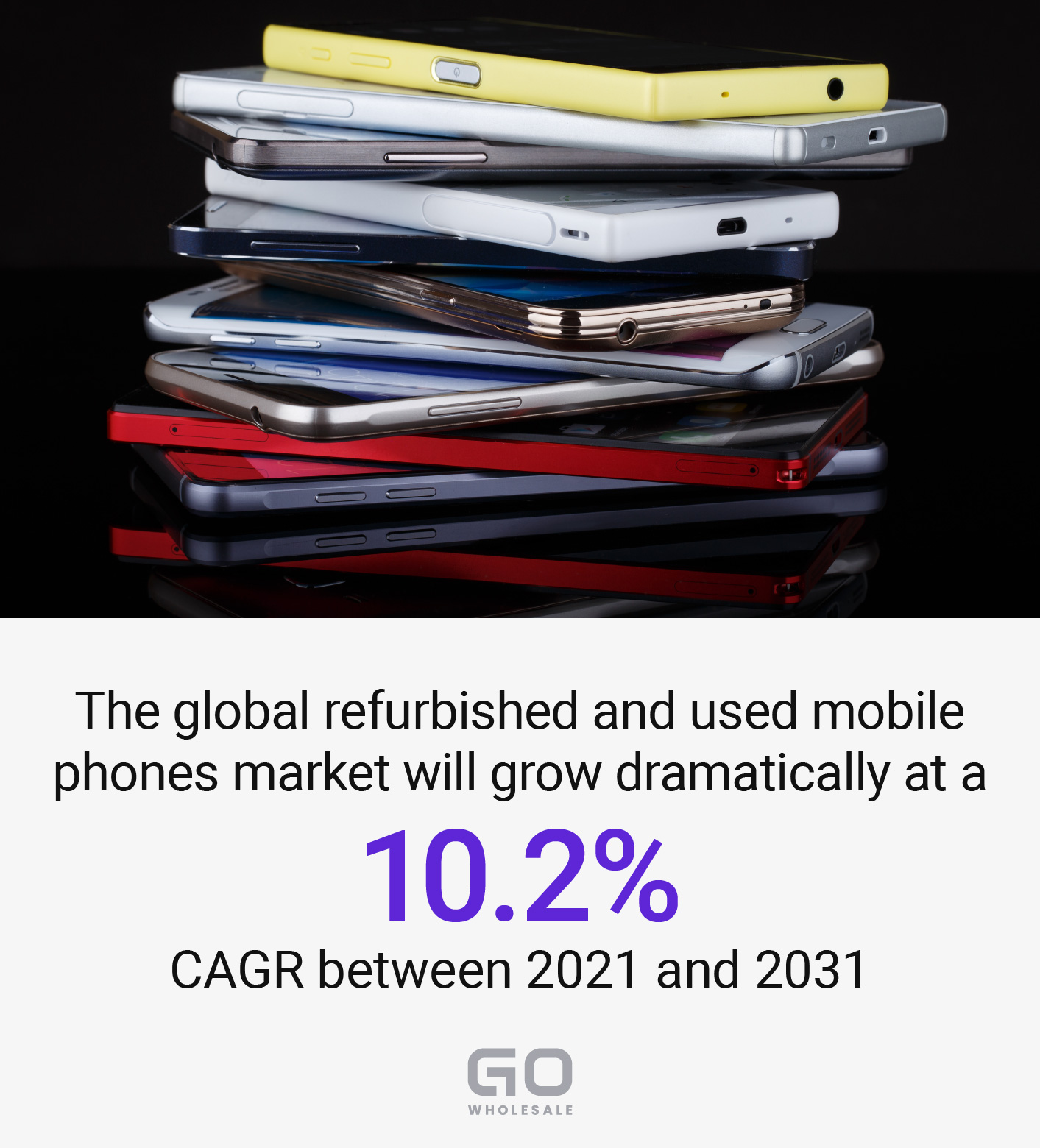 Source: Statista, 2022.
When sourcing refurbished electronics, you actually often have more choice than buying new. The availability of sourcing older, discontinued, models helps you offer more choice to your customers. Customers may be looking to source particular models that are no longer manufactured.
Choosing a Refurbished Electronics Wholesaler
Range of Product
You of course need to find a supplier that provides you with the category of products you're looking to sell. Ideally, within this category they should have a wide array of brands and models for you to select as well.
Pricing
Price is the most important factor. Compare the price asked by the wholesaler to the value of those same products on your sales channels. Electronics prices change fast. And since you're working with refurbished inventory you need to have a detailed level of knowledge on the category of products you're looking to sell going back several years to know if the wholesale price quoted is a good one. But inventory costs are only part of the equation. You also need to consider overhead costs like shipping, storage and employees to ensure you can profit.
Shipping Distance
Sourcing from a wholesaler closer to you can reduce your shipping costs. These can be reduced even more if the wholesaler allows you to pick up your merchandise yourself.
Warranties
Brand new items supplied by a reputable source usually come with a warranty. In the case of refurbished items, you won't get a manufacturer's warranty, but many suppliers of refurbished items offer their own warranties. Make sure to check with your wholesale source whether they back their refurbished inventory with a warranty.
Customer Reviews
Directories of wholesalers are a good place to start your search. You can learn a lot from the experiences of other business owners. Customer reviews, and discussions on forums and websites can tell you whether a supplier is good to do business with.
Minimum Order Requirements
Check how accessible the supplier is to small businesses. Do they demand minimum order requirements? That's not ideal for a small business just starting out. If you're still in the learning phase you don't want to make expensive mistakes buying a large quantity of inventory you can't move quickly and profitably.
Customer Service and Sales Support
A good wholesaler provides good customer service and is contactable in several ways: email, webchat, phone, etc. They should be able to reply promptly and professionally and know a lot about their products and services. Having good customer service and sales support is a sign that the supplier has confidence in the products they are selling.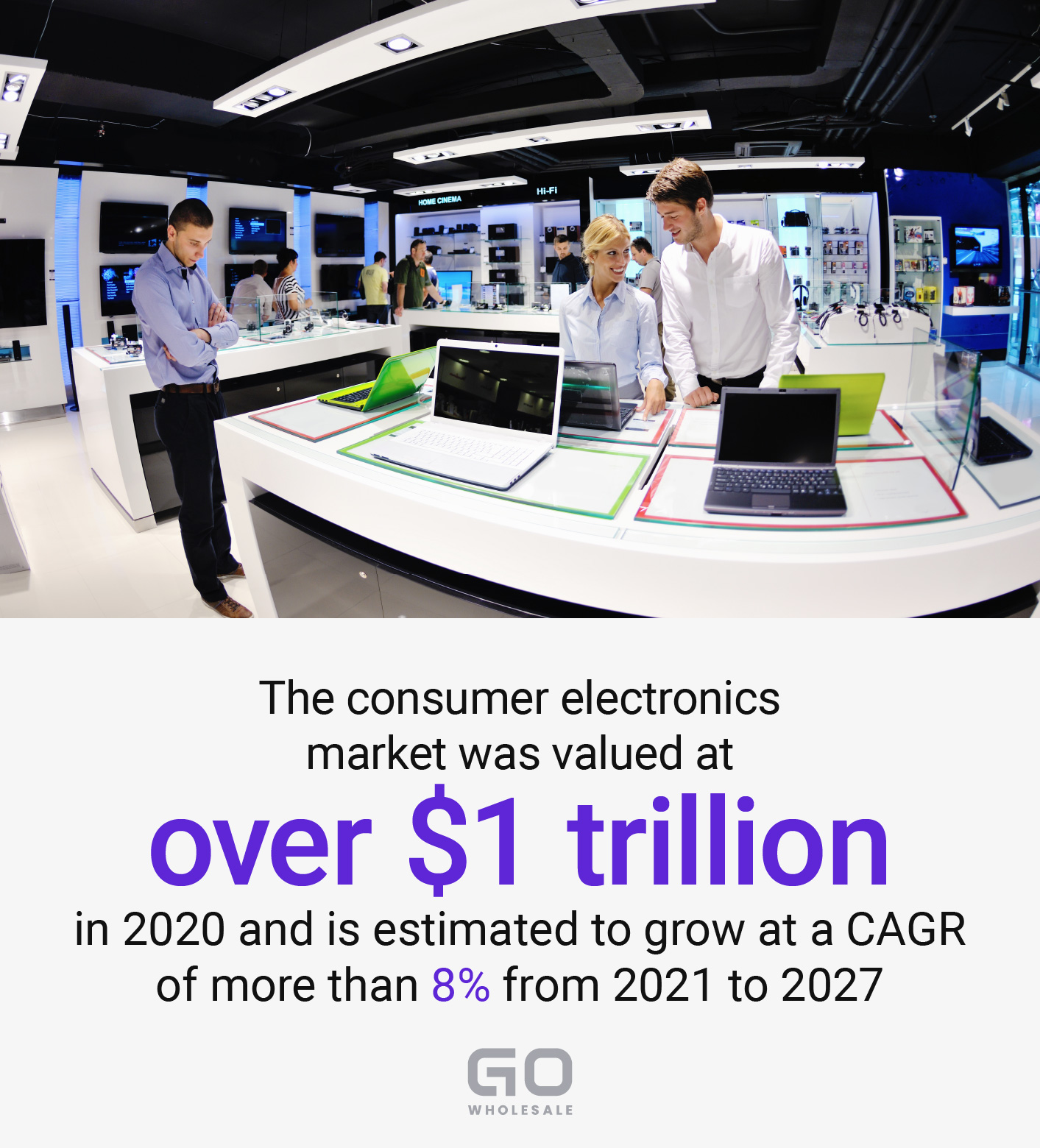 Source: Statista, 2022.
Do They Ship to Amazon FBA?
If you're planning on selling your merchandise through Amazon FBA, you'll want to work with a wholesale supplier that will facilitate this directly with Amazon on your behalf - in order to cut out unnecessary and complicated logistics.
However, there are issues with selling refurbished electronics on Amazon (and the same rules apply to products sold through Amazon FBA).
You can sell refurbished products on Amazon through Amazon Renewed. There are, however, some demanding requirements, including:
Invoices showing $50,000 of purchases of qualifying refurbished inventory in the previous 90 days;
0.8% of Order Defect Rate (ODR) (if you're an existing seller)
You must agree.
For reselling refurbished Apple products you need to provide invoices showing $2.5 million in purchases of qualifying Apple refurbished inventory over the previous 90 days. These demands make selling refurbished electronics through Amazon prohibitive for most new resellers.
If you're new to selling refurbished electronics try selling locally at first through Facebook Marketplace, Offer Up or Craigslist. eBay is also an option if you don't mind paying fees when you sell. Their requirements are not as strict as Amazon.
Tips to Avoid Scams
Only work with reputable, trustworthy and reliable companies. To ensure that, you need to do your due diligence and do research on any potential partner to avoid falling for an online scam. Companies without a returns policy, or who do not provide a physical address should be avoided. Also to avoid are companies that, on top of the price paid for the products and shipping costs, ask for monthly or setup fees to access their services.
Sourcing Refurbished Electronics From goWholesale
There are advantages in buying refurbished electronics from goWholesale. These include:
Thousands of retail-ready refurbished units available at all times.
Buy as many or as few units as you need.
Full warranty on all refurbished products (typically for 90 days).
We believe in being transparent about the pricing and condition of the merchandise sold on our marketplace and therefore include a full sales price history for every item.
To help you save on shipping, we provide a visual shipment builder tool you can use to fill your box or pallet to optimise your shipping costs.
Refurbished Conditions Available on goWholesale
Certified Refurbished
These are products certified like new according to the original manufacturer's standards, after being rigorously tested. Fully functional with no signs of wear or cosmetic defects. These items come with their full range of accessories and retail-ready packaging (original box or new suitable replacement).
Refurbished - Scratch and Dent
These are products certified like new according to the original manufacturer's standards, after being rigorously tested. Fully functional but with some signs of wear or cosmetic defects. These items come with their full range of accessories and retail-ready packaging (original box or new suitable replacement).
The Bottom Line
Buying refurbished electronics wholesale is a great way to start a business with a lower barrier to entry than buying new products. You'll also be playing your part to help save the planet, and cater to customers who are environmentally conscious.
Check out what refurbished electronics we have available right now.