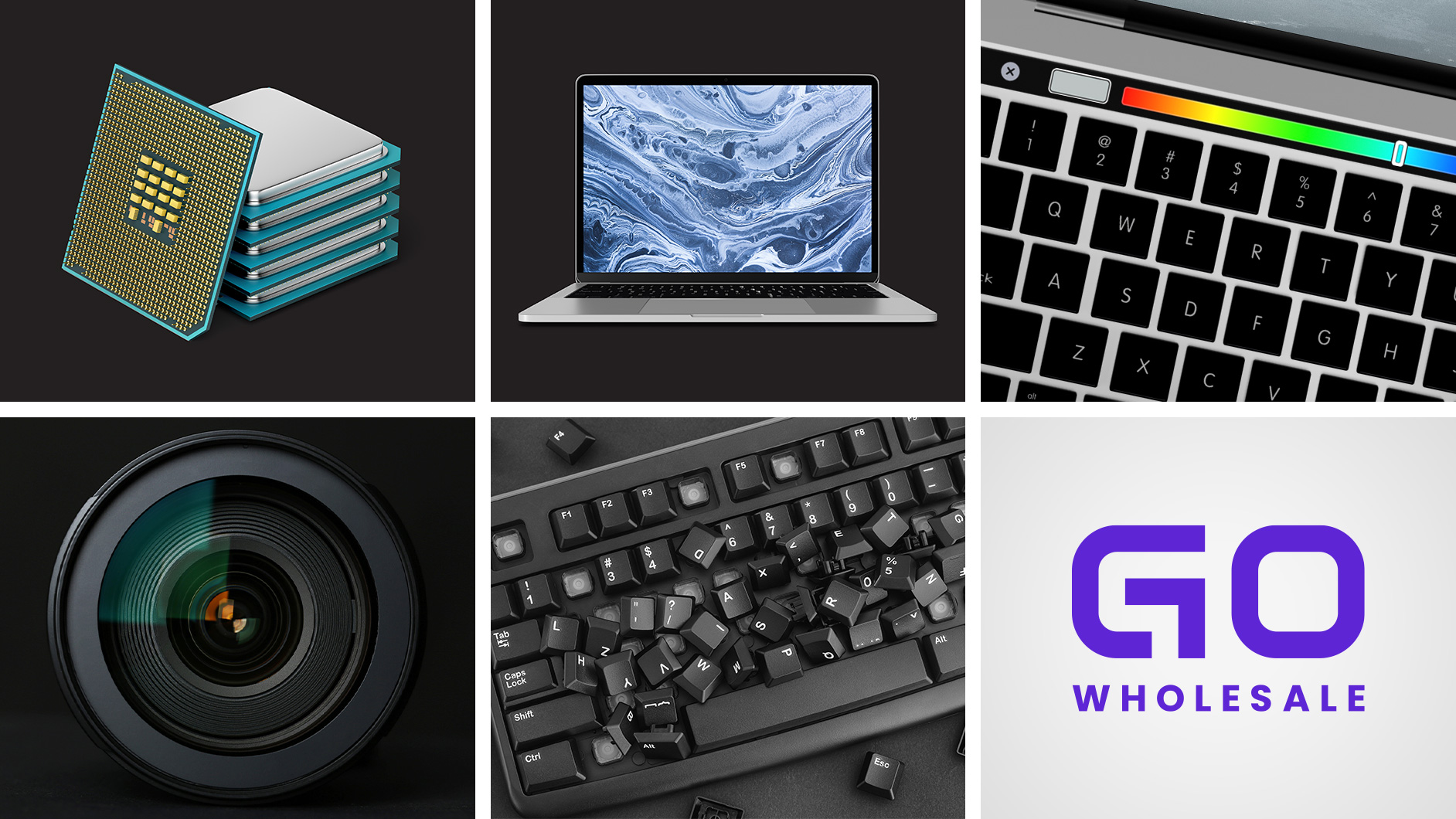 The year 2022 has been one of many changes. Among these changes are a number of exciting new trends in laptop development that are sweeping the global tech community, ranging from lighter laptops to more screen space. In this article, we will go over the major trends that laptop resellers should know about heading into 2023.
First, though, let's look at the health of the global laptop market through 2022.
The market grew between 2021 and 2022 from $100.4 billion to $112.28 billion.
The number of internet users globally has grown by more than 8% annually, with the average user spending more than 6 1/2 hours per day online.
The US laptop market produced $21.08bn in revenue in 2022, and is expected to grow with a CAGR of 1.1% until 2027.
In 2021, around 277 million laptops were shipped, with nearly 160 million tablet units shipped in the same year.
Five billion people around the world use the internet everyday, and 67% of them do so on a laptop.
Lenovo, Dell, and HP are the most popular laptop brands—combined, they ship 60% of the laptops worldwide.
The top importers of laptops in 2022 are the USA, Netherlands, and Germany.
Related Reading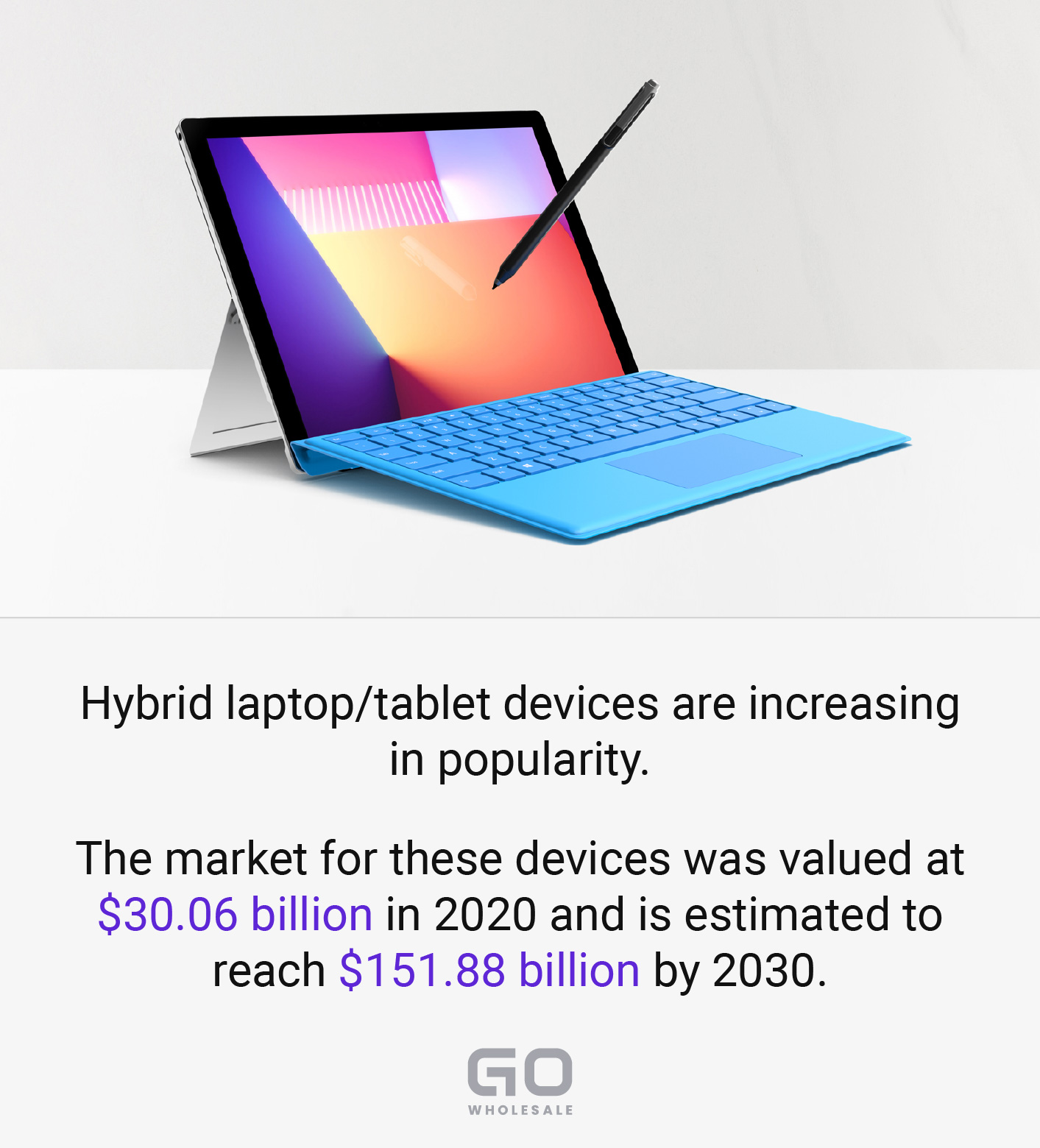 Haptic Touchpads
First introduced in 2020, this relatively new technology is the laptop's answer to the modern touchscreen sensation of vibration. What consumers did not expect was the eruption of computers and software associated with haptic feedback on trackpads that were unveiled at CES 2022.
What drove this switch-up in the computer industry? The consumer response to the "click" that is associated with haptic trackpads and the accuracy. The major advantages to the haptic trackpads are their slim build (a huge benefit for laptops made to be as slim as possible), their accuracy, and their versatility- haptic trackpads can be modified to be adapted to force sensors thus foregoing the necessary 'clicking'.
Some manufacturers that really explored this technology at CES 2022 were Lenovo, HP, Dell, and Asus. It is no surprise now that many months later, in late 2022, Haptic trackpads are everywhere, even on regular non-top-of-the-line laptops.
Top laptop models with haptic touchpads:
ThinkPad Titanium Yoga
ThinkPad Z13
ThinkPad Z16
Full HD Webcams
CES 2022 conference saw nearly every major laptop release implement 1080p camera resolution. This is a huge jump from 2021 when only MSI laptops featured 1080p camera resolution on their flagship laptops, which boosted their sales against competitors in 2021.
Business laptops are showing the highest demand for HD webcams, as the growth in working from home, and the ability to stay connected with family and friends remotely really took off during the pandemic and looks like a trend that's here to stay.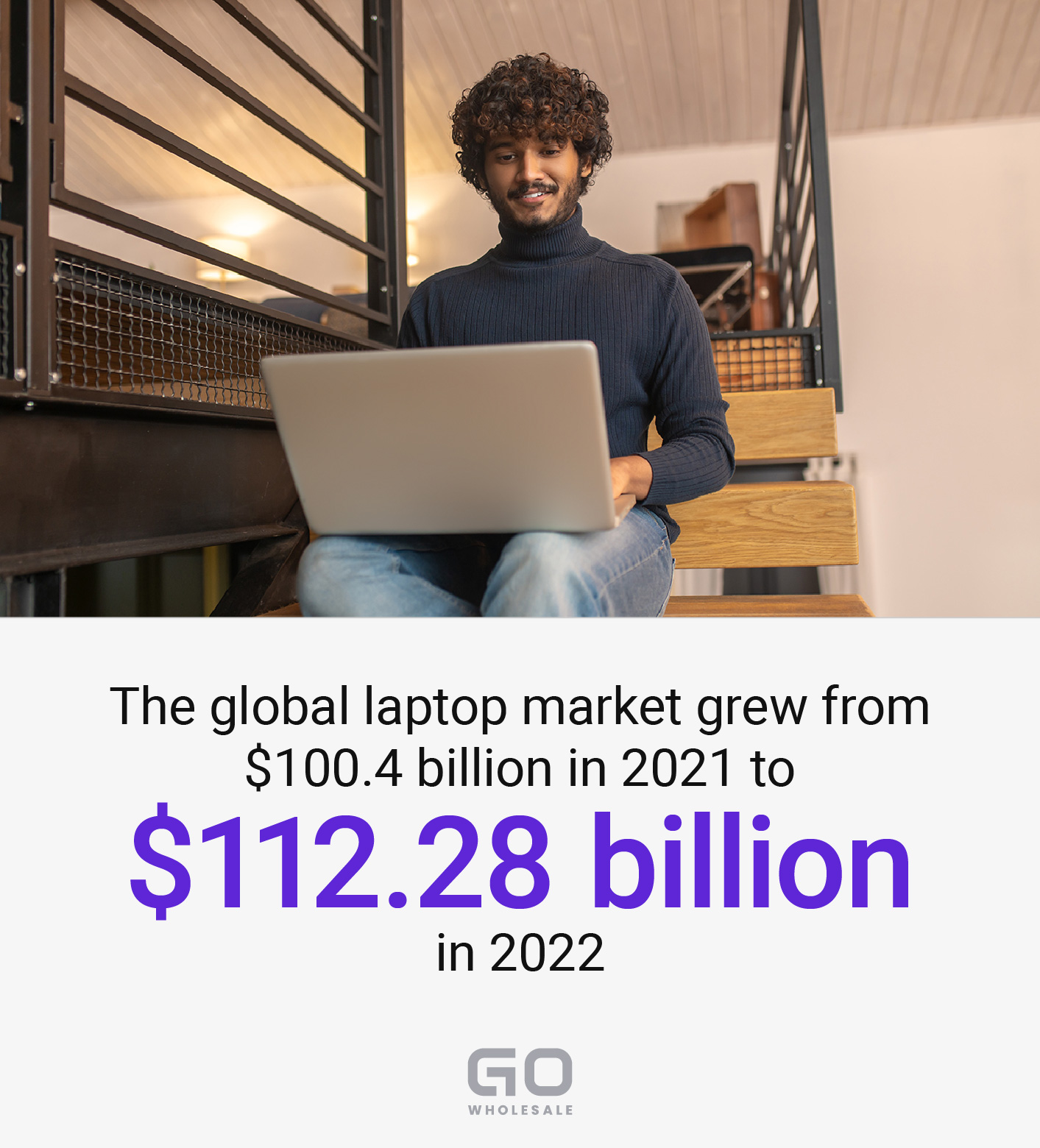 Sustainability
A rising trend in the PC world is also very much tied in with environmental activism: renewable resources being used in new computers. One company is getting praise for its new line of laptops, the Z-series Thinkpads from Lenovo. They are built with recycled aluminum and vegan leather. Another company, Framework, is building laptops that allow the units to be updated by users (chipset, RAM, screen, fans, speakers, etc..). Framework hosts its own marketplace where you can purchase parts for the laptops and make upgrades/repairs on your own. If this business starts really taking off - the growth in the market for components rather than just complete units will grow.
Models of sustainable (eco-friendly) laptops:
Display Improvements and Unique Display Concepts
There have been some big improvements to display tech, and new concepts such as higher refresh rates and foldable screens are looking to become a real option, as soon as 2023, with more prototype models coming out.
There is a rise in dual screens, with ASUS and Lenovo pushing unique approaches to dual screens and foldable laptop screens on their laptops. Their most notable laptops are the Asus Zenbook 17 and the Lenovo Thinkbook Plus Gen 3, which have different takes on what laptop screens can do.
It has yet to be seen how popular these new innovative displays will be with the public.
When it comes to gaming, the refresh rate is everything. The higher the refresh rate, the better the fluidity and feedback time for games and videos. Since competitive gaming has seen a huge rise in 2022, companies introducing gaming laptops with 120 Hz and even 144 Hz displays are a huge bonus that any gamer is looking forward to- a big announcement at CES 2022 was the Lenovo Legion 5 Pro and ROG Zephyrus Duo 16 having displays with 165 Hz up to 240 Hz refresh rate.
In addition to higher refresh rates, we have the niche section of novelty and unique laptop displays coming our way.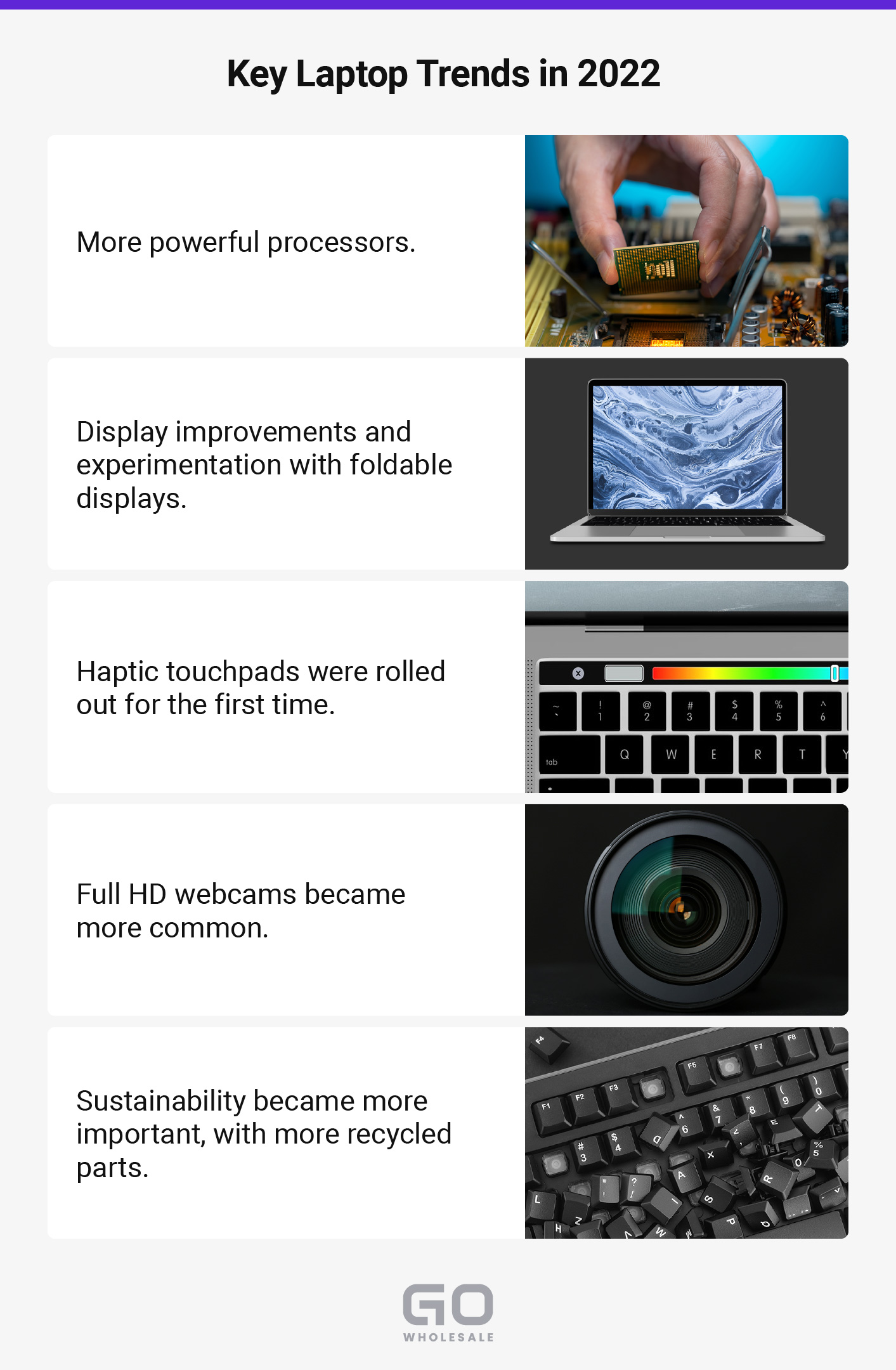 More Powerful Processors as Standard
While computers over the past years have gotten smaller and lighter, what is really pushing the laptop sector in 2022 is more power. Chip developers like Qualcomm, AMD, Intel, and Mediatek are hard at work developing stronger and faster chips with more bang for the buck.
Qualcomm is producing chips with a 85% performance boost while Intel's 12th generation H series chips are outperforming Apple's M1 Max chip. This competition for better chipsets is driven by consumers' demand for stronger and faster laptops.
Laptop models that house these newest processors:
Increased Battery Life
More powerful laptops drive the demand for longer lasting batteries. After being stuck indoors for almost 2 years, many people are now eager to be on the move and get on the road. This means that consumers are demanding laptops that will last more than just 6-8 hours.
Among the companies responding to this demand, AMD promises a 24-hour battery life for computers using its Ryzen 6000 chip. It is still to be proven in rigorous testing whether this claim will live up to expectations.
Laptops with longer battery life:
2022 Apple MacBook Air Laptop with M2 chip - 18hrs
2022 MacBook Pro with M2 chip - 20hrs
Faster Integrated Graphics in Budget Laptops
While many people like to play video games on the go, few can afford top-tier gaming laptops with dedicated graphics cards, costing upwards of $1,000. As a result, many consumers are looking for better integrated graphics cards (graphical processing units) in budget laptops.
Companies like AMD and Intel are developing chips (AMD's 6000 series and Intel's 12th gen series) that pump out 1080p quality with faster fps for games on entry-level laptops. This makes gaming on the go more accessible for people looking for budget laptops.
Laptops with faster integrated graphics:
Asus ZenBook 13
Samsung Galaxy Book Pro 360
HP Envy x360
What Can We Expect in 2023?
5G-Compatible Laptops
With the launch of the first 5G compatible laptop, the Lenovo Flex 5G, in 2020, more and more laptops with 5G compatibility have slowly begun to appear on the market. However, in general, laptops and 5G compatibility have not yet become standard.
With the standardization of 5G connectivity in smartphones, tablets, home wifi, and more, we should expect a wide variety of laptops to appear on the market with 5G compatibility in 2023.
Current top 5G laptop models:
HP Elite Dragonfly G3
Lenovo Thinkpad Carbon X1
Dell Latitude 9330
Screen-Foldable Laptops
Many experts expect that major laptop manufacturers will invest heavily on foldable tech in 2023, making foldable displays on laptops, a major trend. This is due to the rise in foldable screen tech as seen in phones being released. This is already being evidenced by the rumored models of laptops expected to release in 2023, along with new rollable-screen tech being developed, which will have more impact in future years.
Models of screen foldable laptops:
Zenbook 17 fold
Thinkpad Plus Gen 3
Thinner and Lighter Laptops
What is very clear in the past couple of years is that aside from faster and more powerful laptops which are always in demand is a demand for thinner and more lightweight laptops. This can be seen in increased sales by the thinner Apple laptops and the rise in Ultrabooks (as thin as they get, currently) and thinner Thinkpads, like the Thinkpad Carbon X1 models.
Now that companies like AMD and Intel are investing in smaller chipsets with higher power outputs, especially AMD's announced 24-hour battery life laptops, the rise in thinner laptops will be a major trend in 2023.
Top Thin Laptop Models (2022):
Lenovo Thinkpad Carbon X1
Dell XPS 13
Apple MacBook Air M2
Overall Conclusions
2022 was a big year for laptops. Coming out of the pandemic, with consumer demand for better tech at an all-time high, many laptop developers have been pushing boundaries to attract more consumers. This competition is yielding better and more efficient hardware that is changing the face of the laptop sector as we know it.
Newer tech, as it rolls out, will impact the market for new laptops and as older models increasingly look obsolete are expected to drive sales for the newer models. If new budget laptops are coming out with faster-integrated graphics, a lighter frame, and increased battery life, even compared to higher-end models from a couple of years ago, many consumers will be tempted to upgrade.
2023 is already looking like a year of change, with a big focus on weight and upcoming 5G compatibility. However, since this feature is not necessary for most home use, it is unlikely to be a priority for the majority of users. Therefore, you should rather focus on factors like battery life, graphics, and upgradeability, for a majority of new sales.