How To Maximize Profits When Selling Laptops On eBay
---
If you sell laptops on eBay, or you're thinking of starting up a business that sells laptops on eBay, you'll be looking to squeeze as much profit from these desirable products as you possibly can. One of the ways you can maximize your profits from selling laptops is to source refurbished models from goWholesale.
The Advantages Of Buying Refurbished Laptops From goWholesale
Offer your customers attractive prices thanks to the low wholesale price you pay from goWholesale.
Appeal to customers on a wide range of budgets by buying different grades of wholesale laptops.
All refurbished laptops are cleaned, tested, and returned to manufacturers' specifications if required.
All refurbished laptops sourced from goWholesale come with a 90-day warranty for extra peace of mind.
What Are Refurbished Laptops?
Unlike brand new laptops, refurbished laptops have been returned to retailers for reasons ranging from them being faulty to customers simply changing their minds and returning what amounts to new products back to stores and online retailers. Retailers sell these customer returns on to liquidators, who test them, clean them, and repair them if necessary. Liquidators then sell these refurbished laptops on to resellers in bulk for a much lower price than brand new laptops.
All our refurbished laptops are cleaned and tested to make sure they work as new. Whenever repairs are needed in order to bring the items back to factory spec, we use genuine brand parts.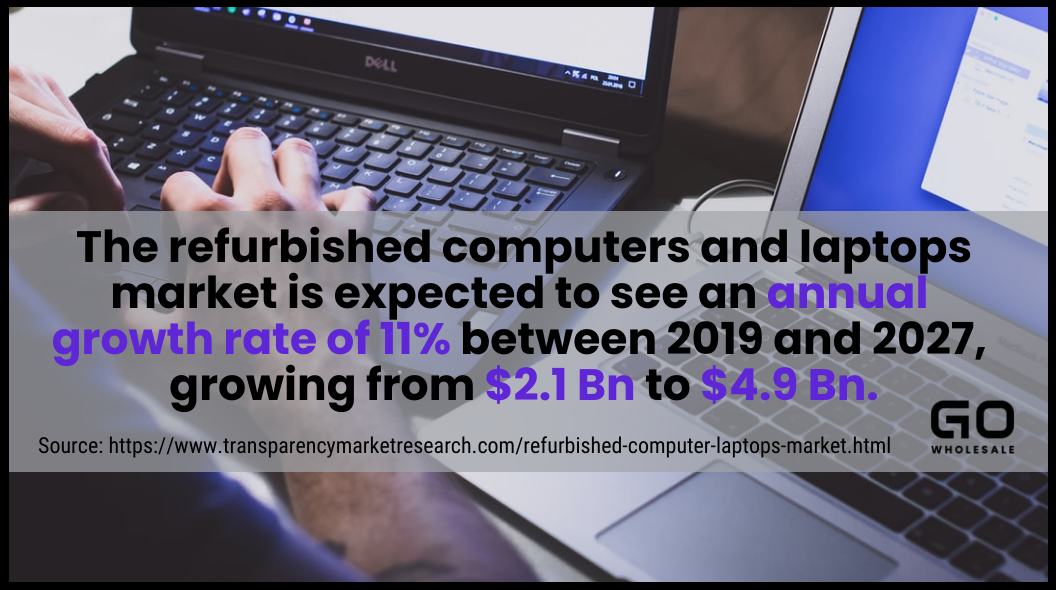 Each laptop comes in either its original packaging or top-quality white or brown replacement packaging. All original accessories are either present or are replaced, like for like, with accessories from the original manufacturer. You will get all the original documentation apart from the original manufacturer's warranty, which is replaced with a goWholesale 90-day warranty.
Buying Refurbished Laptops
You'll find a great range of laptops available to buy in bulk from goWholesale online marketplace. We stock laptops from some of the biggest manufacturers in the world, such as Apple, HP, Samsung, Google, LG, Dell, and Lenovo, to name but a few.
If you want to take advantage of the great prices we have to offer our business customers, you'll first need to sign up for a free account. Once you're signed up, you can either search for laptops by manufacturer or price. Once you find the laptops you want, use the drop-down boxes to order the exact quantity you require and add them to your cart. Once you've ordered the number of laptops you need, simply head to the checkout, pay for your order, and arrange shipping.
When it comes to shipping, you can opt to use the services of a third-party courier, pick up your order in person if you're near one of our distribution centers, or let goWholesale handle the shipping for you. It's quite often the case that goWholesale offers cheaper shipping than third-party couriers, so be sure to check as choosing to ship with us might just save you even more money.
Maximizing Profits Selling Laptops on eBay
There are several ways you can maximize the profits you make when selling on eBay. Here we lay out some helpful suggestions that should boost your sales on one of the biggest online marketplaces in the world.
Pay Attention To Your Account History
For those just starting out selling laptops on eBay, things aren't quite as simple as setting up an account, listing what you have for sale, and sitting back and letting the money roll in. The eBay marketplace is awash with so-called 'refurbished' and 'reconditioned' consumer electronics, and customers regularly report they are nothing of the sort. In many cases, they are just secondhand products that have had a cursory wipe down before being put up for sale as refurbished. As a result of this, many customers are wary of buying from new sellers.
This is why starting out on eBay can very much be a waiting game until you've built up a decent account history showing reviews from lots of happy customers and evidence of plenty of sales and not too many returns. You can use the time while building up a good account history to test the waters. Try buying a mixed load of grades, list them on the site, and see how many 'watches' each model gets. This will give you some indication of what customers want and is useful market research, helping you focus your sourcing decisions in the future.
If you're already selling on eBay, you can maximize the profits you make selling refurbished laptops by keeping your account history in good shape. Customers are much more likely to buy from sellers with good account histories, and they're also more likely to make repeat purchases from sellers they trust. Keep your customers happy; look after your account, and your profits will grow accordingly.
Communicating with your buyers is also essential to help prevent fraud. It is not unusual for high-priced items like laptops to be targeted by fraudsters, who will hijack customer accounts to bid and buy products.
If you think that this doesn't interest you as a sale is a sale, and you will have money in your PayPal account, think again. PayPal has policies in place to prevent fraud and scams and help buyers retrieve their money if their accounts have been hijacked. You may find yourself in the awkward position of having shipped a high-end refurbished laptop only for PayPal to notify you that the funds have been retracted. PayPal does seller protection, but only if you meet certain criteria. If you don't meet the criteria, you should be extra careful.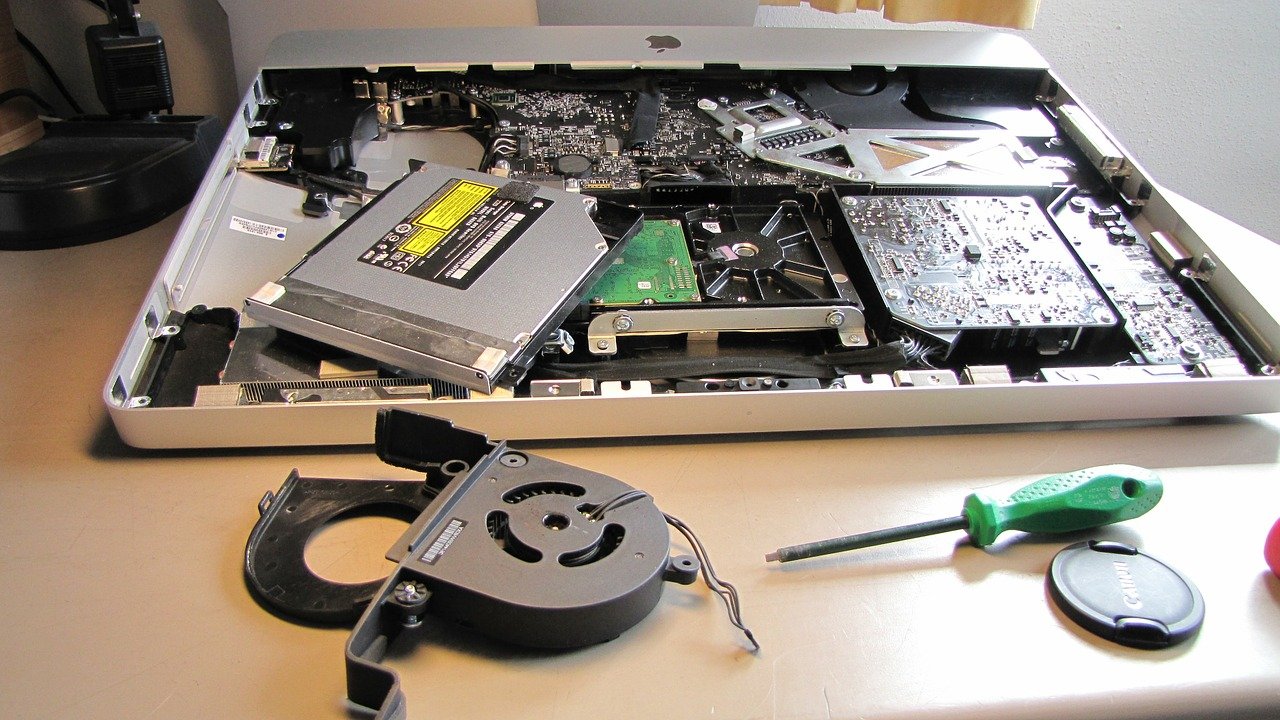 Firstly, always check the buyers' addresses. You want the buyers' billing address to be consistent with the shipping address. Also, include a note in your listing that you will not ship the item before you get the confirmation from your bank that the funds are in the account.
How To Sell Refurbished Laptops
Keep in mind that each unit has a potential buyer; you just have to know how to display it and target the right market. The prices of new laptops are not for everyone's pocket. And the truth is if a buyer is not looking for high-end computing power and only plan to use the laptop for browsing, using Microsoft Office or equivalent solutions, and watching the occasional movie, they don't need to invest in a brand new unit.
Technology advances quickly, and a laptop that was high-end today may already be obsolete two months later. But refurbished laptops have enough computational power to not only do all the tasks an average user requires but also can hold on for a considerable period.
This is another part of the business where efficient customer communication is essential. But let's start from the beginning. The most important rule is: don't withhold information. Let your buyers know that you're selling a refurbished unit. Provide detailed information on the condition of the laptop in addition to listing the specs. Provide plenty of high-resolution photos displaying the features of the laptop as well as the accessories that come with it. If there are blemishes, don't hide them, and let your buyer know about them. Hiding information may lead to a bad review and a returned item.
An additional tip when it comes to refurbished laptops. If you are buying them in bulk or refurbishing them yourself, consider upgrading certain features. For example, if a unit has a hard drive installed, consider swapping it out with an SSD, which will increase the value of your unit. Make similar swaps, but only if this fits your budget and the potential returns justify such an investment.
But there are other little tips and tricks you should know when selling refurbished laptops on eBay.
Switch To A Store Account
As your sales increase on eBay, one very simple way to maximize profits is to switch from an individual business account to a store account. Setting up a store on eBay gives you lots of extras, such as a much larger number of free listings and much lower sales fees. You'll get all of this for a monthly subscription charge that goes up in price depending on what plan you decide to take out. For most sellers of consumer electronics, we recommend a Basic or Premium account with an upgrade to the more expensive Anchor account as your business grows.
Improve Store Design
One of the ways you can boost sales on your eBay store is to use the site's storefront building tool to create an eye-catching store that will attract customers. You can create customizable categories with the storefront builder and use features exclusive to store owners to help you get your brand out there.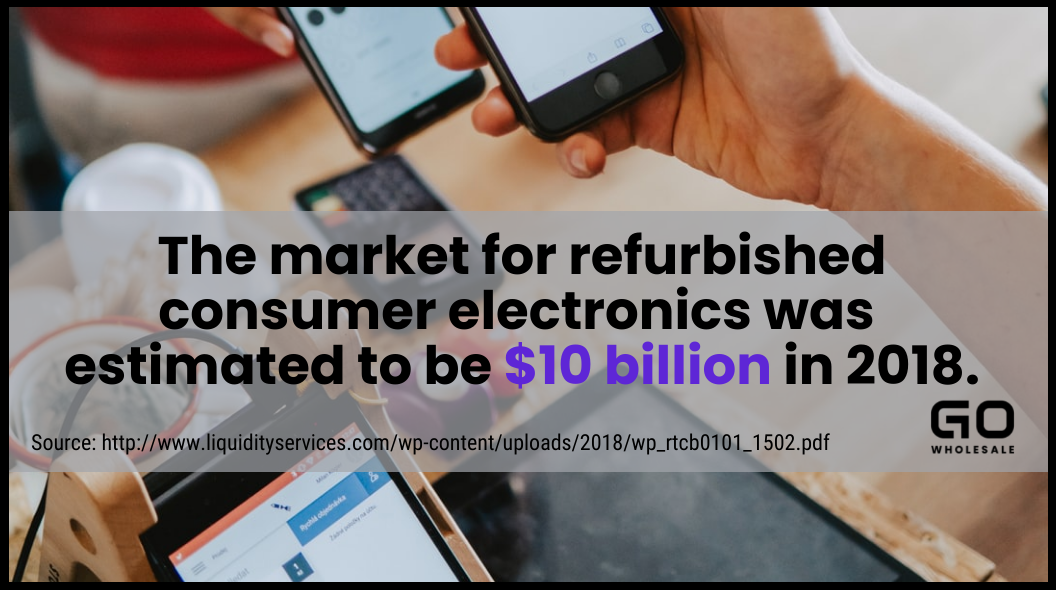 A lot of customers prefer to deal with good looking, professional sites that are easy to navigate and look like the owner has put some effort in. So take your time designing the best looking storefront you can, or even invest in the services of a designer to create a storefront for you for a relatively small financial outlay. It can be well worth the spend as well-designed stores have been proven to boost eBay sales by as much as 30%.
Optimize Your Service
Store owners are given access to a set of optimization tools that allow you to do several things to drive up sales and increase your profits by offering customers special promotions and deals that make buying from your store more attractive. Below are some of the things you can do with these tools.
Order Size Offers
You can offer your customers discounts based on the size of their orders. Usually, someone on the lookout for a laptop isn't usually going to buy several of them at once. However, by offering a size order discount, you can make buying any other items you sell more attractive, and this, in turn, will help you maximize your profits.
Cross-Sell Related Items
Cross-sales promotions can be set up easily with eBay optimization tools. A cross-sell offer lets you bundle various related items together and then offer a discount if customers buy more than one item in the cross-sales promotion. So, as well as offering a refurbished laptop at a great price, you can offer your customers something like a $50 discount if they also buy a laptop bag, to take one example.
Cross-selling is a great way of encouraging customers to spend more in your store. More sales mean more profits for you, with the cost of the discounts you offer being offset by the low prices you've paid buying laptops in bulk from goWholesale.
Sale Event Offers
You can create Sales Events with eBay's optimization tools. You can set up time-limited sales that offer a percentage off the price of the laptops you sell on the marketplace, which can be used to bring in customers on tighter budgets or bargain hunters who only ever buy products at discount. Sale Events are easy to set up and how long they last is entirely up to you. Sales are always popular with customers, so you should aim to run a sales promotion once or twice a year should your finances allow it.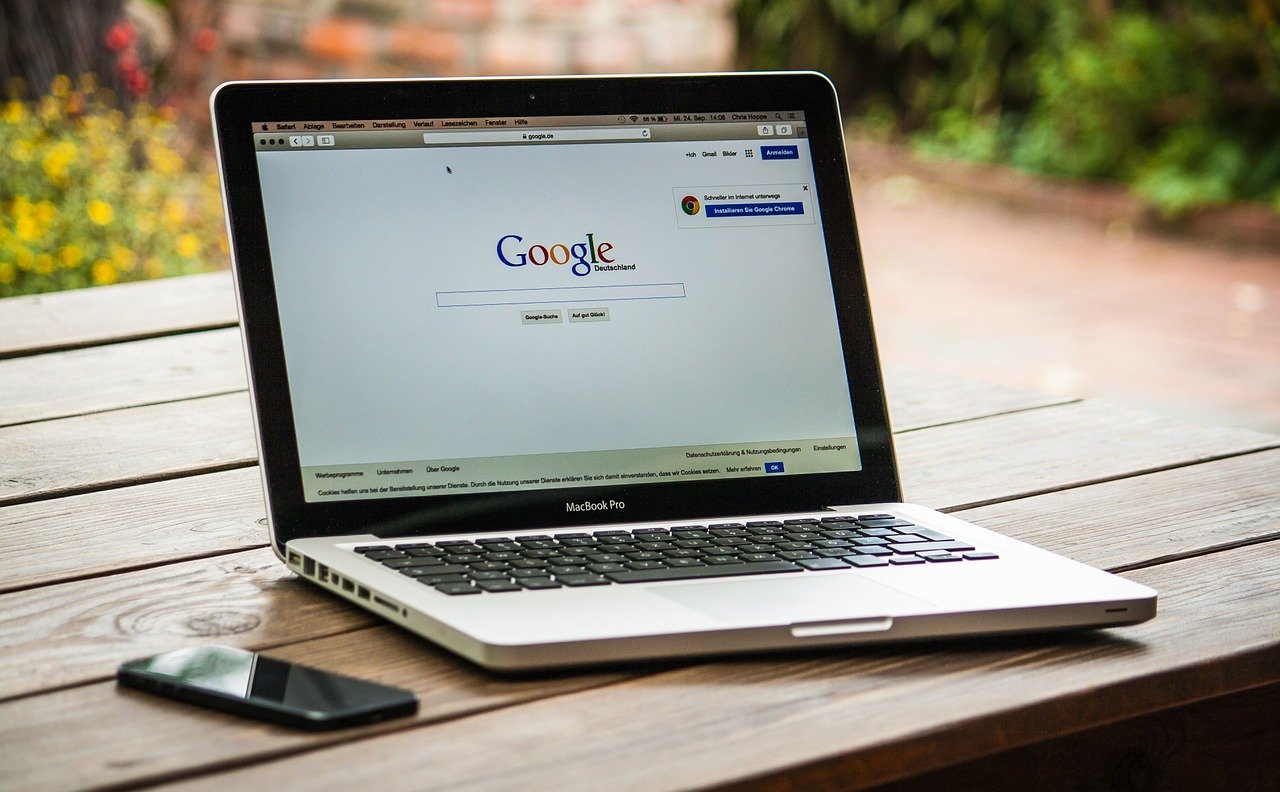 Coupon Offers
eBay's optimization tools allow you to offer your customers money-off coupons that encourage them to make further purchases from your business. If a customer buys one of your laptops, you can offer them 10% off their next purchase, for example, encouraging them to make further purchases and increase your profits.
Use The Markdown Manager
The final optimization tool eBay offers its customers is the Markdown Manager. This tool allows you to offer specific discounts on certain products as well as free shipping whenever you want. You can use the Markdown Manager to apply discounts to specific products, to a whole category of products such as your entire laptop range, or to everything you sell in your store if you've chosen to sell other products as well as laptops. The Markdown Manager also lets you offer free shipping on items on your list that you've put up for auction as long as they currently have no bids on them.
Make Sure You Have A Great Detailed Seller Rating (DSR)
Every time a customer buys something from a seller on eBay, they're invited to leave a score of their experience. eBay asks the customer to score between 1 and 5 for the following metrics - Item as Described, Communication, Shipping Times, and Shipping and Handling Charges. These customer scores are then added up over time to give the seller Detailed Seller Rating, and having a low one can spell disaster for those looking to maximize their profits on the site.
If you always send items on time and as described, if you communicate with your customers promptly and professionally and offer discounts on shipping or even free shipping, customers are much more likely to give you five-star scores on the above metrics, thus driving up your DSR. You should always aim to get a DSR of between 4.5 and 5.
If you do, you will eventually qualify to become one of eBay's Top Sellers. There are great benefits to being a Top Seller, such as priority support from eBay, a whopping 30% discount on the final value fees you pay, a Top Seller badge on listings that makes your store stand out from the crowd. You'll also have a better chance of winning the 'Best Match' spot where your product is recommended by eBay when customers search for products on the site.
Offer Your Customers A Warranty
The final way you can boost sales and increase your profits selling laptops on eBay is by offering customers a warranty on the products you sell. As we've already explained, many customers are wary of buying electronics from the site, but offering, say, a 90-day warranty will reassure customers they are buying laptops from a reputable business. A warranty shows your business is confident in the products it sells and gives your customers extra peace of mind and makes it much more likely you'll make a sale.
Following these simple steps will help you maximize your profits on eBay. And of course, by sourcing refurbished laptops from goWholesale, you'll already have paid considerably less for your wholesale merchandise, so you'll find it much easier to maximize profits than you would sourcing from another supplier. If you're interested in low cost refurbished laptops, check out what goWholesale can do for your business today.