What is the Retail Supply Chain Outlook for Q1, 2023
---
The year 2023 looks to be one of both obstacles and opportunities for retail businesses. Living in a post-COVID world with the risk of a pending global recession on the rise, various experts and news reports believe that 2023 is riddled with challenges for the retail supply chain.
These obstacles stem from war, global economic instability, seaport delays, and more. On the other hand, there are opportunities stemming from new legislation, management technologies, and supply chain models
In this article, we will go over the challenges and changes that we expect to take place in 2023 in the global retail supply chain.
Further Reading
Expected Challenges in 2023
Inflation
One of the biggest aftereffects of COVID is persistently high inflation. In the USA, product prices have gone up in value by about 9.1% as of the end of the last fiscal year. According to Forbes, this is the largest single-year increase in the past 40 years, citing the U.S. Bureau of Labor Statistics.
For consumers in the USA, buying products that have a higher price tag or have suffered shrinkflation (which is a decrease in product quantity while keeping the original price) is taking a toll on buying power, and slowing down retail performance, and confidence.
In Europe, the results from preliminary data taken on October 31st indicate an overall inflation of 10.7% - higher than the USA. For the European community, not only is this the highest inflation rate since the formation of the European Union, this is clearly indicative of a substantial decrease in buying power all across the EU.
Some experts point to 2023 being a surplus market year where many products will overfill inventories. In such an environment, companies will end up taking one of two approaches: to decrease product prices (a substantial loss) or companies will have to decrease product production in general.
Inflation will be a hard hitter for many companies unless future policies and strategies are implemented to rectify this issue.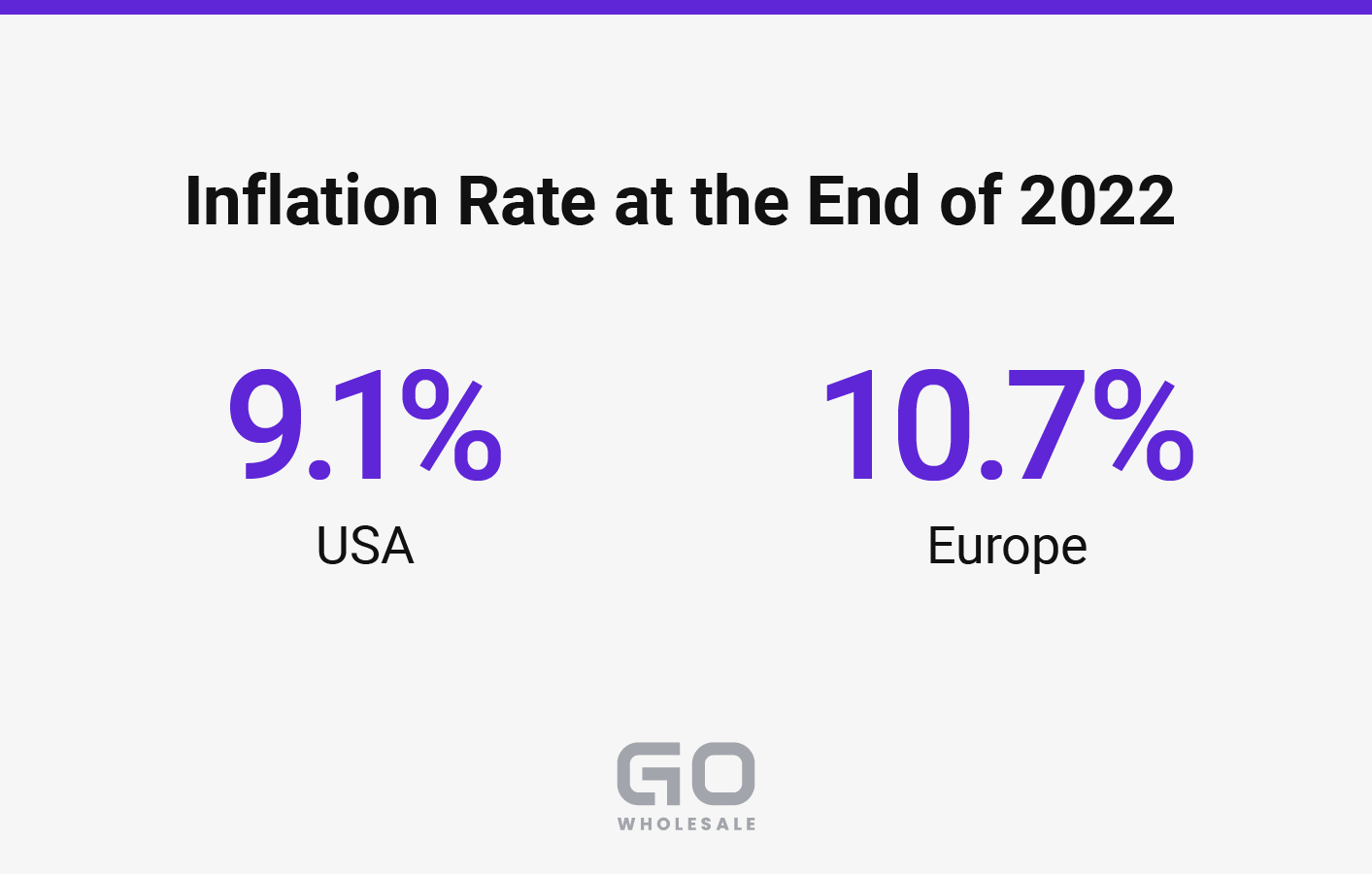 A Global Pending Recession
Following the effects of inflation, the strategies being implemented by central banks have been to continue to increase interest rates. This strategy is used to, as ING indicates, slow economic growth and decrease inflation until it is at acceptable levels. Under normal circumstances this might work, but with the world still recovering from COVID, and some countries like China still facing huge societal and economic problems related to it, inflation is so high that it will be difficult to bring down in the short term. The expert opinion is that the result is most certainly going to be a recession on a global scale, and will be particularly bad in Q1, 2023.
With recession likely, companies are tasked with making key adjustments and shifts to stay afloat. These manoeuvres include decreasing production, slowing payments to vendors, and constantly monitoring the economic climate for indicators of major shifts or changes.
Although these strategies are easy to discuss, they are hard to follow through with. Take, for example, the vendor-to-producer relationship. If companies do not implement strategies to make sure their vendors do not go bankrupt, they will lose the means to reach consumers. On the other hand, as ING points out, if companies do not preserve cash flow, they themselves will go under.
2023 will demand a lot of close business ties, and transparent cooperation for all parts of the supply chain for many retail, manufacturing, and logistics companies to keep afloat.
In addition, another concern for companies is employee wages and employee retention. COVID saw many major losses to the workforce leading to many delays in all business sectors. This has emphasised the importance of employee retention for smooth flow in the production-to-sale process. With the impending recession, wage increase demands will only increase, and companies will be tasked to adjust to suffering both layoffs and efforts to keep high-value employees in early 2023.
The Ukraine War
Another major obstacle for the global retail supply chain in Q1 is ongoing resource disruptions. In addition to the delays and setbacks still being widely felt because of COVID, the war in Ukraine is causing cuts to fuel and food supplies globally, which only adds to supply chain problems.
This shock has shown just how important Ukraine's exports are to the world economy. Among the many valuable mineral deposits, Ukraine is a key world resource for fertilizer production due to its chemical industry, vegetable oil production, and is ranked among the top world-wide resources for steel manufacturing.
The war in Ukraine remains a major setback. ING points out that 10.5% of all maritime freight transport came from Russia and 4% from Ukraine prior to the war. Now, with Russia diplomatically isolated, and Ukraine in a state of defense, they have lost the ability to allocate any prime resources for exports. This comes to a possible total loss of 14.5% of global shipments and resources, A very large loss of production capabilities as well as scarcity of prime metal, food, and oil.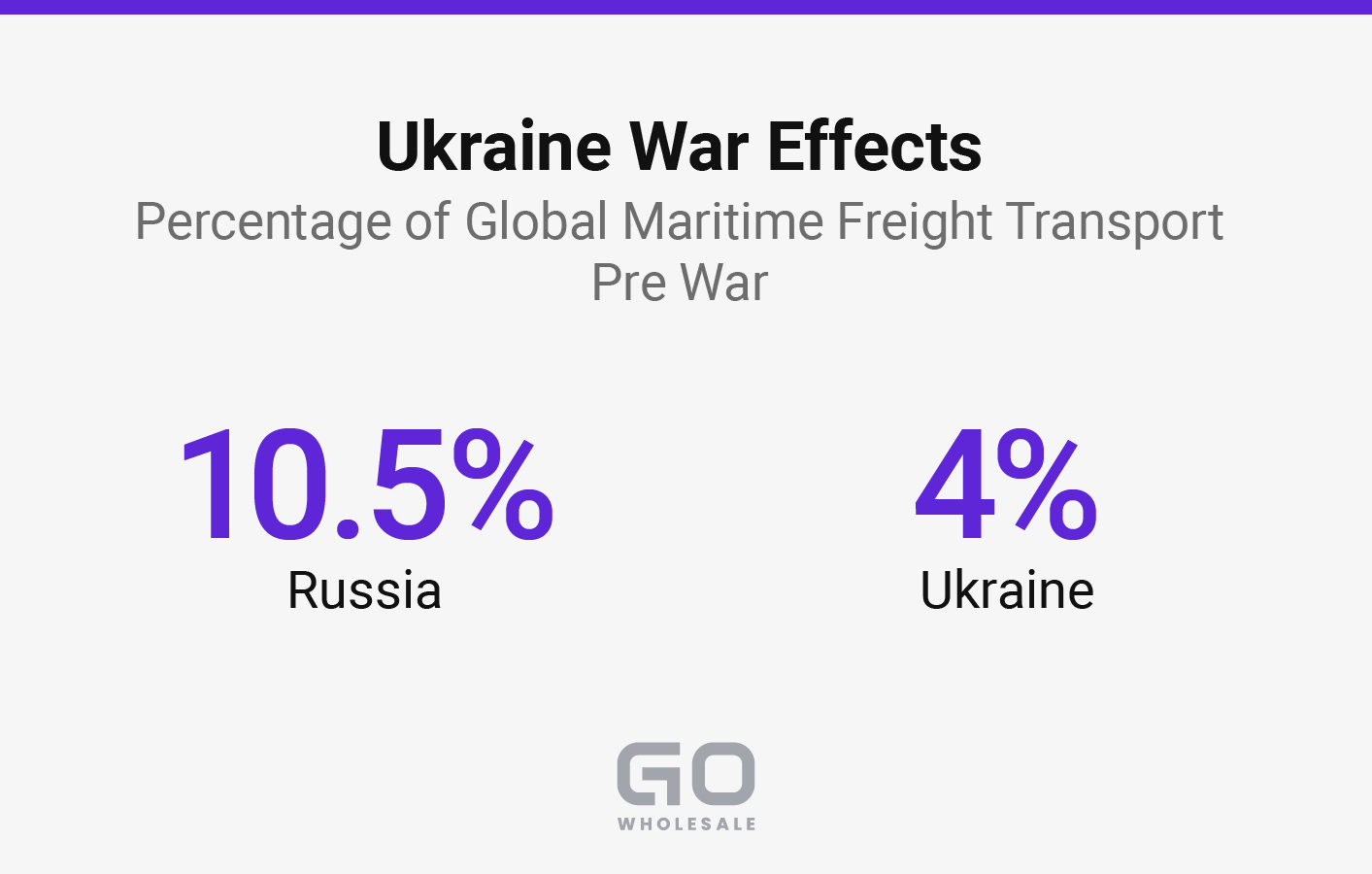 Continued Sea Port Delays
In the USA, ships are being directed to the East Coast as well as being diverted to smaller ports to ease congestion and try to minimize delays on the West Coast. According to ING, ocean transit times are still double the pre-COVID normal, averaging 80-90 days. These numbers are a result of around 7% of global shipping being stuck queueing up at ports around the world, plus the almost 11% of goods stuck on land awaiting container ships. This will remain a major problem throughout Q1, 2023.
China, the world's biggest industrial center, is still suffering from huge economic disruptions from COVID-19. There is still the possibility of new lockdowns to appear in 2023 and, while they may be short-term lockdowns, they will still present delays and decreases in production potential.
The persistent zero-Covid policy maintained by China has caused ports to be congested, creating production backlogs, resulting in a wave of export traffic that has and will continue to affect global ports and sailing schemes in 2023.
Increasing Container Costs
With all of this shipping turmoil, it is no surprise that container costs are expected to rise in 2023. The Suez Canal has already increased their port fees by 15%. 2022 has already seen a price decrease since 2021 which has largely benefited global shipping and retail chain flow. For reference on the price difference, the Freightos Baltic Index, a global container freight index, indicate that the global average cost of shipping a container in October 2022 was $3,429 and the October 2021 average was $10,396, a 67% price decrease. However, experts see these prices rising again substantially, as seen at Suez, due to increased pressures on shipping and increased global demand.
Looking to Europe, the shipping of products overseas are being included in the emissions trading scheme (ETS), which is costly as well as timely to implement (with expected results being seen only in 2030). This, among other eco-friendly deals and plans, is increasing the use of more expensive low-carbon fuels, which are also adding to container shipping costs through the next quarter and beyond.
High Staff and Workforce Turnover Rate
The loss of high-level professionals and the constant change in employees due to high wage demands are plaguing many companies and setting back production and logistics.
There is currently a rise in demand for employment in the logistics sector, but the supply is not meeting the demand with not enough individuals showing interest in pursuing logistics careers.
Many companies are trying to fill the gap by outsourcing jobs and expanding operations to countries outside the US, but these are just temporary solutions for a major vacancy issue. Experts are predicting that companies will invest in unique offers such as mentoring programs and tuition reimbursement to facilitate the refilling of vacant logistics positions.
Expected Supply Chain Changes and Improvements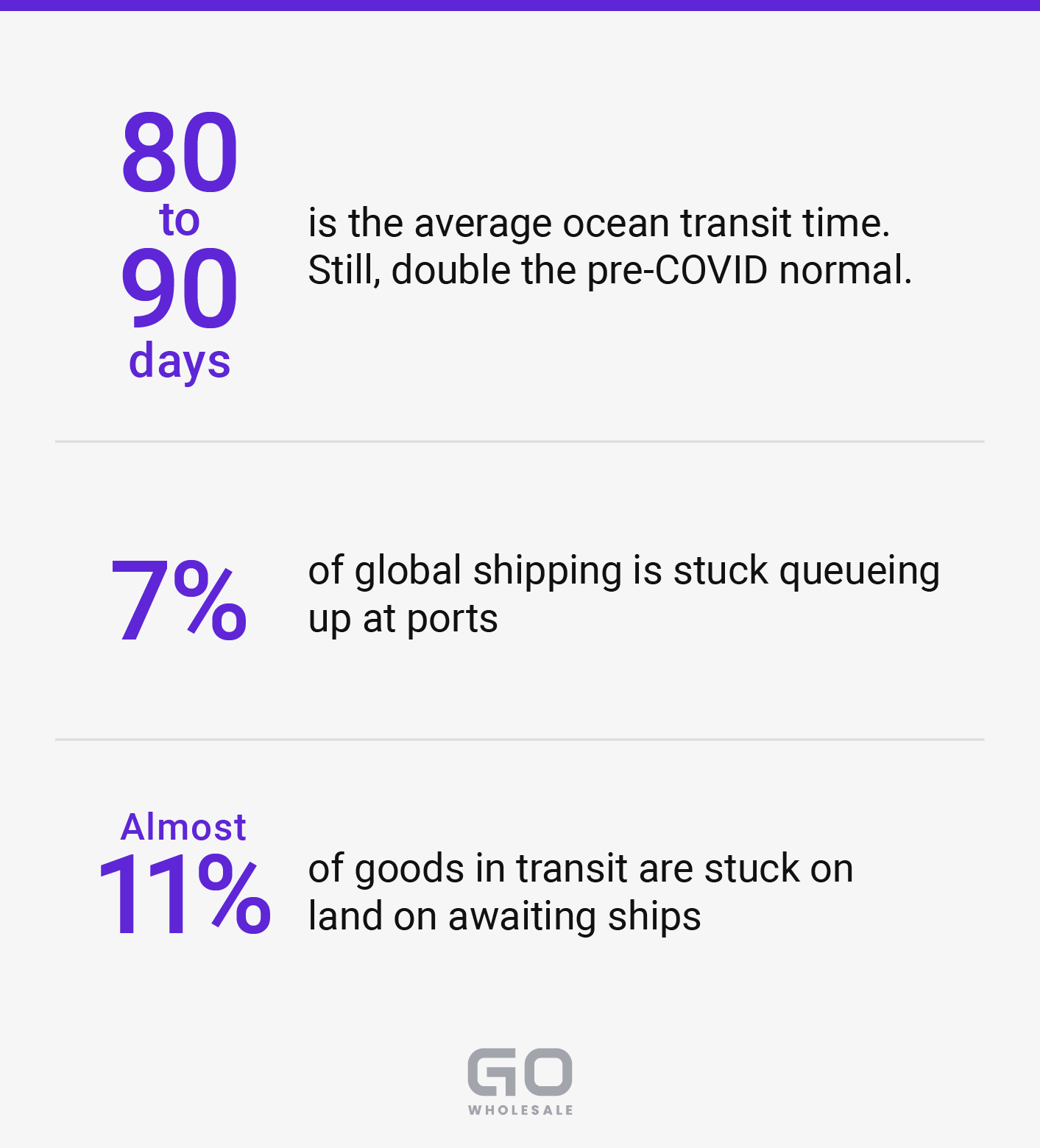 Looking to 2023, there are also opportunities for innovation in both supply chain management and production structures.
Among these opportunities are new supply chain technologies, an increase in eco-friendly practices (cutting down on green taxes), and development of resilient business tactics in light of the global shortages and inflation.
New Supply Chain Management Technologies and Strategies
Circular Supply Chains
One business management strategy is to do away with linear supply chains and to adopt a circular alternative. Circular supply chains are routes through which products return back to the manufacturer to gain a "second life".
One approach is for manufacturers to refurbish their own products, increasing the lifespan of the product as well as decreasing product price volatility. The push for circular supply chains is both for financial and ecological reasons. Volatility of product prices decreases for companies that choose to refurbish their products and it creates a sustainable business model favored by both consumers and regulators.
Another approach is the practice of breaking down their own products into raw materials. While the initial costs of developing new processes and machines to reutilize old products may be costly, the long-term benefits are drastically greater - expect to see more interest in these practices in 2023.
Domestic Manufacturing Services
Placing more factories, warehouses, and logistics centers domestically is already being explored by major companies such as Amazon in the USA. This strategy is directed specifically toward decreasing shipping and delivery times, though it is less clear at this stage how many major manufacturers will be making this move.
Blockchain Integration
With the rise of more efficient technologies, Blockchain integration is becoming an attractive avenue for businesses to organize their shipping and handling processes. Several advantages come from this: complete integration of all supply chain components onto a single platform, supply chain transparency, decrease to disruptions with shipping and handling of products, and a high level of protection from information tampering.
Blockchain can be used by all participants in the retail and shipping process, allowing vendors to make payments on the same platform that the shipment company will use to update the shipping status.
This cross-party platform creates a very easy means by which consumers can keep up-to-date on all logistics, and is expected to be increasingly used in the retail supply chain.
Regulated Ethical and Environment-Friendly Business Practices
As of January 2023, the Germany Supply Chain Due Diligence Act will come into effect. This will require businesses to monitor supply chains for human rights violations and to guarantee that business partners involved in the supply chain are not causing environmental damage. Due to the size of the German economy, most businesses trading within the EU will be compelled to adapt to these changes.
New eco-friendly warehouses will be pushed for by many big companies and will include, for example, advanced energy management systems that monitor the usage of electricity, water, and gas in all the warehouses. Another pushed supply chain commodity that will see an increase are electric and solar-powered vehicles, which will help to further decrease the carbon footprint in the supply chain.
In addition, ESG (Environmental, Social, & Governance) laws have, until recently, never had strong punishments for companies that violate them. Now, ESG legislation is carrying heavy penalties, including fines that can be up to two percent of annual sales. This is on top of the brand damage that violating companies will sustain should they be prosecuted for their non-adherence to protocols and legislation.
In addition to the eco-friendly supply chain adjustments that will be pushed for in 2023, there will be a rise in consumers demanding eco-friendly products - including the supply chain process that delivers them. This has already been seen by many companies in recent years creating recycled packaging and products, like Lenovo with its own range of recycled laptops.
Many governments are looking to provide incentives for Businesses with sustainable practices and recycled products, and early adopters will benefit more.
Conclusions
2023 is looking to be a year of both obstacles and opportunities for the world of commerce. While supply chain issues can't be compared to those seen in 2020 and 2021 because of COVID, 2023 has an outlook of stretched resources, gridlocked shipping, and production delays. This will be at least partly offset by improvements in technology and a transition to greener, cheaper transport, and a more circular (and domestically focussed) economy.