Buying from Wholesale Marketplaces: Comparing and Choosing the Right One for You
---
There are plenty of options online when searching for wholesale marketplaces to source inventory from. How can you choose between them? What are the pros and cons for each platform you find? In this guide, we will explain how to choose the right wholesale marketplace for you, and offer you top examples, to help walk you through the process.
What are B2B Wholesale Marketplaces?
Wholesale marketplaces are a meeting ground between different suppliers and wholesale buyers such as retailers, small businesses and online sellers. Everything is in one place, and you can buy products from different sources in a single order.
These platforms are more competitive by nature, compared with working with a single merchant wholesaler - keeping prices lower. This is the most convenient option for small businesses to buy wholesale.
Choosing the Right Wholesale Marketplace for You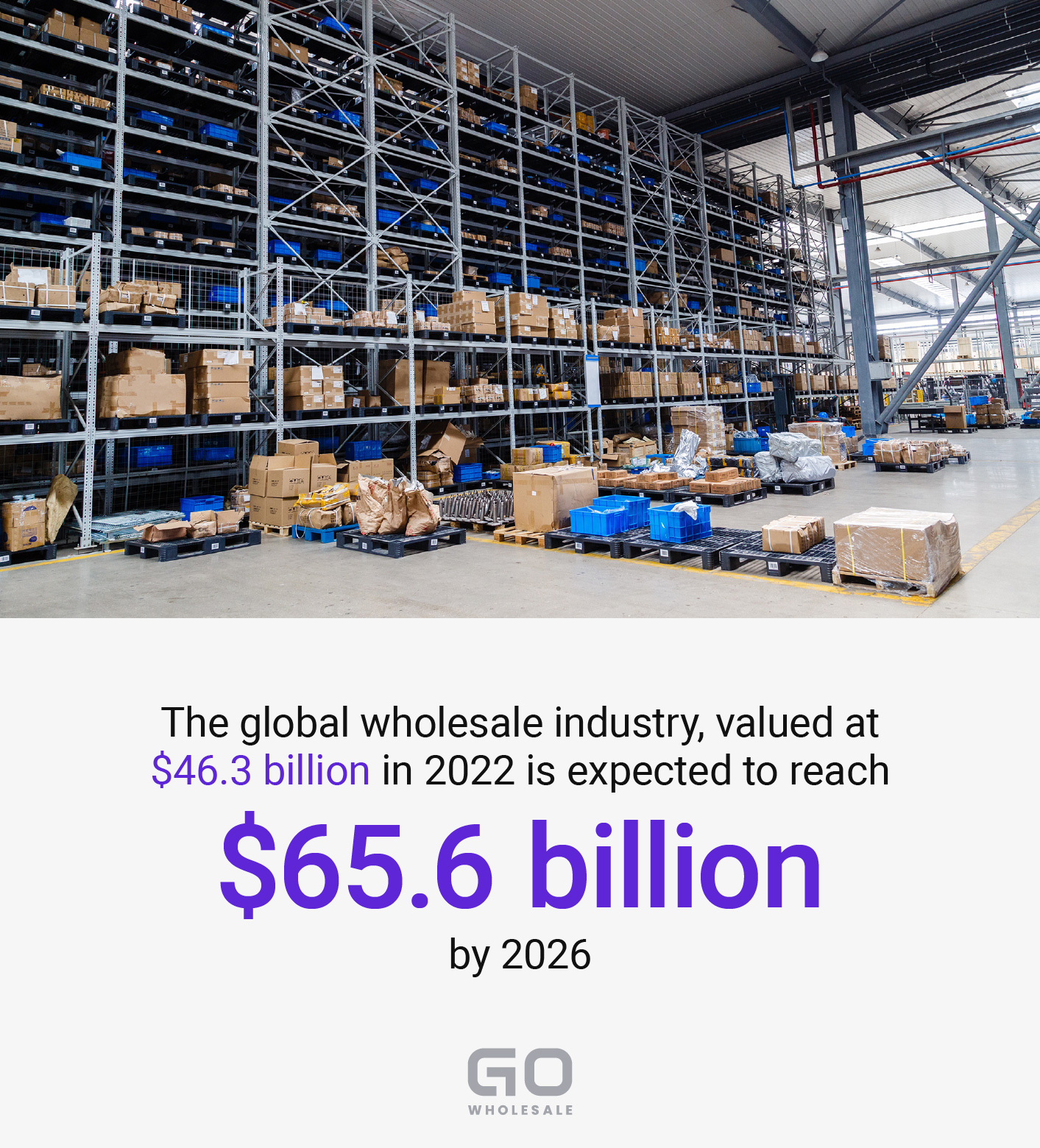 Step 1 - Identify products or categories or brands you want to buy wholesale.
Before you even start your investigation, you need to determine what type of product you are interested in selling. Whether that be home goods or consumer electronics, your choice of product is a major determining factor before you even consider the rest of the items on this list.
So, if you're specializing in selling electronics, for example, you'll need to break down what you're looking for by brand and product:
Brand - Apple, Microsoft, Sony, Samsung, HP, Google, Dell, Lenovo...
Products - TVs, monitors, laptops, desktop PCs, tablets, smartphones, etc.
Step 2 - Perform internet searches to find wholesale marketplaces for your target merchandise:
The easiest way to search is to put the category or brand in front of the word "wholesale", "wholesaler" or "wholesale marketplace".
ie. "toys wholesaler", "toys wholesale marketplace", "apple wholesale" etc.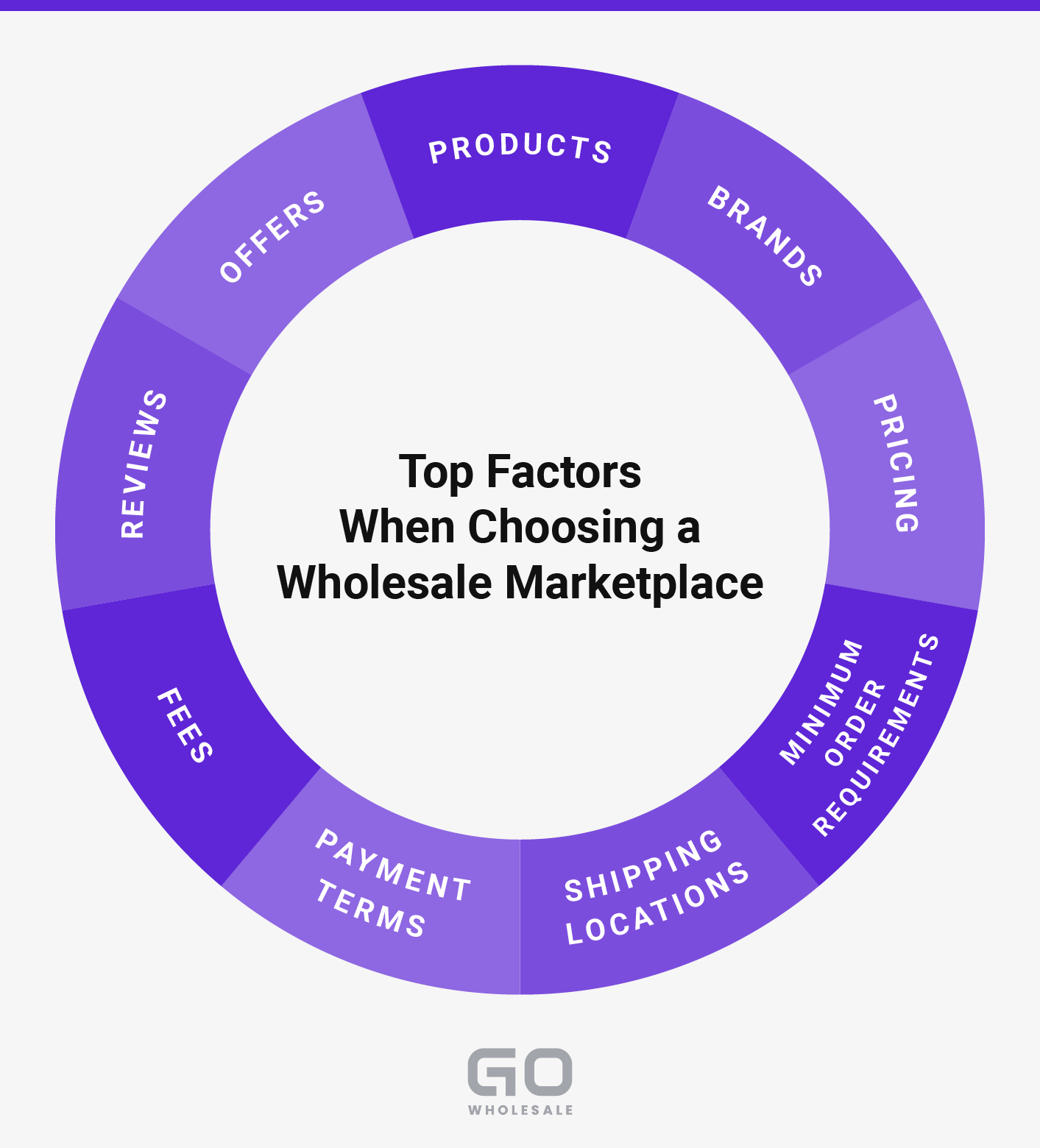 Step 3 - Begin browsing your target marketplace.
There are several factors you should take into consideration to help you evaluate a marketplace and its vendors before you buy:
Range of Vendors - Look for a marketplace that has a large number of vendors. Platforms with more vendors selling the same type of product may be more open to negotiation, as each vendor tries to remain competitive on the site.
Range of Products / Categories and Depth of Volume - You'll want to find a marketplace that has the largest number of products so you'll always know you can get hold of whatever you need as and when required. The more products under the broadest umbrella of categories, the better. You'll also want to find a marketplace that has depth of volume i.e. one that has large quantities of product so you can buy whenever you need without fear that your chosen marketplace will run out of stock.
Range of Brands - The range of brands a wholesale marketplace offers is important as it increases the amount of choice you have when sourcing your products. Some marketplaces will offer products from the biggest names in global manufacturing such as Samsung, Apple, Sony etc., whereas others, like Abound and Creoate, offer independent brands that are sought out by retailers of quirkier products like Shopify store owners offering items such as gifts, jewelry and accessories.
Pricing - When looking for the best online marketplaces, pricing should be one of your main priorities. Some marketplaces offer vendors lower commission and transaction fees than others. Bear in mind that some may allow you to negotiate with vendors or offer volume discounts as well to help drive down your sourcing costs.
Minimum Order Quantity Requirements - For those just starting out, a wholesaler that requires a minimum order quantity can be off-putting. Look for a wholesaler whose minimum order threshold is either very low or - even better - nonexistent. Startup budgets can be small and minimum order requirements can be difficult to meet.
Shipping Options, Prices and Locations - Look to see what shipping options are available and what prices are charged. Some of the bigger wholesalers have deals in place with nationwide couriers, meaning they can offer their customers discount shipping rates. Others may even offer resellers the opportunity to pick their purchases up from a local distribution center, cutting out the need to pay for shipping entirely.
Paying On Terms - Sometimes you'll want the option to defer payments. Check to see if a wholesaler allows you to pay on terms, such as after a 30, 60 or 90 day period. This will help you manage your cash flow when money is tight. Some wholesalers allow you to book credit with them directly, or you can use a business credit service such as Behalf which offers credit with flexible payback terms.
Marketplace Fees - There are plenty of online marketplaces out there that offer free sign ups, so there's no need to join up to one that charges a monthly or annual fee as this will eat into your budget and is completely unnecessary.
Customer Service - Look for a marketplace that offers great customer service. You never know when you're going to need support. Check out what other resellers are saying about their experience of a particular wholesaler's customer service on forums and websites such as suppliercentral and wholesaleforum.
Pre-Ordering of New Products - Manufacturing moves at a breakneck speed these days, especially when it comes to consumer electronics, fashion, and decor items. Some wholesalers allow you to place pre-orders for products, so if that's something you think would benefit your business, check to see if the wholesaler you plan to buy from offers this service.
Deals and Offers - It's always worth checking if a marketplace has any deals or offers in place such as 2-4-1s or 10% sign-up discounts in place as this will save you more money.
Review Sites - Check out what other resellers are saying about them on review sites such as Trustpilot, Resellerratings and Sitejabber. Sites usually work hard to keep their customers happy, so any that have a string of negative reviews are to be avoided.
Forum Chatter - You can also check out what other resellers are saying about their experiences buying from wholesale marketplaces on forums such as sellercentral and wholesaleforum. You can also check out seller forums on eBay, and Facebook Groups.
Ability to Negotiate with Vendors Via the Platform - Some marketplaces allow direct contact with vendors, meaning you'll be able to get in touch directly to see if you can negotiate a better price. Marketplaces such as goWholesale allow for buyers to contact vendors anonymously and negotiate a price.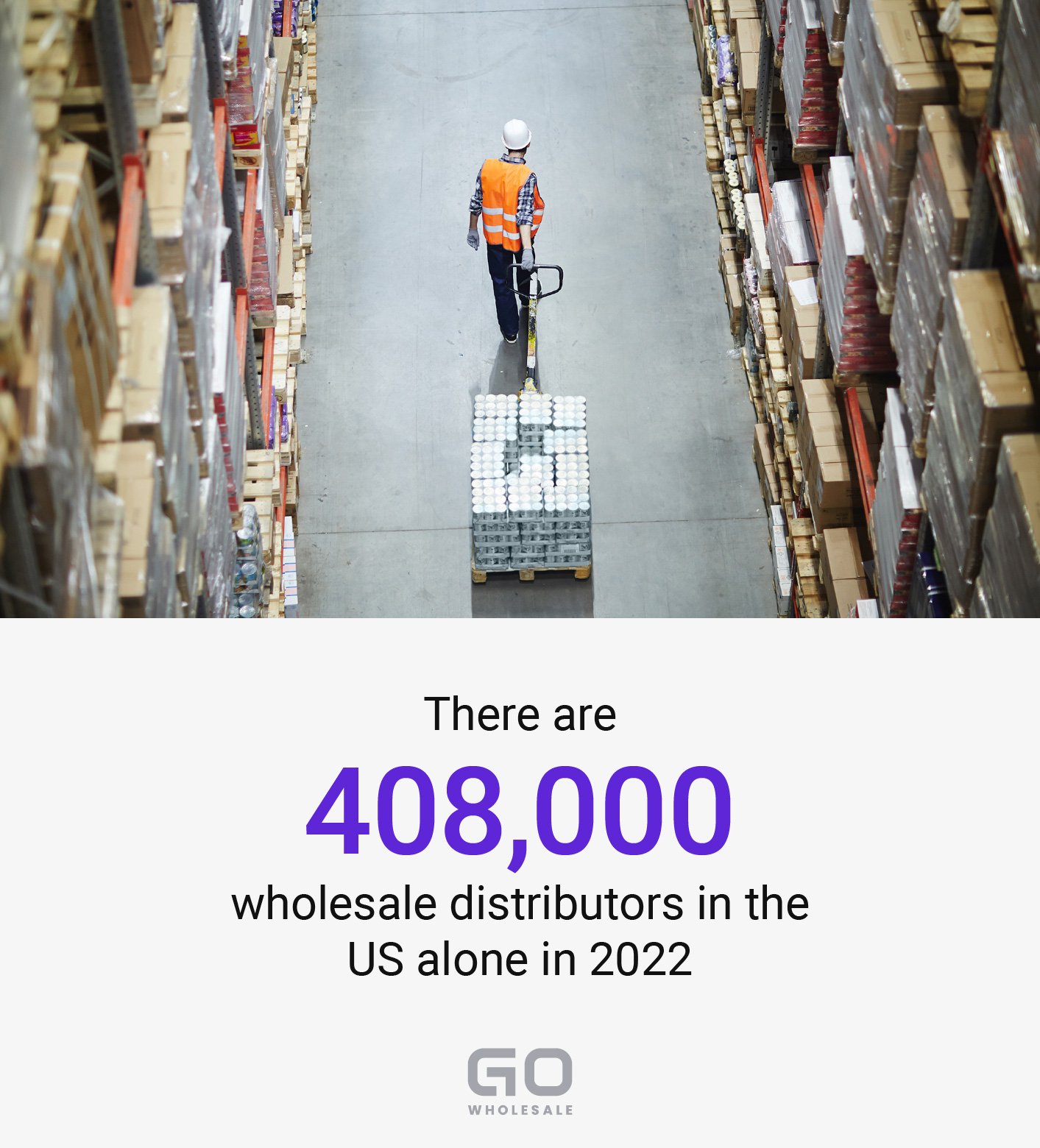 Step 4 - Avoid Red Flags
Finally, stay away from marketplaces that do any of the following:
Site that don't supply a verifiable physical address. If you can't find out where a company is based, you have no idea if they're real or a scam company that exists solely online.
Marketplaces that aren't Better Business Bureau-accredited. A BBB accreditation gives you peace of mind that you're buying from a company you can trust.
Sites that require sign-up fees. As previously discussed, there are plenty of free sites to choose from.
Marketplaces with very poor reviews. Other sellers will quickly flag sites that should be avoided, so read what they have to say and take heed of their advice.
Wholesale Marketplaces: Top Sites
More than 60,000 brands use Faire, the online marketplace for independent designers and manufacturers. Faire is a wholesale marketplace that connects retailers with some of the most innovative manufacturers of on-trend consumer goods such as jewelry, toys, fashion accessories, interiors, stationery and pet supplies.
Faire offers retailers a fulfillment and shipping service along the same lines as Fulfilled by Amazon, where retailers can advertise products on their own sites and when an item is purchased, Faire handles the packaging, shipping and after sales service on the retailers' behalf.
Tundra is the largest online wholesale marketplace in the United States, carrying everything from food and drink and kitchenware, to clothing, electronics and toys. Tundra is a trusted wholesale supplier of over 10,000 brands including Mattel, Burt's Bees and Moleskine, and is used by over 25,000 retailers as their primary wholesale source.
Signing up to Tundra is free, and because the company doesn't charge its suppliers commission or transaction fees, they can offer over 2 million listed products to their retail customers at hefty discounts - sometimes as much as 50% off the MSRP price.
goWholesale is a US-based new and refurbished wholesale marketplace offering resellers merchandise from top brands such as Samsung, HP, Sony, Microsoft and LG across a wide variety of categories.
goWholesale has no minimum order requirements, and gives resellers the ability to mix and match wholesale products from some of the biggest manufacturers in the world in a single order.
goWholesale also allows buyers and sellers to negotiate prices anonymously. Buyers can instantly buy at an advertised ask price or submit an offer to the seller which can be accepted or countered, all within the platform. In addition, goWholesale features a handy shipment visualization tool that allows you to fill up a box or pallet in real time to optimize your shipping costs.
The Wholesale Industry in Numbers
Why goWholesale is Different
goWholesale is unlike other wholesale suppliers in that we offer a huge range of products to buy in quantities that will suit small, medium and large scale businesses.
On top of our brand-new offerings, goWholesale can also supply you with certified refurbished products, all supplied with warranties. This means that when you buy refurbished wholesale products from goWholesale, you'll have the peace of mind of knowing that each product has been returned to factory specifications and is in a retail-ready condition.
goWholesale also allows you to see the volume of what you're buying with a visual icon that shows exactly how full a pallet or box is as you add to it, allowing you to streamline your shipping, making the most of the space available.
Price history graphs are available to view showing the wholesale price trend for a particular product over time, and we offer the ability to mix and match any items on the site into a single order.
You can also negotiate anonymously directly with any of the vendors who sell through the marketplace.