Wholesale Electronics: How to Find Reliable Suppliers
---
Buying electronics wholesale to resell to end consumers is a well established business model. Sourcing wholesale electronics from reliable suppliers is the key to making this type of business a success.
In this guide, we will explore the market for consumer electronics in the US, and how to identify reliable wholesale suppliers.
The Market for Consumer Electronics
Key Considerations When Selecting a Wholesale Supplier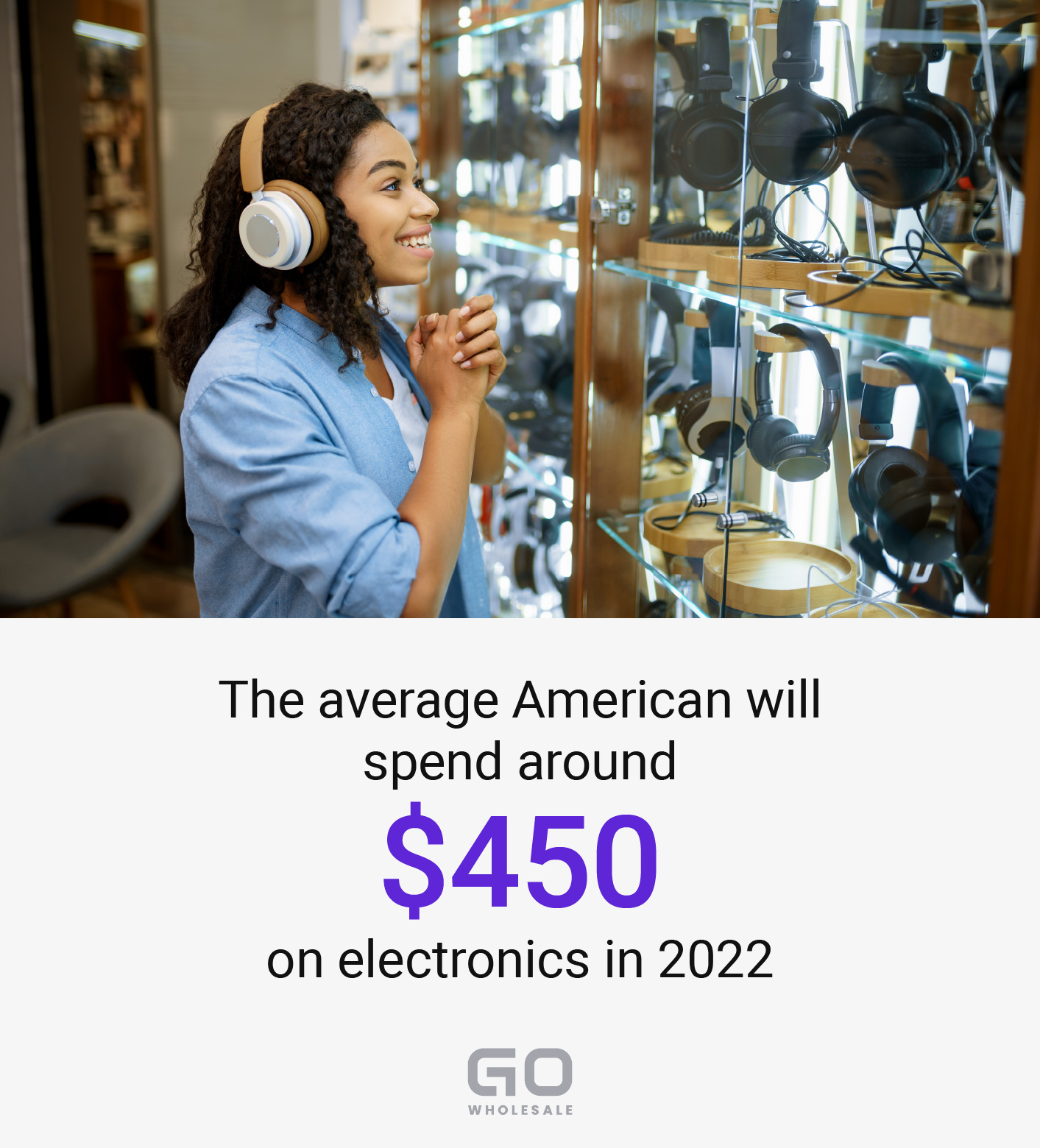 Source: Statista, 2022.
Range of Products and Total Quantity Available
An obvious but key consideration when looking for a reliable supplier is do they stock the brands and models you want to have in your inventory? It's worth also finding out whether these products will be available for repeat orders so you can continue to stock the merchandise that is working for you.
Having a large range of products is also important - as you develop your business, you'll find out which products are more profitable for you, and in the medium to long term, you'll also need to explore what other models, series, or even categories of electronics will compliment your current offerings.
Working with the same supplier for future orders, and especially one that will allow you to mix and match products into a single shipment is important for reliability, cutting down on logistics, and avoiding the need to go down the route of having to research additional suppliers.
Warranties
Whether you're buying brand-new or refurbished electronics, you need to always ensure you're getting a warranty with them. Here at goWholesale, brand-new products come with original manufacturer's warranties. Refurbished items come with our own guarantee, typically for 90-days.
Reputation, Reviews
Check online directories of wholesalers to find out whether the wholesaler has a good reputation. Check customer reviews, as well as forums and websites where business owners share and discuss their experiences with wholesalers.
Any supplier you are working with should also be Better Business Bureau accreditation, as well as a published physical address.
Customer Service
Go with a wholesaler you can easily reach by phone, email, webchat and social media, and that can answer your queries promptly and professionally. Another hallmark of a good wholesaler is knowledge of their products and their ability and will to share information with their customers.
Pricing
Of course, in order to remain competitive, you need to be working with wholesale electronics suppliers that can sell to you at low enough prices to enable you to sell for profit. The more products you are looking to buy at once, the greater your bargaining power.
If you're going to place a large order, always negotiate with a member of the sales team - These teams usually work on a commission basis, and are highly motivated to land large customers. Find out what volume discounting you can achieve bargaining with their sales staff.
Minimum Order Quantities
Many wholesale suppliers will only work with resellers that can buy vast quantities of merchandise. The largest suppliers and distributors look for multi-million dollar, or large recurring orders in order to agree to a sale. Always ensure you know a company's minimum order requirements before wasting your time choosing products from their catalog. Most suppliers will clearly display their minimum order requirements.
Warehouse Locations & Shipping Costs
Choosing a wholesaler is also a matter of logistics. Are the warehouses close enough to your location to keep shipping costs down? This is especially important for high-volume orders.
If you're looking to sell through Amazon FBA, you'll need to ensure your supplier will ship directly to Amazon warehouses on your behalf. Ask on the phone if this information is not clear on their website.
How long does it take the supplier to ship an order once placed? If your business model works on fast turnaround times, you don't want to be waiting 3 weeks to receive a shipment. If they don't clearly offer this information, make sure you find out before placing an order with them.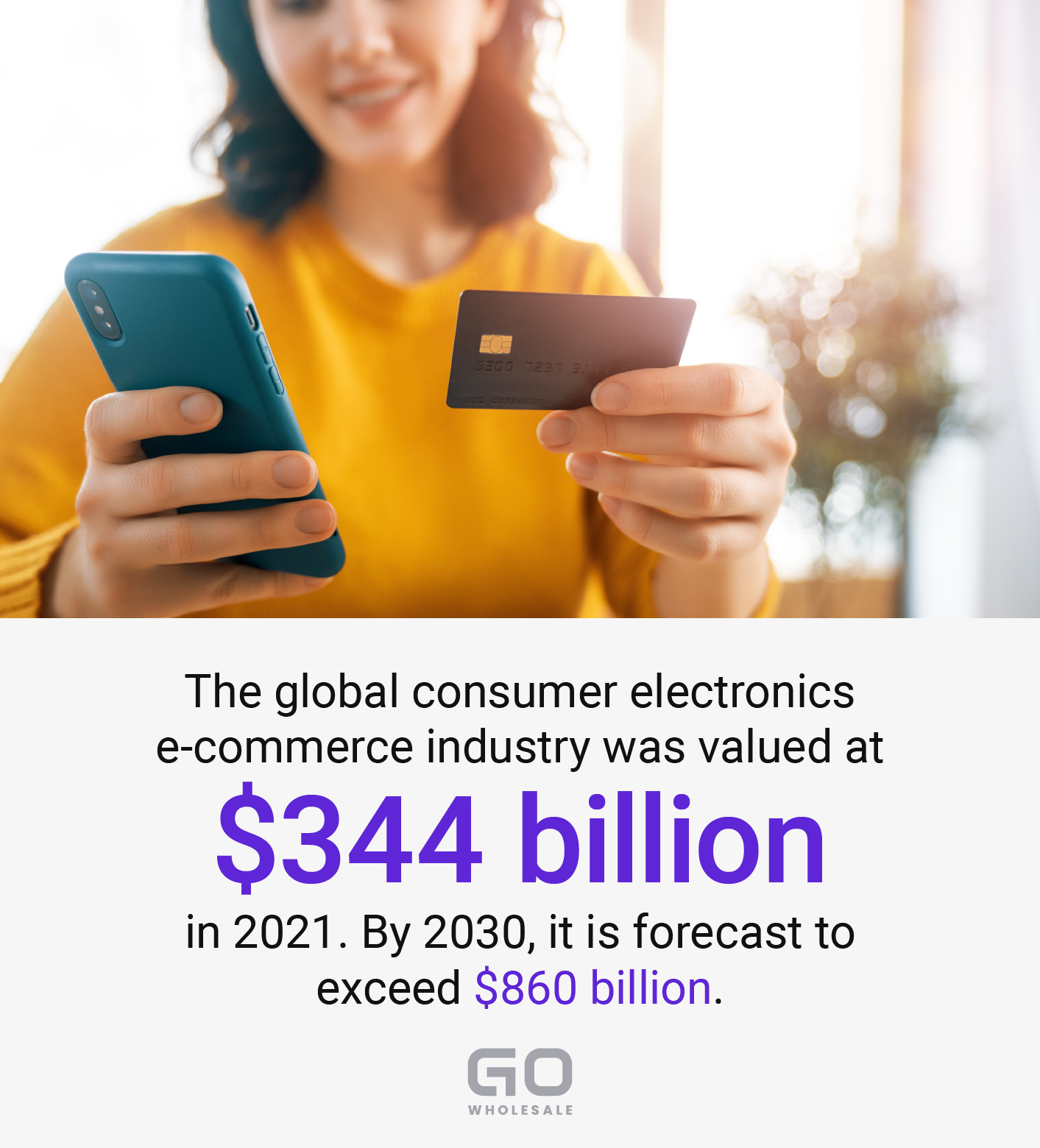 Source: Statista, 2022.
Companies To Avoid
Companies that have no returns policy - This is always a red flag. As a customer, you wouldn't buy expensive electronics from a retailer that didn't offer a standard returns policy, that can be relied upon in case of any problem with the product, so why would you as a wholesale buyer? Your investment is much greater than the average consumer, and so you need all the protection you can get when it comes to guaranteeing products arrive to you in perfect working order.
Suppliers asking for monthly or setup fees - There is no need in this day and age to sign up to any company that asks for access, or recurring fees. Why should you have to pay anything to be able to order products from them? There are now plenty of reliable alternatives. Keep away from suppliers with this practice.
No physical address - This is a huge red flag. Any business that asks for payment details from you without giving any indication of who and where they are, with accredited business registration, could be run by anybody and based anywhere. Scams are rife on the internet - don't get sucked in. Find a reliable supplier that is transparent about who they are and their history.
How to Find a Wholesale Supplier of Electronics
Online Wholesale Marketplaces
An online wholesale marketplace such as goWholesale gives you the chance to source your electronics inventory in wholesale quantities without leaving your home, through buy-now sales, or by negotiating a price with a seller through a built-in offer - counteroffer system.
Directories
The role of a Chamber of Commerce is to help local businesses grow and network. Your Local Chamber of Commerce can help you contact wholesale electronics suppliers in your area.
In addition, check out these top online wholesale directories in the US: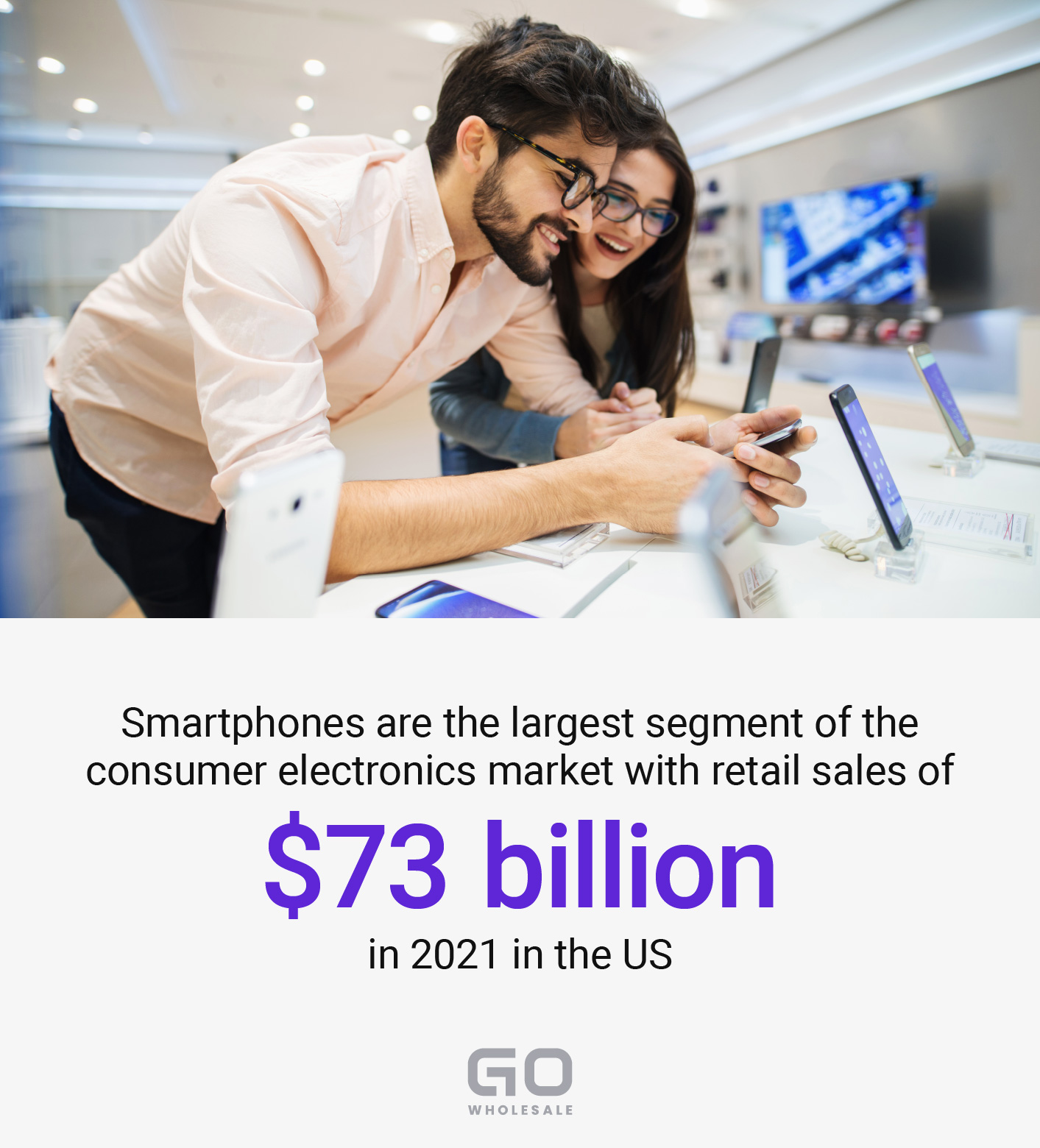 Source: Statista, 2022.
Trade Shows
Hundreds of trade shows take place every year just for the electronics market. At a trade show you can learn about new and trending products. But trade shows are also the perfect venues to network and establish relationships with manufacturers, wholesalers and distributors.
Google Maps
Google Maps allows you to search for wholesalers by their geographical location and take into account factors like delivery distance and the distance you are willing to travel. If you are signed in, you can use Google Maps to search for wholesalers in your local area. If not, you can just move the map to cover the area you are focusing on and select "search this area". In either case, you will get results on the map based on the keywords you are searching for.
Internet Searches and Social Media
Most wholesale buyers research suppliers online. We have put together a guide on how to find wholesale suppliers online to help you with this.
Sourcing Wholesale Electronics from goWholesale
goWholesale is an online wholesale marketplace that supplies new and refurbished products to business customers. Buying from goWholesale gives you the following benefits:
Mix and match any combination of products
Buy instantly or submit offers and wait for a seller to match to your price
Full price histories, with trends and current wholesale market prices.
Shipment builder tool that helps you fill a box, pallet or truckload to optimize your shipping costs
All products come with a warranty (typically 90 days from the date of delivery - can vary by product).
Check out the new and refurbished wholesale electronics we have available right now.