Buying Wholesale Electronics for Resale: How to Get Started
---
If you're thinking of starting an electronics resale business, there are a few things you need to know to be successful. In this article, we'll take a look at how to get started, where to buy wholesale electronics from and where to sell them, both locally and online.
Initial Considerations Before Buying Wholesale Electronics
How much capital do you have? If you have the capital to start up your business immediately (including buying merchandise, obtaining a resellers' certificate, paying any applicable fees, paying for storage etc.), then you can get started right away. If you don't have the funds available, you will need to raise capital.
What are your inventory storage options? The amount of storage you'll need will very much depend on the types of electronics you plan to sell. A smartphone seller, for example, will require a lot less storage space than someone specializing in selling flat screen TVs. The amount of storage you require will have an impact on what you can sell.
Where are you going to sell the items? Some products - e.g. bulky items - lend themselves better to being sold locally, to cut down on shipping costs, whereas smaller items such as smartphones and tablets are better suited to being sold to customers across the country and internationally via online marketplaces.
Building a Business Plan
Before starting an electronics resale business, you will need to put together a business plan. A business plan is a formal document outlining what type of business you plan to set up, what your business aims to achieve, the methods you'll employ to achieve your goals and the time frame in which you intend to achieve those goals.
Your business plan should also explain how you intend to finance your business and what advantages you think your business will have over your competitors. If you're looking to put together a business plan but you're unsure how you should lay it out, the US Small Business Administration has a useful set of templates on its site that you can use.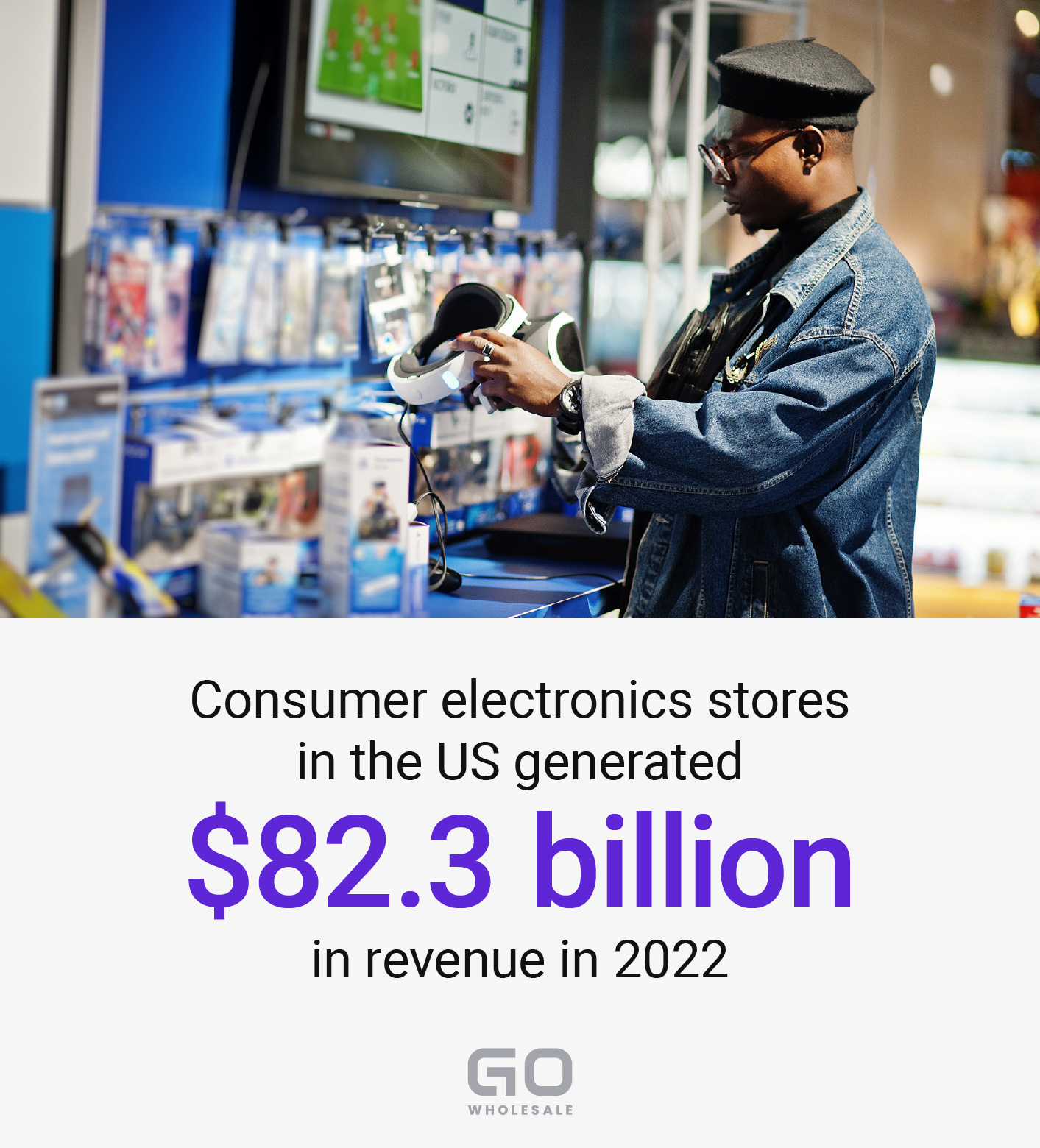 Source: Ibis World, 2022.
When it comes to how you will finance your business, you'll need to ask yourself several questions:
What financing is available?

If you have the ability to fund your startup, you'll save yourself the problem of searching for financing.
If you need to, there are several ways of finding financing for a new business venture - raising money from friends and family, taking out a business loan from a bank, taking out a federal loan from the US Small Business Administration, crowdfunding and financing your business on credit. You will have to investigate the pros and cons of each financing option before deciding which option to choose.
Should you consider a business partner or investor?
Another option to finance your business is to start up with a business partner or seek out a private investor. Both a business partner and an investor will expect a return on their investment - in the case of a private investor it will be a percentage of your business' profits, and in the case of a partner they will expect to share the profits at a level that reflects not only how much money they have invested into the business, but also how much work they have done to make it a success.
For more information on financing a new business, the US Small Business Administration has produced this helpful guide.
Buying Electronics Wholesale from Manufacturers and Official Distributors
When looking for the best source of wholesale electronics, you may think buying directly from the manufacturers or their distributors is the easiest way. Think again. Most major manufacturers make life hard for all but the biggest businesses to buy from them wholesale. Apple, for example, has incredibly stringent requirements for wholesalers that any business other than a large retailer would struggle to meet.
It's relatively easy to become a Samsung dealer compared to Apple, but once you sign up with them, you'll be subject to a strict set of requirements such as not being allowed to sell refurbished Samsung products and not being able to sell Samsung products sourced from elsewhere. So, unless you want to exclusively sell Samsung products directly from Samsung, you're putting your business in a straitjacket.
Lenovo offers a partnership program, but again expects you to jump through hoops on your way to Silver, Gold and Platinum partner status which might put you off unless you want to exclusively sell Lenovo products.
The other major manufacturers operate in a similar way, locking businesses into selling just their products or requiring a large financial investment. For businesses just starting out, manufacturers are not the best source of wholesale electronics and can only really be recommended for large scale businesses that can afford to deal directly with and sell on behalf of manufacturers.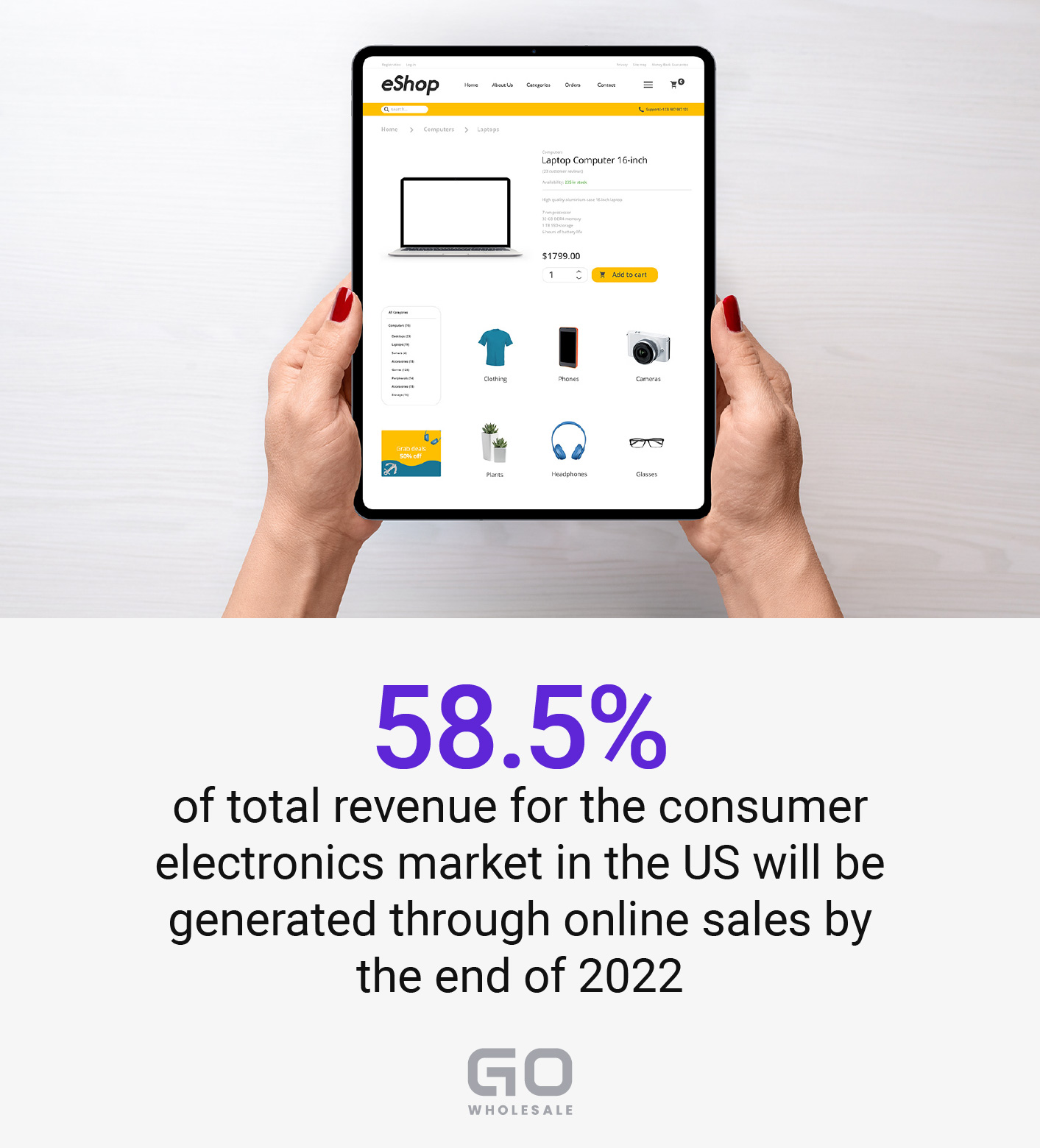 Source: Statista, 2022.
Buying Electronics from Wholesalers
A much better option for small businesses is to buy from smaller-scale wholesalers. The advantages of buying from wholesalers is many will have low minimum order requirements - some don't even have a minimum order requirement at all. That means you'll be able to order a small amount of merchandise when just starting out, which is great news when you're on a tight budget or you just don't know how well a certain product will sell.
When buying from a wholesaler, you'll want to find one that offers excellent customer service, is easy to order from, offers inexpensive shipping, and can provide you with a large range of products from all the major brands. You'll also want to check out what warranties the wholesaler offers and what their returns and refund policy is. If you're unsure about a wholesaler, you can check out review sites such as No.1 Reviews and Reseller Ratings to see what customers think of them.
How to Find Wholesalers Near You and Online
The easiest way to find wholesalers both near you and online is to use Google. Searching with Google will bring up lists of wholesalers both locally and across the country, as well as providing links to Google my Business listings and Facebook pages. Refine your Google search by using keywords such as:
'electronics wholesalers near me'
'local electronics wholesalers'
'buy electronics wholesale online'
'online electronics wholesalers'
'wholesale electronics marketplace'
You can also use Google Maps to find wholesalers using search terms and keywords. If you're signed in to Google, you'll be directed to wholesalers in your local area when you search for them. Or you can move the map to cover any area, choose a scale and then select 'search this area'. This will highlight businesses on the map that match your keywords.
You can also use online directories such as Wholesale Central and SourceLow to find wholesalers in your local area, nationally and internationally.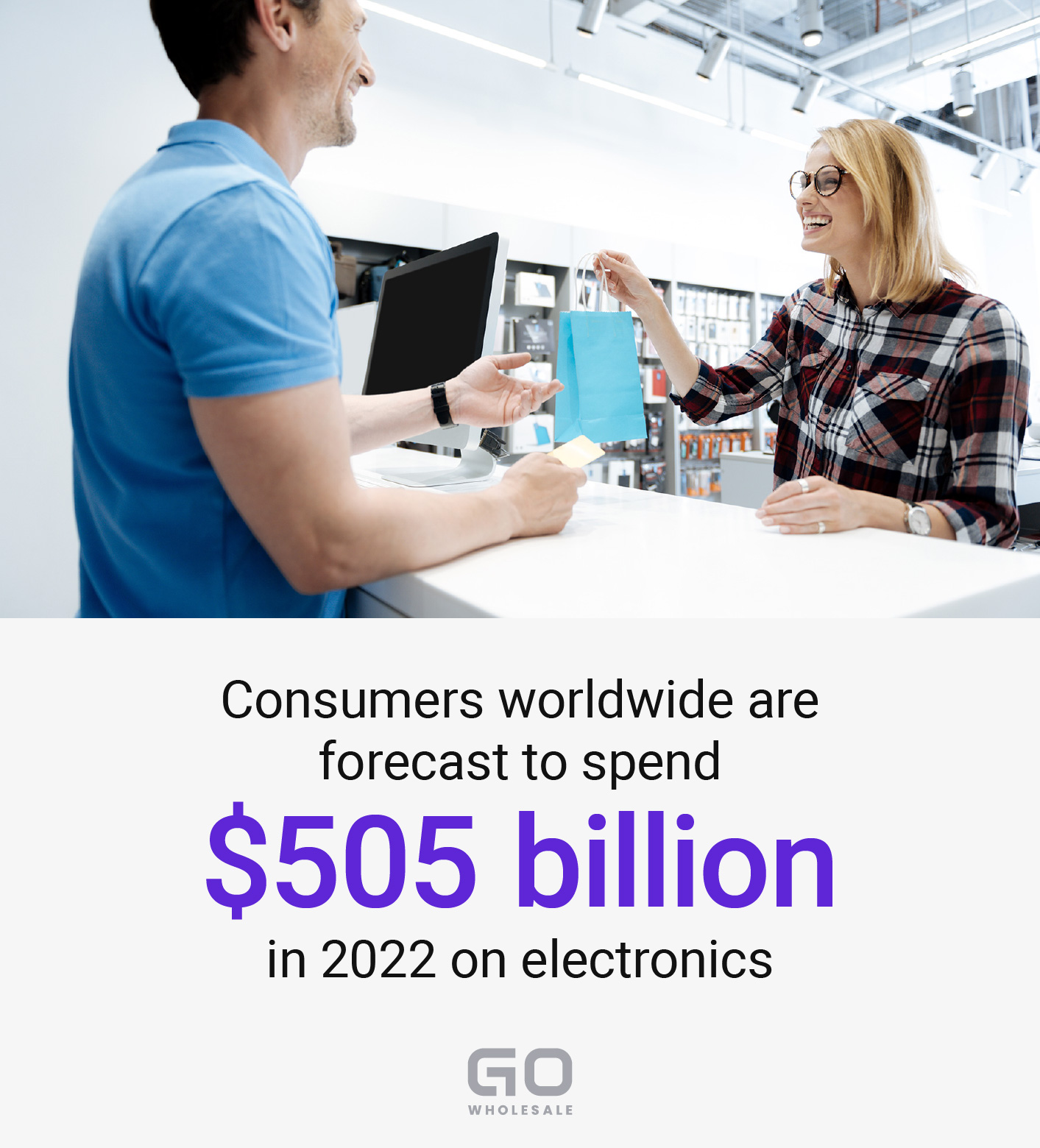 Source: Statista, 2022.
Wholesalers to Avoid
When looking for wholesalers, avoid any that:
do not provide customer service details
don't come up in online searches
have bad word of mouth on review sites
are vague about their refunds policy
don't supply a physical address, contact number or email on their websites.
The Internet is, unfortunately, full of unscrupulous people. Maintaining basic vigilance should be enough to weed out any bad apples when looking for a reliable, reputable wholesaler however.
Best Places to Resell Electronics Locally and Online
Selling Electronics Locally
Classifieds - One way to reach customers in your local area is to advertise in local classifieds and on locally-focused online sites such as Craigslist and OfferUp. Advertising your electronics for sale in classifieds is either free or very cheap, making them an attractive option for anyone looking to keep their marketing costs as low as possible.
Flea Markets - Flea markets are another cheap way of selling in your local area, and they're scattered across the country, meaning you shouldn't have any problem renting a stall near you. If you're selling refurbished electronics or older model electronics, flea markets are a great way to reach customers on tighter budgets and bargain hunters.
Social Media - You can reach a large number of customers in your local area via Facebook Marketplace. It costs nothing to sell electronics on Facebook - all you'll pay is a 5% sales fee when a customer buys from you. For items under $8, you''l pay a flat rate of $0.40.
Retail Storefront - Once your business is established, you might want to consider opening your own storefront. This will help you build up local brand recognition and it's a great way of scaling up your operation. However, don't consider renting out retail space until your business is properly established and you can afford the overheads that come with running a physical store such as staff cost, rent, bills and taxes.
Selling Electronics Online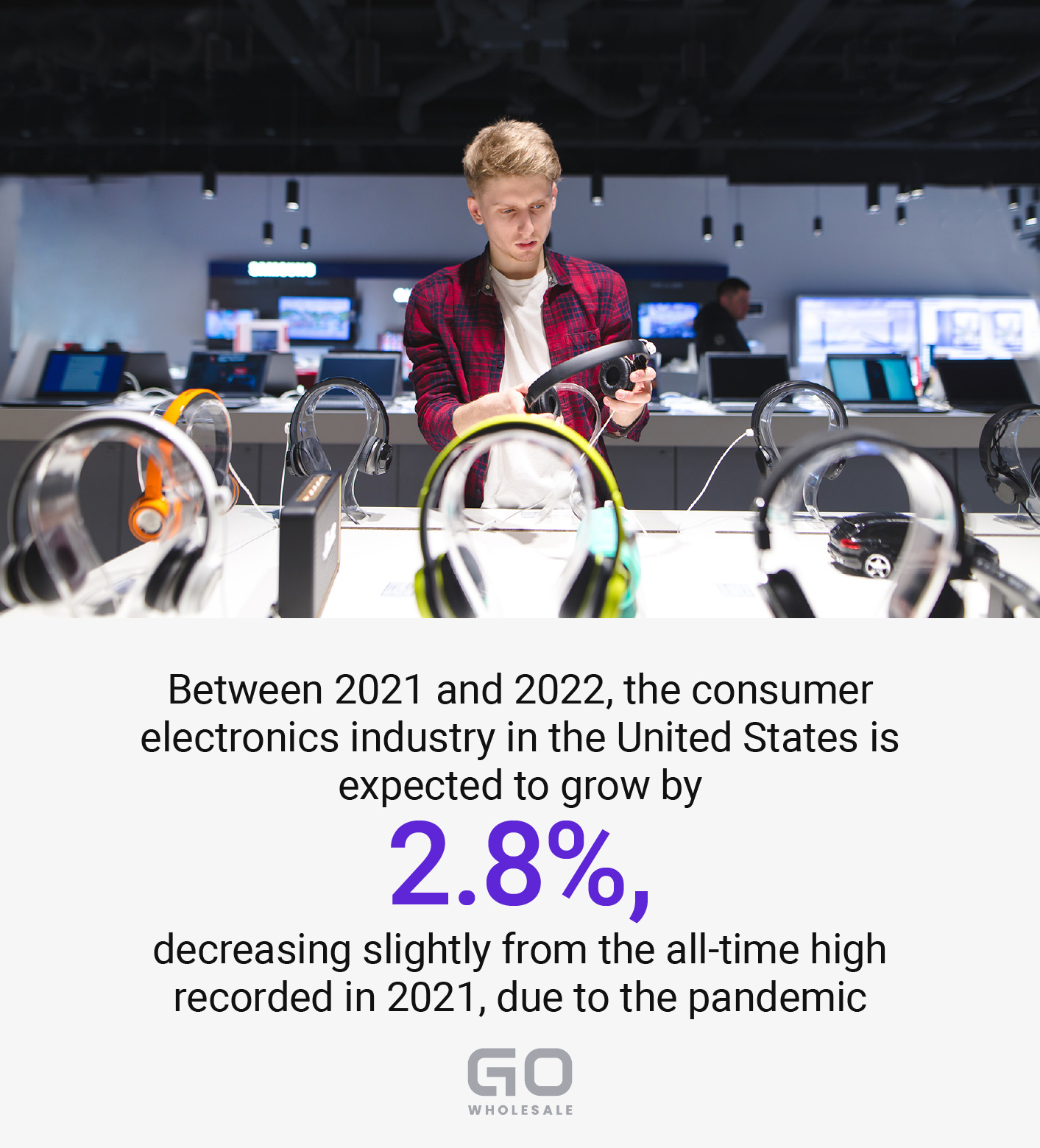 Source: Statista, 2022.
Amazon - Many sellers choose to sell electronics through Amazon. It's not hard to see why because Amazon is the world's biggest marketplace with 2.4 billion unique visits per month worldwide. Selling on Amazon is easy - simply set up a Professional seller account for $39.99 a month and you can start selling straight away. Sales fees apply when selling on Amazon, and you must remember that you'll be competing against thousands of other sellers, so it's important to grow your business by having a great range of competitively-priced products to sell while building a strong and loyal customer base.
Take Note: Amazon restricts the sale of certain electronics brands on its site to combat counterfeiting and at the behest of manufacturers. While it does not release a list of the brands it restricts, it is possible to keep an eye on current restricted brands through third-party sites. If a brand is restricted you'll either have to get permission from the brand directly to sell on Amazon or purchase at least 10 qty of items from an approved wholesaler to get ungated to sell.
Amazon FBA - There is another popular way of selling electronics through Amazon and that is to sign up for its 'Fulfilled by Amazon' service. Sellers who use FBA list the items they have for sale on Amazon in the usual way, but every other aspect of the sales process from inventory storage to shipping and customer service is dealt with by Amazon itself. FBA is ideal for resellers who just want to sell products without the logistical hassle of running every other aspect of reselling business. For more information on selling through FBA, check out our handy guide.
eBay - The other big player in online marketplaces is eBay. For those planning to sell through eBay, you'll want to set up your own store, which means subscribing to one of several monthly plans ranging from $4.95 a month for those just starting out with a small inventory to $2,999.95 per month for businesses with large inventories to sell. Sales fees also apply, so you'll want to factor this in when considering the financial pros and cons of selling via eBay.
Other Online Marketplaces / Store Hosts - There are a wealth of smaller store hosting websites and online marketplaces you can sign up for too. For a monthly fee (often with a free trial), you can open a store on sites such as Shopify, Wix and BigCommerce and start selling to customers who might not be reachable on the larger marketplaces.
Your Own Website - Another way to reach customers is to set up your own website. There are several advantages to selling through your own site such as not paying third parties sales and subscription fees, linking your website to your other online outlets such as Amazon and social media and controlling every aspect of the sales process, from how to present your products to customers to when to introduce flash sales, 2-4-1 deals and vouchers. Of course, the downside is you have to pay to market your site to bring in sales and traffic whereas a big site like Amazon already has a built in buyer base.
Have You Considered Refurbished Electronics?
Another type of wholesale electronics you should consider are refurbished electronics. Refurbished electronics are products that are used but have gone through a thorough process to return them to the manufacturer's operating standards. Refurbished electronics are usually sold at cheaper prices than new electronics, meaning you can buy more in one go and have more to sell. Refurbished electronics have several advantages:
Refurbished electronics are eco-friendly and will appeal to both individuals and businesses keen to lessen their impact on the environment.
Refurbished electronics cater to bargain hunters and customers on tighter budgets.
Refurbished electronics stand out on online marketplaces due to their lower prices.
Refurbished electronics are cheaper to source and can be sold at a cheaper price point for faster sales.
Buying Electronics from goWholesale
goWholesale is an online wholesale marketplace exchange that features both new and refurbished electronics inventory across all popular categories and brands. Buy instantly or submit an offer to get matched with a seller. You can mix and match any combination of products your business needs. All items sold on goWholesale come with a warranty (typically 90 days from delivery).