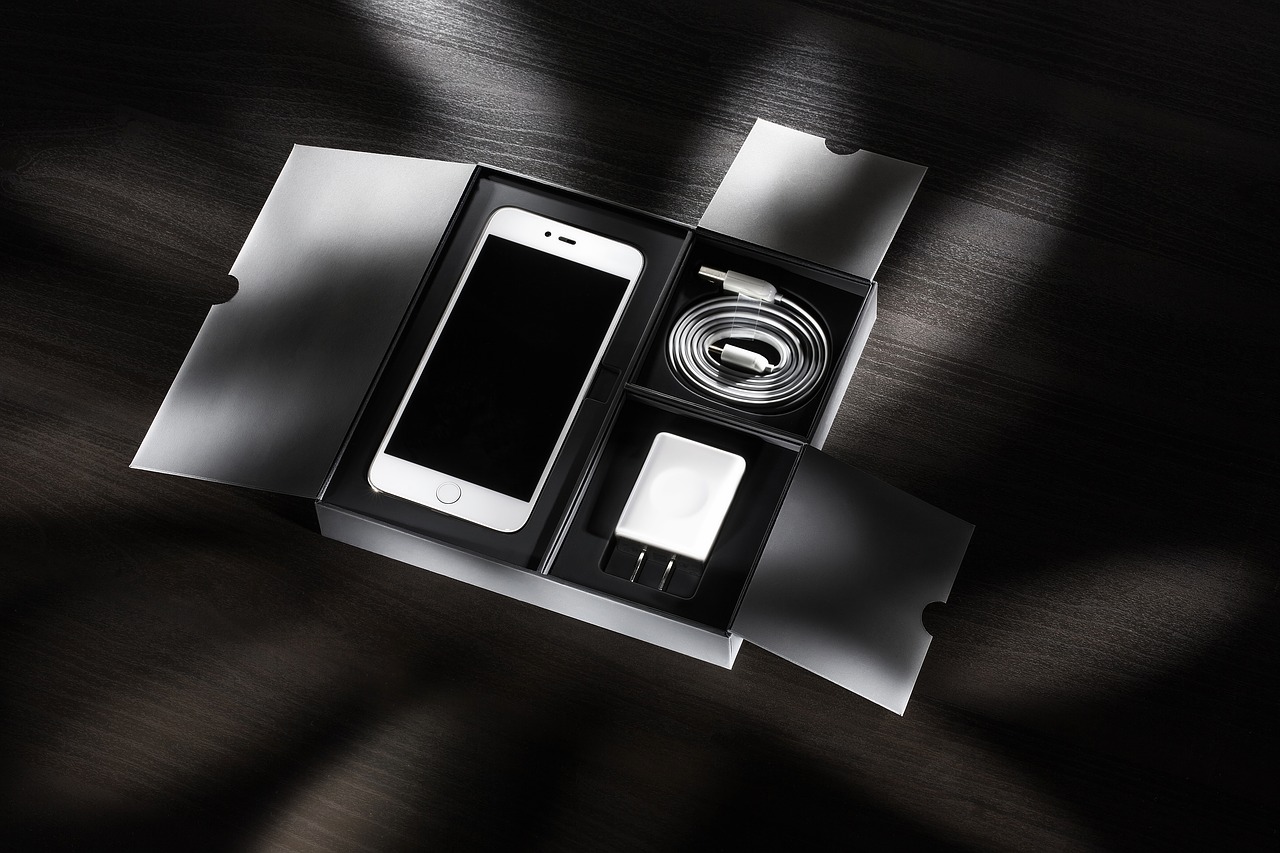 Over the years, Amazon has elevated the quality of its services and the products it provides to a very high level. Now, when you are selling merchandise online, it is impossible to look past Amazon as a primary option. However, there are certain things you must learn before setting up an Amazon account as a seller, especially regarding fulfillment.
In this article, we will look at a couple of fulfillment options available on Amazon. We will also look into the potential Fulfillment by Amazon (FBA) wholesale suppliers you can work with to stock your store with consumer electronics.
Amazon offers Fulfillment by Merchant (FBM) and FBA options
As a seller you can use either FBM, FBA or a combination of the two
91% of Amazon sellers use FBA
Refurbished consumer electronics can be sold on Amazon
goWholesale refurbished merchandise is a great option
Amazon Renewed program has high entry standards for sellers, which they have to maintain to remain part of the program
Amazon Renewed Guarantee requires sellers to honor any refund claims
Amazon Fulfillment Options
As a seller on Amazon you have a couple of options known as Fulfillment by Merchant (FBM) and Fulfillment by Amazon (FBA). You can also use a combination of both if that is what suits your business.
These options allow you to handle the orders and fulfil them yourself or to leave it to Amazon, respectively. Each option has its pros and cons, and whichever you choose depends on the scale of your business.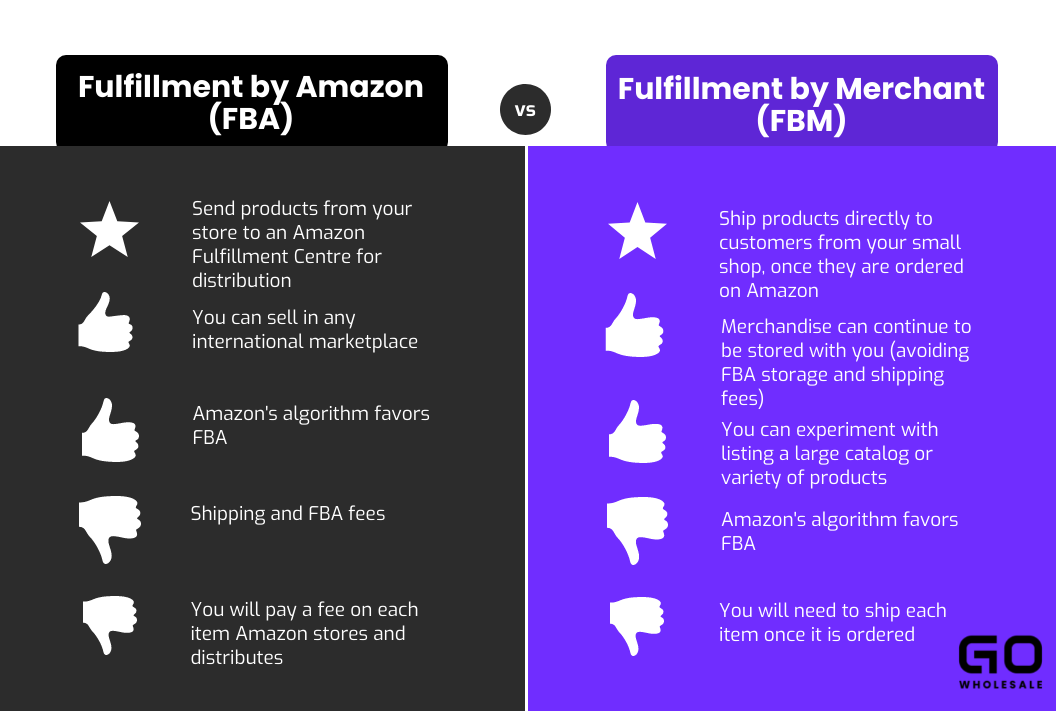 Fulfillment by Merchant
Fulfillment by Merchant (FBM) provides you as a seller with the most control over your inventory and the order process.
This means you are in charge of arranging shipping for the merchandise yourself and taking care of the order as well as customer service and handling of customer returns.
This option is perfect for someone who wants to be involved in every part of its supply and delivery chain. This means you will have to find reliable delivery companies you can work with while keeping the costs in mind.
What is FBA?
Amazon FBA, on the other hand, allows the seller to transfer the order responsibility almost completely to Amazon. Under the Fulfillment by Amazon option, you pack your merchandise according to Amazon's guidelines and requirements and ship it off to the designated Amazon Fulfillment Centre. Amazon stores the merchandise for you and handles the delivery, customer returns, and customer service for you.
Whatever the sort of merchandise you are selling, whether it is consumer electronics, clothing or tools, you have to familiarize yourself with FBA product restrictions as well as shipping and routing requirements.
FBA vs FBM
According to the latest Jungle Scout report, around 91% of Amazon sellers are using Amazon FBA with only 9% of Amazon sellers using FBM alone. Out of the total number of Amazon sellers, around 34% use a combination of FBA and FBM.
Amazon FBA is a better option if you are either running a business, or aiming to start a business of buying and reselling consumer electronics on Amazon. These products, which can include TVs, laptops and smartphones usually have a quick turnover and are often small and lightweight. For new or smaller business owners, Amazon FBA is also helpful in overcoming logistics challenges and ensuring products arrive on time.
However, you need to ask yourself a few questions before deciding to use Amazon FBA. Are you willing to hand over the order and customer service to Amazon? Which option would cost you more, Amazon FBM or FBA? Once you know the answers to these questions you can decide to go with one of the two options.
Furthermore, you should not neglect the potential of switching between the two options, in cases where one is more profitable than the other. This will also depend on the merchandise you are looking to sell.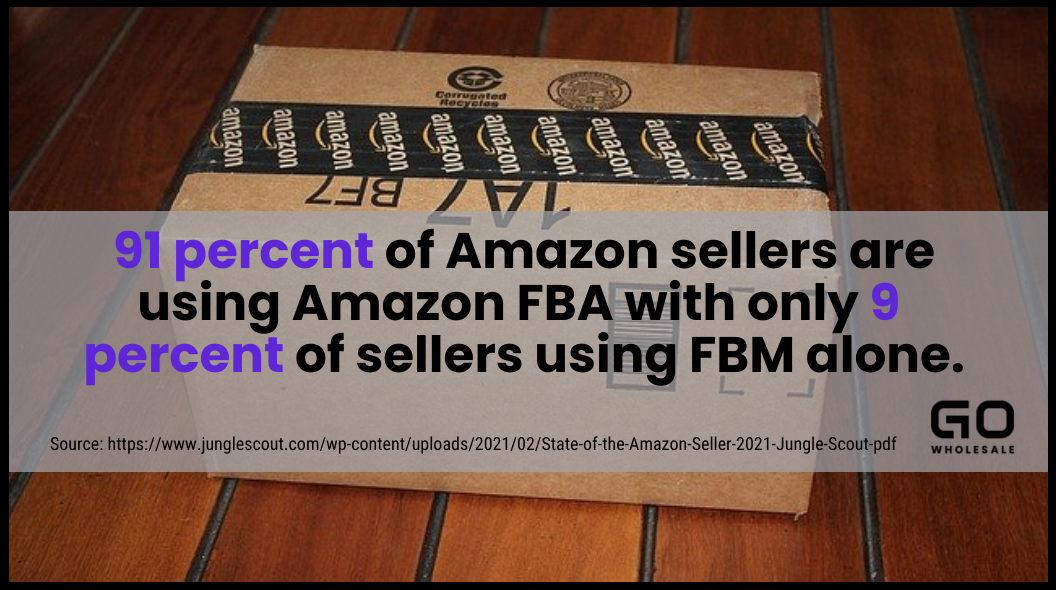 The Market for Consumer Electronics on Amazon
The consumer electronics market on Amazon is very large. According to the Jungle Scout report, it constitutes 12% of the overall sales on Amazon by third-party sellers.
However, newcomers can struggle to come out on top in a market as fiercely contested as the electronics market. This means you have to look for ways of getting a competitive advantage. This means finding a supplier from which to source more affordable merchandise without compromising quality, all while staying within Amazon's seller guidelines.
Find the Right Amazon FBA Wholesale Supplier
A large portion of your journey to becoming a successful Amazon seller is finding the right wholesale supplier. As noted above, Amazon has set a high standard in terms of the quality of the merchandise they sell as well as the services they provide. A third-party supplier has to meet these standards.
This means you should not opt for the first supplier with a good sounding pitch, but you should rather look for a reputable partner that can deliver on the promises they give. This requires doing research on potential sources.
Buying merchandise at discounted prices will give you a better chance of making a profit on resale. However, in order for the price to be competitive while still maintaining a healthy profit margin, you need to buy at the lowest possible prices. This means, your source has to provide quality at the lowest possible cost.
For a small business, or for a business that is just starting out, the best option is to source from liquidation companies. These are wholesalers that work with manufacturers to liquidate their merchandise quickly and sell it on to end-users or resellers. goWholesale is one of these liquidation companies, an online marketplace specialized in dealing with new and refurbished electronics from major brands including Apple, Dell, and Samsung, among others.
Rules on Selling Refurbished Consumer Electronics on Amazon
The Amazon Renewed program allows sellers to sell pre-owned, refurbished products, provided that you meet certain performance standards.
In order to sell refurbished merchandise on Amazon, you are required to register as a seller on Amazon, if you aren't already. The next step is a qualification process that you need to go through in order for Amazon staff to determine your eligibility to take part in the Amazon Renewed program.
One of the requirements is to provide invoices showing "a minimum a total value of $50,000 in qualifying refurbished purchases in the previous 90 days from the date of the application."
Existing Amazon sellers are required to have an ODR (Order Defect Rate) of 0.8 percent or less in the 90 days prior to the application. If you are buying merchandise from goWholesale or any other liquidator, you are required to provide a minimum of eight images of a sample unit, from all sides, for product and packaging review. The packaging needs to be shown from the outside, as well as inside, with the padding.
For Apple brand products, you are required to show invoices for the 90 days prior to the application amounting to $2.5 million in Apple refurbished products. If you are able to meet the requirements, you are eligible for the Amazon Renewed program.
Once you are accepted in the program, you are required to back the products with the Amazon Renewed Guarantee and you are responsible for all claims under the guarantee. Additionally, sellers are allowed to provide their own guarantee voluntarily called a Voluntary Guarantee, however, Amazon is not responsible for any claims in this instance.
FBA sellers are automatically eligible for the Amazon Renewed guarantee, according to Amazon's guidelines.
Within the 90-day guarantee period, the buyer has the right to talk to Amazon's support team. Should this not fix the issue, the buyer has the right to return the product for a replacement unit of the same model, color, and version if one such unit is available. If it is not available, the buyer has the right to a refund.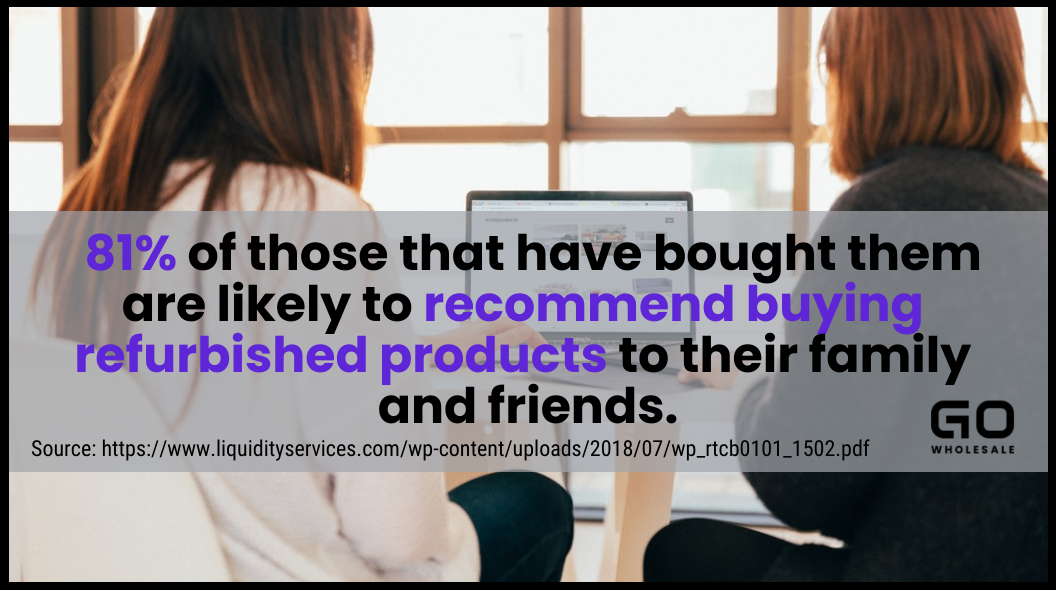 Why Buy From goWholesale?
goWholesale is a platform offering brand new and refurbished merchandise from top-tier manufacturers. This merchandise includes smartphones, laptops, TVs, and is exactly the merchandise you are looking for.
goWholesale provides you with the option to buy brand new merchandise that you should have no problems selling on Amazon. The merchandise sold through goWholesale is priced well below the manufacturer's suggested retail price (MSRP). The purchase process is no different from any other major eCommerce platform. You are free to browse the inventory, but you need to register for a free goWholesale account before you can place your order.
The platform allows you to tailor your order to your requirements or the demand of your customers. You may browse by brand, by category, or even by location. Since goWholesale has distribution centers across the United States, you are able to cut down on the delivery costs significantly by purchasing from a distribution center near you.
Another advantage is that there are no minimum order requirements, meaning you can buy as few or as many units as you want, from any category you want. This certainly makes your purchasing process easier.
Additionally, the company already has established business relationships with major couriers and can provide you with the delivery at attractive rates, probably better than those you would be able to secure on your own. So before you arrange shipping yourself, check out the shipping calculator that comes with every listing.
Also, goWholesale deals with refurbished merchandise that is sold 'as new' at prices well below typical wholesale. This will boost your chances of reselling your merchandise at competitive prices while still making a healthy profit.
Why Consider Refurbished Items?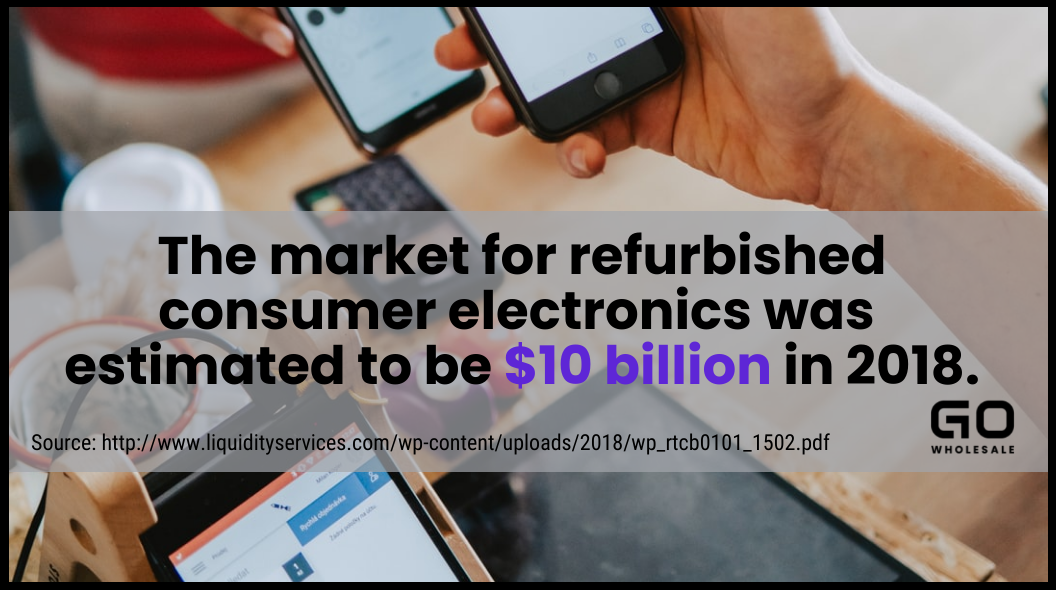 Refurbished items are a great category to fall back on, especially if you are trying to stay competitive in the market, or if you are targeting price-sensitive customers. Refurbished items go through an approved testing and restoration process (refurbishment), which ensures each unit is brought back to an 'as new' condition. Each unit is inspected, repaired, cleaned re-accessorized, and repackaged for resale.
If you are asking why even consider refurbished items, think of the iPhone 11, the best-selling smartphone of the year 2020. The unit still outperforms many of the brand new models coming into the market a year later. You can source a refurbished unit for the price of a mid-range brand new smartphone. This is a major advantage.
Sticking to these guidelines and maintaining them is essential to keep your eligibility for the Amazon Renewed program. You have to maintain a perfect order percentage higher than 85 percent in order to stay within the program as well as the ODR of .08 percent or less. Also, your customer reviews with 1 or 2 start have to be below 10 percent of all your reviews. Additionally, your Renewed Quality Score (RQS) needs to remain above 98 percent and your Average Product Rating (APR) should be above 4.0.
Refurbished consumer electronics are a great way to make some money on Amazon. However, there are strict rules you have to follow. goWholesale is a great option to be your Amazon FBA wholesale source of consumer electronics that can ensure you remain above the high standard bar set by Amazon.