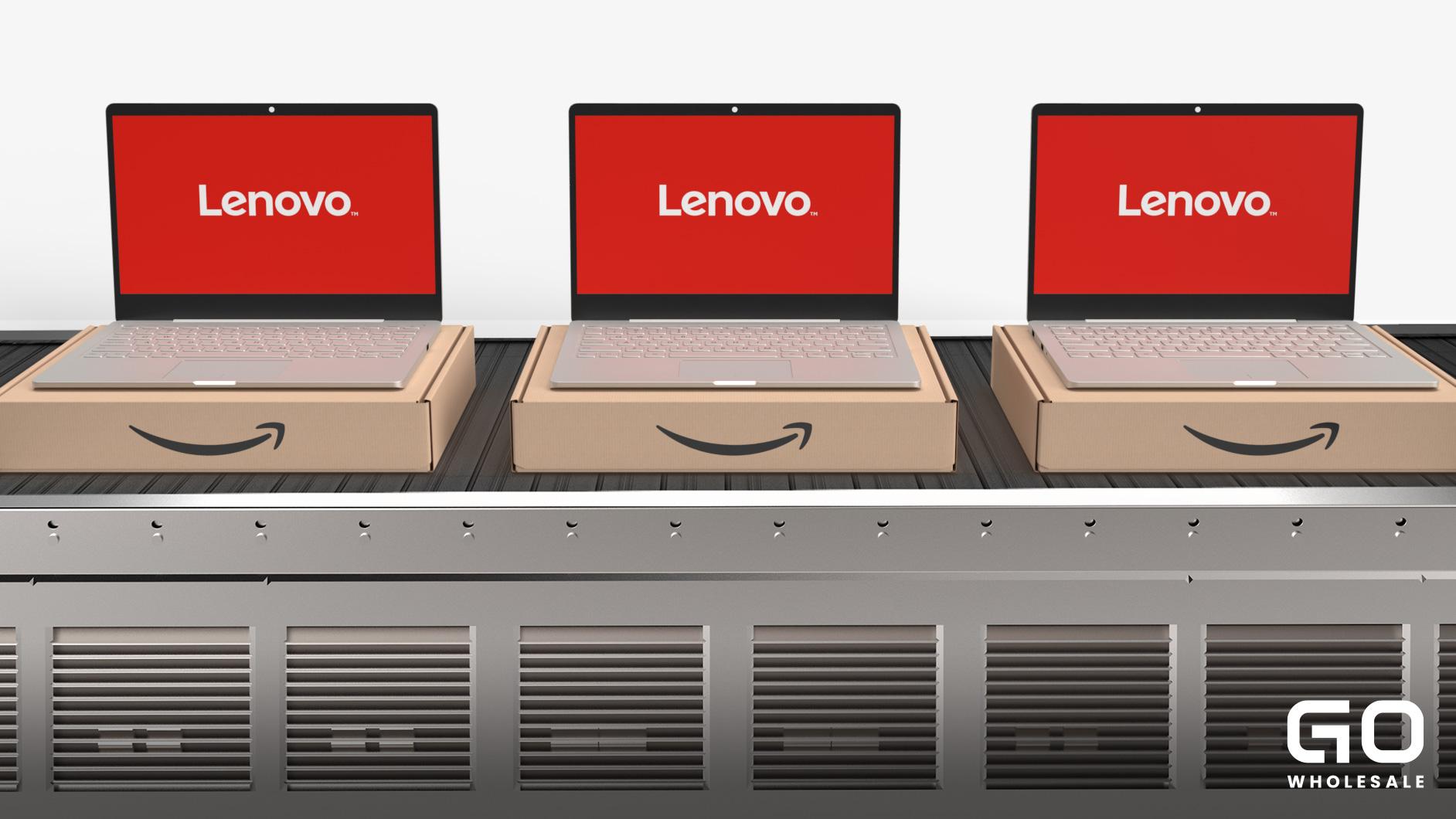 In this guide, we will explain which are the best models of Lenovo laptops to sell through Amazon FBA, as well as how the FBA process works, the fees, and how to source Lenovo laptops wholesale.
Lenovo Laptops: The Market
Lenovo was the top-selling brand in the PC sector in 2021, dominating the market with a 24.3% share of all PC units sold. The number of Lenovo PC units shipped in the last quarter of 2020 was 21.4 million, representing a significant increase from the 19.95 million units sold in the 3rd quarter.
Canalys PC Market Pulse: Full-Year 2021 Sales, Market Share and Growth:
PC Market Share and Growth - 2021
Vendor
2021 shipments
2021 market share
2020 shipments
2020 market share
Annual growth
Lenovo
82,142
24.1%
72,646
24.4%
13.1%
HP

74,072

21.7%
67,688
22.7%
9.5%
Dell
59,300
17.4%
50,273
16.9%
18.0%
Apple
28,958
8.5%
22,574
7.6%
28.3%
Acer
24,383
7.1%
20,023
6.7%
21.8%
Others
72,198
21.2%
64,430
21.6%
12.1%
Total
341,053
100.0%
297,614
100.0%
14.6%
Which Lenovo Laptops Should You Source to Sell on Amazon?
Amazon is a constantly changing marketplace. To decide what laptops to source at any point, we recommend looking at the current top-selling lists and the reviews. Laptop models that are getting more reviews than others will be selling in greater quantities.
Pay attention to the review scores as well, though - one model may sell more for reasons such as price, but if that model has a lower customer rating, this may indicate common problems or faults. You don't want to have to deal with a lot of customer returns.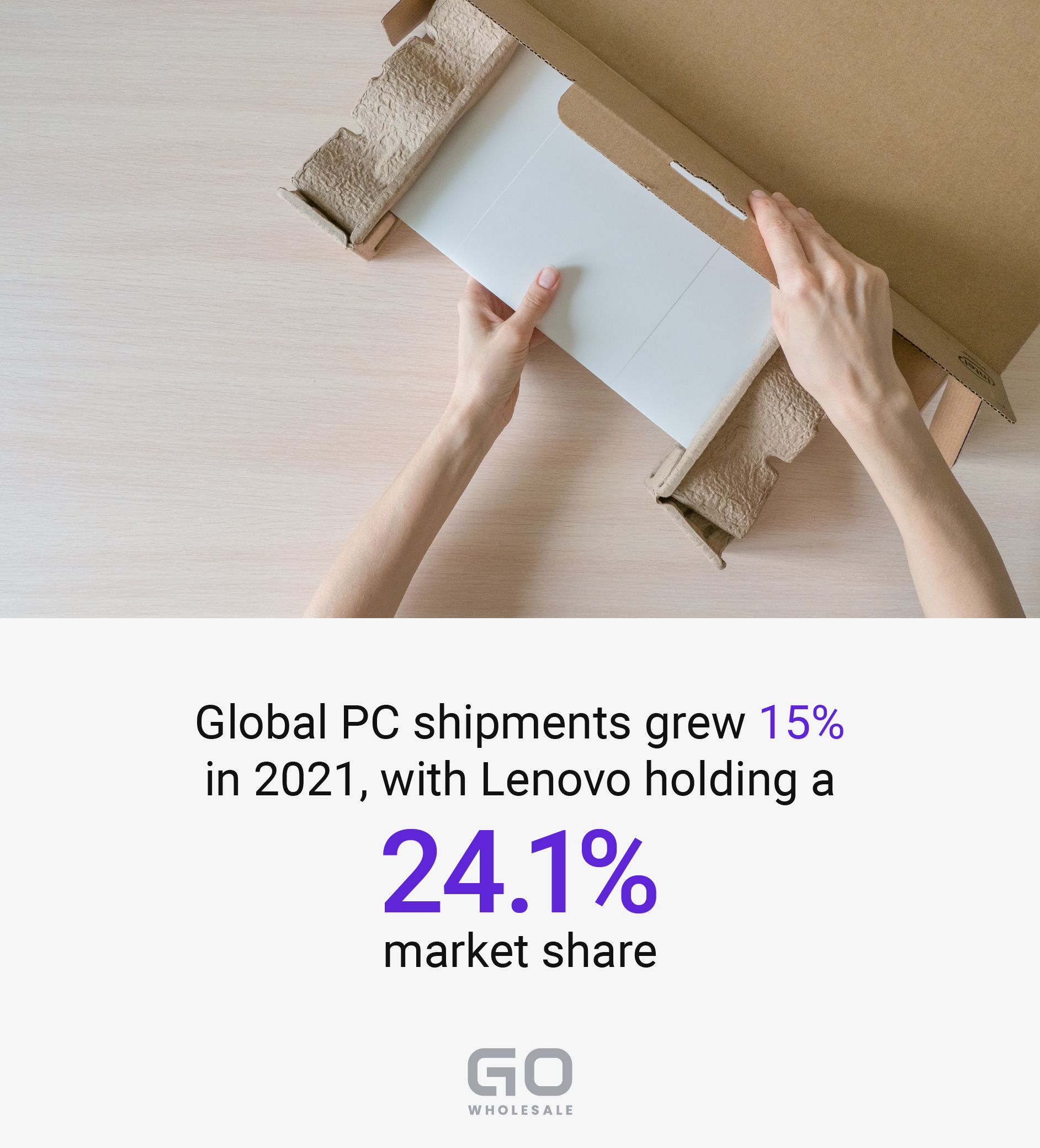 Some of the top Lenovo laptops to stock from wholesale suppliers in 2022 include:
1. The Top Seller
The Lenovo Ideapad 3 is currently the best-selling laptop on Amazon and ranks as the 17th most sold item on Amazon overall. For just $395, this Windows 11 OS 15.6" laptop comes with touchscreen compatibility, 11th gen Intel i3, and wifi 5 (compatible with 5G), among many more features. Having all these features with a price of less than $400 makes this laptop a top choice in the traditional laptops category.
2. Top-Selling High-Performance Laptop
The Lenovo Ideapad gaming 3 series is the best option for high-performance laptops. According to Amazon's top seller statistics, the 2021 version ranks among the top 50. This model comes with Windows 11 Home OS, a 15.6" FHD Display at 120Hz, an AMD Ryzen 5 5600H processor, 8GB of RAM, 256GB of Storage, and an NVIDIA GeForce GTX 1650 graphics card, all costing less than $700. The more recent versions are ranked in the top 300 most sold laptops in the traditional laptops category, with prices ranging from $800 to $900. It is expected that in the future, the 2022 models will replace the 2021 models as the favorites in the high-performance sector.
3. Top-Selling Lenovo Chromebook
The Lenovo Flex 5 13" Chromebook is the best Chromebook and laptop-to-tablet convertible option sold on Amazon. It offers a 4.1 Ghz core i5 Intel processor, 1920 x 1080p resolution, and 10 hours of battery life with a full charge. Currently being sold at around $300, according to July 2022 values, the Lenovo Flex 5 Chromebook and its successor Lenovo i5 Chromebook, are considered among the best Chromebooks of 2022. This is a great 2-for-1 market seller with an easily accessible price tag. Note, however, that the Flex 5 series was recently discontinued and replaced with the Flex 5i. Investing in the Flex 5i versions may be a better option in the long term.
4. Top-Selling Convertible Laptop
The Lenovo Flex series 5 laptops are highly sought-after simple-to-use laptops. Being listed among the top 100 best sellers in traditional laptops, the Lenovo flex 5 features an FHD 15.6" touchscreen display, an AMD Ryzen 5 5500U processor, and 256 GB of storage. Priced at around $600, this laptop offers everything a professional needs for a reliable long-term laptop.
5. Top-Selling Student Laptop
The Lenovo 14e Educational Computer Chromebook is the best choice for student laptops sold by Lenovo in 2022. Using a Chrome OS and featuring a 14" display, this rugged computer is built to endure being carried around in backpacks and the daily school routine. Having a low storage capacity of 32GB and 4GB of RAM, this computer is affordably priced below $200.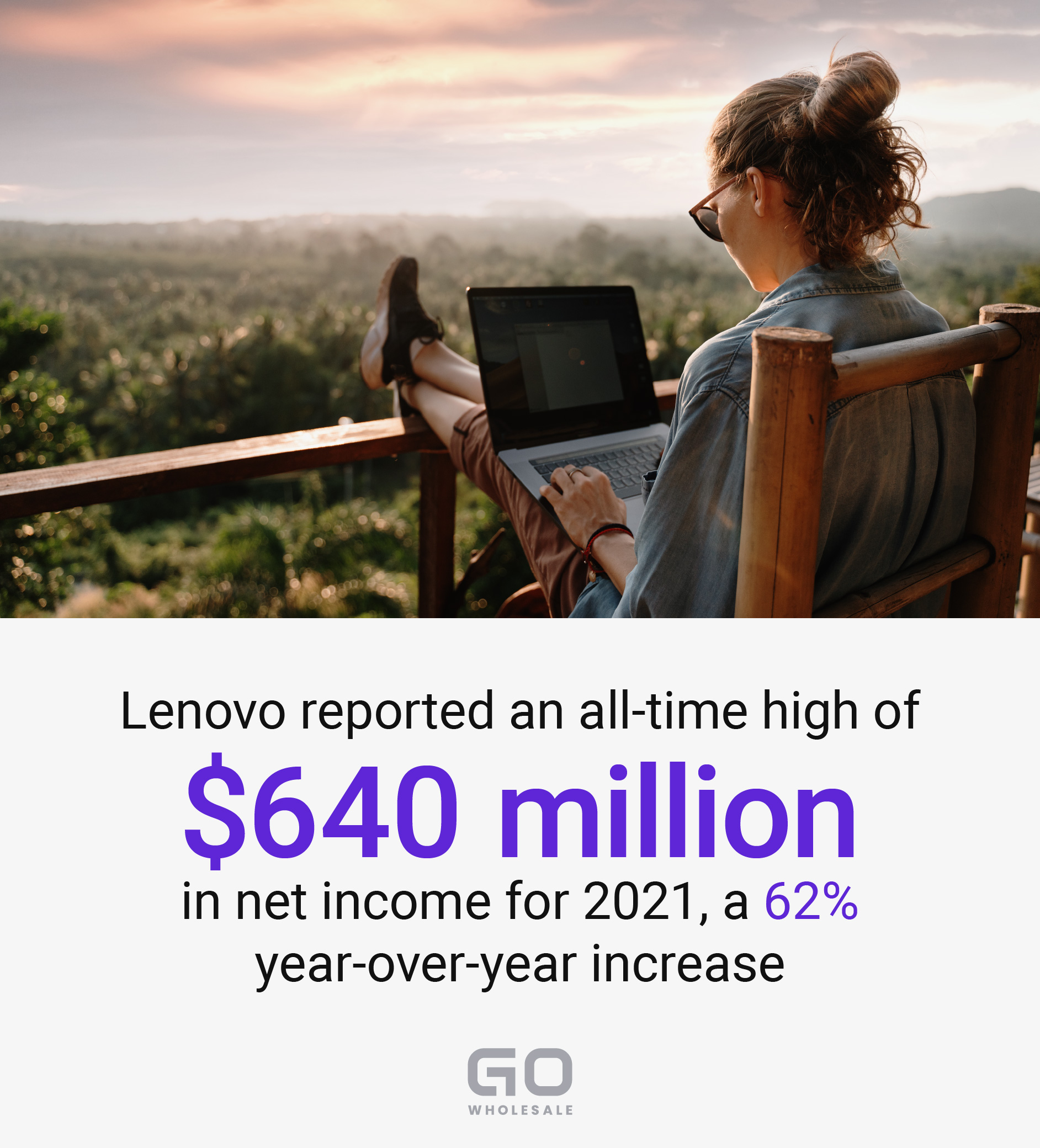 Fulfillment By Amazon: What is Amazon FBA? Is it Suitable for Lenovo Laptops?
What is Amazon FBA?
FBA, which stands for Fulfillment by Amazon, is an e-commerce fulfilment system.
Under the Fulfilment by Amazon option, you pack your merchandise according to Amazon's guidelines and requirements and ship it off to the designated Amazon Fulfilment Centre. Amazon stores the merchandise for you and handles the delivery, customer returns, and customer service.
Check out this guide to learn more about selling electronics through Amazon FBA compared to Fulfillment By Merchant (FBM).
For a complete list of features, including the pros and cons of using the service, you can also check out this comprehensive guide.
'Gated' Products and Restrictions on Amazon
Through their Brand Gating policy, Amazon restricts third-party sellers from selling certain brands unless they have permission from both the brand and Amazon. This initiative aims to remove the possibility of counterfeit or substandard goods being sold under the brand's name, damaging their brand image. This makes it much more difficult to sell in certain categories or products from certain manufacturers on Amazon for 3rd party sellers, including through Amazon FBA.
Although Amazon 'gates' a large number of categories for new sellers, Laptops are not on the list, meaning that you should have no problem selling Lenovo laptops on Amazon unless you have had complaints about selling similar products in the past (e.g., lots of bad customer reviews or calls for refunds).
Additionally, while Amazon has restrictions on selling many brands, including Apple, Lenovo does not (as of September 2022) feature on this list - there are no restrictions to selling any Lenovo product through Amazon, including Amazon FBA, other than the normal terms and conditions for listing anything on the platform.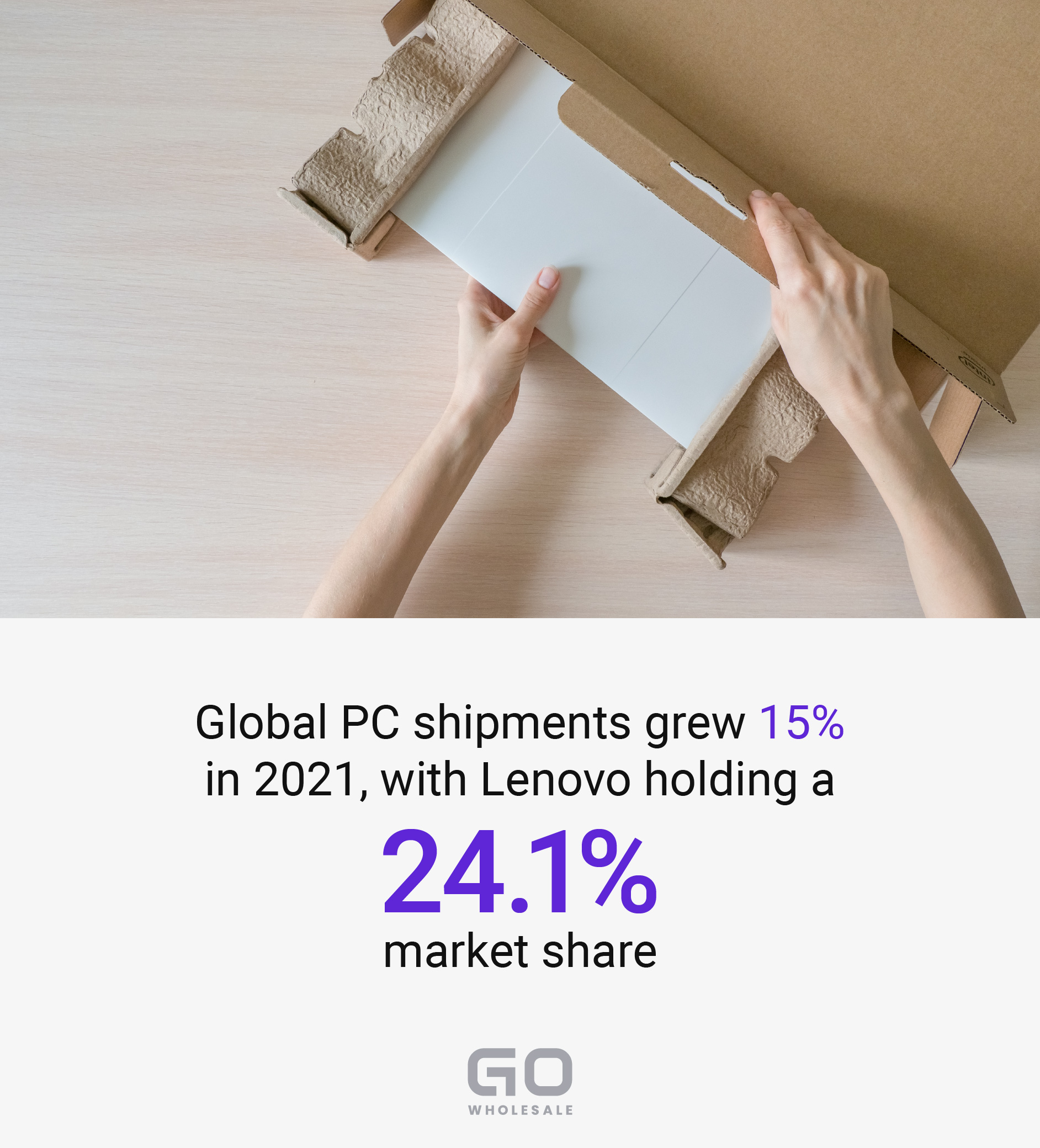 Selling Laptops on Amazon FBA
There are no specific differences between selling Lenovo Laptops through Amazon FBA and any other product category other than these:
You cannot sell a laptop with its serial number removed or altered.
No copyright media or software may be installed.
It cannot be supplied with an extension cord product that is not compliant with 16 CFR 1120.3(d).
The laptop may not be supplied with a USB-C (or USB Type-C) cable or adapter not compliant with standard specifications issued by "USB Implementers Forum Inc."
And cannot be sold with expired or dangerous batteries.
When buying new or refurbished laptops from a reputable supplier such as Go Wholesale, none of these prohibitions will be a problem.
To list items for sale through Amazon FBA, follow the on-screen prompts from the Amazon website.
Amazon FBA Fees
Amazon offers two plans for sellers: individual and professional. Both include Fulfilment By Amazon (FBA). The individual plan is suitable for sellers who are just starting and expect to sell only forty units per month or less. This plan costs $0.99 per unit plus the fulfilment fees (more on these later). The individual plan does not allow you to advertise on Amazon and importantly, you are ineligible for the "buy box" on a product listing.
The professional plan costs $39.99 a month and has the same features as the individual plan but with many added services. These include ads on Amazon, qualifying for top placement (buy box) on product pages, category-based product placement, and much more. Amazon also provides many tools for sellers that choose the professional plan, making it a very attractive service option for professional online sellers.
Amazon also charges fulfilment fees and referral fees. The fulfilment fees cover shipping and customer service provided by Amazon. The referral fees cover marketing and advertisement using a link to the product. Both fees are adjusted and priced in accordance with product category and product sizing.
Sourcing Lenovo Laptops Wholesale from Go Wholesale
Go Wholesale is an online wholesale marketplace that supplies new and refurbished products to business customers, including Lenovo laptops. Go Wholesale offers three main advantages: flexibility, transparency, and savings. There are no minimum order quantities, which gives you the freedom to mix and match any combination of items from any product line.
Check the full price history of the product in graph form and get all the info you need on trends and current wholesale market prices.
Every Lenovo laptop sold on Go Wholesale comes with its original accessories and is packaged in either its original or high-quality replacement plain packaging. All products sold on Go Wholesale also come with a warranty (typically 90 days from the date of delivery but this period can vary product by product).