Selling Apple Watches on eBay: Guide to Wholesale Sourcing
---
So you're looking to buy wholesale Apple Watches to sell on eBay? There is a huge, and growing, market for Apple Watches - but what is driving this growth and what models should you be buying? In this guide we will explore all these points and provide you with some top tips for selling Apple Watches on eBay.
The worldwide smartwatch market was worth $20.64 billion in 2019, and is expected to reach a compound annual growth rate of 19.6% from 2020 to 2027, reaching $96.31 billion by 2027. 31 million Apple smartwatches were shipped in 2019, an increase of 36% since 2018, surpassing the entire Swiss wristwatch industry by more than 50%.
In 2021, Apple was the global smartwatch market leader with more than 30% of the market (slightly less than in 2020 – 32.9%). Samsung (10.2%), Huawei (7.7%), and Imoo (5.2%) are the next best selling brands.
What is Driving Smartwatch Demand?
The factors driving the growth of this market are the increased demand for wireless fitness and sports devices, a greater health awareness among consumers, as well as the appearance of many different players in the market. These include, in addition to Apple, Garmin, Fitbit, Huawei, Fossil Group, Motorola, Sony, Samsung, LG, TomTom and Amazon.
COVID had its part to play in recent years too. The global market for smartwatches has more than doubled since Q2 2018, rising from 8.6 to 18.1 million units in Q2 2021, and 'the fitness renaissance' during lockdowns only made wearables more popular.
What Can We Learn From This Demand?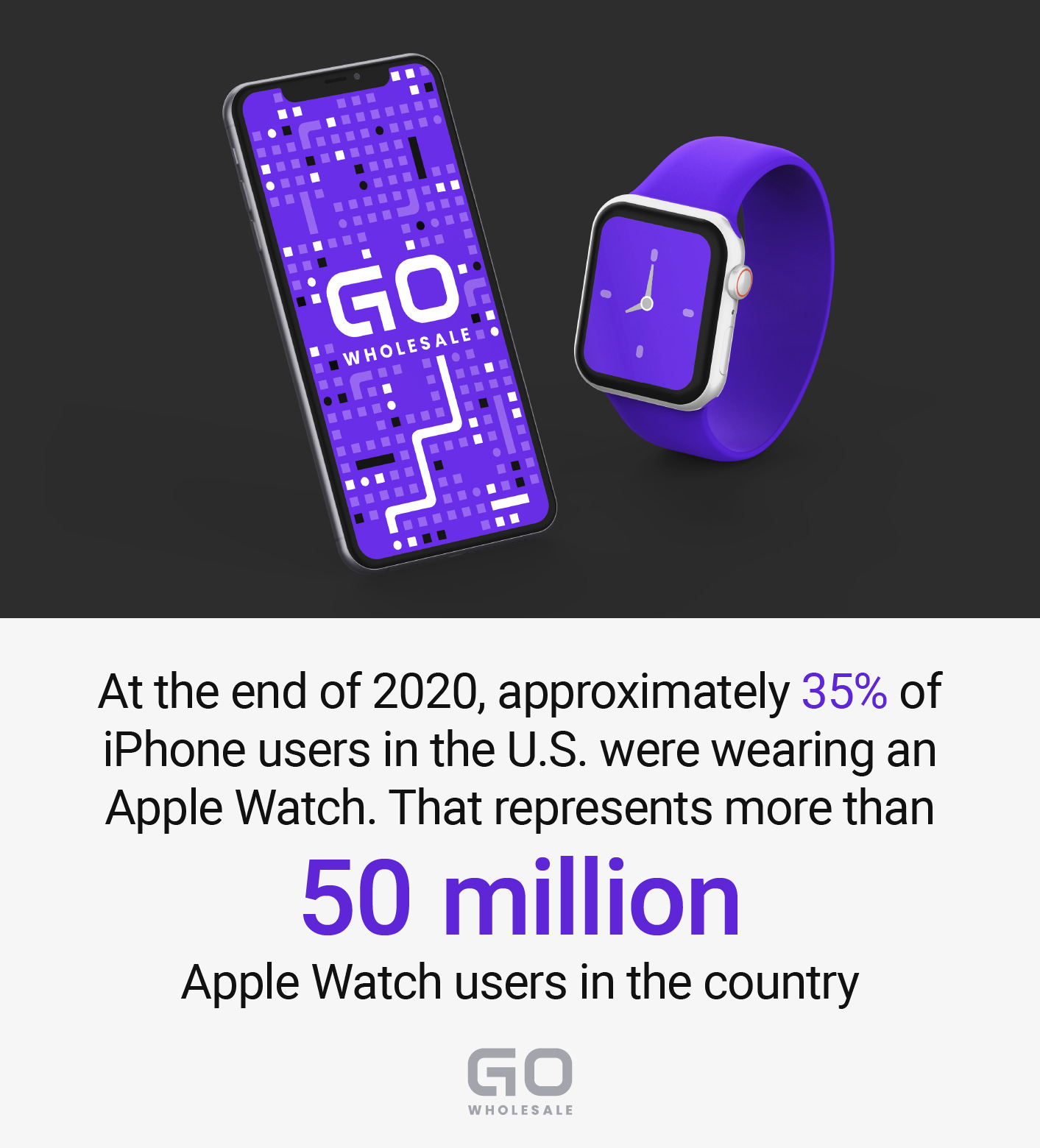 Source: Above Avalon, 2021.
More and more people are looking for smartwatches with the most sensors - whether to help them track their fitness levels or medical issues. This market is only likely to grow.
We recommend investing primarily in the newer models for this reason. They have the most sensors, and the most accurate analytics. Older smartwatches become outdated quickly - quicker than smartphones, for example.
However, just stocking the newest models and hoping for a home run is not the proper way to structure your business plan. The markets for items like this change often, and you have to be mindful of the amount of competition you have when trying to sell on eBay.
Also bear in mind that price-points are also important to customers, The Apple Watch SE has not lost popularity due to its very affordable price. It features the attractive design of the Apple Watch Series 4-6, but does not come with some premium features of the Series 7 like ECG support.
Older versions also reach a point where Apple removes support, which is expected to happen to the Series 3 imminently. Expect models that are no longer supported to lose a lot of their value. You also need to track Apple's release schedule as they often add a model while winding down support for older models.
The Prospects for Apple Watch Sales
At the end of 2020, approximately 35% of iPhone users in the U.S. were also wearing an Apple Watch. There are about 100 million Apple Watch users in the US.
The number of iPhone users in the United States increased to 113.5 million in 2020, and it is forecast that this figure will continue to rise and reach more than 118 million in 2022. This rise in iPhone users is a good signal for healthy Apple Watch sales, as Apple Watches are incompatible with Android Phones.
Global sales of smartwatches were up 13% in the first quarter of 2022, compared to the previous year, and the Apple Watch continues to have the largest share.
The global smartwatch market shipped 68.59 million units in 2020, and is expected to reach 230.30 million units by 2026 - a CAGR of 21.98%.
North America accounts for the largest market share with 32.96% of all wearables worldwide being sold in the region in 2020. The number of wearables in North America is increasing rapidly and is expected to reach 439 million by the end of 2022.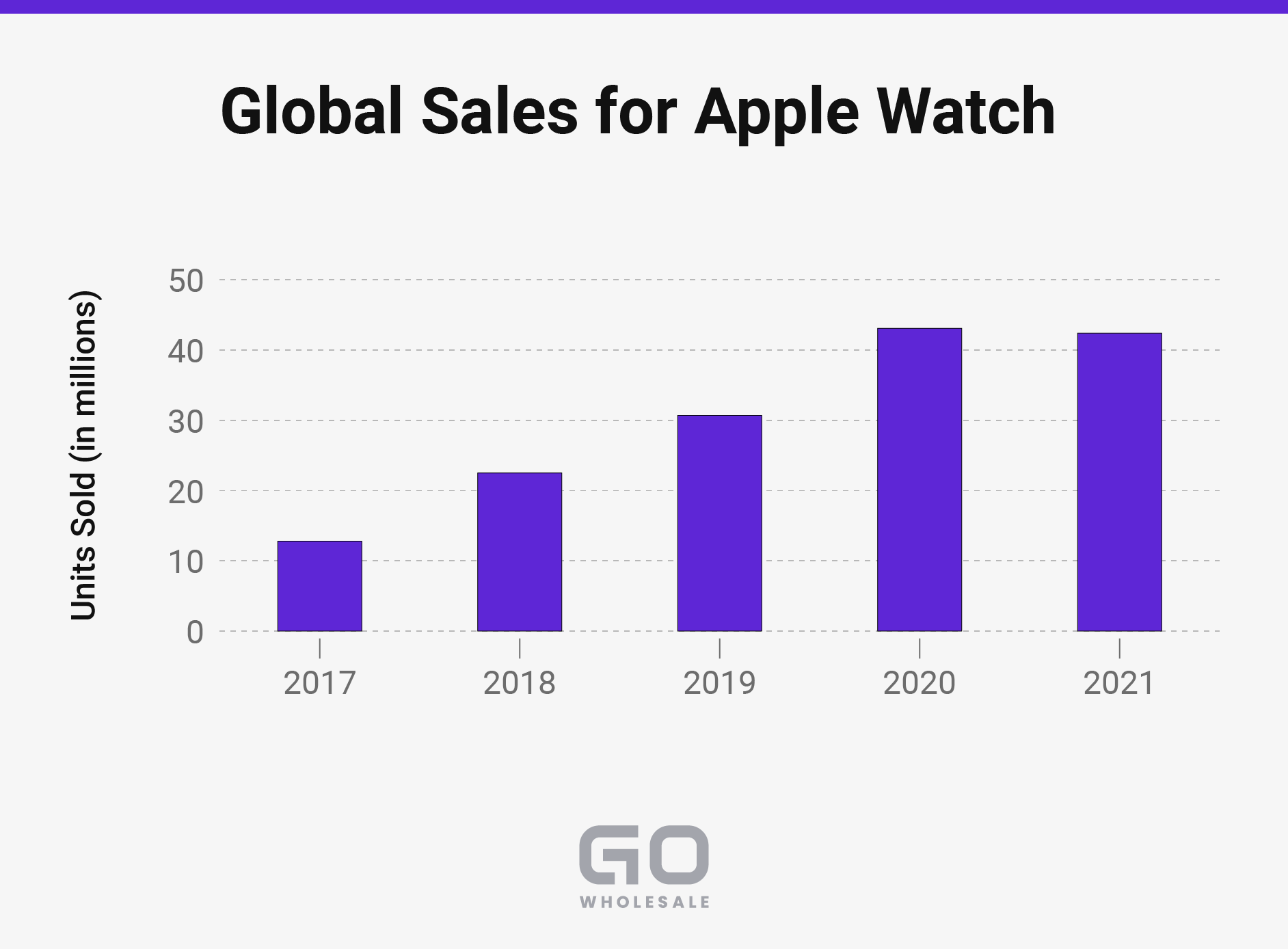 Source: Jeweller Magazine, 2022.
The Top Selling Smartwatches in 2021
The top selling smartwatches in 2021 globally were:
Samsung Galaxy Watch 4
Galaxy Watch Active 2
Galaxy Watch 3
Garmin Venu 2
Tag Heuer Connected
FitBit Versa 3
Apple Watch Market Prices
These are the best prices for each of the three top-selling models in new or like-new (open box) condition on Amazon and eBay as of August 2022, according to MacPrices.net:
Apple AirPods Pricing
Model
Release Date
Retail Price
Amazon Price
eBay Price
Apple Watch Series 7

September 14, 2021

$399 - $749

$280 - $420

$299 - $369

Apple Watch SE

September 18, 2020

$279 - $329

$330 - $350

$199 - $299

Apple Watch Series 3

September 22, 2017

$

199

$

149

$

139
Retail prices as of July, 2022 - apple.com
Apple Watch Series 7
The Apple Watch Series 7 was the top selling smartwatch in the world in 2021.
The latest of Apple's watch iterations has sold strongly in part due to its durability: water resistant up to 50m, new crack-resistant screen technology.
A focus on health monitoring: fall detection, electrical heart rate and blood oxygen level monitoring.
Faster charging than its predecessors.
The Apple Watch 7 has 20% more screen area than the Watch 6 and has new sizes of 41mm and 45mm.
Apple Watch SE
Apple Watch SE offers good value for the money for those who do not need the ECG and blood oxygen monitoring features.
The Apple Watch SE is one of Apple's more affordable smartwatches, offering the S5 chip, an optical heart rate sensor, an always-on altimeter, and fall detection, at a retail price of $279 (August, 2022).
Apple Watch SE is something of a mix between the Series 4, Series 5, and Series 6 models. The Apple Watch SE is available in 40 and 44mm size options, and it has the same thinner, smaller case introduced in the Series 4.
The S5 64-bit dual-core processor is up to two times faster than the S3 in Apple Watch Series 3.
Apple Watch Series 3
Apple Watch Series 3 keeps the classic design of earlier models but packs in quite a few features, alongside improvements.
The Apple Watch Series 3 improved upon its predecessors with upgraded components and a model with a cellular connection.
From the outside, this Apple Watch has the same familiar design as the Apple Watch Series 2, with a square OLED Retina display, protected by sapphire crystal in the stainless steel and ceramic models, and Ion-X glass for the aluminum versions.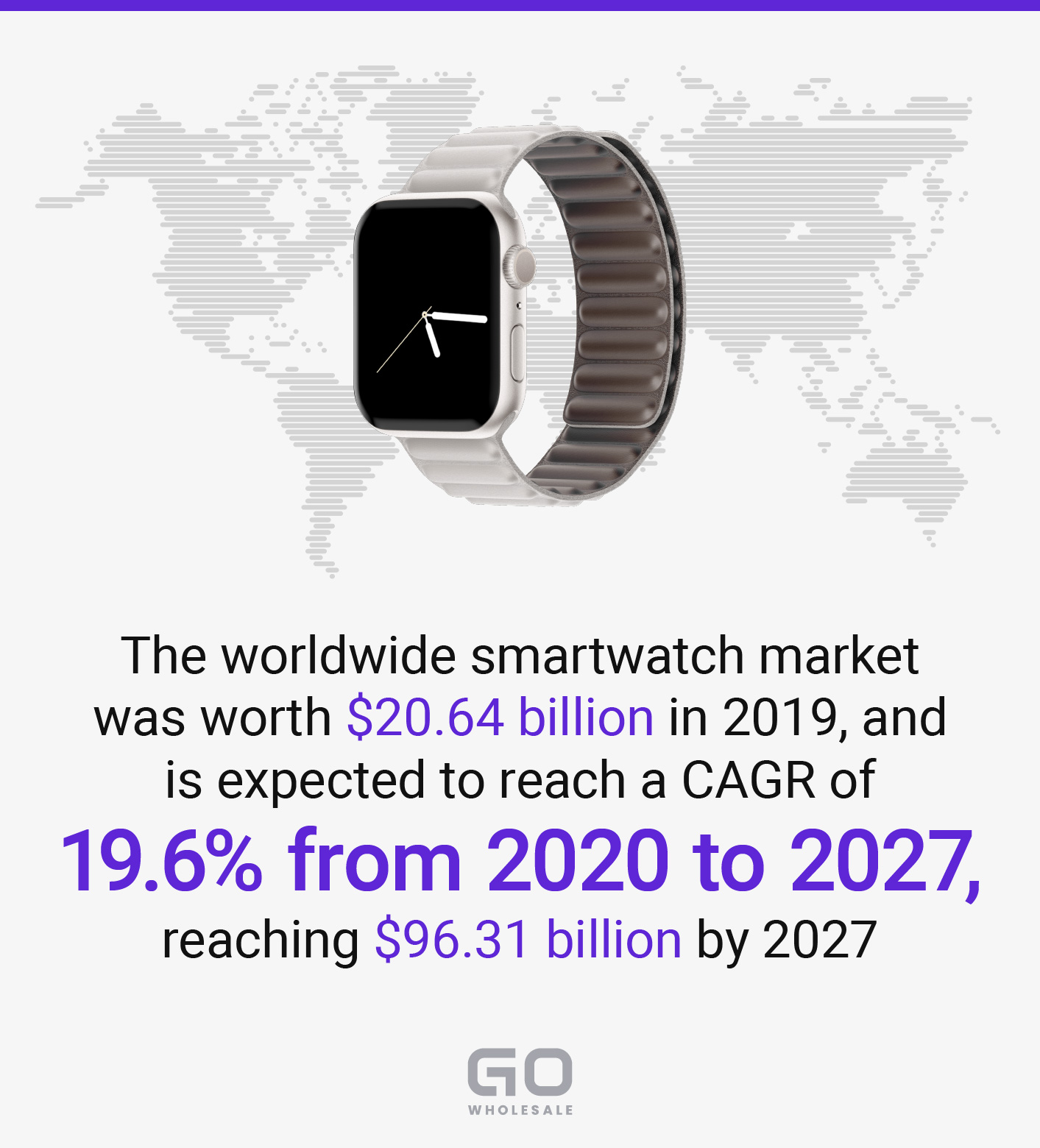 Source: Allied Market Research, 2022.
Sourcing Wholesale Apple Watches
Sourcing Wholesale Apple Watches from Apple Directly
It is difficult to become an official Apple wholesaler and a small business is unlikely to be able to comply with the essential requirements. Check out Apple's requirements for vendor applications here.
But don't worry, buying wholesale from Apple itself is not the only way to purchase Apple inventory wholesale.
Sourcing Wholesale Apple Watches from goWholesale
goWholesale is an online wholesale marketplace with thousands of new and refurbished consumer electronics products, including Apple Watches. Sourcing from goWholesale gives business customers three main advantages: flexibility, transparency, and savings.
goWholesale allows you to mix and match any combination of items from any product line as you wish. On each product page you will find a complete history of wholesale market prices and trends so you can make an immediate buying decision without having to research the market on other websites.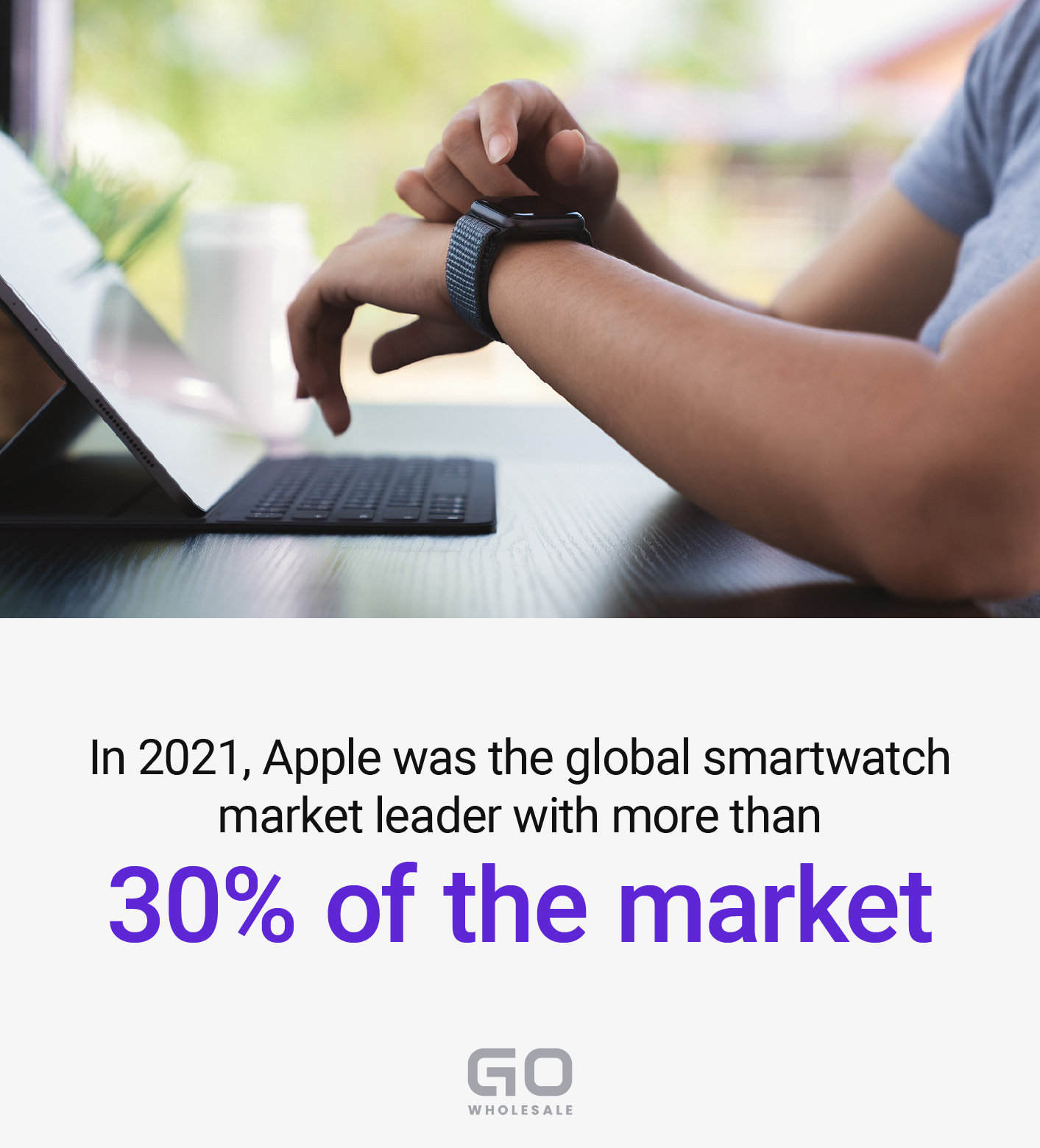 Source: Statista, 2022.
Selling Apple Watches on eBay
eBay is an ideal place to sell Apple Watches. In fact, Apple Watches form part of the 4th top-selling category on eBay globally. There are many ways to make your selling experience faster, easier, and more effective.
As of July, 2022, the top-listed Apple Watches on eBay are the Series 3, well ahead of the Series 7, 6 and the Series 4.
The latest model always tends to sell best - innovation is so fast that older models become outdated quickly, as new models have a lot more functionality and sensors. However, bear in mind market conditions and calculate profit margins based on current ebay pricing and competition.
Take lots of photos of the Apple Watches you ship, including any defects and serial numbers.
Get shipping insurance in case the item is lost or damaged during shipping.
Always ship with tracking. Ship with signature confirmation for sales above $750.
Package the Apple Watch according to the shipper's requirements. This will prevent damage and prevent the shipper from disallowing a potential insurance claim.
Make your product descriptions SEO-optimized. Include as much keyword information your titles and product descriptions as you can
Take high-quality photos. Photograph your Apple Watch against a neutral background, from multiple angles, highlight features, and highlight any defects.
List items every day. If you have multiple items to sell, stagger your listings over several days to make the eBay algorithm work for you.
Make yourself appear trustworthy. Be transparent about who and your business are, make customer feedback available and be upfront about any product defects. React promptly to customer queries and provide good customer service. Request feedback from your customers to establish a reputation.
Offer free shipping and 30-day returns. This will make you more appealing to customers and also qualify you for eBay's Top Rated program.
Use social media to share your listings. This will increase your business' reach.
As you can see, Apple Watches are growing in demand, with the newer, more advanced models being the most popular. eBay is a great platform to sell these watches to the largest possible audience, at home and abroad. If you're looking to source Apple Watches to sell on eBay, check out what wholesale Apple Watch inventory we have available right now.