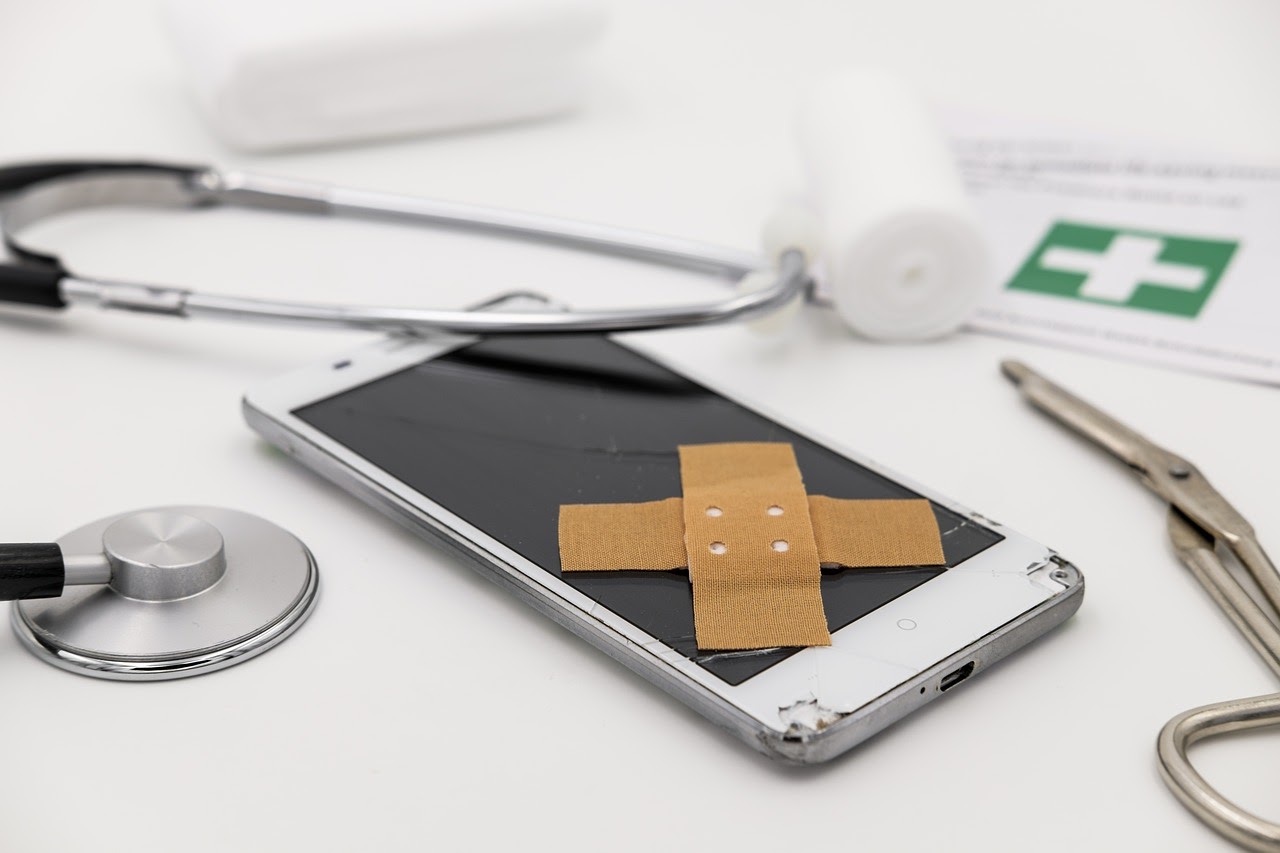 Customer behavior has changed over the course of 2020. The outbreak of the Coronavirus pandemic led to a large number of people being forced to work from home. This resulted in a shopping spree for laptops and other devices. Stores were soon out of stock when it came to brand new models, or, at least out of those models that were accessible to average buyers.
This led to a rise in popularity in the resale industry, and saw a large increase in demand. The average buyer turned to refurbished electronics for their home office needs. If you are a reseller who offers, or is considering offering, refurbished electronics, and is looking for a reliable source to load up on inventory, you've come to the right place.
In fact, the refurbished electronics market has seen such a rise that resellers are fighting to get a reliable source in order to keep up with the demand in this market. The upward trajectory of the market is likely to continue as long as the current work environment persists, and as customer habits and priorities change in the post-Covid world.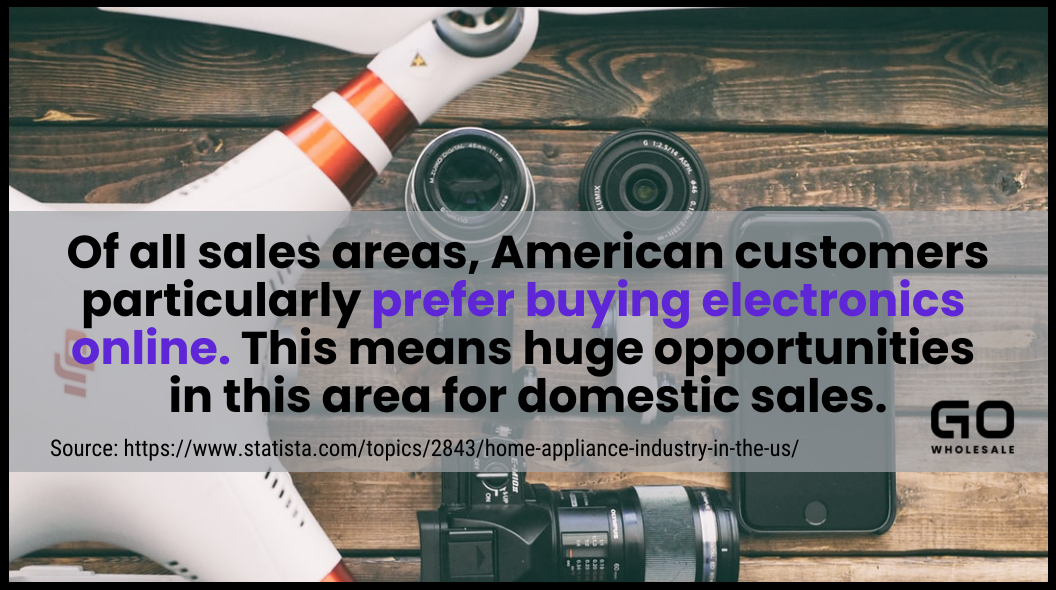 What Are Refurbished Electronics?
Before moving into the benefits of refurbished electronics, let us first define refurbished electronics. These are usually customer returned products that have been restored to a 'like new' condition.
The first process of refurbishment is running thorough testing programs. This is to make sure the item is working as intended, to manufacturer's specifications. If there are any faults, or missing parts, they are fixed and replaced (in our case with guaranteed-original branded parts), before the unit is then tested again. The next step is wiping any data from the unit, a thorough cleaning to sanitize the item, and re-accessorising it, before being repackaged and ready for resale.
What is The Benefit of Stocking Up Refurbished Electronics?
In the current environment, consumers have become even more cost-conscious than before. This is due to the fact that there is a lot of uncertainty around employment, as well as the fact that more people are looking for work-from-home options but do not want to spend a small fortune on a high-end laptop or a smartphone. Nevertheless, buyers are still looking for units that can deliver good performance.
Last year's models are still perfectly adequate for the vast majority of consumers. They are able to take on all of their work tasks, and even have gaming and photography features that can match and often surpass mid-range to flagship models of today. This means that stocking even older refurbished models is a great way of appealing to customers on lower budgets in the current climate.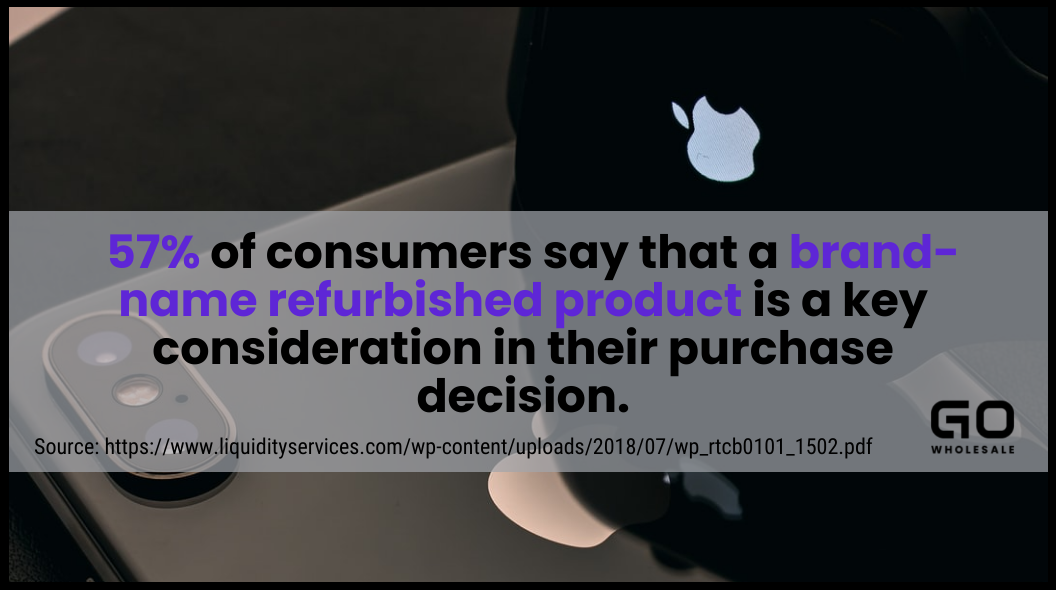 If we take the smartphones as an example, the outgoing iPhone 11, the most popular phone of the past year, easily beats the majority of brand new models in terms of specs and performance. Now that the iPhone 12 has launched, there is renewed interest in the now lower-priced iPhone 11. If you can supply customers with refurbished iPhone 11 models, you can sell for even lower prices profitably, bringing in more interest than your competitors selling new models.
It's not just the lower price for a fully-functioning unit that appeals to consumers. There is a growing awareness, particularly among younger customers, of the environmental impact on consumerism. Half of digital consumers say environmental concerns impact their purchasing decisions. 49% of eco-conscious consumers research the sustainability of electronic devices before buying them.
Millennials are the consumer group most interested in sustainability, and young people in general are more interested than older groups. This is a large percentage of the population, growing in purchase power, that you can directly tap into. How? When products are refurbished, rather than scrapped, the maximum lifespan for the products is being preserved. Fewer materials go into refurbishing items than making new ones, and the materials are not being disposed of. Buying used items in general is a very 'green' practice, and more people want to move away from the 'throwaway culture' that many of us inhabit now.
For a reseller, this is the perfect time to stock up on refurbished merchandise. We are at a crossroads between uncertain employment, changing working patterns meaning more personal electronics such as laptops are needed, and a growing movement towards environmentalism. The future for refurbished electronics resale looks bright.
Additionally, customers who once already purchased refurbished items are likely to recommend the same path to family and friends.
Where To Stock Up on Refurbished Electronics?
The best option available to most resellers are specialized wholesale suppliers and liquidators.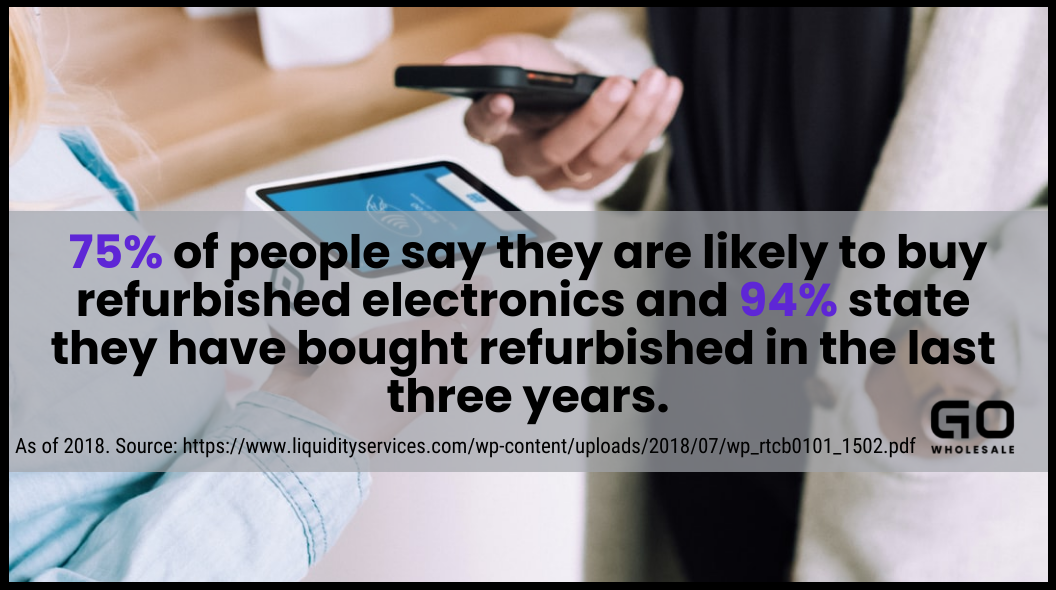 GO Wholesale is a platform specialized in refurbishing electronics sourced directly from some of the largest manufacturers and retailers in the world. The full refurbishment process is done by our expert teams of technicians, who have years of experience in the field. We guarantee all of our refurb items with at least a 90-day warranty against any problems.
GO Wholesale specializes in laptops and smartphones and works with top merchandise from brands such as Dell, Apple and Samsung. This makes GO Wholesale an ideal source of refurbished electronics for your business, particularly phones and computers, with thousands of models to choose from.
You can build your own order, mixing and matching whatever products you need, across all ranges, and (if originating from the same distribution center) combining them into a single shipping lot.

In fact, the more you buy, the more you save in 2 ways. We incrementally decrease the per-unit cost for high-volume orders, and combining shipping is also a great way to decrease the per-unit cost to get the merchandise to you.

If you are based close to one of our warehouses, you're also free to come and pick up the items yourself, cutting out shipping costs altogether. This type of ordering and shipping flexibility sets us apart from other wholesale companies, and our focus on refurbished electronics really sets GO Wholesale as an ideal supplier for this type of merchandise.
Grading Refurbished Electronics
All our products are categorized into grades depending on their cosmetic condition.
No matter what grade a product is listed under, ALL are fully functioning to the manufacturers' specifications, and all come with our full 90-day warranty. The grading system purely indicates cosmetic appearance.
Grade A
No visible flaws. These are basically like-new units, fully-tested and repackaged for resale.
Grade B
Also fully-working, but contain barely-visible marks, scratches or other imperfections
Grade C
Grade C items are also fully-functional, but contain more noticeable blemishes, such as scratches to the screen, or scuffing or dents to cases. This cosmetic damage makes grade C the most affordable refurbished products we sell and as such are ideal to sell to customers on tighter budgets and bargain hunters who want good-quality products and don't mind so much about their cosmetic appearance vs functionality.
You can also buy brand new products from GO Wholesale in addition to the refurbished units, these are also sold at wholesale prices, below the retail price.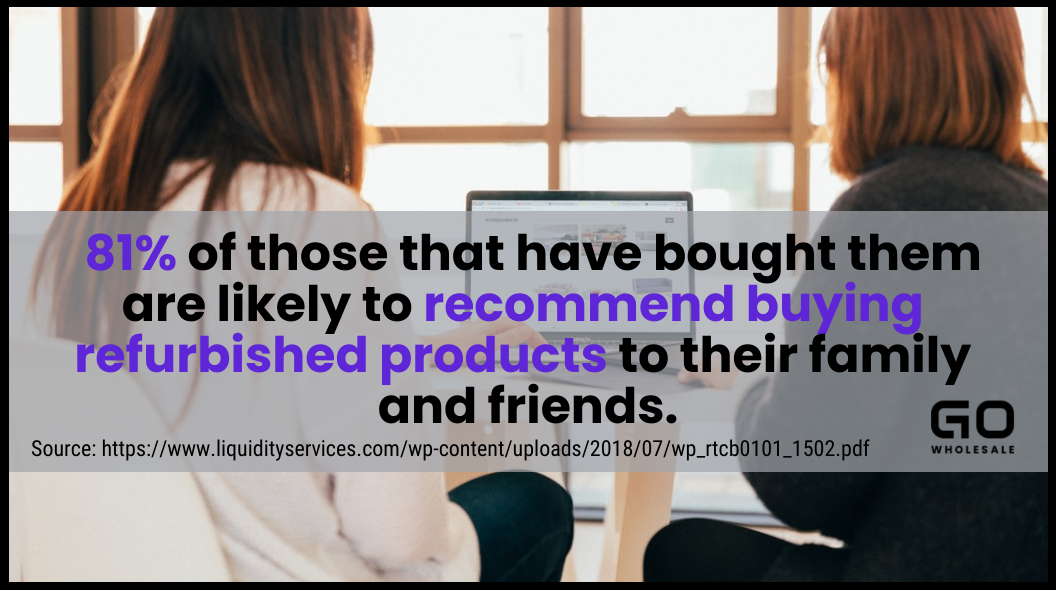 How to Buy Refurbished Electronics From GO Wholesale?
The purchase process is fairly straightforward. The browsing experience is similar to any other major eCommerce platform as you can browse by brand or by category. To place an order you are required to register for a free GO Wholesale account.
Once you have found the products you are interested in, you need to choose the quantity. You can do this process for a number of products until you have assembled the number of items that you require. There is a minimum limit that you must observe. Once you are happy with your order all you have left to do is fill in your payment details and arrange shipping.
To save money on shipping, we advise you to browse new and refurbished electronics on GO Wholesale by location. Shipping shorter distances will cost you less. This also means you could potentially arrange to pick up the order yourself. Note that in order to combine purchases into a single shipment, they originate from the same distribution center.
A Few Value-Adding Tips To Maximize Returns
Both the refurbished and new products sold by GO Wholesale are retail-ready. This means that, once you have received your merchandise, they are ready to be put up for sale. You can list each unit online, either on eBay, Amazon or even your own website; or else sell them in your store or flea market stall.
When it comes to listing electronics for sale online, taking high-quality photos is essential.
Take plenty of photos of the unit against a solid background.
Make sure you highlight the product's features but also not to hide potential blemishes.
Make sure the item is filling up the frame and you have covered plenty of angles.
Add context photos that will show the product in use in order to demonstrate function and scale.
When it comes to your communication:
Highlight product specs and features.
Point out any blemishes not entirely visible in photos. Buyers will appreciate the honesty and you are lowering the risk of returns by describing what the customer can expect from the product.
Communication with your customers is crucial. Communicate with customers through the eCommerce platform and/or social media.
Follow up with questions about your services. Ask whether you could do something better, whether the buyer is satisfied with the product they received, etc.
In the end, a happy customer is a returning customer, and a positive review they may leave on your account is the best signal to other prospective buyers (plus, it's free!). Check out our blog for more hints, tips and guides for reselling refurbished electronics online.
So, what have we learned? Refurbished products from GO Wholesale are functionally as good as new. Some grades have some cosmetic blemishes, but all are fully working. All our refurbished items come with a 90-day warranty. There is an ever growing market for cut-price electronics, accelerated by the Coronavirus pandemic changing the way people socialise, work, and play in ways that will alter culture for years to come.
On top of this, younger customers in particular are environmentally aware, which presents a significant sales opportunity for used and refurbished merchandise. Refurbished items are more affordable to stock than new items, but also sell at a lower price point to end consumers, allowing competitive pricing and lower capital costs for your business, which also means less risk.