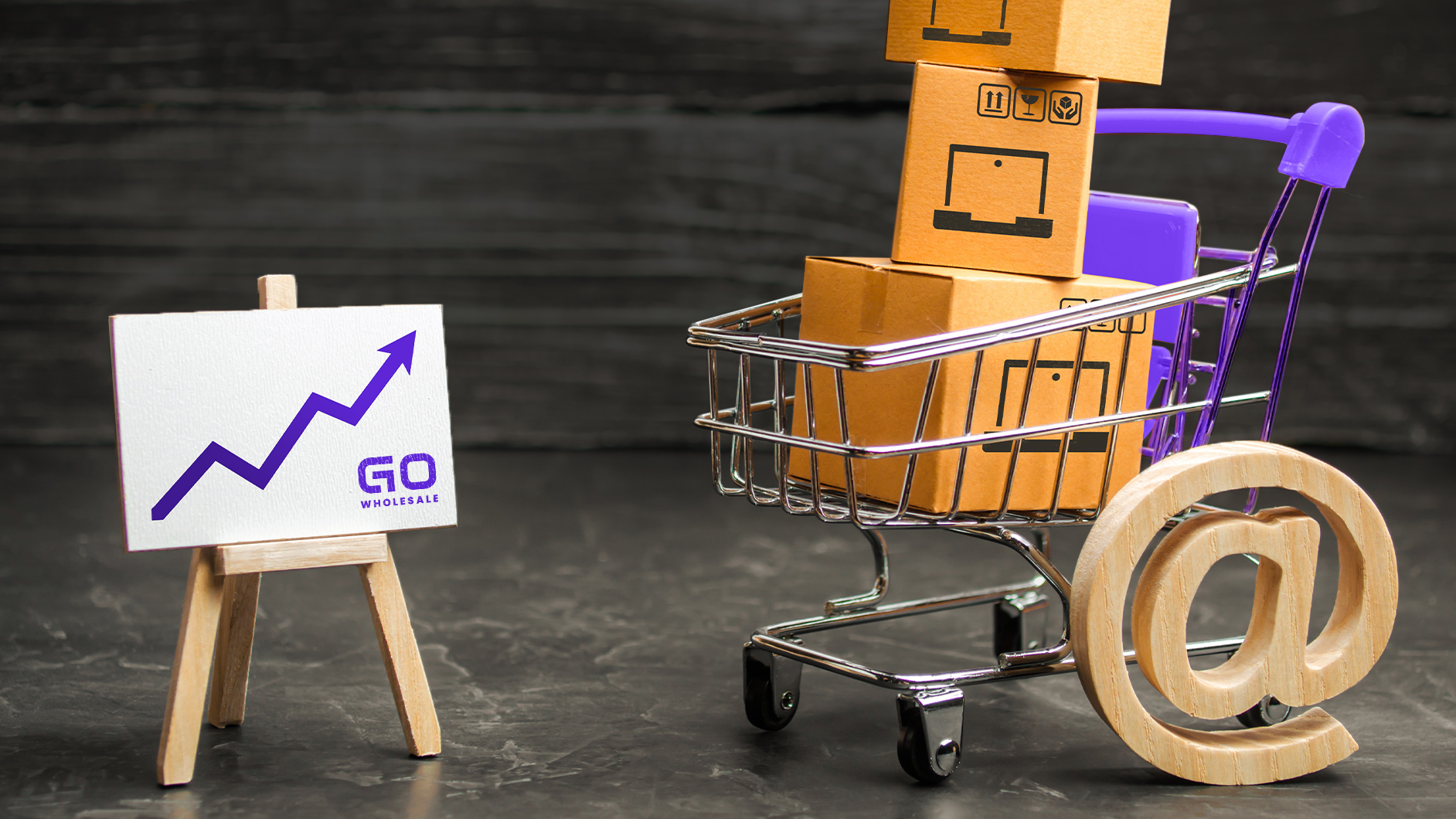 Do you know how much money you can save buying refurbished merchandise? If you're looking to source wholesale PCs, you can't afford not to explore refurbished merchandise to maximize your purchasing power, whether for your business' own use or resale into the growing secondary market for consumer electronics.

In this guide, we will explore the answers to several questions. What is the current state of the PC market? What manufacturers should you be focusing on? And, crucially, where should you be wholesale sourcing refurbished PCs to ensure you save as much money as possible? Let's take a look.
The Advantages of Buying Refurbished PCs from goWholesale
Select from a vast range of PCs, manufactured by some of the biggest names in the business, such as Apple, HP, Lenovo, and Dell.
All refurbished computers on our platform go through a rigorous refurbishment process to ensure they match the original manufacturers' specifications.
A full price history is available for every product so you know what the market trends are, and if the current price is right for you.
The ability to set your own price by bidding
Competitive shipping rates
All PCs ship retail-ready
90-day goWholesale warranties on every unit sold.
The Global Refurbished PC Market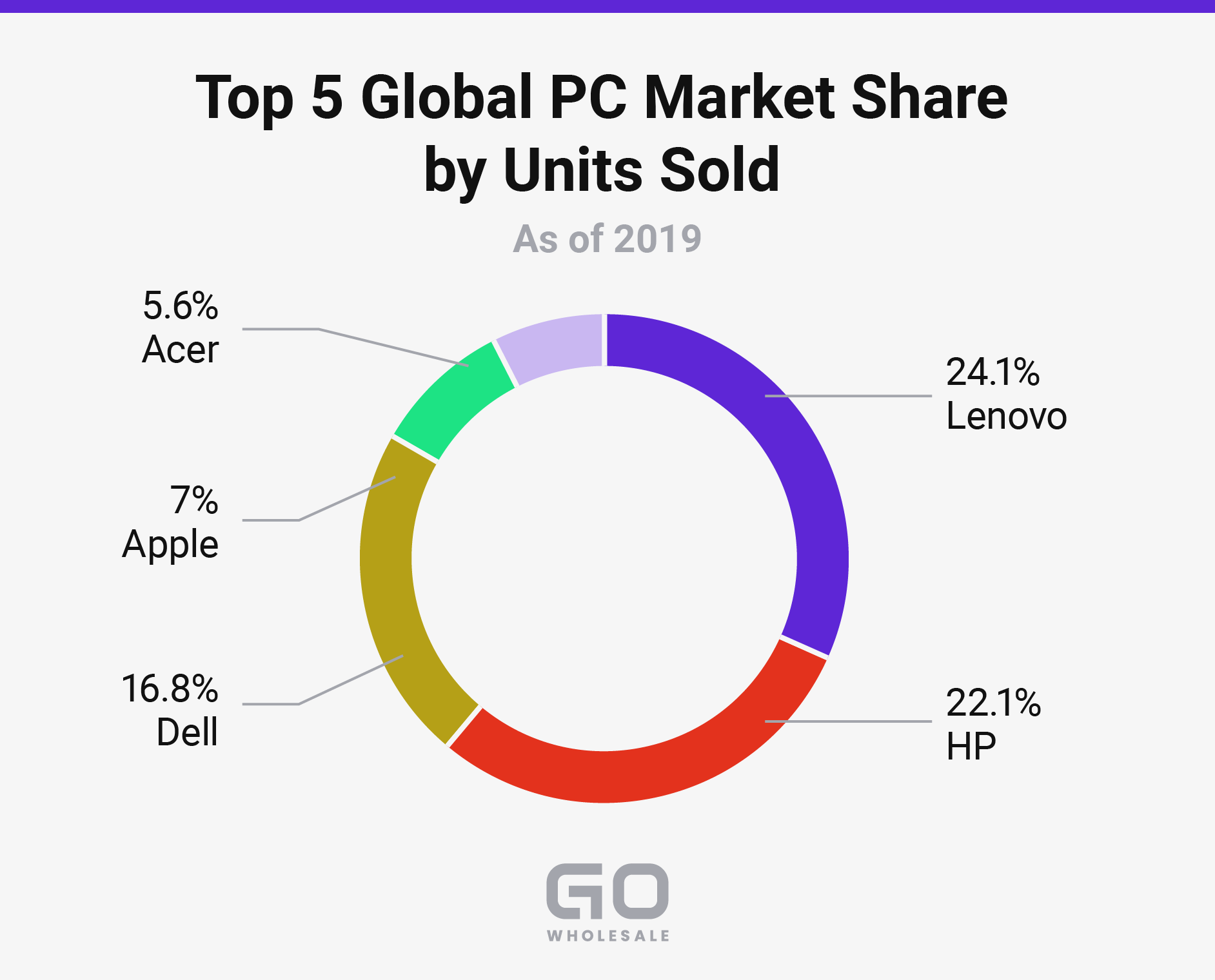 The global refurbished desktop PC market is in very good health. This outlook is forecast to continue over the next few years. According to Transparency Market Research, the market is set to be worth $4.9 billion by 2027 – a compound annual growth rate (CAGR) of 11% from 2019 in both Europe and North America.
Several factors contribute to this astonishing growth, from government and corporate policies to tackle e-waste to increased demand from IT and ITEC companies looking for affordable, more environmentally friendly ways of sourcing desktops instead of buying new. With refurbished PCs on sale for up to 40% lower than the price of new units, the market is flourishing and set to grow through the end of the decade.
Reasons For The Growth in Refurbished PC Demand
There are several factors at play in the growth in demand for refurbished PCs, the first among them being price. Both businesses and personal users are tightening their belts after facing the uncertainty of a worldwide pandemic. Refurbished PC computers are sold for much lower prices (in most cases 25% to 40% lower) than new units. You get the same product, with the same performance at a discounted price.
A second factor is the direct effects of the pandemic. As countries across the world went into lockdown, demand for home computers soared as more and more people found themselves forced to work or continue their education from home. With supply chains disrupted, major manufacturers had difficulties keeping up with demand. So, many customers started turning – and are still turning – to the secondary market to secure PCs.
Thirdly, the market for refurbished computers is much more trustworthy than it used to be. Online marketplaces such as Amazon Renewed, eBay and goWholesale have forced sellers to maintain a higher listing standard and provide more accurate details on the condition of their products or risk being removed from these lucrative platforms.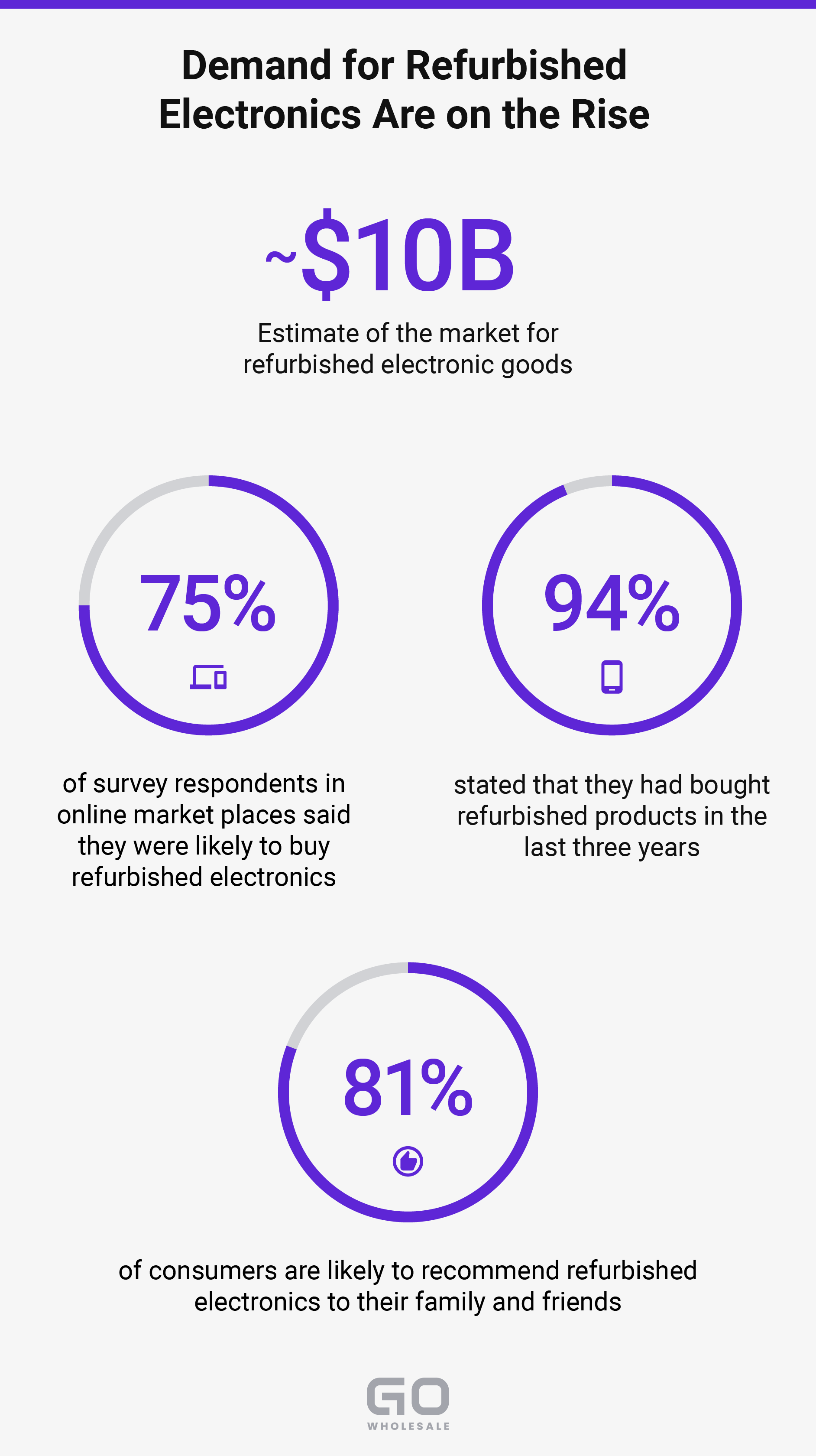 Finally, another important factor has been the environmental impact of new consumer electronics. Nowadays, both businesses and personal users are much more concerned about their carbon footprints and the impact they're having on a changing world. Buying refurbished computers is more environmentally friendly than buying brand new machines, and a lot more people are waking up to this fact. For resellers, highlighting the environmental credentials of the machines you sell is definitely something to shout about as more and more customers demand the products they buy literally don't cost the Earth.
What Desktop Computer Manufacturers Should Resellers Stock Up On?
When it comes to what computer manufacturers' resellers should be looking out for, the best rule of thumb is to go for what the customer is looking for: names they've heard of, names they've bought before, and names they trust. According to Wikipedia, the top six global vendors of desktop computers are Lenovo, HP, Dell, Apple, Asus, and Acer, with Lenovo commanding the number one spot with a 24.9% share of the global market. To that list can also be added Toshiba, Sony, Samsung, Google, Microsoft, and Alienware.
Resellers that are trying out a new market should spread their bets when buying refurbished PCs to reach the largest number of customers - at least at first, in order to test the market to find out what sells best for you.
This means adding to your inventory low, mid, and high-priced machines to appeal to a whole range of customers. This includes customers who can afford a high-end gaming machine, customers who want a reliable workhorse, as well as those who are shopping for a desktop on a budget.
A good source when looking for which desktop computers to source for your business is to check out the top seller lists on eBay and Amazon and independent review websites' top ten lists. Chances are, consumers are also using these reviews and top lists to make purchasing decisions. You should too.
Where To Buy Wholesale PCs
But where exactly should you be sourcing wholesale PCs to ensure you have a steady and reliable supply of merchandise sold for a low enough price to ensure maximum profits? You'll want a wholesale marketplace with a certified refurbished standard that meets the same quality levels as the original manufacturer; one that sells all the major brands and gives you the greatest flexibility and openness on pricing. The answer is goWholesale.
A Huge Range Of Refurbished PCs To Choose From
You'll find a massive range of new and refurbished computers on our online marketplace from all the big-name manufacturers. Using our price history tool buyers can make informed decisions about current market prices and trends - if you like the current price, buy immediately, if not place a bid with your own price, and wait to see if a seller agrees to it.
All of refurbished computers on our marketplace have been rigorously tested, including visual, hardware and software testing, data wiping, sanitizing, accessorizing, and packaging to ensure they are 'retail ready' when you buy.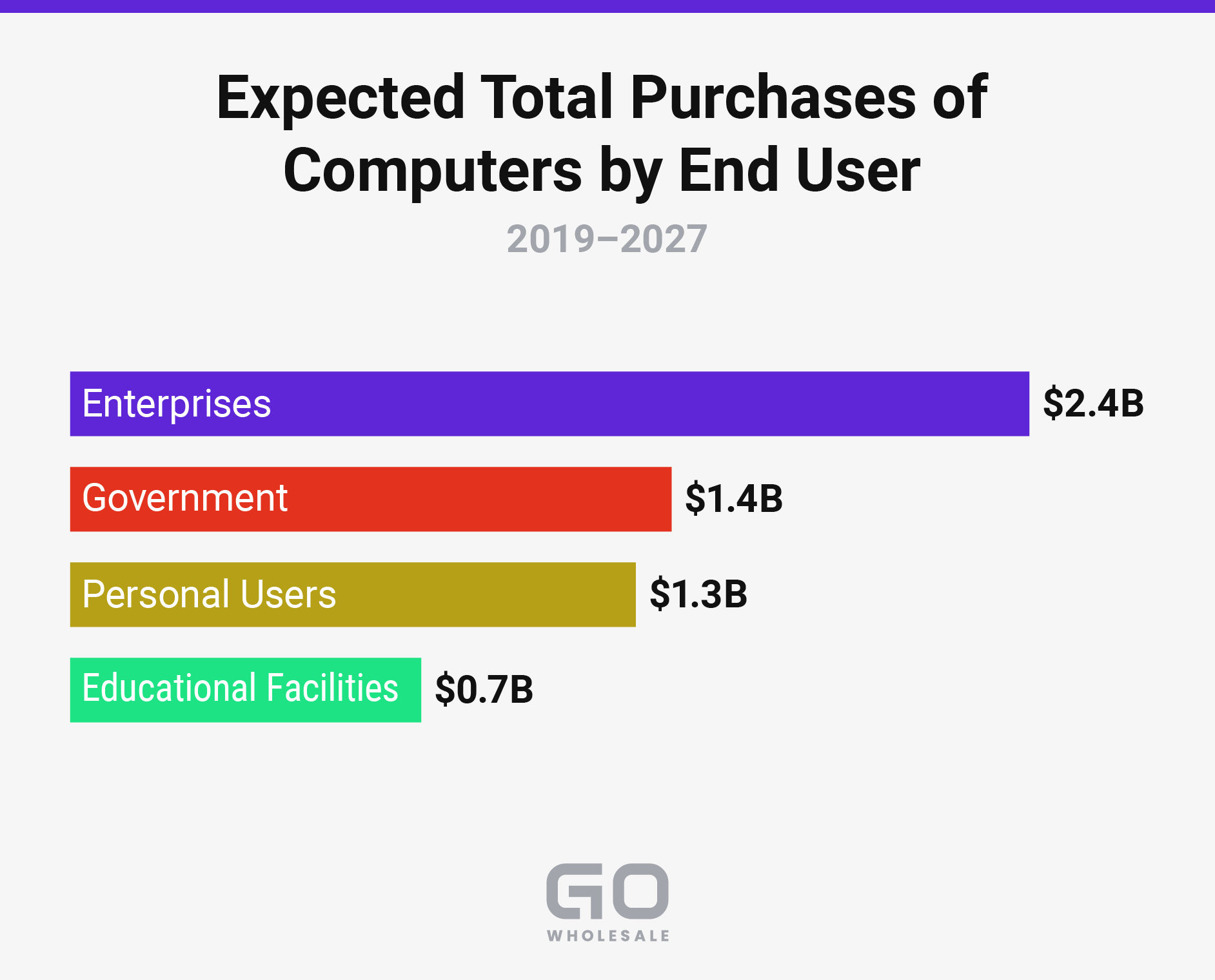 goWholesale's merchandise is categorized as follows:
Brand New - factory sealed - this is brand-new, never-opened merchandise, with its original factory shrink-wrapping.
Brand New - open box - this is brand-new merchandise that has never been used. However, the packaging may be original or a suitable replacement. No factory shrink wrapping is present.
Certified Refurbished - these computers are rigorously tested and certified like new with the same standards applied as the original manufacturer. Units will be fully functional with no cosmetic defects or signs of wear. Units are fully accessorized and packaged retail ready with either the original box or a new suitable replacement.
Refurbished - scratch and dent - these computers are rigorously tested and certified to work like new with the same standards applied as the original manufacturer. Units will be fully functional but will have noticeable cosmetic defects or signs of wear. Units are fully accessorized and packaged retail ready with either the original box or a new suitable replacement.
All new and refurbished merchandise is sold with a 90-day goWholesale warranty so in the unlikely event something does go wrong, you can return it in exchange for a replacement or a refund.
Buying Refurbished PCs From goWholesale
Buying refurbished computers from goWholesale has three main advantages.
You can mix and match any combination of desktop computers and/or other electronics categories to build an order. A graphic showing you what percentage of space is left as you fill your box or pallet will help you maximize space-use and per unit costs on shipping.
goWholesale provides you with the full price history of all items in graph form. You can see the price trend and the current market price for the item, not some out of date retail price.
Buyers have several options. They can automatically accept the lowest current ask price offered by a seller to create an order instantly. Alternatively, they can submit a bid price and see if a seller agrees to match their bid giving you complete control over your acquisition costs.
The global demand for refurbished computers is growing rapidly and is expected to continue to grow for the next decade. As a reseller, this is a market you will want to tap into. To do so, you need to source desktop PCs in wholesale quantities.
The global refurbished computer market is flourishing, and resellers looking to take advantage of the opportunities available need to get their hands on the best quality stock at the lowest prices. As a wholesale B2B marketplace we're looking forward to helping your business maximize its profit potential. When our customers succeed so do we, so if you're on the lookout for retail-ready refurbished desktop computers sold at wholesale prices, check out what goWholesale can do for your business today.