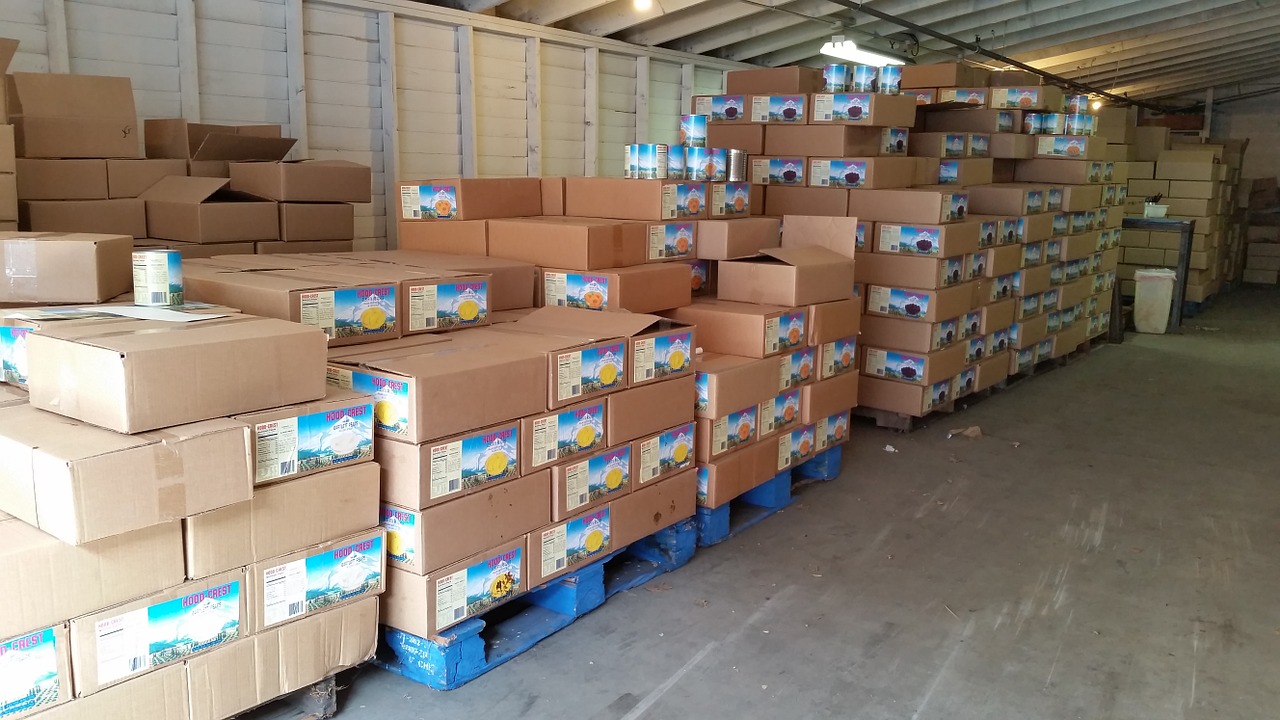 We recommend only sourcing brand-new items when looking to sell electronics on Amazon as a new seller. The reason for this is simple: It's very difficult to sell used or refurbished electronics through their platform, unless you have experience and tens of thousands of dollars of sales in your business' history. In order to sell Apple products we're talking about an order history of at least $2.5 million dollars. If you think you qualify, continue reading, otherwise check out our listings of new electronics.
Due to the coronavirus pandemic, the year 2020 has brought a shift in consumer behaviour and demand, with more buyers looking for affordable electronics.
Many sellers have spotted this new opportunity, but sourcing the merchandise to meet this demand requires new thinking and a new approach. Sellers who have mostly dealt with brand new merchandise until now and new sellers, are likely to need guidance on where to source refurbished electronics to stock their stores.
In this article, we will look at the remarkable recent growth of the refurbished electronics market. We will also look at the requirements you will need to fulfill to sell refurbished merchandise on Amazon and where to source refurbished electronics online.
Cost-conscious buyers are turning to refurbished electronics. Demand is growing, and this is a great opportunity for sellers.
Amazon is a great place to resell refurbished merchandise but has a high-quality standard in place. To sell on Amazon Renewed, you first need to meet the requirements to qualify.
Sourcing refurbished electronics through GO Wholesale can help you meet Amazon Renewed requirements.
Buying from GO Wholesale is as easy and convenient as buying from any other major eCommerce platform.
The Rise of the Refurbished Electronics Market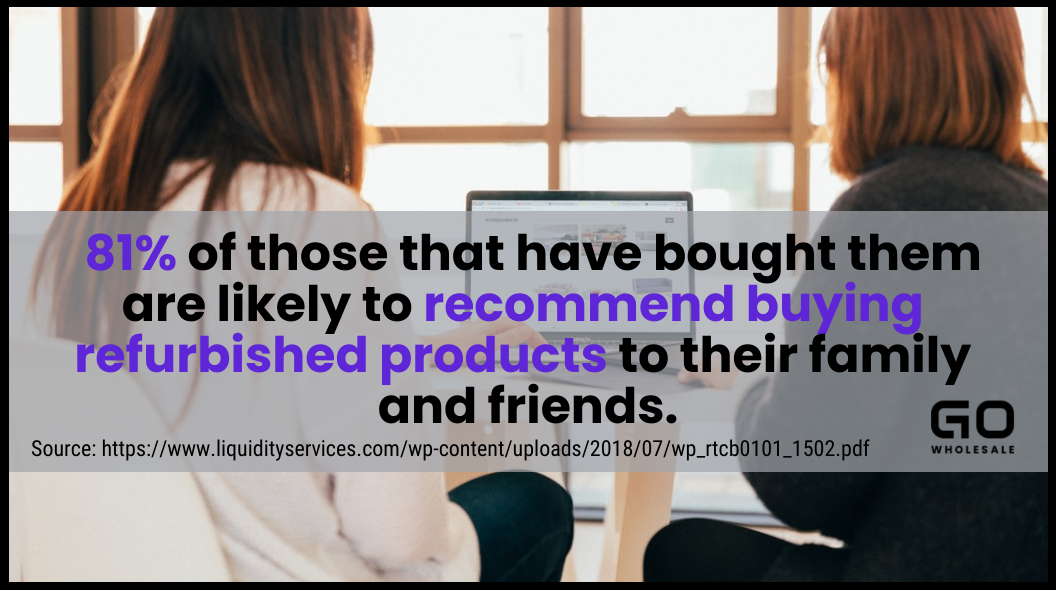 The year 2020 has been memorable in many negative ways, with the Covid-19 pandemic affecting every aspect of our lives. However, there was a part of the retail industry that saw its numbers increase over this period. Major retailers saw their online sales rocket over the year, with the latest data currently available showing Amazon recording a 37 percent jump in third-quarter net sales, reaching $96.1 billion. Target reported a 155 percent jump in its digital sales during the period, while Walmart posted a U.S. eCommerce sales rise of 79 percent.
People have been urged to stay at home, and many have taken their business with them, working and buying online. Demand jumped, and the supply could barely follow.
This created a strain on the market as brand new merchandise was being snapped up quickly, and a number of stores ran out of stock. Buyers on tighter budgets were left stranded as they could not use their old models in part exchange for newer ones as the stores were out of stock. More cost-conscious buyers were not letting go of the units they purchased previously; even though these were older and may have issues, they'd rather repair them than spend money on an upgrade.
This pushed the refurbished electronics market into the spotlight. With the demand for refurbished electronics jumping, these sellers saw an opportunity and shifted their focus onto that market. But can you cash in on reselling refurbished electronics on Amazon, and where do you find such merchandise?
Selling Refurbished and Pre-Owned Merchandise on Amazon
Amazon's eCommerce platform has built its reputation on the variety and quality of the merchandise it sells. However, refurbished electronics don't fall into the same category as brand new merchandise.
Amazon has launched its own program for sellers to list and sell refurbished and pre-owned products, called Amazon Renewed. There are several categories of merchandise you can sell on Amazon Renewed. These include automotive parts and mobile phones, computers, tablets to kitchen appliances, power tools, TVs, cameras, and video game consoles, among others.
However, to sell on Amazon Renewed, you have to meet certain requirements. Amazon requires you to provide a supply invoice of at least $50,000 in value for qualifying refurbished merchandise. The invoice has to be within the 90-day period before your application. For categories such as Home, Tools or Lawn, Garden, and Kitchen, sellers have a 180-day period to compile $50,000 in qualifying refurbished purchases.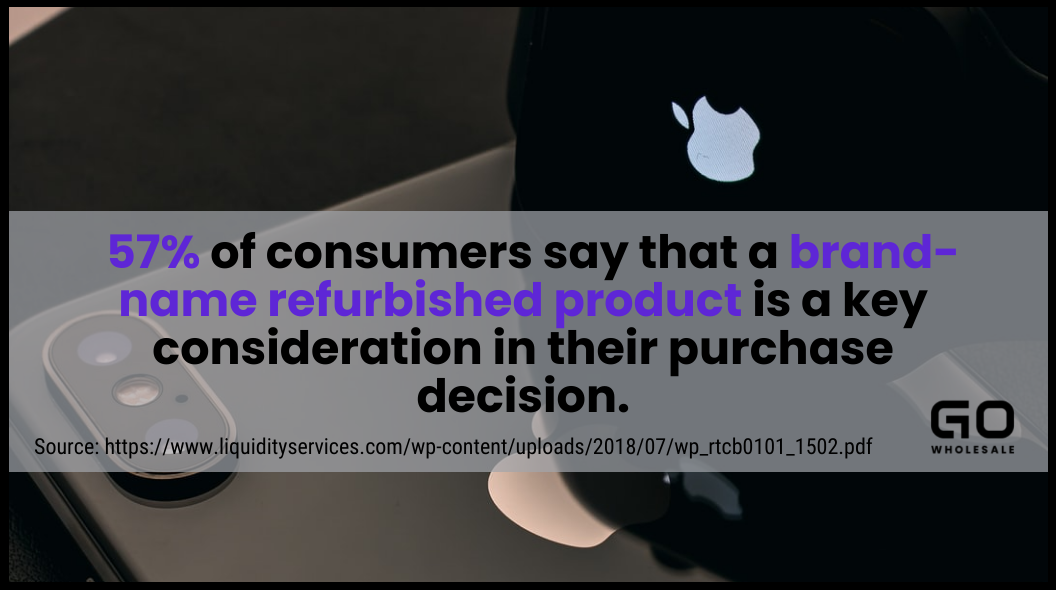 You may also choose to show an invoice for either $50,000 in value or 500 refurbished units. However, when opting for units, those with a price tag below $15 will be taken out of the account. As an existing Amazon seller, you must have an order defect rate (ODR) of 0.8 percent most over the trailing 90 days. This means less than 1 in 125 complaint rate due to product condition.
If you are looking to list factory-refurbished merchandise without a manufacturer warranty, you need special permission from Amazon. The process of getting permission includes submitting a minimum of eight photos of a sample unit for Amazon to perform a product and packaging review.
All of this ensures that only products of good quality and in good condition are sold through Amazon Renewed. Products listed on Amazon Renewed have gone through diagnostic tests, defective parts have been repaired or replaced, the units have been cleaned thoroughly and repackaged, and come with all the relevant accessories as well as the Amazon Renewed Guarantee. The Amazon Renewed Guarantee is actually seller-backed as your business is responsible for all the claims under the guarantee period.
Additionally, if you are dealing with Apple products, you are required to provide invoices totaling at least $2.5 million of Apple refurbished products dated within the 90 days prior to your application.
Many sellers may not have the budget for this endeavor. But if you do, your main question now is where to source the inventory. Let us now look at that aspect too.
Sourcing Refurbished Electronics To Sell on Amazon
With such strict Amazon requirements, you cannot simply go and buy the first lot of refurbished electronics you find. You need a company that works with the big retailers and refurbishes their products to a highly specified standard.
GO Wholesale is a platform that specializes in reselling refurbished electronics sourced from major market players it has established connections with. If your main goal is to find the required amount of merchandise to qualify for an Amazon Renewed permit as well as the right quality of merchandise at an affordable price, GO Wholesale could be the right choice for your business. GO Wholesale provides all of this with an additional 90-day guarantee on every product.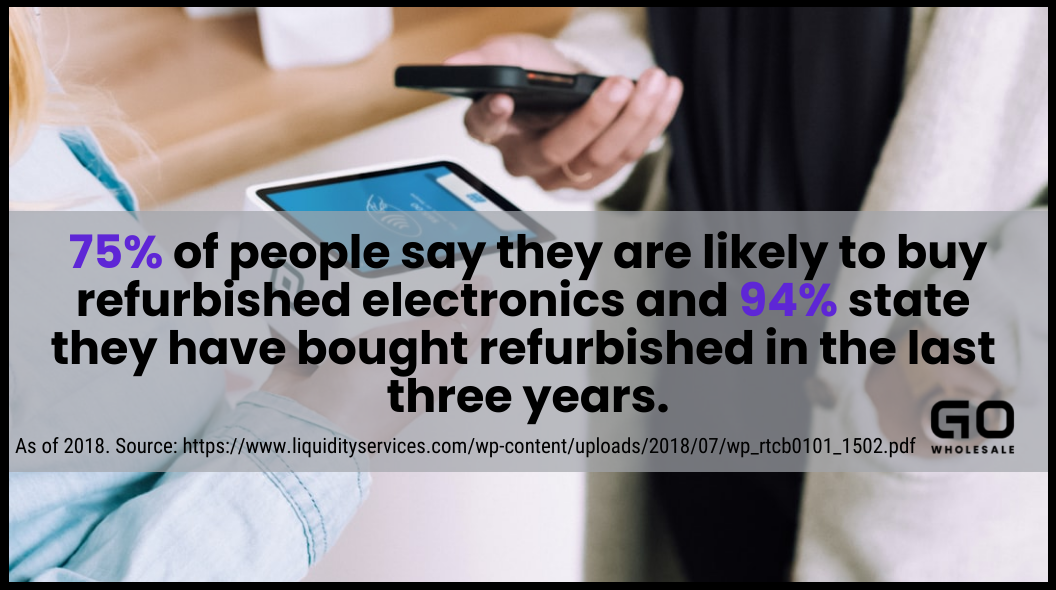 The Benefits of Buying Refurbished Electronics at GO Wholesale
At GO Wholesale, you will be buying merchandise at affordable wholesale prices, and there are no lower limits to how much you can order. The larger the order, the higher the discount, improving the profit margin for each item.
But there are plenty more benefits to buying from GO Wholesale. At GO Wholesale, you will find a great variety of brands at your disposal, including Samsung, Apple, Sony, Nintendo, Dell, and many others. You will also find a great variety of electronics, from laptops to smartphones and wearables.
Another advantage is that GO Wholesale also sells brand new merchandise. This means that your overall sourcing experience has just become a lot more convenient as you can stock up your refurbished electronics store on Amazon, as well as your regular store on Amazon.
When it comes to the all-important quality requirements of Amazon Renewed, there is nothing to worry about when sourcing from GO Wholesale. GO Wholesale carries out the refurbishment process in-house to the highest standard. However, it is advisable that you familiarize yourself with GO Wholesale's grading system in order to make sure your products fit Amazon's requirements.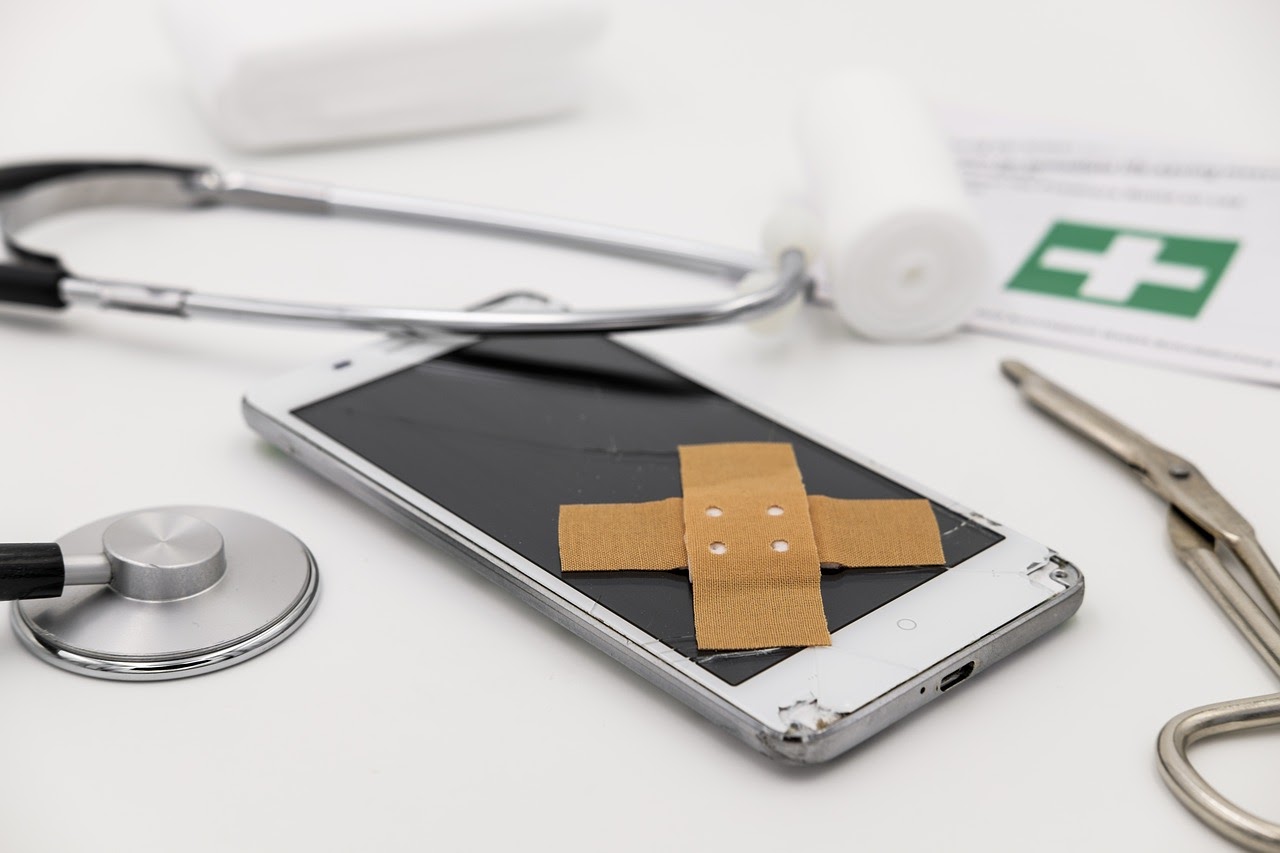 Some Tips for Selling your Refurbished Electronics
These tips are geared to your sales process after being accepted into the Amazon Renewed program.
You will be required to provide photographic proof of sample units to Amazon during the approval process. You are required to provide at least eight high-quality images that include the packaging in which you will ship the product, the inside packaging and padding, product from the top, bottom and all four sides. Now, if these images are good enough for you to pass Amazon's strict review, they will certainly be good enough for your buyers. So you can use the same photos for selling your products.
When taking your own photos, you should highlight your products' features, add as many photos as you can to show your buyers all the details and minimize the potential for returns. Take photos of the unit against a solid background. Make sure that each unit you are photographing fills the frame and you have covered multiple angles. If Amazon allows you to sell products with certain blemishes, make sure not to hide them. Be honest with your customers.
The same goes for the descriptions. Be honest in detail. Highlight the features of the unit, but don't neglect to point out blemishes that may not be fully visible in the photos. Buyers will appreciate the honesty and will know what to expect from the product.
Our last piece of advice is to communicate with your customer base, whether they are buying your brand new items or through your Amazon Renewed storefront. Follow up with questions, see whether the customers are satisfied with the units they have received and with the whole purchase experience. See what you can do within Amazon's platform that could enhance their buying experience.
It is often said that a happy customer is a returning customer. Customers satisfied with refurbished units are more likely to recommend these products to their family and friends. Who wouldn't, if you can get something like the best-selling high-end iPhone 11 for a price of a brand new mid-tier smartphone?