Sony PS4 Wholesalers: Why Buy Refurbished Inventory?
---
The Sony PlayStation 4 has proved to have remarkable lasting power. New units are still selling in high numbers despite the console's successor, the PlayStation 5, having been released in 2020. Worldwide, the PS4 has sold a whopping 114 million units over the course of its lifespan, making it the second-best-selling console of all time after the PlayStation 2.
For resellers of consumer electronics, is the PlayStation 4 worth investing in? While sales of brand new Sony PlayStation 4 units may inevitably start to slow over time as more and more gamers turn their attention to the console's successor, there are still plenty of customers out there wanting to get their hands on a Sony PS4, especially since Sony announced it is no longer planning to manufacture it. Eventually, people who want a PS4 will have no choice but to either hunt down one of the last remaining brand-new units or turn to the secondary markets for used or refurbished units.
The Refurbished Sony PlayStation 4 Market
The ongoing popularity of the PlayStation 4 can be seen in the fact that sales of new units are still going strong, with an additional 7.2 million consoles sold in the last year. This made it the second best-selling console last year, behind the all-conquering Nintendo Switch. The Xbox One, as usual, trailed far behind. To date, Microsoft's console has sold 48.9 million units over the course of its eight-year lifespan.
The secondhand and refurbished market is also flourishing, especially during a pandemic that has seen many people stuck at home with time on their hands. There has always been a healthy secondary market for consoles dating back to the Nintendo Entertainment System, but with the rise of online marketplaces such as eBay and Amazon and a host of other outlets both on and offline, the market is now bigger than ever before.
Prices for refurbished Sony PlayStation 4s vary widely. From a consumer standpoint, it's best to shop around and do some research. For resellers wanting to know what to charge for refurbished original, slim and Pro models, eBay is a good pricing guide.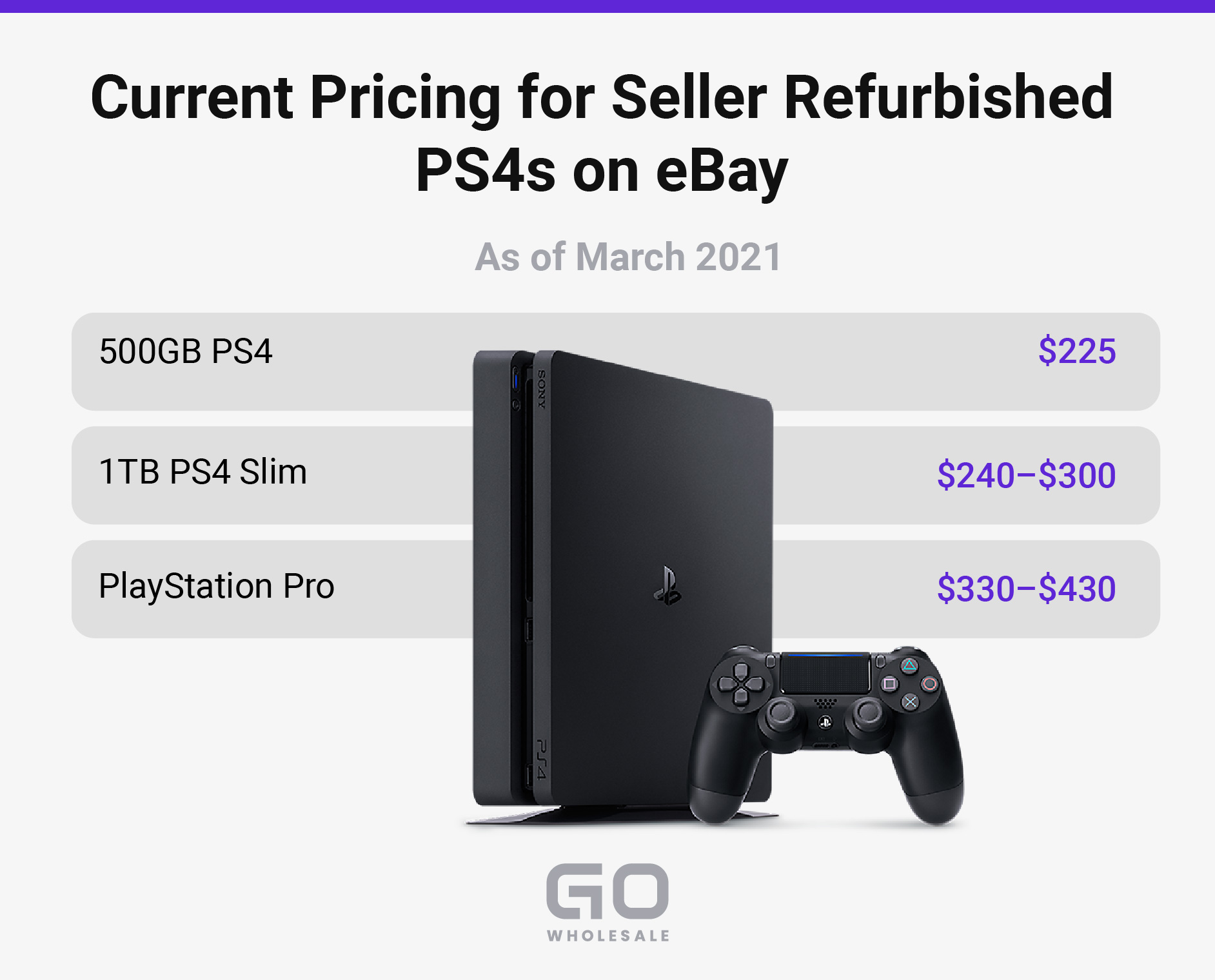 As of March 2021, an original refurbished 500 GB PlayStation 4 can typically be picked up on eBay for $225. A 1TB PS4 slim can typically be sold in the region of $240-$300. Finally, the most powerful model, the PlayStation Pro, can be sold 'seller refurbished' or 'certified refurbished' on eBay from anywhere between $330-$430, with special edition models such as the limited-edition Spider-Man Pro issued to coincide with the release of the 2018 game of the same name being sold for even higher.
When it comes to PS4 accessories, prices really do vary a lot. This is because so many editions of accessories have been issued over the years. Therefore, rarity and desirability affect the prices resellers can expect to charge for them.
Here's a rundown of what resellers can typically expect to charge for basic accessories. For limited edition prices, it's best to do some hunting around various online retailers to arrive at a best price.
Refurbished DualShock Controller - $30-$80; though some controllers can be as high as $185, such as the Monster Hunter: World Liolaeus special edition.
Refurbished / Pre-Owned Gold Wireless Headset - $80-$100.
Refurbished / Pre-Owned Platinum Wireless Headset - $70-$180.
Refurbished PS4 Camera - $80-$100.
Prices sourced from eBay searches, March, 2021.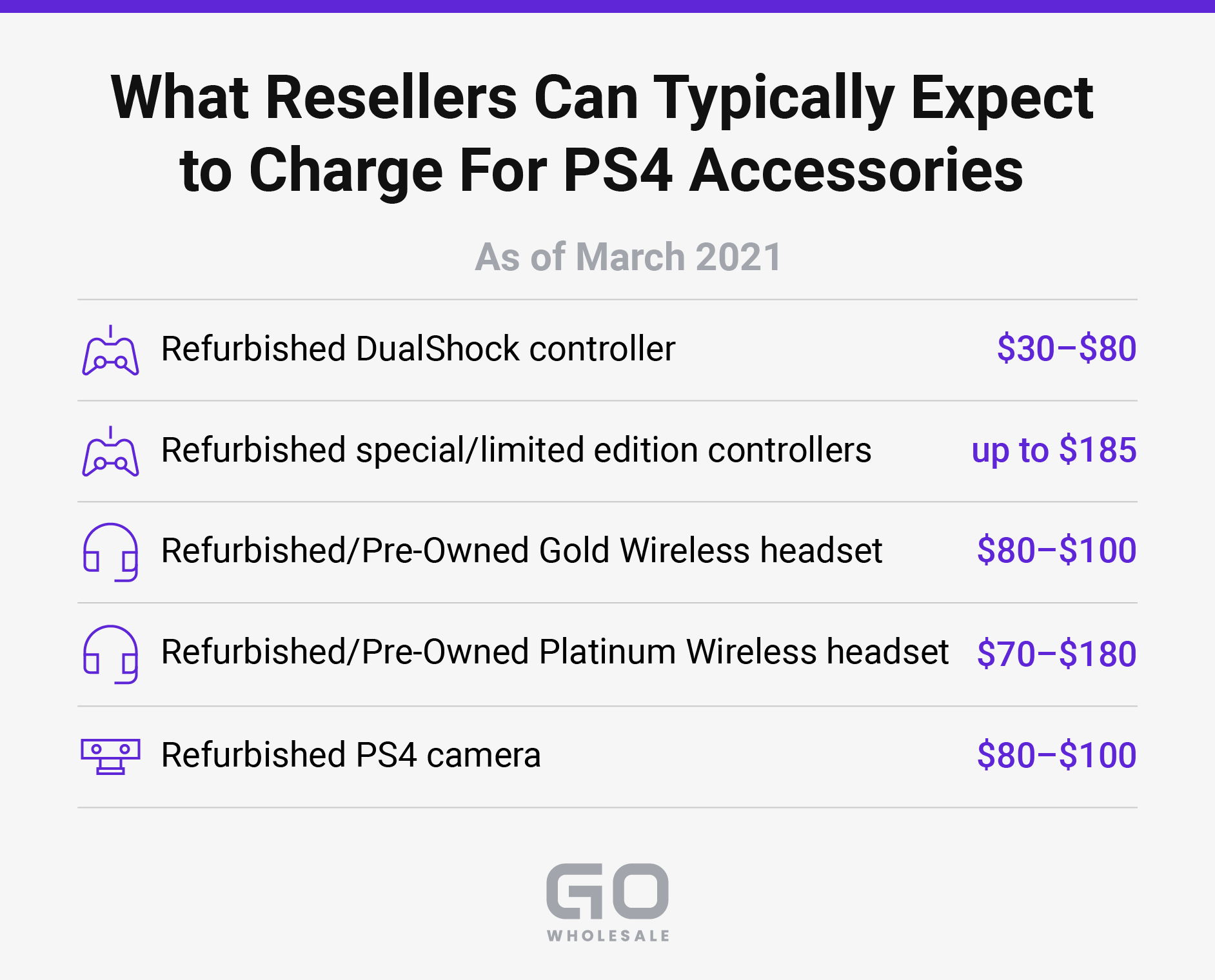 Sony recently announced that it is ceasing production of all PS4 models, except the basic 500GB PS4 slim base model, as it tries to clear the manufacturing backlog caused by massive worldwide demand for the PS5. Therefore, many of these items, particularly the limited editions will become rarer and harder to source in the coming years. This can potentially drive some of the prices listed above higher depending on model and rarity.
For resellers, this means more and more customers who still wish to acquire working PS4s will have to turn to the secondary markets for used and refurbished units. Therefore, there has been no better time to stock up on these still highly desirable consoles, especially as the availability of new PS4s dries up and competition for the few remaining new models rise.
Selling Refurbished PlayStation 4's and Accessories
There are plenty of outlets where you can sell refurbished PS4s both on and offline. Online, there are the two big players in online sales – Amazon and eBay. While it's relatively simple to sell refurbished PS4s through eBay either via your own store or as an individual seller, selling them on Amazon is a little more complicated.
Amazon requires you to sell any refurbished items in your inventory via Amazon Renewed and to do that you'll either need to be an already established Amazon seller with an ODR (Order Defect Rate) of 0.8% or less. Additionally, you'll have to prove to Amazon that you've sold $50,000 of refurbished goods in the last 90 days. For higher volume resellers or those with an established presence on the site, this shouldn't be a problem. However, for other online resellers eBay might be a better bet than Amazon.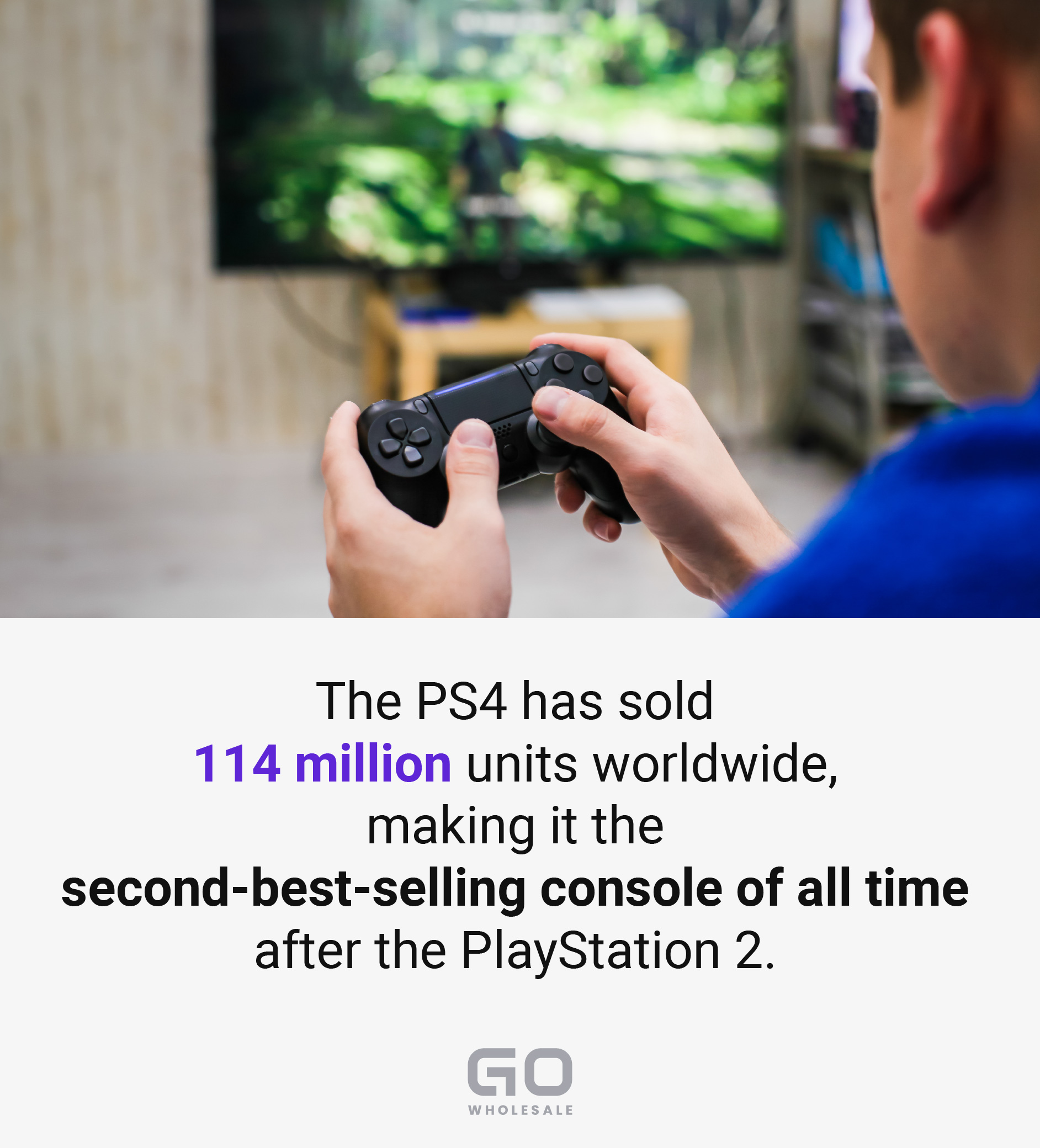 With the advent of 'seller refurbished' and 'certified refurbished' labels attached to products, customers have much more confidence in buying refurbished products from the site than they did before. eBay puts up no barriers to selling refurbished PS4s and accessories on its marketplace, under the 'seller refurbished category'.
You can sell on eBay as an individual seller or through your own store, which has a staggered subscription charge attached depending on how much you sell on the site and how much you want out of the experience. For most resellers, a subscription-based store is the way to go as it offers many benefits over being an individual seller.
Outside of the two main online marketplaces, opportunities for selling refurbished PS4s and accessories are abundant. Many resellers now like to take a multi-channel approach to online sales, selling not only through their stores on Amazon and eBay but also through their own websites, running eCommerce software such as Shopify, BigCommerce and Magento and through social media sites such as Facebook Marketplace.
Some even make use of online classifieds sites such as Craigslist. Locally-focused listings sites have the added bonus that most customers come and pick their purchases up from the seller, cutting out postage, and related shipping costs which can eat into profits.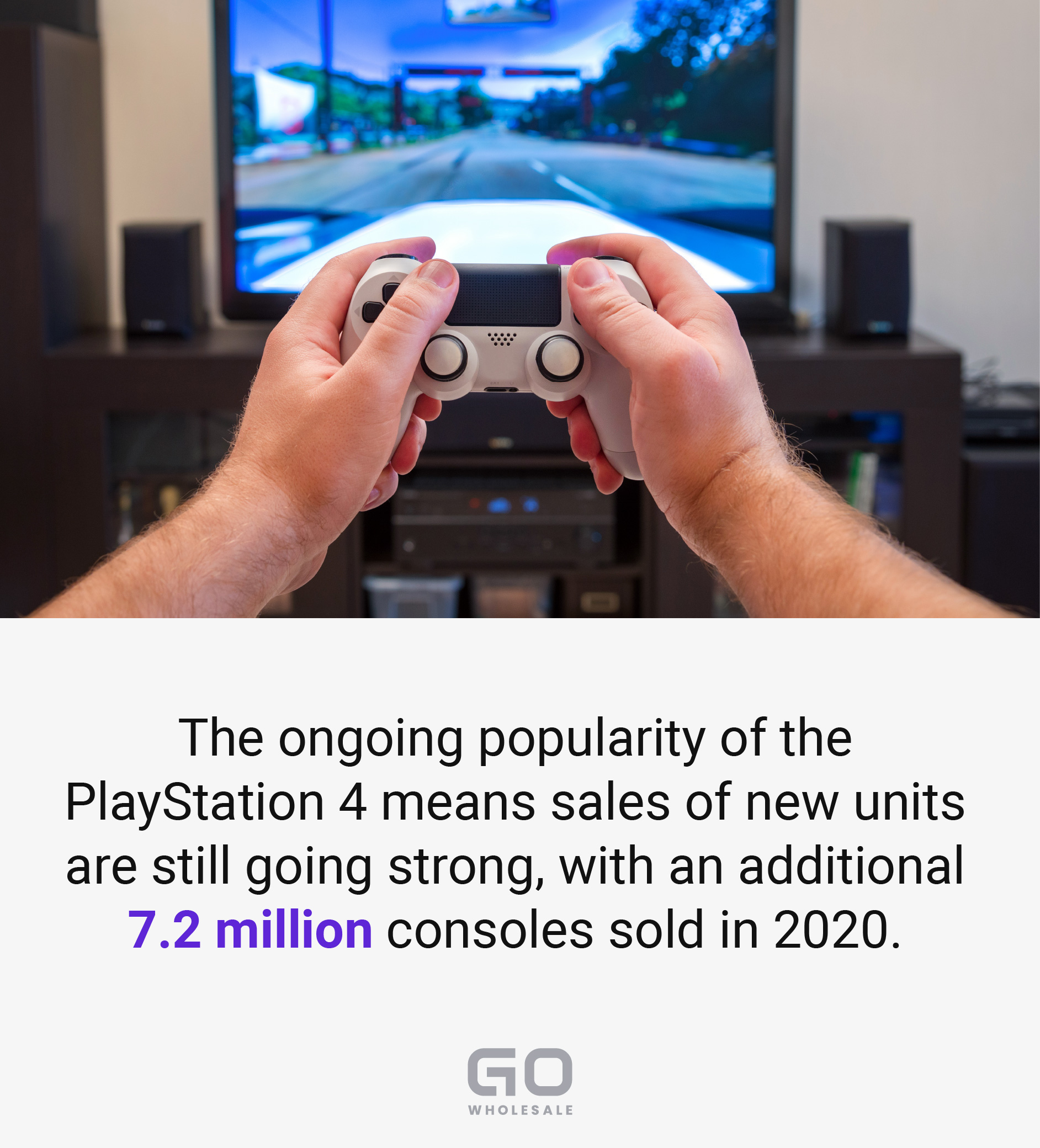 Outside online markets, there are plenty of opportunities to sell refurbished PS4s such as through local classifieds, at flea markets and through your own retail store, should you happen to have one. Refurbished Sony PS4s come in a variety of cosmetic conditions which reflect their price. Flea markets in particular are a great place to sell refurbished PS4s that have been graded lower for cosmetic condition to customers on tighter budgets and bargain hunters. The same applies to Craigslist, local classifieds and Facebook Marketplace in particular.
A Note on Sourcing Refurbished PS4s
goWholesale is the perfect place to source not only refurbished PS4s, but also new and refurbished consoles and accessories. This includes new and refurbished Xbox Ones, Nintendo consoles such as the Wii U and the Switch, and controllers, headsets and other peripherals to enhance the gaming experience, as well as a wide range of PS4, Xbox and Nintendo games