How to Buy Wholesale Cell Phones Online to Resell
---
There are ample opportunities for businesses selling cell phones going forward from 2021. In this guide we will explain how to buy wholesale cell phones online.
The pandemic is thought largely to blame for a dip in cell phone sales in 2020. But with the worst effects of the pandemic behind us, new phone sales are predicted to reach 1.5 billion units worldwide in 2021, a year-on-year jump of 11.4%.
When it comes to the used phone market (both used models and refurbished phones) sales are expected to reach 351.6 million by 2024 - a compound annual growth rate of 11.2% between 2019 and 2024. Currently, the share of used cell phone sales of the US phone market is 24.4% in 2020, and the share looks to be similar this year.
Which Cell Phones Should You Buy Wholesale Online?
Below you can find a list of the best selling phones in the USA (2021), with their current retail price and the sort of figure resellers can expect to charge for refurbished models (taken from Amazon renewed sales figures as of 12th November, 2021):
iPhone 12 (2020-present): $799 new / $575 refurbished
iPhone 12 Pro Max (2020-present): $1099 / $745 refurbished
iPhone 12 Pro (2020-present): $999 new / $635 refurbished
iPhone 11 (2019-2020): $599 (reduced) / $350 refurbished
Redmi 9A (2020): $115 new / $62 refurbished
Redmi 9 (2020): $125 new / $94 refurbished
Samsung Galaxy A21s (2020): $185 new / $125 refurbished
iPhone 13 Mini (2021): $699 new / $480 refurbished
Samsung Galaxy A31 (2020): $199 new / $147 refurbished
iPhone SE (2020-present): $399 new / $240 refurbished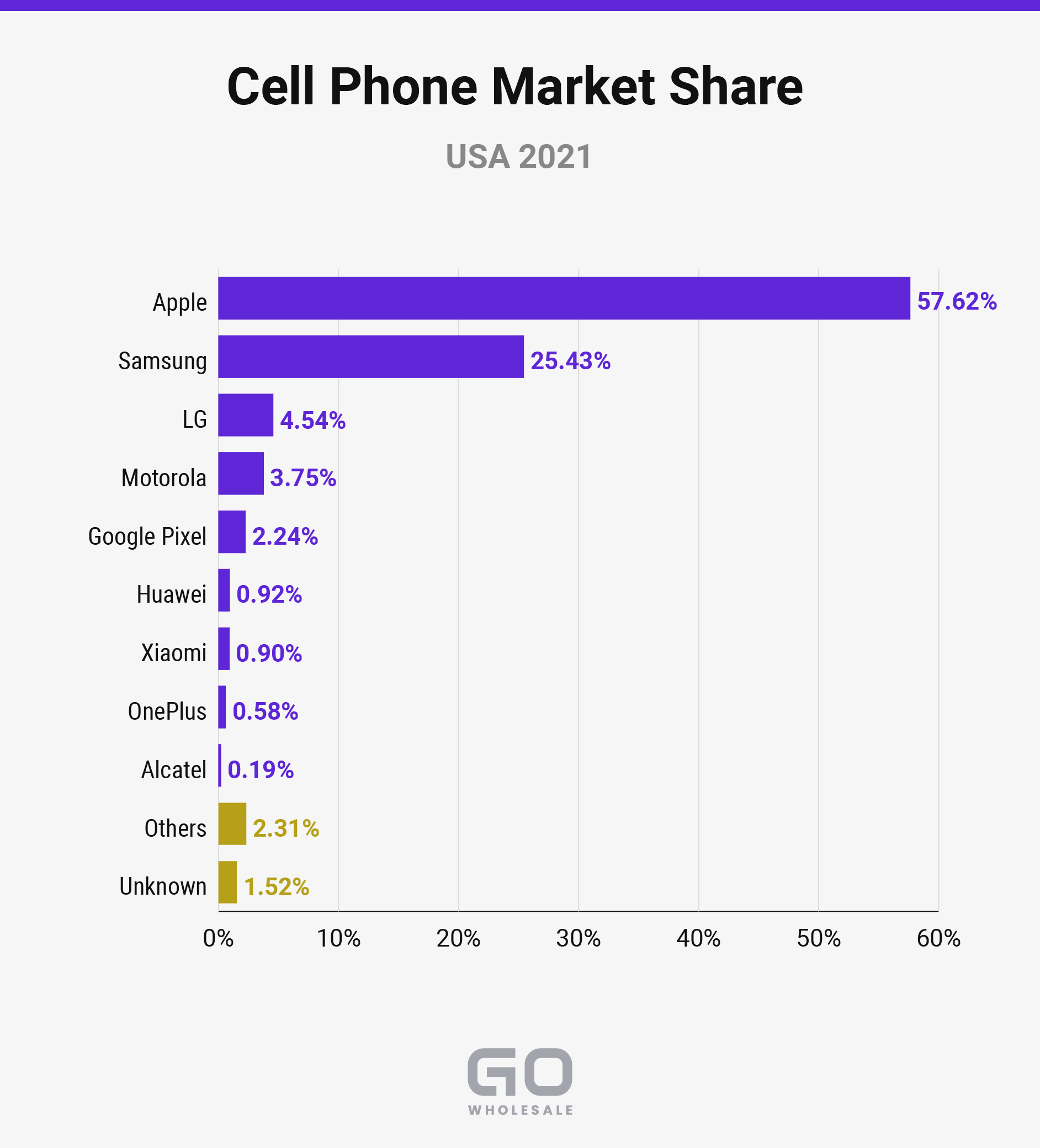 Source: mobilecellphonerepairing.com, 2021.
Apple remains the dominant player, with a good showing from Samsung and a surprise entry from Redmi, a subsidiary of Chinese electronics manufacturer Xiaomi. Specializing in budget cell phones, Redmi is fast gaining a reputation for producing good-quality smartphones for a fraction of the price customers can expect to pay for an Apple or Samsung model. Indeed, the company is even proving a serious rival to the Chinese smartphone giant, Huawei. For resellers, it is worth considering investing in Xiamoi's range of Redmi, alongside more expensive stalwarts such as Samsung's Galaxy and Apple's iPhone ranges.
As well as the best sellers in the States, you should also check out which cell phones are selling best on Amazon and eBay, as this will give you a deeper understanding of what customers and businesses want. In the case of Amazon, you'll find a mixture of old and new models from a number of manufacturers, as well as a few refurbished models sold under the 'Amazon Renewed' banner. These are the Amazon best sellers as of 12th November, 2021:
Apple iPhone 8 (64GB, 2017-2020): $699 new / $195 refurbished
Moto G Power (64GB, 2021): $180 new / $115 refurbished
Apple XR (64GB, 2018-2021): $499 new / $325 refurbished
Moto GT Stylus (2020): $250 new / $210 refurbished
Moto G Power (32GB, 2021): $169 new / $100 refurbished
eBay, meanwhile, has an entirely different list of best sellers as of 12th November, 2021:
Samsung Galaxy Z Fold3 (256GB, 2021): $1355 new / $850 refurbished
(32GB, 2019): $114.99 new / $90 refurbished
Samsung Galaxy S10+ (128GB, 2021): $360 new / $300 refurbished
LG Stylo 6 Boost (64GB, 2021): $270.00 new / $119 refurbished (LG Stylo 5)
Samsung Galaxy S10 (256GB, 2021): $399 new / $220 refurbished
When to Buy Wholesale Cell Phones Online
As a general rule, the two best times for sourcing new and refurbished phones are after a new model from one of the major manufacturers has been released, and February/March when retailers receive large volumes of holiday returns.
Budget-conscious customers prefer to wait it out for price drops. You can target this market by buying previous generation new and refurbished models close to these new-model release dates and after the holiday season.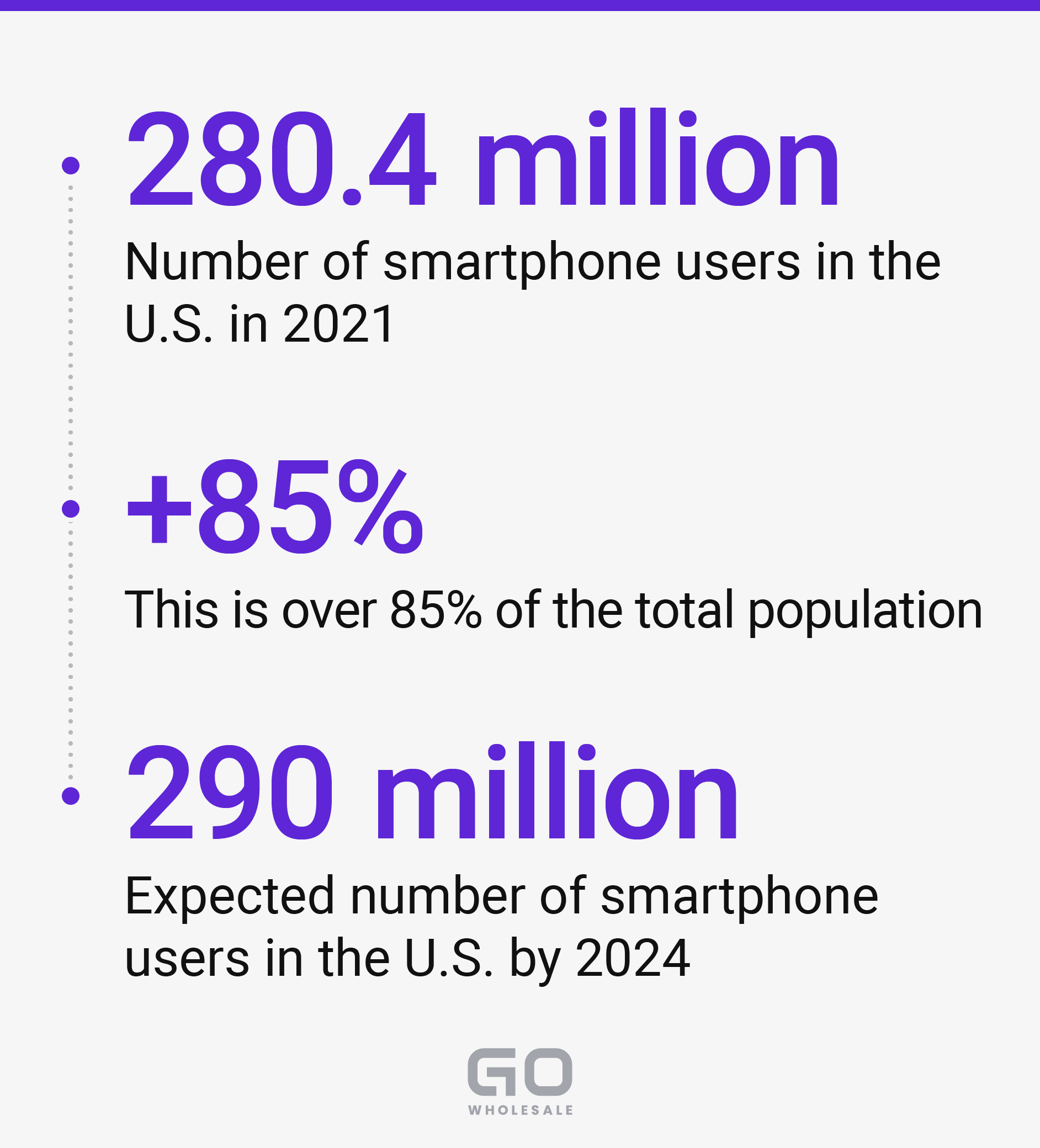 Source: Hosting Tribunal, 2021.
What are Refurbished Wholesale Cell Phones?
Refurbished cell phones have been tested to be at, or returned to, a 'like new' condition.The refurbishment is a four step process:
Each phone is thoroughly inspected and a test of its basic functionality is carried out.
Technical tests are performed to identify any faults with either the software or hardware. Like-for-like parts are replaced where necessary.
Each phone is carefully sanitized and the results of each refurbishment are verified with a comprehensive inspection report.
The phone is then repackaged and re-accessorized if required, ready for sale.
After being returned to manufacturers' specifications, the phones sold to business customers at a reduced price, usually with a warranty.
The used phones market is showing no signs of slowing down. Refurbished cell phones provide cost-effective alternatives to cost-conscious end users and businesses. More and more individuals choose refurbished phones. An annual compound growth rate of 11.2% is expected in the refurbished phone market by 2024.
Of course, there are still plenty of customers who would prefer to buy new models over refurbished phones. Indeed, some manufacturers have bounced back from the pandemic slump rather nicely, with sales up by as much as 28% in 2021. This is why resellers should consider both new and refurbished models to satisfy the needs of as many customers as possible.
Where to Buy Wholesale Cell Phones Online
Wholesale marketplaces are affordable, reliable sources of wholesale cell phones online. You might also find suppliers through Internet searches, directories and social media.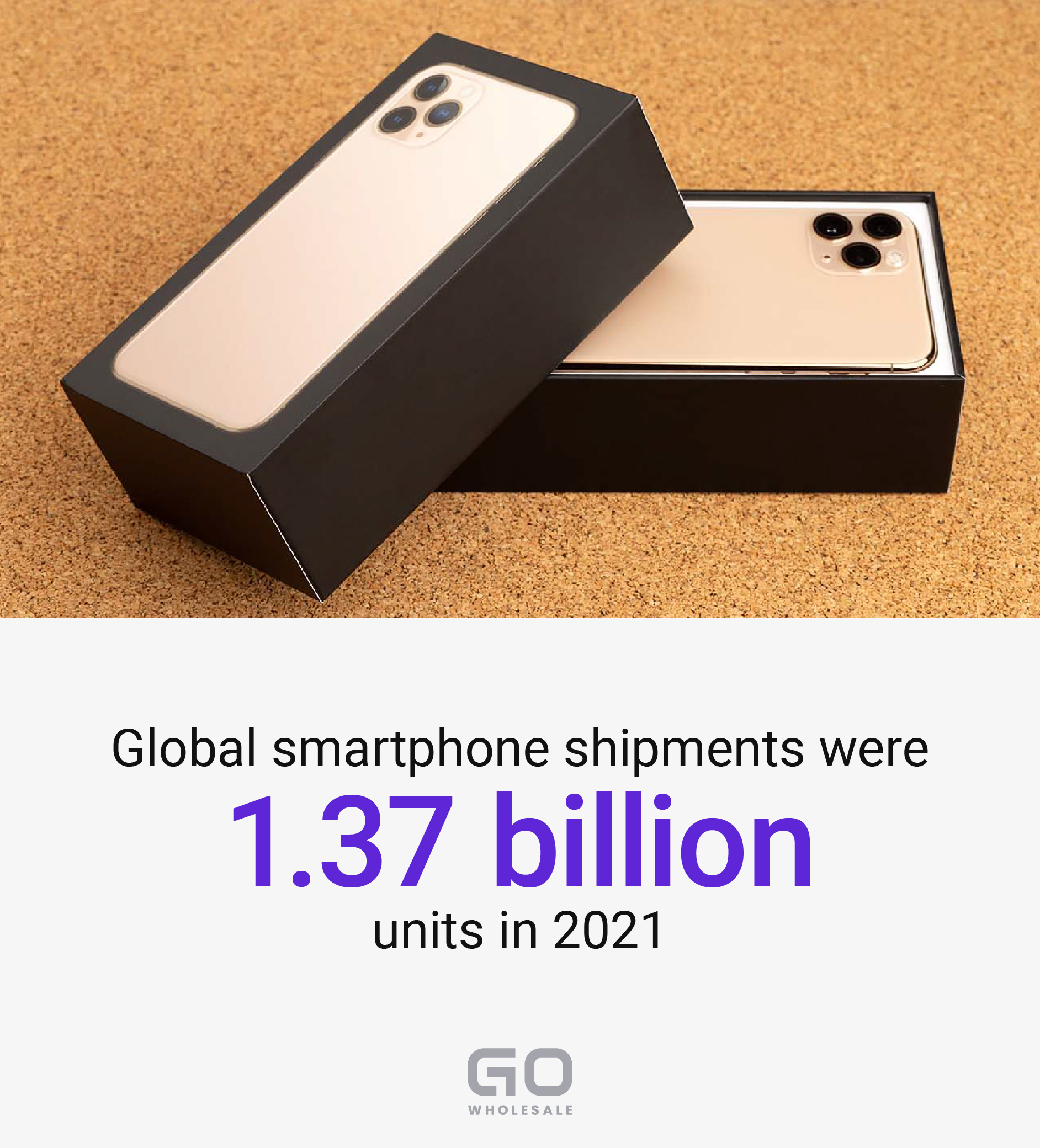 Source: IDC, 2021.
Finding Online Wholesalers Through Directories
You can also find wholesalers through directories. There are plenty of sites that will point you towards wholesalers selling products across a huge range of categories including cell phone wholesalers. Directories can prove very useful, especially if you're just starting out, as they concentrate suppliers in one easy-to-find place and provide a starting point to find your ideal source. One word of caution, however: some directories contain promoted content and you need to make sure they're not just recommending promoted suppliers in the guise of 'top picks'.
Finding Online Wholesalers Through Internet Searches
You can also find suitable wholesalers via Internet searches. The first results you'll get on a search engine will be paid content, which might not necessarily be the best source for you. Take your time to look through the results, bookmark a few that look like they'll be a good fit and then do some research to see what other business customers are saying about them. Customer reviews provide a great way of learning about what people really think of a business.
Finding Online Wholesalers Through Social Media
Social media platforms like Facebook and LinkedIn can be used to find and contact electronics wholesalers. Local Facebook reseller groups can be valuable sources of information, and places where you get in touch with wholesalers, and learn about reselling and sourcing. You can also use social media to parse the opinions of customers who have sourced from the wholesalers you might be considering.
As an example, over 1.6 billion people follow small businesses on the Facebook platform. Locally, two out of every three Facebook users visit the page of a business in their area at least once a week. Wholesalers have an incentive to sell through the site to take advantage of businesses in their local area, cutting down on costs such as shipping and attracting businesses who prefer to source locally.
You can also find wholesalers operating on Facebook Marketplace, offering discounted phones in bulk to business customers on one of the biggest online marketplaces on the planet with over a billion users every month.
What Are Online Wholesale Marketplaces?
Online wholesale marketplaces are websites where resellers can buy bulk orders of wholesale goods from a variety of sellers. These marketplaces all match up buyers and sellers of bulk merchandise, though will differ in the terms and types of seller and product available.
Choosing an Online Wholesale Marketplace
When looking to source wholesale cell phones, you should find one that specializes in selling wholesale electronics as opposed to a general wholesaler. The supplier should have a large range of new and refurbished phones at a competitive price on its marketplace, and it should allow for low enough minimum orders to meet the needs of your business, as well as offering affordable shipping options and discounts on large volume orders. It should also offer warranties on all the goods it sells, have a good reputation with past customers, and offer a clear refunds policy. Always choose a wholesaler with a verifiable physical address.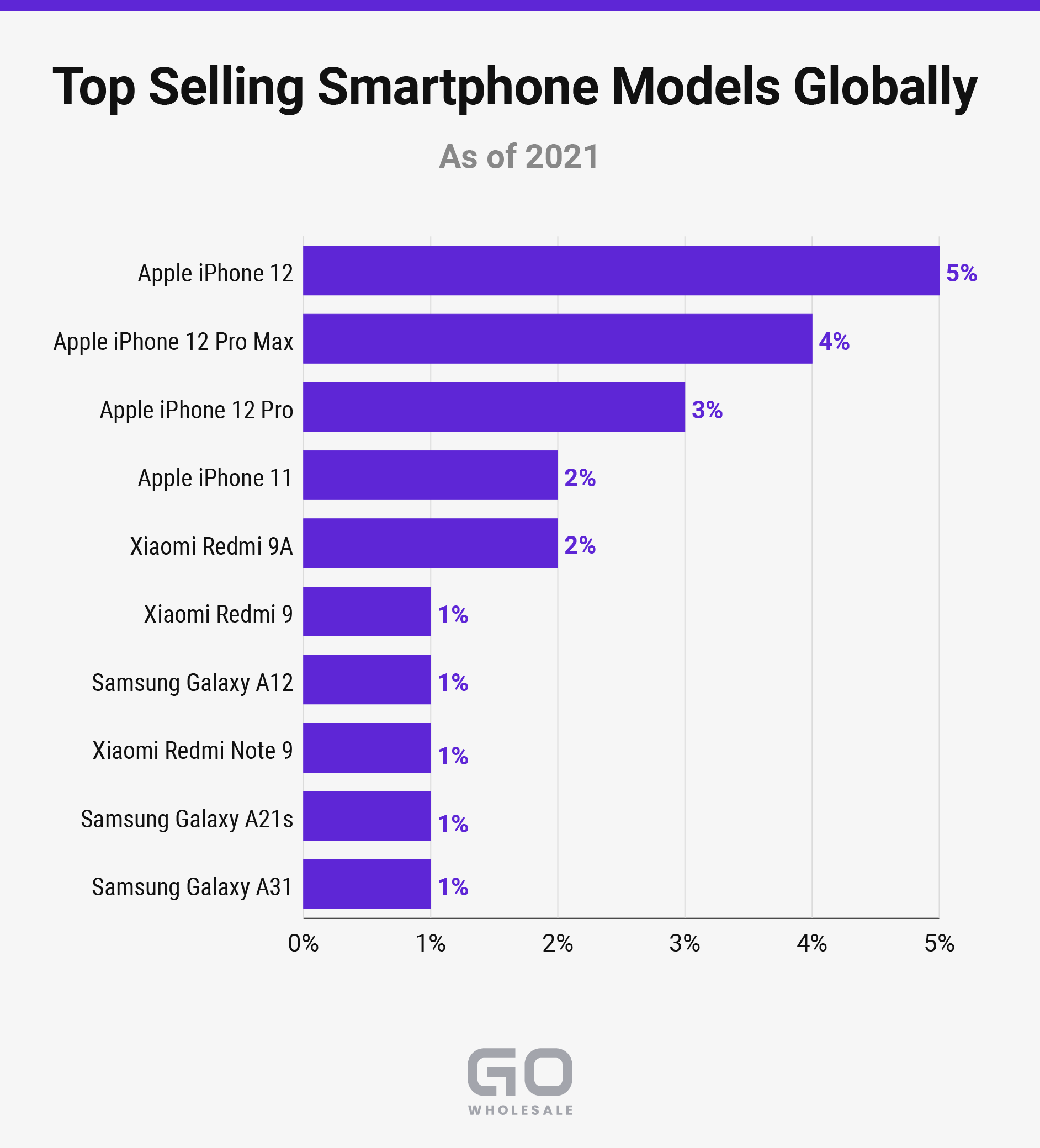 Source: Counterpoint Research, 2021.
The Advantages Of Buying Wholesale Cell Phones From goWholesale
If you're on the lookout for a reliable wholesale supplier of new and refurbished cell phones, you should take a look at what goWholesale can do for your business.
A comprehensive range of phones from all the major manufacturers.
A large range of new and refurbished phones available to purchase from our marketplace to suit a wide range of budgets.
Buy as few or as many phones as they require: as little or as much as you need. This means we can satisfy the needs of both small startup businesses and high volume sellers.
All phones are covered by a goWholesale 90-day warranty. In the unlikely event that any of our products turn out not to meet standards, you can exchange them for replacements or get a full refund within 90 days.
There has never been a better time to get into the new and refurbished cell phone market. With the worst of the pandemic now behind us and sales of both new and refurbished phones picking up pace, potential resellers are in a great position to enter this growing market. Find out what wholesale cell phones we have on offer right now.