Buying Wholesale iPhone 13s to Resell: The Definitive Guide
---
If you're looking to buy iPhone 13 smartphones to resell, what are your options? In this guide, we will walk you through the four iPhone 13 models available, what the resale market is like for each, as well as how you can buy iPhone 13s wholesale.
The iPhone 13 was announced on September 14, 2021, and began shipping shortly after – on September 24. There are four models of the iPhone 13.
iPhone 13
The iPhone 13 is the most popular iPhone model currently available. As the midline option, it provides a good mixture of features at a slightly lower price than the previous model, the iPhone 12. The iPhone 13 comes in new colors: starlight, midnight, pink, blue, and red. The iPhone 13 comes with a standard 60Hz screen.
iPhone 13 Pro
The iPhone 13 Pro offers more than the iPhone 13: stainless steel sides, frosted glass backs, and several higher-end features. Both 13 and 13 Pro have a 6.1-inch display, but 13 Pro has a 120Hz ProMotion display. The 13 Pro (like the Pro Max) has an ultra-wide camera able to take close-up macro shots and video, a LiDAR scanner, and 3x zoom.
iPhone 13 Pro Max
The iPhone 13 Pro Max has the same features as the 13 Pro but offers a 6.7-inch display and more powerful battery.
iPhone 13 Mini
The 13 mini is one of the smallest and lightest high-end phones available. While being easier to navigate with one hand and easier to store and carry, you get the same high-end specs and camera performance as the iPhone 13.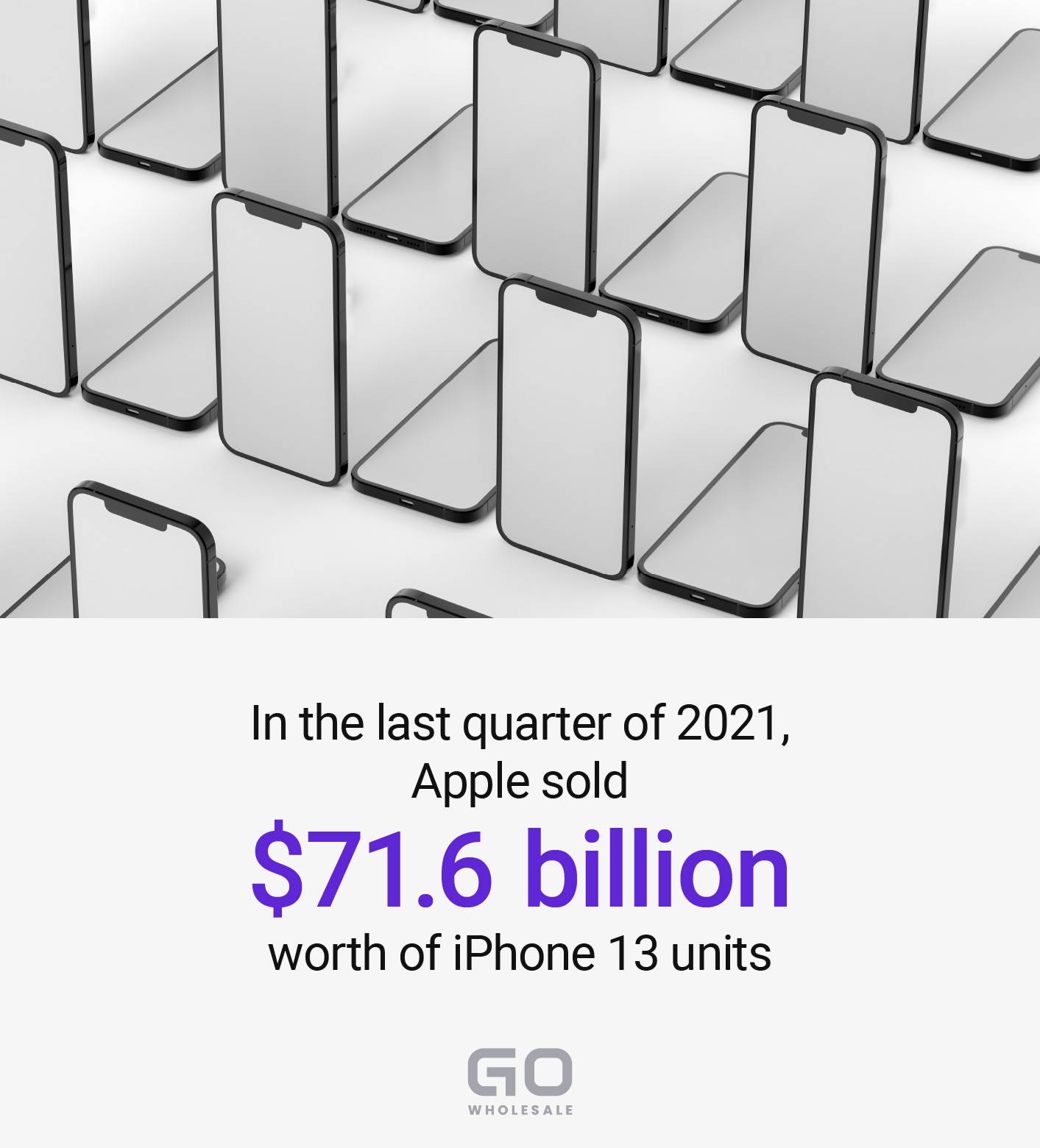 Source: CNET, 2022.
iPhone 13 Statistics
What Prices are iPhone 13 Models Selling for Today?
According to MacPrices.net, an online price trend aggregator for Apple products, who check prices manually each day to find the best prices online, the best listing prices for each of the models in new or like-new (open box) condition as of June 2022 are:
iPhone 13 List Prices on eBay
Model
128GB
256GB
512GB
1TB
iPhone13
$699


($799 retail)

$699
($899

retail)

$799


($1099 retail)

iPhone13 Mini
$549
($699 retail)
$649
($799

retail)

$659


($999 retail)

iPhone 13 Pro
$849


($999 retail)

$940
($1099

retail)

$1099


($1299 retail)

$1399


($1499 retail)

iPhone 13 Pro Max
$999


($1099 retail)

$999
($1199

retail)

$1199


($1399 retail)

$1399


($1599 retail)
Retail prices as of July, 2022 - apple.com
iPhone 13 List Prices on Amazon
Model
128GB
256GB
512GB
1TB
iPhone13
$829


($799 retail)

$929
($899

retail)

$1129


($1099 retail)

iPhone13 Mini
$729
($699 retail)
$829
($799

retail)

$1089


($999 retail)

iPhone 13 Pro
$999


($999 retail)

$1099
($1099

retail)

$1200


($1299 retail)

$1400


($1499 retail)

iPhone 13 Pro Max
$1099


($1099 retail)

$1199
($1199

retail)

$1399


($1399 retail)

$1599


($1599 retail)
Retail prices as of July, 2022 - apple.com
Check here for more information and up-to-date pricing.
Buying iPhone 13s Wholesale: What is the Market Like?
Before talking about absolute numbers, and comparing sales trends with previous models, it is worth noting that due to COVID-19, Apple has noted "very significant" supply shortages despite "very strong" demand across its product line. On top of this, smartphone sales worldwide have been in decline through 2022.
Apple was the first significant US firm to warn that the pandemic would hurt its bottom line.
The increasing delivery times for the iPhone 13 in various nations caused long waiting lines. Apple had to inform its partners that it would produce 10 million fewer iPhone 13 units than expected. When Apple shut down all of its stores, corporate offices, and call centers in China for two weeks following the late-January disclosure of COVID-19 and the subsequent spike in infection rates, sales began to suffer.
The overall year-on-year decline in sales is driven by market challenges, in particular, the economic uncertainty due to Covid-19 cases in China (the largest smartphone market worldwide) and Russia's military offensive in Ukraine. With smartphone shipments in the first quarter of 2022 totaling 308 million units, there has been a negative growth of 12.9% compared with the same period in 2021.
However, despite these issues, the iPhone 13 has been a hit in the United States. In the first quarter of 2022, all four iPhone 13 models together represented 71% of total US smartphone sales. Apple has now directed manufacturers to produce 10 million more iPhone 13 units, despite the upcoming launch of the new iPhone 14.
It's not just in the US that sales of the iPhone 13 have proven to be very strong. At least one of the iPhone 13 models features among the top 3 most sold in every reported market. The iPhone 13 ranks at the top in the United States, China, and Japan. In China, the iPhone has a 26% market share and is now the best-selling brand in the country.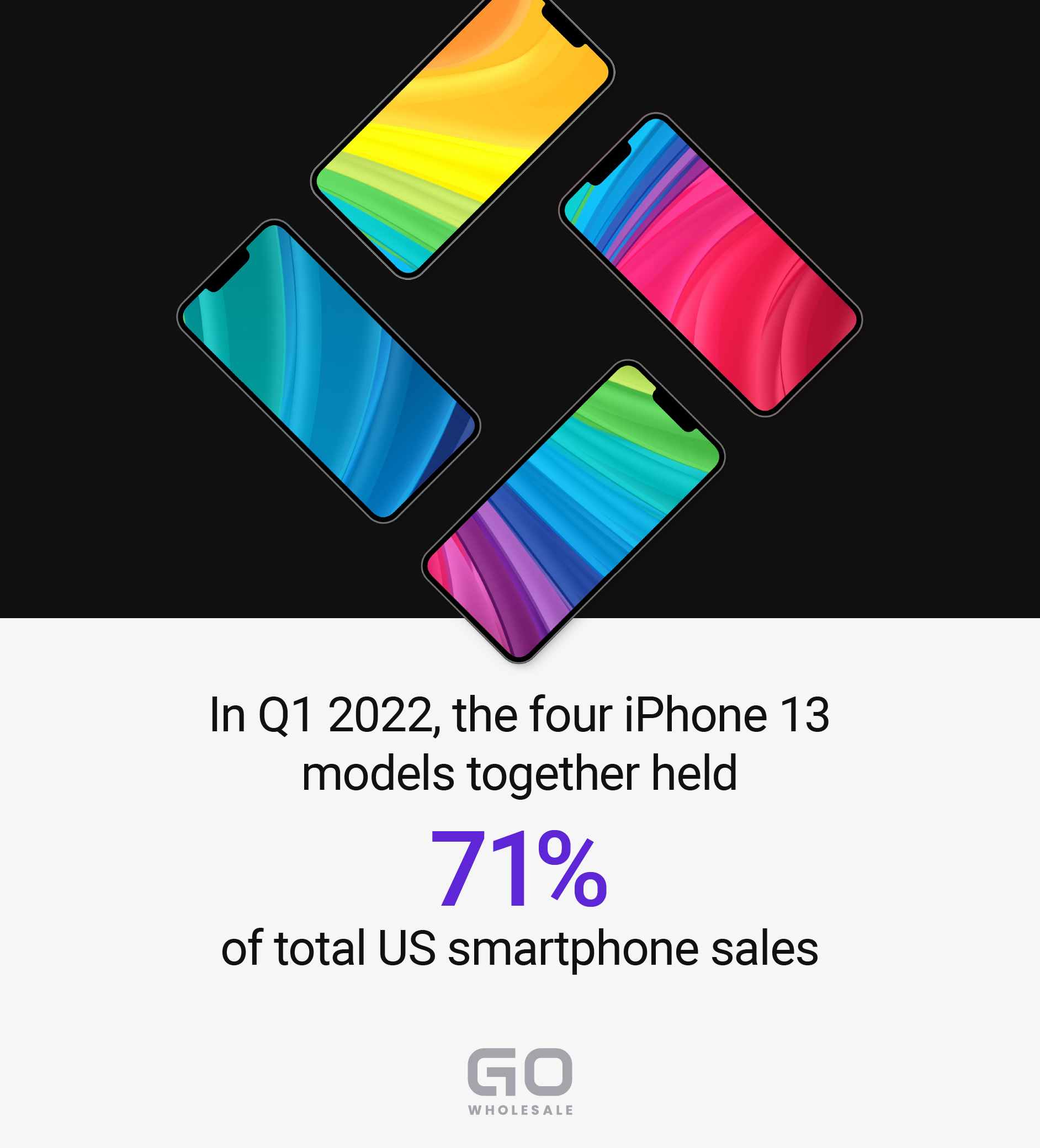 Source: Patently Apple, 2022.
How do the Sales of the iPhone 13 Compare with Predecessors?
All four iPhone 13 models combined represented almost 71% of total sales in the first quarter of 2022. By comparison, at the same time in 2021, the iPhone 12 models only accounted for 61% of sales. The regular iPhone 13 model alone has the highest total share at 38%. This is nearly twice as much as iPhone 12 share last year (22%), when the year-old iPhone 11 had the largest share, 24%. iPhone mini models (both 12 and 13) have few buyers, each with only 3% of total sales.
The strong sales performance of the iPhone 13 models can be explained by an emerging trend: buyers now keep their phones for a shorter period of time, which means that the phones they replace are newer. In the first quarter of 2021, 34% of buyers said they had their previous phone for three years or more; in 2022, that number dropped to 20%.
The Top Selling iPhone 13 Models
As of June 2022, the world's top 4 phones are iPhones. iPhone 13 is ranked as the world's top selling phone followed by iPhone 13 Pro Max, iPhone 13 Pro, and iPhone 12. According to Counterpoint, the top 10 models captured 21% of the total smartphone market. All 4 iPhone 13 models made up a total of 71% of all iPhones sold.
The iPhone 13
iPhone 13 is the best-selling phone in Q1,2022. iPhone 13 accounts for a 38% share of the total sales in Q1 2022, and it also made up 75% of the total sales of iPhones. Apple sold over 5.1 million units of iPhone 13 in China alone. In April 2022, it made up 5.5% of the top 10 model's share of the global smartphone market.
The iPhone 13 Pro
There is a big difference between iPhone 13 Pro and iPhone 13, with more advanced features reserved for the Pro version. The iPhone 13 Pro is the first iPhone with a high refresh display rate. In April 2022, it made up 1.8% of the top 10 model's share of the global smartphone market.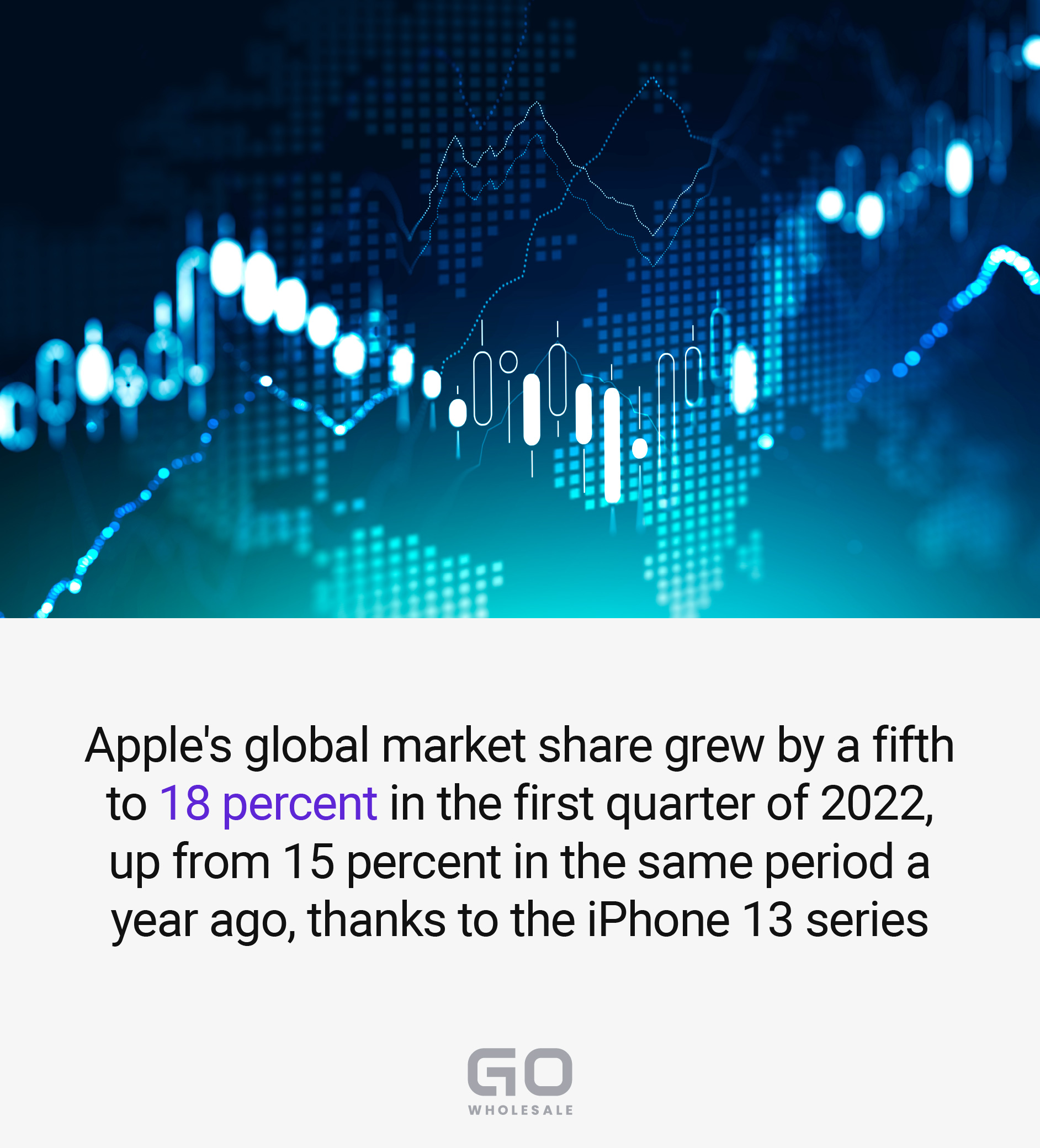 Source: The National, 2022.
The iPhone 13 Pro Max
This is the largest of the 13 series. It ranks as the second top-selling smartphone in the world. Apple has reportedly increased the orders for the iPhone 13 Pro and iPhone 13 Pro Max by 10 million units. As of April 2022, the iPhone 13 Pro Max made up 3.4% of the top 10 model's share of the global smartphone market.
The iPhone 13 Mini
iPhone mini models attract few buyers, with the iPhone 13 mini and 12 mini models each representing only 3% of total iPhone sales in Q1, 2022. iPhone 14 (due to be released in fall 2022) will not include a mini version, as consumers are favoring a larger iPhone model.
As Apple itself is likely to drop the mini phone models due to low sales, we don't recommend heavily investing in the iPhone 13 mini. It is possible that if Apple does cease making mini model phones, the last iteration of the smaller device may hold or even increase its value over time for a niche market looking for a more compact iPhone that will become harder to find.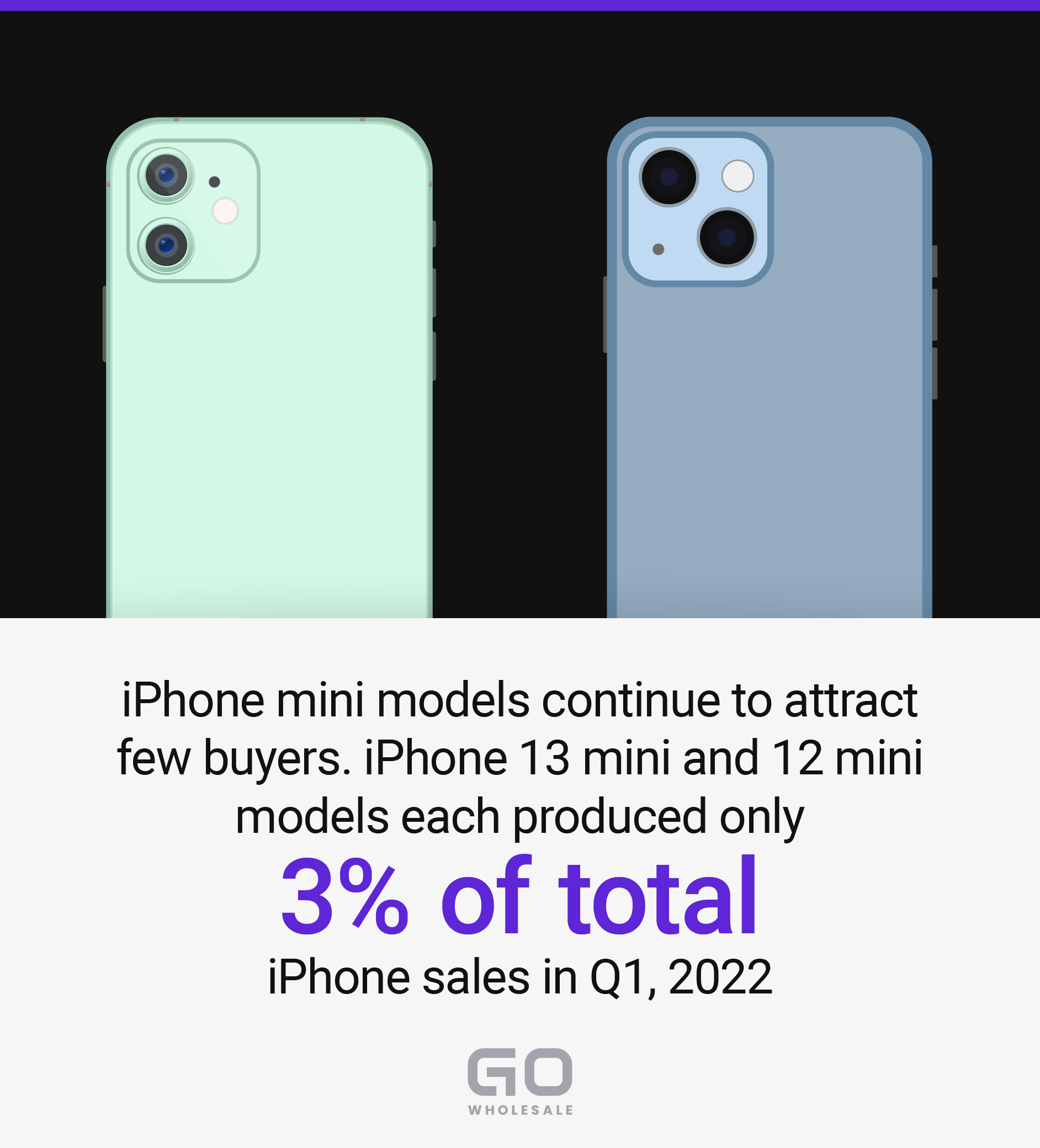 Source: Constant Contact, 2022.
Buying iPhone 13s Wholesale Directly from Apple
In order to purchase the iPhone 13 in wholesale quantities directly from Apple businesses must meet the following requirements:
Step 1: The Referral
This requires an existing account in good standing with an authorized Apple distributor. You also need two recommendations from clients, vendors, or other Apple industry-related connections. Carefully read the info for Apple Authorized Service Provider Program.
Step 2: Business Requirements
Your business needs to have been in operation for a reasonable period and allow Apple to review audited financial records. You also need a credit line agreed with the Apple Finance team. Your business is required to actively promote the Apple brand as well as AppleCare service and support products.
Step 3: Operational Requirements
Authorized Service Providers must comply with Apple's standards at all times in terms of service levels, certification of technicians, and availability of service. They are required to complete at least 200 repairs per quarter. Your activity is subject to periodic audits and reviews to make sure that Apple's standards are being met. Diagnostics, training, service guides, and tools must remain confidential.
Step 4: Premises
The business must operate from a commercial walk-in service location in a location easy to access and maintain a dedicated service staff. A clean and presentable reception area for walk-in customers, as well as a secure workshop for repairs, and storage space for parts and units for repair must be included.
Step 5: Technician Certification
Your business can only use Apple Certified Technicians to repair Apple products. You will need to employ at least one Apple Certified Technician.
This certification requires passing exams through an online Authorised Testing Centre. Certifications are updated every year on a per-product basis. No exam fees are charged to businesses approved as Authorised Service Providers. Check here for more details about the courses and exams.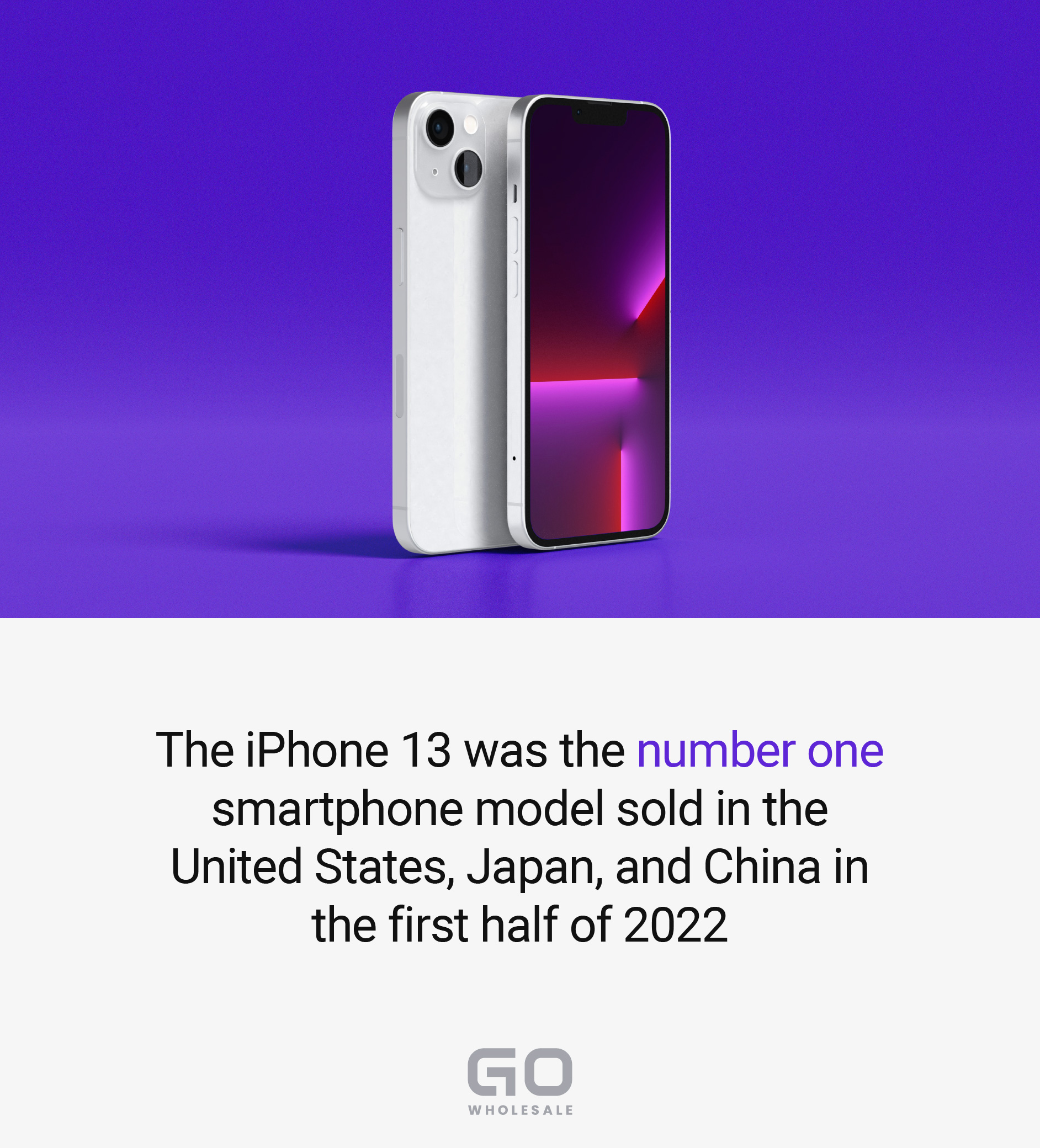 Source: Kantar, 2022.
Decisions on applications take about six months.
Of course, most businesses will not be able to meet these requirements. But don't worry, buying from Apple itself is not the only way to purchase Apple inventory wholesale.
Buying iPhone 13s from goWholesale
If you are unable to meet the stiff requirements to purchase iPhones wholesale directly from Apple you're in luck. goWholesale is an online wholesale marketplace that supplies new and refurbished products to business customers, including the iPhone 13. goWholesale offers three main benefits: flexibility, transparency, and savings. You are completely free to mix and match any combination of items from any product line.
You can check the full price history of the product in graph form and find out about trends and current wholesale market prices.
Every iPhone sold on goWholesale includes all its original accessories and is packaged in either its original Apple packaging or high-quality replacement plain packaging. We also include all original documentation except the manufacturer's warranty. Instead, we provide a goWholesale warranty (typically 90 days from date of delivery but this period can vary product by product).
Check out the iPhone 13 and other smartphone models we have available right now.