Buying Apple iPhones Wholesale to Resell: Which Models Sell Well and Why
---
In this guide, we explore the top-selling iPhones in 2022 and why they are so popular. Additionally, we will walk you through the process of buying iPhones wholesale to resell for profit.
iPhones - The World's Top Selling Phones in Numbers
Apple generated $365 billion in revenue in 2021; 52% came from iPhone sales
Apple's iPhone claims a 23.4% global share of the smartphone market, more than any other handset manufacturer.
Throughout 2020, iPhone shipments reached approximately 200 million units. Shipments were up 7.9% compared to the previous year.
iPhones account for 65% of smartphone shipments in the United States (as of Q4 2021).
Apple's share of smartphone users has risen 23% since early 2012.
The number of iPhone users in the United States increased to 113.5 million in 2020, and it is forecast that this figure will continue to rise and reach more than 118 million in 2022.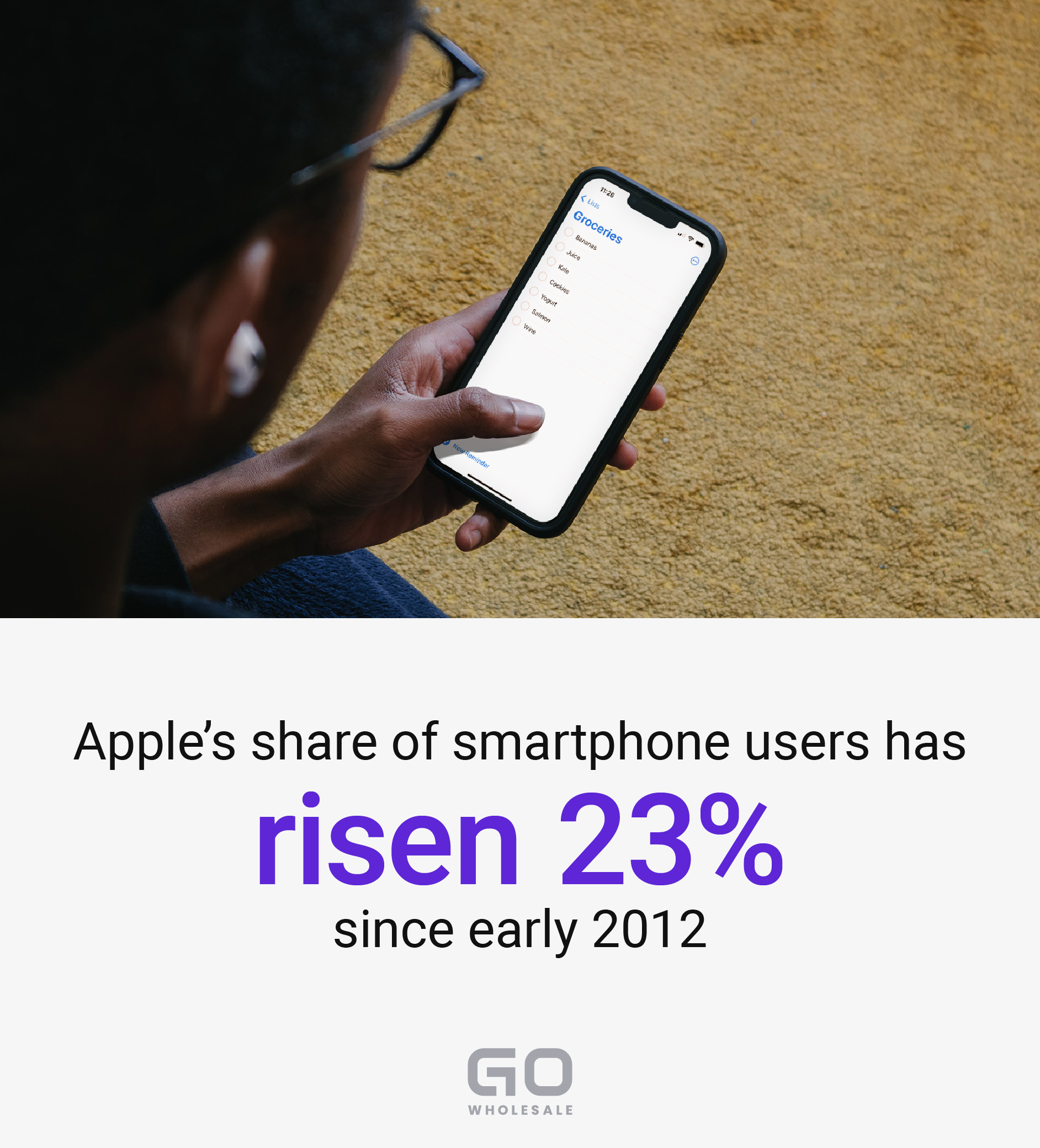 Source: Statista, 2022.
The iPhone is one of the most successful smartphones in the world, having sold more than 1.5 billion units since it was first launched in 2007. Apple's competitiveness remains high as the company keeps innovating and launching new and updated versions of its flagship product. Nowadays, the iPhone continues to dominate the market, holding an 18 percent share of the new smartphone market in the first quarter of 2022. In the second quarter of its 2022 fiscal year, Apple generated $50.57 billion in revenue from the sales of iPhones, over half the company's total worldwide revenue.
iPhone Sales by Year Globally (In Millions of Units)
| | |
| --- | --- |
| 2008 | 11.6 |
| 2009 | 20.7 |
| 2010 | 39.9 |
| 2011 | 72.3 |
| 2012 | 125 |
| 2013 | 150.2 |
| 2014 | 169.2 |
| 2015 | 231.2 |
| 2016 | 211.8 |
| 2017 | 216.7 |
| 2018 | 217.7 |
| 2019 | 187.2 |
| 2020 | 196.9 |
| 2021 | 242 |
Note: Apple stopped reporting iPhone sales in 2018. All values afterward are estimates. Source: Business of Apps.
What are the Top-Selling iPhones in 2022 and Why?
Although the demand for smartphones is constantly shifting, iPhones always occupy the top spots. Apple has dominated the smartphone market for many years and is likely to continue to do so. In 2021, Apple took up seven spots out of 10 for the best-selling smartphones, with 14% of the sales in the smartphone market.
Results for the first quarter of 2022 show that Apple occupies the top 5 spots of the global top 10 selling smartphones list.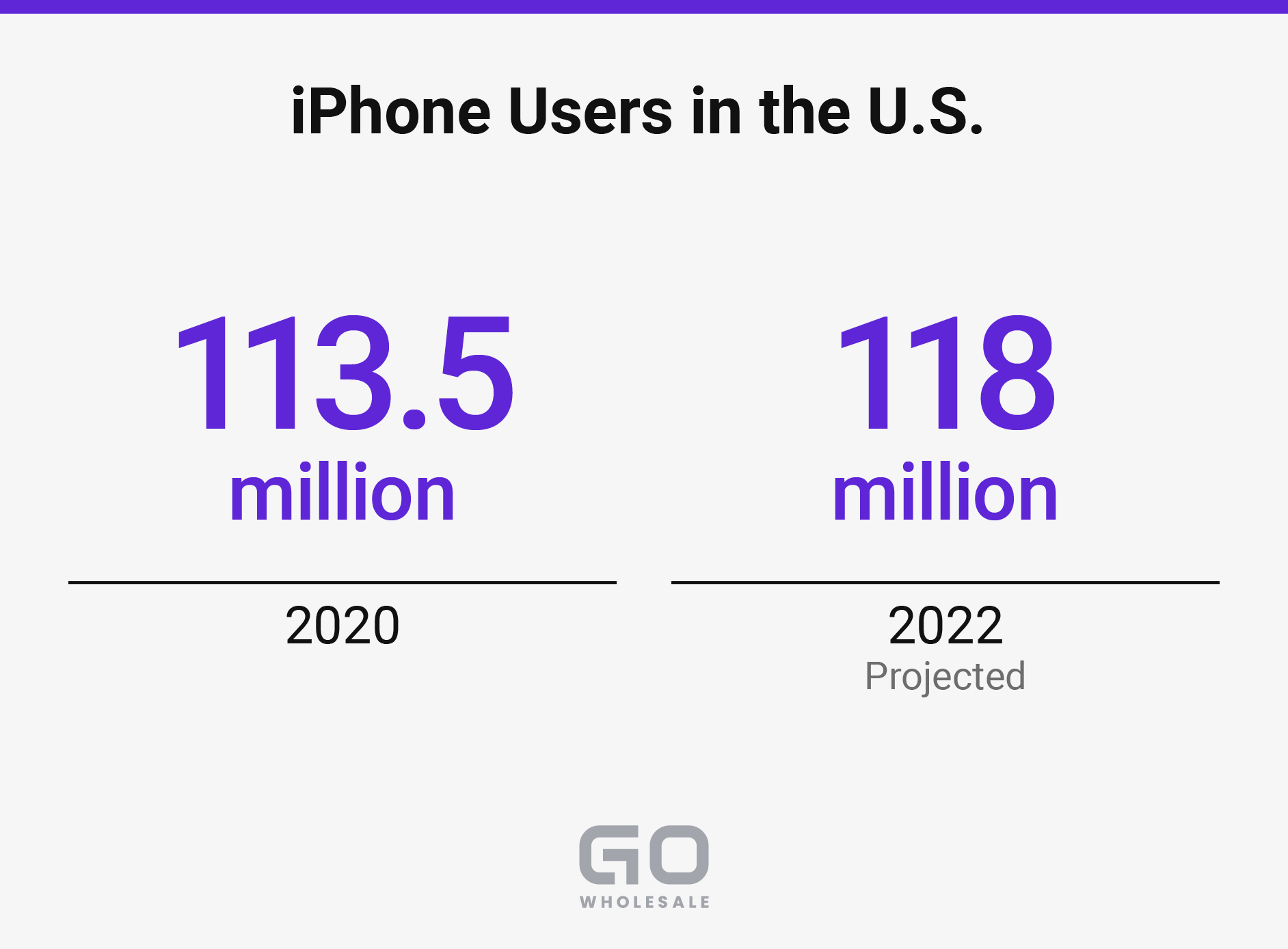 Source: Statista, 2021.
iPhone 13
Launched in September 2021, it is currently the most in-demand smartphone worldwide. It represented 5.5% of total smartphone sales in April 2022 due to rising demands for newer 5G-enabled phones.
As the newest version of the iPhone, this model has improved technical specifications compared to its predecessor, the iPhone 12, which helps explain its popularity. It features increased battery life, a greater storage capacity option, and an updated chip.
iPhone 13 Pro Max
Holding the number 2 position with 3.4% of the global sales, the iPhone 13 Pro Max is the ultimate iPhone currently in the market. The Pro Max is larger than the Pro and has a longer battery life. For an extra $100, the 13 Pro Max offers all the same specs as the 13 Pro, but with a larger 6.7 inch display and 25 hours of battery life (as opposed to the 20 hours of the Pro model). The iPhone 13 Pro Max is bigger and offers the same features as the Pro version, all this for an additional $100.
iPhone 13 Pro
A step up from the base flagship model, the iPhone 13 Pro represented 1.8% of sales in April 2022, and holds the third position in the top 10 best sellers of the year. The following technical improvements explain why many buyers opt for the Pro over the base model:
The phone body quality (aerospace-grade aluminium for the 13 and surgical grade stainless steel for the 13 pro)
5 core A15 chip (a step above the 4 core chip in the base model
Storage capacity (offering up to 1Tb for the 13 Pro)
6 GB of ram (higher than the 4 GB in the base model)
And an upgraded camera.
These improvements come with a $200 increase on the price tag. For the many customers who want a better phone, but do not want to spend upwards of $1000, the iPhone 13 Pro is a very attractive option.
iPhone 12
With 1.6% of the market share, the iPhone 12 is the best option for consumers who want the newer iPhone aesthetic at a lower price. The iPhone 12 , introduced in 2020, is still a top seller in 2022 because it provides similar capabilities to the 13 series of iPhone models, while being sold at a lower price of $699.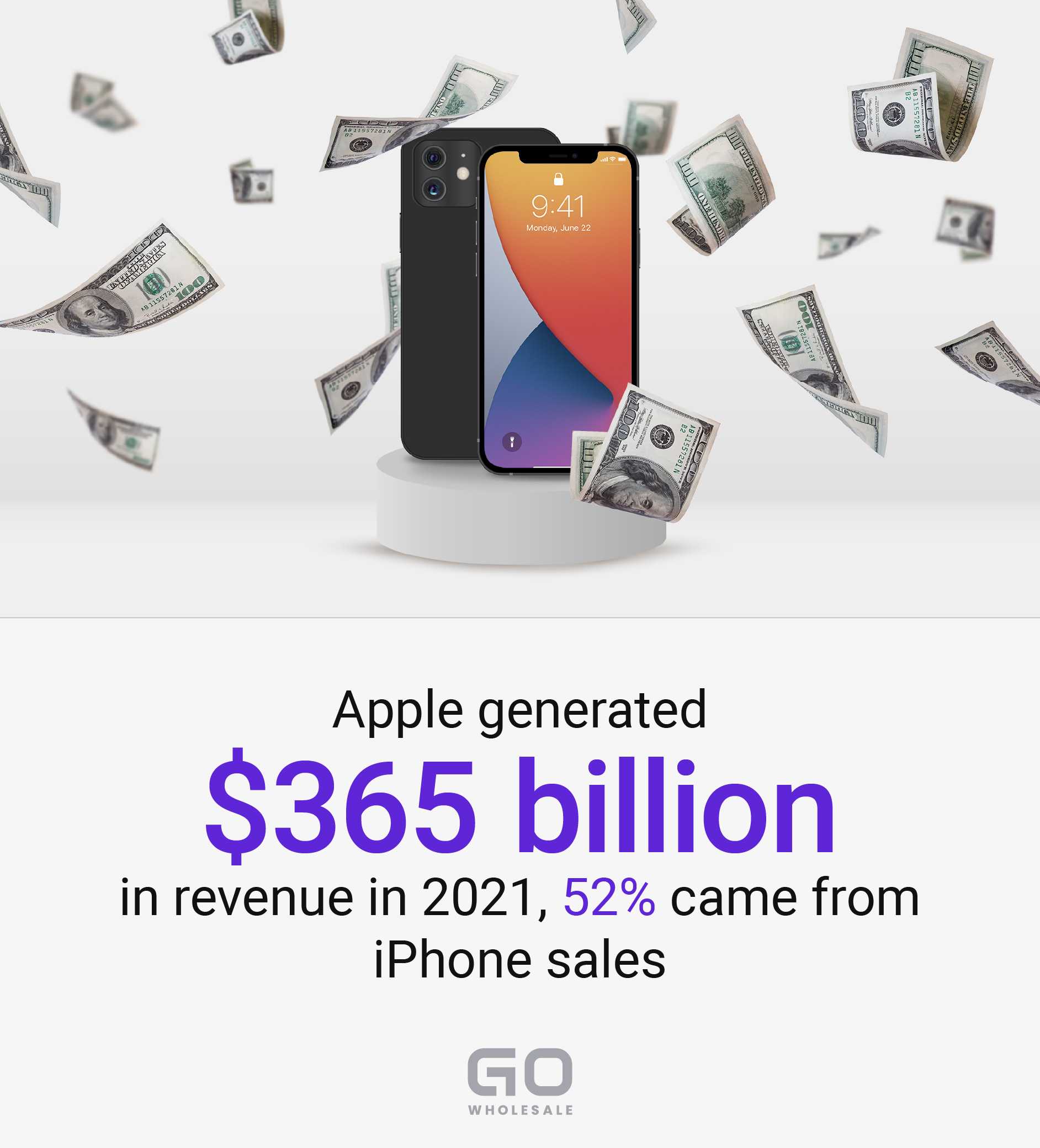 Source: BusinessOfApps, 2022.
iPhone SE 2022
Although it's an updated version of a model that pre-dates the iPhone X, the iPhone SE 2022 offers the same capabilities as the iPhone 13 mini at a smaller price tag and with a smaller screen size. For $470, the SE features an A15 chip, 5G connectivity, and a very light weight.
An iPhone for under $500 that is up-to-date, set to be iOS 16 optimised, and supports 5G is highly attractive for those customers on a lower budget.
Conclusions
Although these models are the most popular right now, this is likely to change when the iPhone 14 is announced, by the end of 2022. In 2021, the iPhone 11 was ranked among the top 10 along with the 12 Pro, 12 Pro Max, and the SE 2020 version. As of April 2022, those models do not even make the list, which shows how quickly demand can shift.
Top Selling iPhones: Pricing
According to MacPrices.net, a daily online price trend aggregator for Apple products, as of August 2022, the best prices for each model in new or like-new (open box) condition are:
Top Selling iPhones: Pricing
Model
Release Date
Retail Price
Amazon Price
eBay Price
1. iPhone 13
September 14, 2021

$699-$999

$729-$1129

$600-$1,549

2. iPhone 13 Pro
September 14, 2021

$999-$1400

$999-$1499

$615.00-$1,600

3. iPhone 13 Pro Max
September 14, 2021

$999-$1400

$1099-$1599

$760-$1,650

4. iPhone 12
October 23, 2020

$599-$749

$729-$979

$479.00-$1,200

5. iPhone SE 2022
March 18, 2022

$429-$579

$429-$579
Retail prices as of July 2022 - apple.com
How to Buy iPhones Wholesale to Resell
Sourcing Wholesale Apple iPhones from Apple Directly
Apple has set some stringent requirements for those businesses that wish to become an official Apple wholesaler. These are especially difficult to meet for a small business or a business that has just started operating. Check out Apple's requirements for vendor applications here.
But you can purchase Apple iPhones wholesale without sourcing them from Apple itself.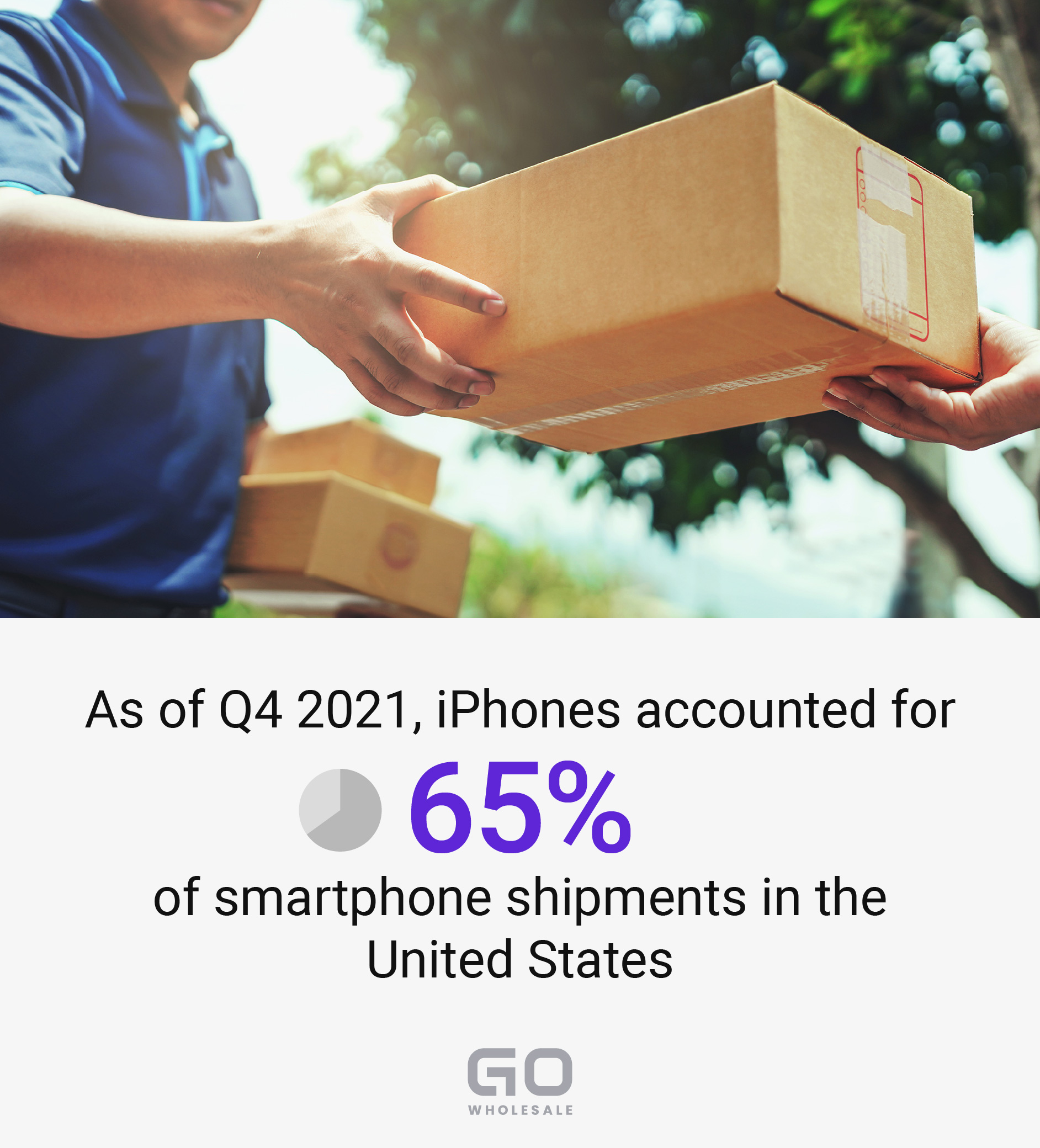 Source: BackLinko, 2021.
Sourcing Apple iPhones from goWholesale
goWholesale is your best source of wholesale Apple inventory. goWholesale is a wholesale supplier of new and refurbished products for business customers, including iPhones.
goWholesale gives you three main benefits: flexibility, transparency, and savings. You can mix and match any combination of items from any product line. Every product comes with a warranty (typically 90 days from the date of delivery).
Every product also comes with a complete sales history as well as price trend data, which allows you to do research on current market prices without leaving the website. Check out what wholesale iPhones we have available for sale right now.