Buying Apple Airpods Wholesale to Sell on eBay: Which Models Should I Stock?
---
Apple's Iconic AirPods range of wireless headphones has seen a huge increase in popularity since first launching in 2016. eBay is a great place to tap into the strong demand for these popular items online. In this guide, we will explore the models of AirPods available, where the demand lies, and how to buy Apple Airpods wholesale to sell on eBay.
Apple AirPods in Numbers
$12 billion was spent on Apple AirPods worldwide in 2021.
Apple sold nearly 60 million AirPods in 2019, grabbing 71% of the wireless headphone sales revenue.
Apple's first pair of AirPods came on December 13, 2016, with the updated second-generation AirPods on March 20, 2019, and the third-gen AirPods appearing in October, 2021.
Apple sold 110 million AirPods in 2020.
34% of people use Apple AirPods while around 15% use Beats in the US.
Apple's AirPod revenues generated $23.05 billion in revenue during their 2020 financial year.
Apple is set to release AirPods Pro 2 later in 2022.
Apple Airpods: The Four Current Models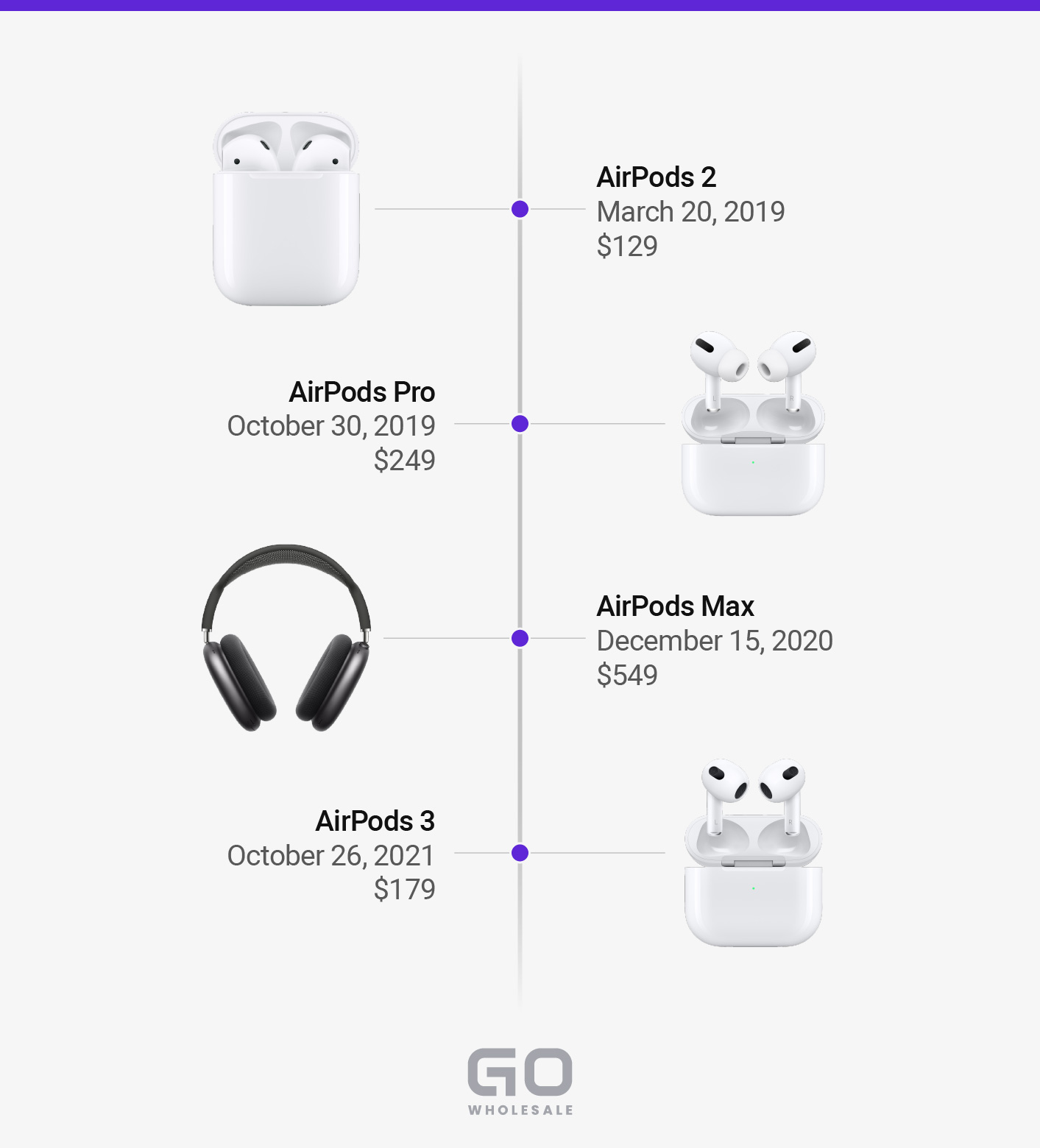 Source: Apple, 2022.
The first generation of AirPods came out on December 13, 2016. This was followed by an updated second generation on March 20, 2019, and then the third generation in October 2021. Apple dominates the wireless headphone market. Almost 60 million AirPods were sold in 2019, which represents 71% of the market.
The AirPod lineup is currently made up of four models: AirPods 2 ($129), AirPods 3 ($179), AirPods Pro ($249), and the over-ear AirPods Max ($549).
Every one of these devices is sold with a Lightning-to-USB-C cable and a charging case. The AirPods 2 charging case is wired and is charged with a Lightning cable. The cases for AirPods 3 and Airpods Pro work with a cable but can also be charged wirelessly. These also support MagSafe technology, the same system used in the iPhone. Meanwhile, the AirPods Max comes with their own Smart Case that preserves battery charge by putting the headphones into a very low power state.
Apple Airpods: The Market
In 2020, 50% of wireless headphone sales were of products that cost between $100-199. Apple is one of the major players in this market segment and is expected to continue its dominance for the next few years. Nevertheless, economic disruption to customers caused by the pandemic and its aftershocks have also driven the growth in the sales of items priced below $100.
The price has been driven down by competition, whose products offered audio quality at the same level as Apple. But AirPods are fully integrated with other Apple products, which gives it a competitive edge for buyers who already own an iPhone, Mac, or iPad.
AirPods have become essential products. The controversial decision to eliminate the headphone jack from Apple devices led to wireless headphones that are worth billions of dollars a year in revenue.
The Impact of the Pandemic
Supply chain disruptions caused by the COVID-19 pandemic led to problems with the production of AirPods in early 2020. However, production had recovered by the second quarter of the year. Consumer demand, on the other hand, remained high, with increased demand for products associated with at-home fitness activities and work-from-home.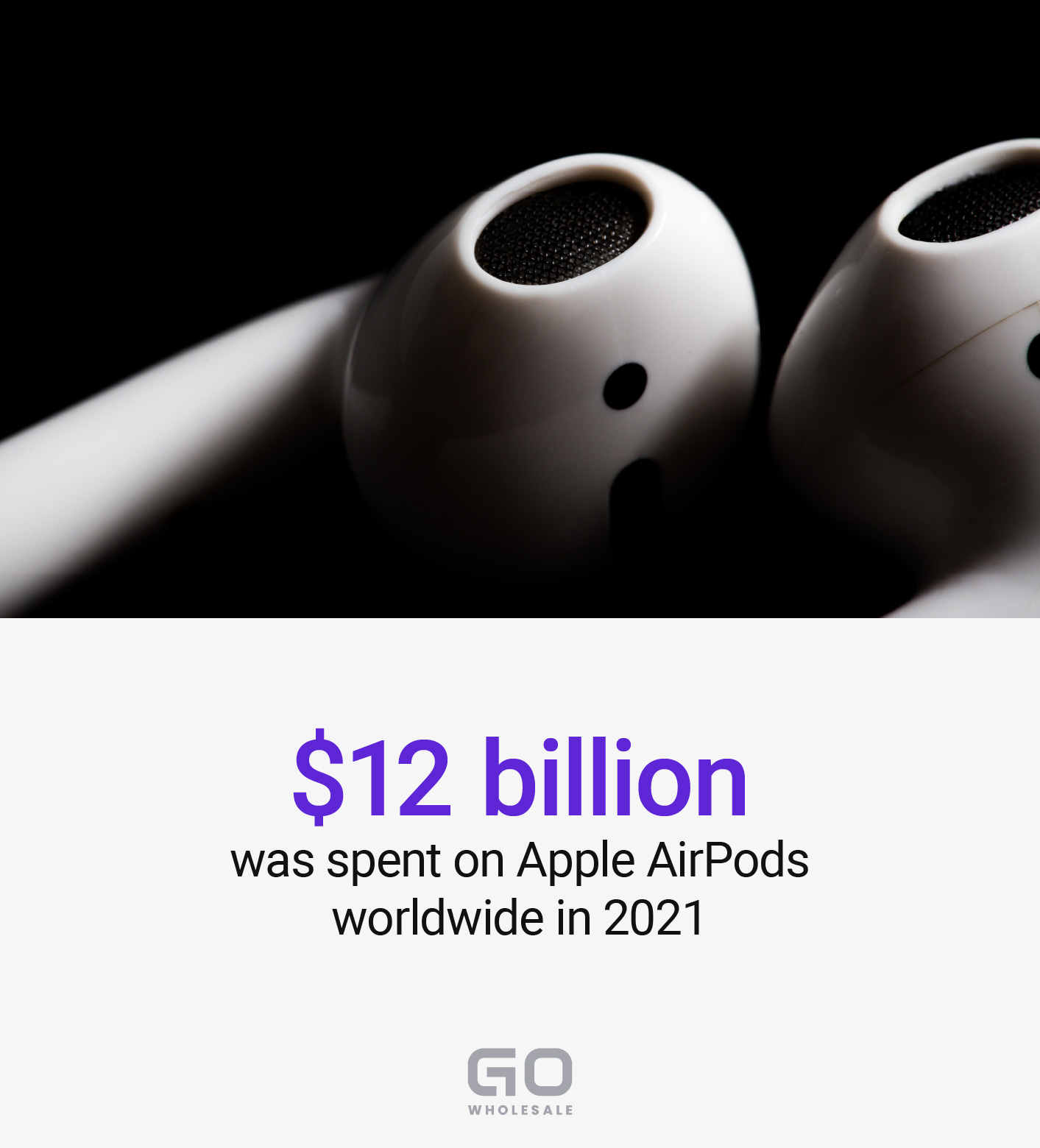 Source: Yahoo! News, 2022.
Unit Sales by Year
2017 - 15 million
2018 - 35 million
2019 - 60 million
2020 - 114 million
The Models to Source
AirPods Max are the top choice for sound quality and offer features not found in the other models, including active noise cancellation, and H1 chip and sensors in the ear cups. They are also a lot more expensive than the other models, so they are better suited for customers with bigger budgets. AirPods 3 or AirPods Pro are also top-quality and are sweat and water resistant, making them perfect for customers who work out. For customers who have had trouble with earpods slipping, the AirPods Pro comes with replaceable and customizable ear tips.
Both AirPods 3 and 2 are sold for under $200 dollars, making them more attractive to customers on a tighter budget. AirPods 3, however, offer features the Airpods 2 do not, including a MagSafe charging case, greater spatial audio support, and improved battery life.
This means that when it comes to choosing the models to source, you may find it worth stocking the full range, as each is designed to cater to different consumers and are very different from each other. One exception to this is the AirPods Pro - we'll explain why in a section below on the launch of the AirPods Pro 2.
Current Retail Market Pricing
These are the best prices for each model in new or like-new (open box) condition on Amazon and eBay as of July 2022, according to MacPrices.net:
Apple AirPods Pricing
Model
Release Date
Retail Price
Amazon Price
eBay Price
AirPods 2
March 20, 2019

$129

$99
$79.95
AirPods 3

October 26, 2021

$149
$159.99
$127.98
AirPods Pro

October 30, 2019

$249
$179.99
$128.95
AirPods Max

December 15, 2020

$549
$479
$389.95
Retail prices as of July, 2022 - apple.com
For standard AirPods, prices fluctuate between $99 and $139. Anything above the latter price is probably too expensive to invest in – customers would be better off waiting for the next sales. The lowest ever price ($89) was reached on Black Friday and on December 2021 at Amazon.
The lowest price for AirPods with Wireless Case was $129. However, this became the permanent price Apple released the AirPods 3. The new AirPods 3 were sold for $149 in November, their lowest price ever.
The lowest price for the new AirPods Pro (2021 with MagSafe case) was $159, on Black Friday, 2021. Costco members purchased these items for $149.99. Apart from the Costco price, they can be bought for $179.
Finally, the AirPods Max usually sell for $549, but Amazon had a sale for just $429, an all-time price low.
Your goal should be to source these products below these prices. That is how you will be able to make profit and have some money left to deal with fees, returns and incidental costs. But while a low price is important, you need to ensure that the supplier you are doing business with is reputable and trustworthy.
The Effect of the AirPods Pro 2 Launch
The AirPods Pro 2, the successor to the very successful AirPods Pro, is expected to be launched before the end of 2022, in line with the traditional Apple practice of launching AirPods just before Christmas.
AirPods Pro 2 will be Apple's most advanced earbuds and feature next-generation active noise cancellation, better audio quality, and fitness features.
Pricing is to be confirmed, but a leak suggested $249, which is the same price the original AirPods Pro cost at launch.
Apple might keep the original AirPods Pro around and drop their price, as was the case with the 2019 AirPods after the launch of AirPods 3. However, the current price of AirPods 3 ($179) might be too close to the price of AirPods Pro to make this a realistic prospect.
It is more likely that Apple will choose to discontinue the AirPods Pro model.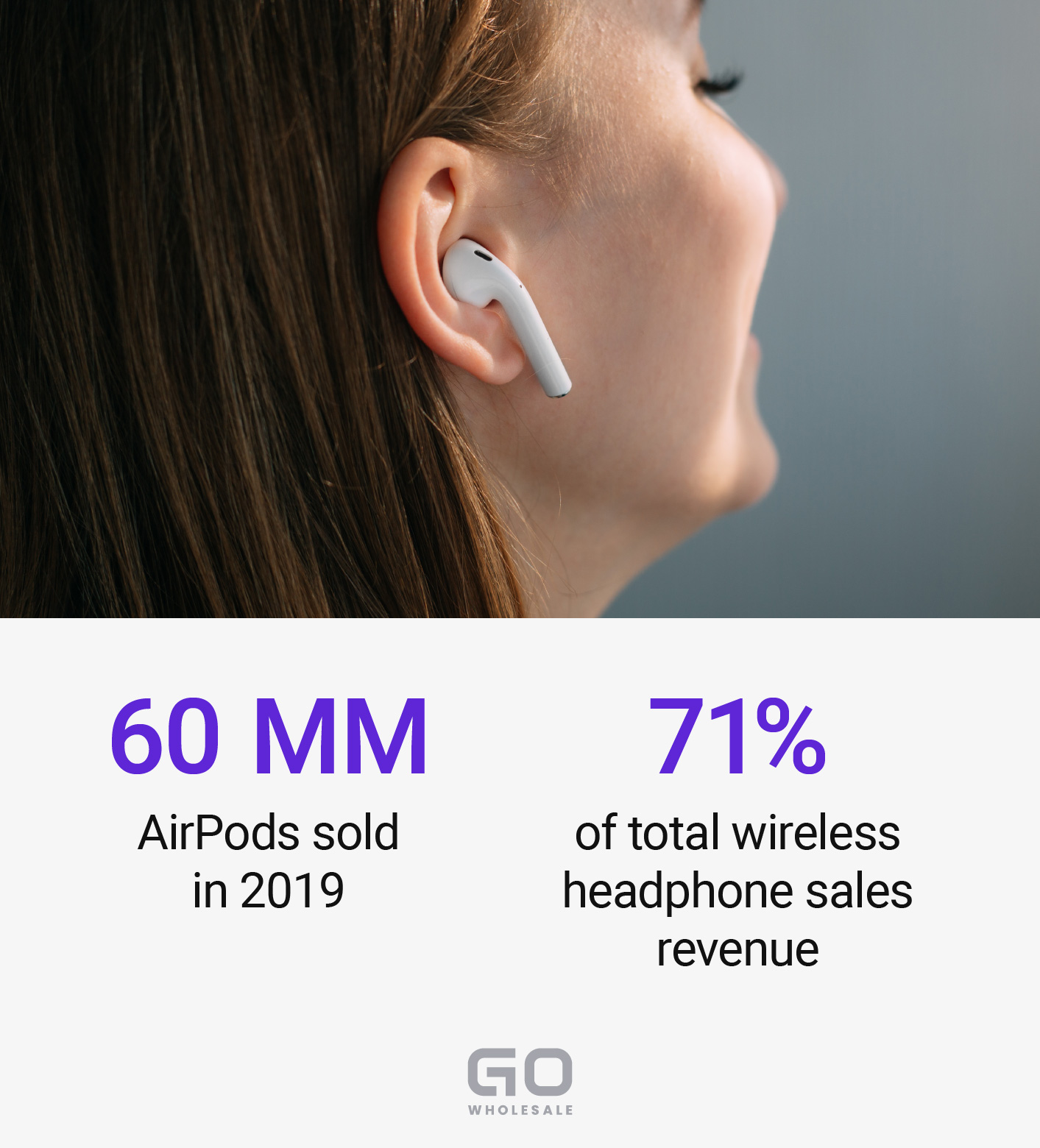 Source: Hardware Times, 2020.
Buying Apple AirPods Wholesale
Sourcing Directly from Apple
It is difficult to become an official Apple wholesaler and a small business is unlikely to be able to comply with the essential requirements. Check out Apple's requirements for vendor applications here.
Most wholesalers, and everyone just starting their business, will not have the ability to meet these requirements. But don't worry, since buying wholesale from Apple itself is not the only way to purchase Apple inventory wholesale.
Apple AirPods from goWholesale
If you can't meet these requirements, there is an easier way: source your Apple inventory at goWholesale. goWholesale is an online wholesale marketplace that supplies new and refurbished products to business customers, including AirPods. goWholesale offers three main benefits: flexibility, transparency, and savings. You can mix and match any combination of items from any product line. Every product sold on goWholesale comes with a warranty (typically 90 days from the date of delivery).
Check the full price history of the product in graph form and find out about trends and current wholesale market prices.
Conclusions
As we have explored, all current models of AirPods cater to different customers and have been successful in their own right. With the upcoming release of the AirPods Pro 2 looking imminent, we would not recommend sourcing large numbers of the original AirPods Pro. There are no indications at this stage of any of the other models being superseded any time soon, and sales are expected to remain strong.
If you're looking to get into this market, to source Apple AirPods wholesale to sell on eBay, check out what AirPods and other Apple tech we have available at wholesale pricing right now.